Details
Address: 2 Pl. des Pyramides, 75001 Paris
District:
Check-in: 3:00pm
Check-out: 12:00pm
Room Count:
Starting Price:
Hotel Regina Louvre Description
Hotel Information

Key Features

Amenities

Name: Hotel Regina Louvre 🏨

Check-in Time: 15:00 ⏰
Check-out Time: 12:00 ⏰
Air-conditioned: yes ❄️

Spa: ❌ 💆‍♀️ (if applicable)
Free Parking: ❌ 🚗 (if applicable)
Free Wi-Fi: yes 📶
Unraveling the mystery of Paris's charm begins with the experience of utter luxury, and there is no better setting than Hotel Regina Louvre. The concierge at this magnificent property greets you as you step beneath its iconic wrought-iron canopy, transporting you into a world that seamlessly blends past grandeur with modern elegance.
The price of the stay, though not insignificant, is worth every penny considering the myriad of things to do and amenities, including 24-hour room service. This blog post offers an in-depth review of the Regina, a French symbol of timeless allure and sophistication, ideally located near the Place des Pyramides, revealing every nuance that makes this hotel a jewel in the City of Lights.
Prepare to explore how this landmark accommodation complements your Parisian fairytale, whether you're here to travel, alone or with children, enhancing every moment with exceptional amenities wrapped in artistic heritage—a stay so divine, it becomes part of your Parisian adventure.
Hotel Regina Louvre, where children are warmly welcomed, has received overwhelmingly positive reviews from guests.
With its prime location in Paris, excellent amenities such as free WiFi, an on-site restaurant with room service, and a lounge, along with room features like minibars and flat-screen TVs, guests have praised the hotel for its comfort and unparalleled service. While exact ratings may vary, it is generally regarded as a highly recommended hotel for those visiting Paris – a perfect place for a family travel experience.
Uncovering the Charm of Hotel Regina Louvre
Nestled in the heart of Paris at the Place des Pyramides, the Hotel Regina Louvre exudes an undeniable charm that captivates every guest who walks through its doors.
When you enter the grand lobby adorned with elegant chandeliers and classic artwork, you are transported to a world of timeless luxury and sophistication. The meticulously designed interiors blend modern comforts with traditional French aesthetics, creating an inviting and enchanting ambiance.
Picture yourself entering your beautifully appointed room at Hotel Regina Louvre after a day exploring the romantic streets of Paris.
The soft lighting, plush furnishings, and tasteful decor create a serene retreat where you can unwind and rejuvenate. As you settle into your bed, you can't help but admire the stunning view of iconic landmarks such as the Eiffel Tower or the Louvre Museum from your window.
The attention to detail in every aspect of the room, from the luxurious bedding to the carefully selected artwork, showcases the property's commitment to providing guests with a truly unforgettable experience.
Moreover, one of the standout features of Hotel Regina Louvre is its exceptional concierge and room service. The attentive and multilingual staff goes above and beyond to ensure guests feel welcomed and cared for throughout their stay. Whether it's arranging tickets for popular attractions, recommending local hidden gems for dining, or simply providing a warm smile at any hour of the day, their dedication to hospitality is unmatched.
Now that we have uncovered some of the irresistible charm found within Hotel Regina Louvre's walls, and explored the various things to do within the property, let us explore the historical significance that makes this spot even more intriguing.
See Related: Best Paris Hotels for Solo Travelers
Historical Significance of the Spot
Hotel Regina Louvre occupies a historically significant Paris location steeped in rich heritage and cultural significance. Situated between Champs Elysees, known as "the world's most beautiful avenue," and the Louvre Museum, one of the world's largest art museums, the hotel resides at the center of Parisian history and elegance.
Imagine yourself strolling along the same streets that countless artists, writers, and visionaries have wandered throughout history, returning to the comfort of your room and the delight of room service at the end of a day of discovery and travel.
From this prime location in the heart of France, you can easily explore iconic landmarks such as the Arc de Triomphe and marvel at the architectural wonders that define Paris.
The reception and proximity to these historical sites allow guests of Hotel Regina Louvre to immerse themselves in the city's vibrant history and art scene at their leisure. Photos can often not do justice to the beauty explored around this unique hotel.
Furthermore, the hotel itself boasts a storied past and unique style. It was originally constructed for the Universal Exhibition in 1900 and was a temporary home for diplomats and dignitaries visiting Paris for this monumental event.
Over time, it has welcomed notable figures such as Winston Churchill and Coco Chanel, who sought refuge within its walls during significant historical moments. The convenience of check-in and the reasonable prices for such historical lodging add to its charm.
As we reflect on the historical significance of Hotel Regina Louvre's location, it becomes evident that staying within these hallowed grounds offers an experience beyond mere accommodation. Flights to France will certainly be worth it if this is your landing spot.
Nearby Parisian Attractions
When staying at the prestigious Hotel Regina Louvre, there is an abundance of enchanting attractions nearby to explore and immerse yourself in the magnificence of Paris. Just a stone's throw away, you'll find the world-renowned Louvre Museum, a treasure trove of artistic masterpieces that will leave you awe-inspired. Imagine gazing upon Leonardo da Vinci's enigmatic Mona Lisa or standing in awe before the iconic Venus de Milo sculpture. The Louvre Museum offers an unforgettable journey through history, art, and culture and will be an excellent recommendation for any traveler.
For those wishing to capture the essence of Paris through their lens, consider joining My Paris Photo Tour. This guided tour takes you through the charming streets and hidden corners of the 1st Arrondissement, providing unique opportunities to capture stunning photographs of the city's landmarks and everyday life. Whether you're a seasoned photographer or just starting, this tour offers valuable insights and tips to help you perfect your craft.
After a day of exploration, indulge in some delectable cuisine at the various restaurants surrounding Hotel Regina Louvre. La Cordonnerie offers a cozy and intimate dining experience with exquisite French dishes bursting with flavor. Savor traditional French cuisine paired with fine wines at Happy Caffe or Juveniles Wine Bar, where every bite is a sensory delight.
Whether you're fascinated by history, art, photography, or culinary adventures, staying at Hotel Regina Louvre guarantees convenient access to these incredible attractions that exemplify the essence of Paris.
Now that we've explored the nearby attractions that await guests at Hotel Regina Louvre, let's dive into the splendid amenities this luxurious accommodation offers.
See Related: Le Petit Beaumarchais Hotel & Spa
Diving into Hotel Regina Louvre's Amenities
Hotel Regina Louvre offers a prime location for exploring Paris and an array of amenities designed to enhance your stay and provide unparalleled comfort and convenience. Begin your day with a delicious breakfast at the hotel's on-site restaurant, where a variety of delectable options await you. Indulge in a leisurely meal while savoring the elegant ambiance and attentive service.
For moments of relaxation, the hotel features a cozy lounge where you can unwind with a drink and have time-honored conversations with fellow travelers. Whether you want to savor exquisite cocktails or enjoy the sophisticated atmosphere, the lounge provides the perfect setting.
To cater to your well-being, Hotel Regina Louvre goes above the conventional expectations by offering not just a sauna but also a luxurious swimming pool and a soothing spa. These amenities are made available exclusively for all adults in residence. After a day of exploring the vibrant streets of Paris, walk back to the hotel and retreat into this oasis of tranquility to rejuvenate both mind and body.
In addition to these enticing amenities, a key aspect that enhances the hotel's experience is its cleanliness, maintained meticulously across all premises.
Hotel Regina Louvre prides itself on its exceptional staff who speak multiple languages, including English, Spanish, French, German, Italian, and Arabic. This multilingual team handles Reservation and availability inquiries with utmost care, ensuring your every need is met with genuine attention.
Now that we've delved into the amenities, including the sauna, swimming pool, and spa offered by Hotel Regina Louvre, let's explore the various features within its guest rooms and suites.
As of 2023, Booking.com rates Hôtel Regina Louvre at 8.7 out of 10 based on verified guest reviews.
On TripAdvisor, Hôtel Regina Louvre consistently ranks among the top 100 hotels in Paris with a high percentage of guests rating their stay as 'Excellent.
According to Expedia data, up to 90% of previous guests recommend Hôtel Regina Louvre for its location and amenities.
See Related: New Hôtel Gare Du Nord
Room and Suite Features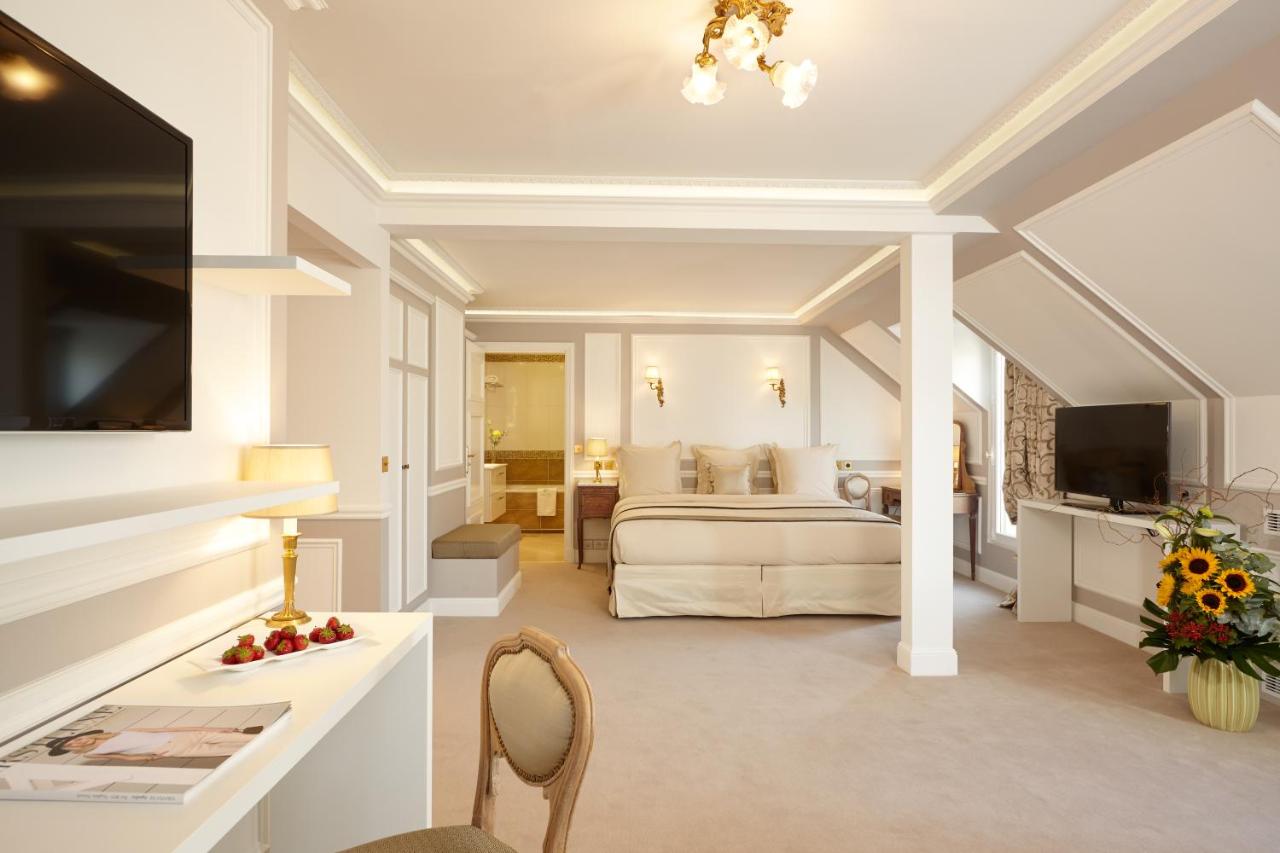 When experiencing luxury accommodation at its finest, Hôtel Regina Louvre in Paris sets the stage with its impeccable suite and room features. Every detail, from cleanliness and availability to amenities, has been carefully curated to ensure a comfortable and memorable stay for adults looking to indulge.
Upon entering your chosen room or suite, you'll immediately notice the elegant, sophisticated design blends seamlessly with classic Parisian charm. The spacious rooms allow ample space to unwind after a day exploring the city and walking back from a refreshing swim in the pool.
Imagine stepping into a Deluxe Suite – a haven of relaxation elegantly adorned with fine fabrics, plush bedding, and exquisite artwork on the walls. The ample windows not only offer stunning views of either the bustling city streets or tranquil inner gardens but also provide a glimpse of the hotel's spotless pool area, depending on your preference. Sink into the luxurious king-sized bed that ensures a restful sleep to rejuvenate yourself for another day of adventures.
The attention to detail is not limited to aesthetics alone. Still, it extends to the range of amenities provided in each room and suite, meticulously ensuring cleanliness and an efficient reservation process for all its amenities.
These accommodations feature a well-stocked minibar, allowing you to enjoy refreshments at your convenience after a refreshing swim in the pool. Stay connected with complimentary high-speed WiFi throughout your stay, ensuring you can easily connect with loved ones or confirm a spa reservation.
In addition, there is a flat-screen TV for entertainment purposes, perfect for relaxing evenings after you've indulged at the on-site pool or spa. This amenity offers endless possibilities for relaxation and enjoyment.
Think of it like having your sanctuary within the heart of Paris – a place where you can escape from the bustling city, walk back to the hotel, and revel in the tranquility while enjoying a dip in the pool or a session at the spa.
Now that we've explored the exquisite room and suite features, and experienced the adult-friendly swimming pool and spa, let's turn our attention to the dining and wellness facilities offered at Hôtel Regina Louvre.
Dining and Wellness Facilities
Hôtel Regina Louvre not only aims to provide luxurious accommodation but also takes pride in offering an exceptional dining experience, and wellness facilities including a pool and spa, which are readily available subject to reservation. If you prefer a more relaxed setting, head to the lounge area or the beautiful terrace, where you can unwind with a refreshing drink or light snack. This cozy space provides an ideal atmosphere to reflect on your day or socialize with fellow travelers. Here, you can exchange travel stories or gather information about various areas of interest from different people.
After indulging in delicious meals, it's essential to take care of your well-being. Hôtel Regina Louvre offers wellness facilities to ensure you can maintain your fitness routine or simply relax and rejuvenate. The calming properties of these wellness spaces will ensure your mental and physical health stays at its best during your vacation.
Guests have access to a sauna, providing an opportunity to unwind and destress. After a long day of exploring the city's iconic landmarks or attending business meetings, this amenity allows you to soothe tired muscles and find inner serenity. It is one of the many areas within the hotel where one can find tranquillity.
For those seeking more active pursuits, the hotel offers various exercise options. Take advantage of well-equipped fitness facilities to keep up with your workout regimen or engage in energizing activities tailored to your preferences. These facilities are ideal for people who want to maintain their physical health while enjoying their stay.
When choosing the perfect accommodation for your stay in Paris, one crucial factor to consider is the surrounding area and accessibility. In this regard, the Hotel Regina Louvre, with its unobstructed terrace views and access to beautiful areas, shines brightly, offering an ideal location that ensures both convenience and immersion in the vibrant atmosphere of the city.
Situated just 0.9 miles from the city center, Hotel Regina Louvre places you in the heart of Paris. This prime position allows for easy access to many attractions that will undoubtedly enhance your experience. Whether you are walking along the picturesque banks of the Seine River or exploring charming neighborhoods, such as Saint-Germain-des-Prés or Le Marais, everything feels within reach.
See Related: Hotel Scarlett
Surrounding Area and Accessibility
Additionally, if you are a fan of art and culture, you will be delighted to know that the renowned Louvre Museum is a mere 0.2 miles away from the hotel. Imagine strolling through its hallowed halls and marveling at world-famous masterpieces like the Mona Lisa or Winged Victory of Samothrace. Such access to these cultural treasures is one of the key selling properties of the hotel.
Let me share a personal anecdote: During my stay at Hotel Regina Louvre, I could effortlessly visit iconic landmarks like Notre-Dame Cathedral and the Eiffel Tower due to their proximity. It was truly magical to witness these architectural marvels up close and admire their beauty without enduring long commutes.
As evident from these examples, being in such a central location offers unrivaled convenience when exploring Paris and all its treasures.
Now, let's delve into another key aspect—the proximity of Hotel Regina Louvre to some of Paris's most famous landmarks. And remember, even as you enjoy these sights, gather as much information as possible to enrich your experience.
One of the prime advantages of staying at Hotel Regina Louvre is its proximity to several key Paris landmarks. Whether you have been dreaming about wandering through historic streets or envisioning yourself admiring renowned attractions, this hotel serves as an excellent base for turning those dreams into reality.
With its terrace offering dramatic views and its proximity to significant areas, it is an ingredient for an unforgettable stay.
As mentioned earlier, the world-famous Louvre Museum is a stone's throw away from the hotel. A leisurely stroll will lead you to the museum's grand entrance, where you can feast on magnificent artwork spanning centuries. This fantastic access to the museum is one of the prime properties of Hotel Regina Louvre, making it an ideal choice for art enthusiasts.
See Related: Hotel Opera Maintenon
Proximity to Key Paris Landmarks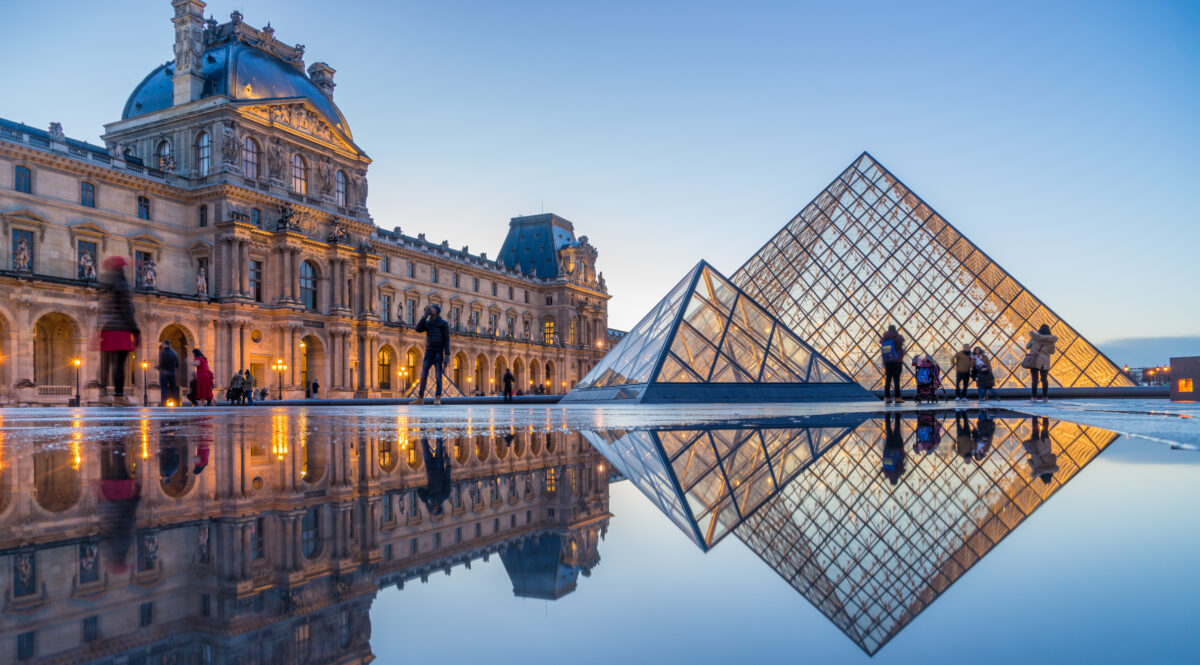 One of the prime advantages of staying at Hotel Regina Louvre is its proximity to several key Paris landmarks. Whether you have been dreaming about wandering through historic streets or envisioning yourself admiring renowned attractions, this hotel serves as an excellent base for turning those dreams into reality.
As mentioned earlier, the world-famous Louvre Museum is a stone's throw away from the hotel. A leisurely stroll will lead you to the museum's grand entrance, where you can feast on magnificent artwork spanning centuries. Immerse yourself in history and culture as you explore the Louvre's vast collection and encounter masterpieces that have shaped the art world.
Beyond the Louvre, Hotel Regina Louvre also places you near other iconic landmarks. For instance, the vibrant Champs-Élysées is within reach, allowing you to indulge in luxury shopping or enjoy a delightful meal at one of its charming cafes. The picturesque Tuileries Garden also awaits nearby, offering a tranquil retreat from the bustling city streets.
Just like a painter selecting their palette of colors, Hotel Regina Louvre allows guests to choose from a diverse range of Parisian experiences right at their doorstep.
"The convenience of being able to visit famous landmarks like Notre-Dame Cathedral and the Eiffel Tower without lengthy commutes was truly a highlight of my stay at Hotel Regina Louvre." – A satisfied guest
With its central location enhancing accessibility to key Paris landmarks, Hotel Regina Louvre ensures that every moment of your trip is filled with discovery and enchantment.
See Related: Hotel de France Invalides
Tasting the Luxury: Actual Guest Reviews of Regina Louvre
When choosing a luxury hotel, hearing from those who have experienced it firsthand can be invaluable. A collection of guest reviews can provide insights into what makes a stay at Hôtel Regina Louvre truly exceptional. Let's dive into some actual guest reviews highlighting the distinct aspects of this renowned accommodation in Paris.
One recurring theme among guest reviews is the impeccable service the staff at Hôtel Regina Louvre provides. Guests consistently praise the warm and welcoming nature of the hotel's employees, remarking on their attentiveness and eagerness to meet their needs. From the moment guests arrive, they are greeted with professionalism and genuine care, creating a sense of comfort and assurance throughout their stay.
"The staff at Hôtel Regina Louvre exceeded all expectations," expressed James, a recent guest. "From the front desk to the housekeeping staff, everyone was incredibly friendly and went above and beyond to ensure our stay was perfect."
Another aspect frequently praised by guests is the exquisite design and decor of the hotel. The elegant blend of classic and contemporary elements creates a captivating ambiance that reflects the grandeur of Paris itself. Whether the stunning chandeliers in the lobby or the tastefully decorated rooms, every detail contributes to an indulgent and luxurious experience.
The culinary offerings at Hôtel Regina Louvre also receive high praise from guests. With an on-site restaurant known for its delectable French cuisine and a lounge perfect for relaxing with a signature cocktail, guests can savor exceptional gastronomic experiences within steps of their luxurious accommodations.
It is not just the internal amenities that captivate guests but also the hotel's favorable location in the heart of Paris. Hôtel Regina Louvre's proximity to renowned attractions such as the Louvre Museum, the 1st Arrondissement, and My Paris Photo Tour ensures that guests can easily immerse themselves in the city's cultural and historical treasures.
Like a well-curated symphony, Hôtel Regina Louvre orchestrates an unforgettable experience for its guests, harmonizing outstanding service, captivating design, exquisite dining options, and a prime location in the heart of Paris.
Reviews of Hôtel Regina Louvre consistently reflect the exceptional quality and luxurious experience that awaits visitors. The attentive staff, the exquisite design, the culinary delights, and the prime location all contribute to creating a stay that is truly memorable.
Whether you are visiting Paris for business or leisure, Hôtel Regina Louvre offers an oasis of luxury that exceeds expectations. Don't just take our word for it; let the glowing reviews speak for themselves.
Related Resources: