Details
Address: 228 Rue de Rivoli, 75001 Paris, France
District:
Check-in:
Check-out:
Room Count:
Starting Price: $1,890.00
Le Meurice Description
Take a step into unparalleled luxury and prepare to be dazzled by the majesty of Le Meurice. Located in Paris, this Dorchester Collection hotel offers guests an extraordinary experience with meticulous attention to detail and an elegant atmosphere. From its amazing location right at the heart of one of Europe's most iconic cities, visitors can take advantage of world-class amenities that create an unforgettable stay no matter their needs.
And when it comes to service? We guarantee you will not find better! Get ready for ultimate relaxation combined with exemplary personalized hospitality as you enjoy everything on offer here – designed just for your pleasure!
Key Takeaways
Le Meurice offers luxurious Louis XVI decor and outstanding service in the heart of Paris.
The hotel provides exceptional amenities, services, dining experiences, and family-friendly activities for an unforgettable stay.
Le Meurice's premium location near iconic attractions makes it worth the splurge for those seeking a luxurious experience in Paris.
Introduction to Le Meurice – Dorchester Collection
Le Meurice, renowned since its establishment in 1815 as a symbol of exquisite luxury and gracious elegance right in the middle of Paris, is operated by Dorchester Collection. This five-star hotel stands out with its exquisite Louis XVI decoration style and extraordinary service that cements its long-standing legacy.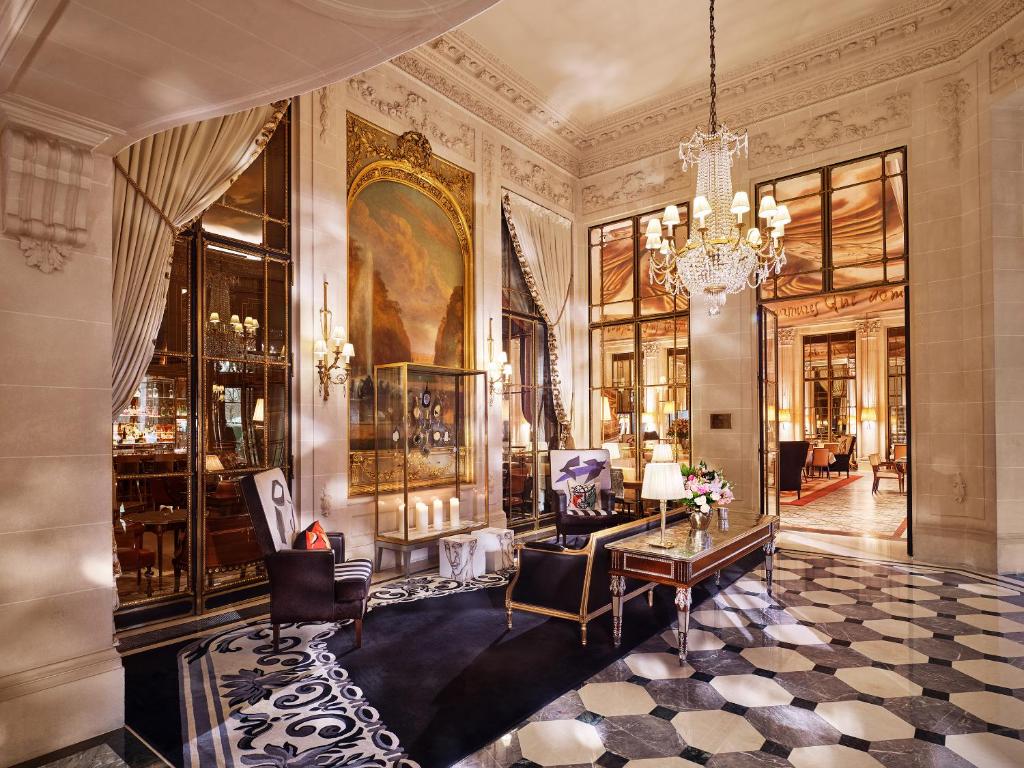 Located at Rue de Rivoli near the 1st Arrondissement, guests can enjoy Le Meurice's offerings while conveniently close to top attractions such as Tuileries Garden and Louvre Museum. Wireless internet connectivity, among many other facilities and property amenities, is available for all visitors, including those traveling alongside their pets. High-quality services are guaranteed!
Start each day on a fine note. Savor an abundant continental breakfast within stunning interiors inside this majestic hotel accommodation option tucked away in picturesque Paris – a convenient experience to be had here!
Booking Your Stay at Le Meurice
Le Meurice is an accommodation where guests can check in at 15:00 and out by noon with air conditioning available for every room. A daily dry cleaning fee may apply according to the type of stay, while additional fees could apply if optional extras are chosen. The total price on departure will include a 5% mandatory employee contribution charge, which won't include any tax when booking.
Please refer to the terms and conditions for more information regarding these fees or deposits. Payments made at the property site must also have prior authorization from a credit card, as it will cover the full amount of your stay.
However, cash transactions are limited up to EUR 1000 due to security regulations. Policies for incidental charges might differ, too, since extra-person charges might still be involved on top.
The Splendour of Le Meurice's Design
Le Meurice, a luxurious Parisian hotel steeped in history and richly embellished with modern amenities, offers an unforgettable experience for its guests.
Its stunning design encompasses period-style architecture combined with intricately detailed moldings throughout the lobby and other common areas of the building and palatial marble bathrooms that each boast separate bathtubs and showers encrusted with gilded accents.
This level of excellence makes Le Meurice truly remarkable, combining luxury decor with skilled craftsmanship into one majestic masterpiece.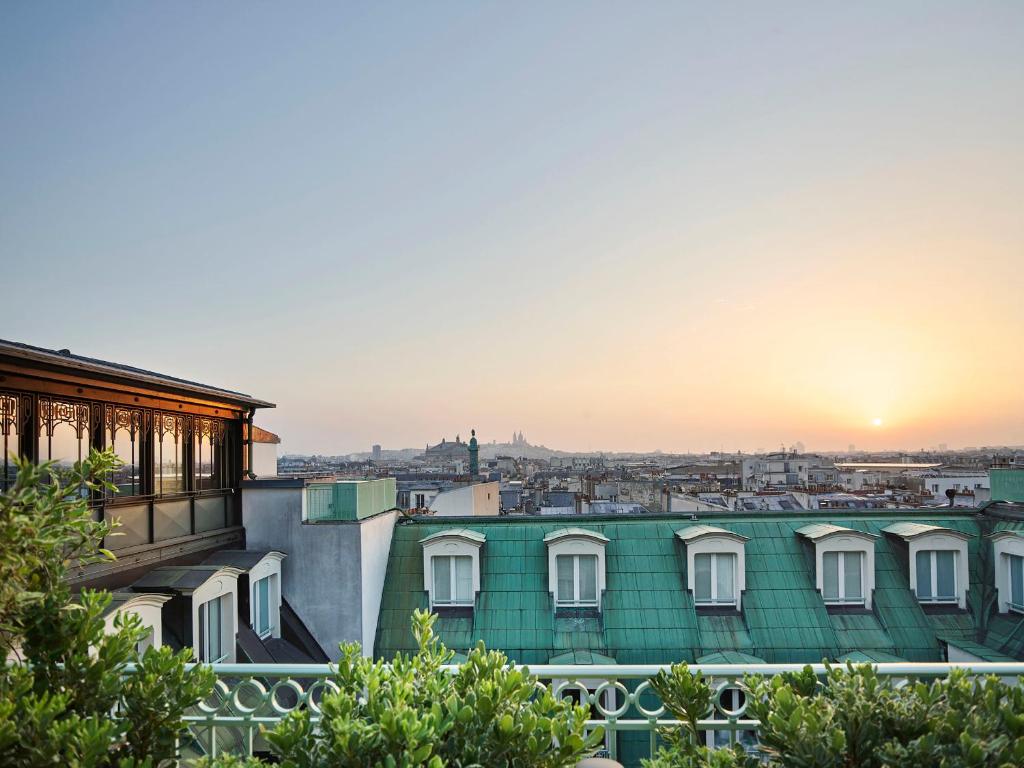 Location
Le Meurice Paris is located in a prime spot, right at the center of Paris' 1st Arrondissement along the banks of the Seine. Guests will have easy access to popular sites such as The Louvre and Musée de l'Orangerie, which can be reached within walking distance from this central location.
Tourists can take advantage of nearby attractions like Tuileries Gardens or Rue Saint-Honoré for shopping and leisure activities.
For those traveling by car, parking facilities are provided close by, but additional fees may apply, so guests should keep that in mind if they plan on bringing pets when visiting Le Meurice hotel.
Amenities and Services
Le Meurice is dedicated to providing guests a unique and personalized experience through its amenities and services tailored to suit their needs.
This includes the luxe Spa Valmont, boasting modern decor alongside massages, facials, body treatments, beauty therapies, a small outdoor terrace along with access for disabled persons, high-speed Wi-Fi across the property, plus an in-house hair salon.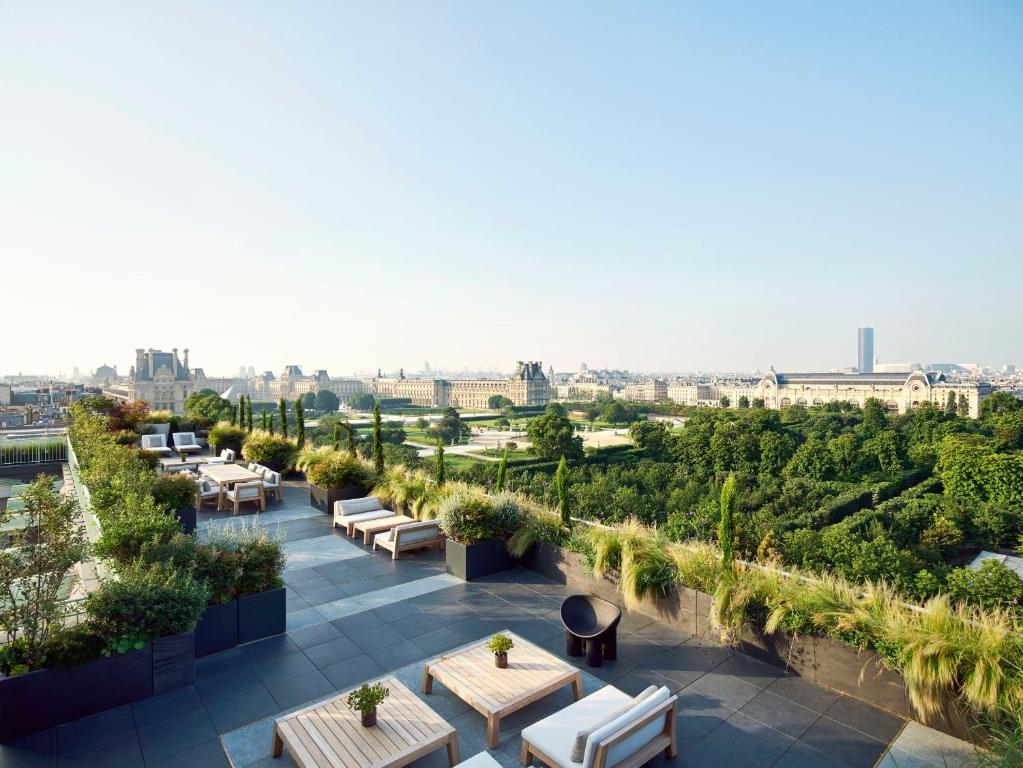 Health-conscious visitors can take advantage of the onsite fitness center, which houses cardio machines alongside free weights & weight machines, although it may be considered somewhat compact. There is also banquet hall space suitable for any event or meeting accompanied by attentive staff, ensuring all guests have everything they need during their stay at Le Meurice.
Rooms
Le Meurice's suites and rooms have been lavishly designed with meticulous detail to offer an expansive yet charming hideaway in the center of Paris. Every Classic. The room is 320 square feet, providing a sizable retreat where visitors can appreciate their break.
Some space inside includes breathtaking perspectives on the court, Tuileries Garden, or even the iconic Eiffel Tower – granting guests access to beautiful sights only Paris offers. For convenience, the palatial marble bathrooms are appointed with separate tubs and extra beds such as robes, slippers, and scales. Adding magnifying mirrors and Penhaligon's luxurious toiletries provides additional comfort from luxury hotel room service options while staying at Le Meurice.
Guest Experience at Le Meurice
Le Meurice is a luxurious hotel prides itself on its attentive service and unique amenities for each guest. With secure key card access to all rooms, the 341 reviews testify of their commitment to providing an extraordinary stay. The 24-hour concierge team can assist with reservations, museum tickets, transportation arrangements, minibar, or restaurant recommendations while sightseeing tours are offered too!
For those traveling as a family, there are even more advantages – kid-size bathrobes & slippers are provided, plus special offers like free treasure hunts in Tuileries Gardens accompanied by wooden sailboats and toys, which parents will surely appreciate check out when coming along with their kids.
Last but not least, Le Prince toiletries complete the offerings at this magnificent establishment, suitable also for families who desire quality holidays.
Dining at Le Meurice
Le Meurice provides extraordinary eating opportunities to all its guests, featuring Le Meurice Alain Ducasse restaurant rated three stars in Michelin and offering exquisite Parisian delicacies with grand décor inspired by the Hall of Mirrors from the Palace of Versailles.
On the other hand, there's also more casual dining available at Restaurant le Dali while you can relax and have a drink or two in their cozy bar.
The reputation for excellence amongst diners was made due to the excellent service quality offered within these venues alongside sumptuous food offerings. Note that breakfast does not come included with the room rate but is nevertheless provided upon request, plus fee payment is required.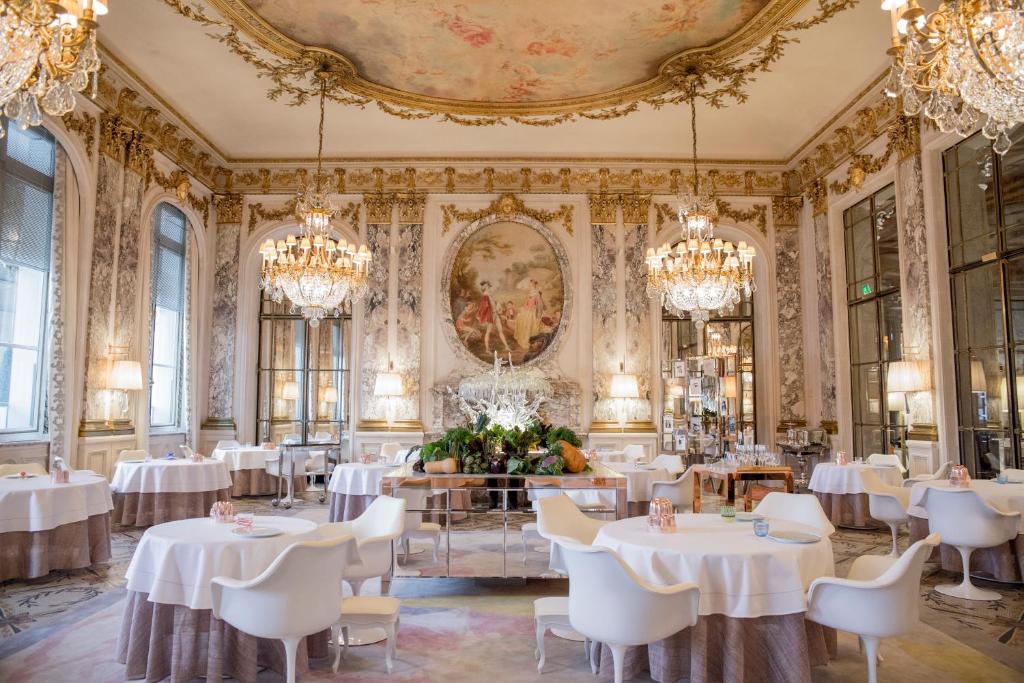 Whether it's an unforgettable culinary journey or simply having some refreshments after dinner hours you may desire, guests are guaranteed satisfaction on account of various options furnished at Le Meurice hotel accordingly!
Nearby Attractions
Le Meurice, with its prime location in Paris, offers guests the perfect access to a number of renowned attractions and activities. Within walking distance are The Tuileries Gardens, The Louvre Museum, Musée de l'Orangerie, and the celebrated museum of the Museé d'Orsay. Allowing visitors to take advantage by immersing themselves deeply into all that culture offers.
Not only does this hotel provide quick access, it is also conveniently located near some luxurious locations such as Place Vendôme and others like the St-Honoré area or Palais Royal, which present grandiose shopping possibilities for those seeking leisurely pursuits over cultural affairs, not forgetting Salon de la Paix amongst them, too!
Conclusively, Le Meurice places their clients in an ideal setting close enough so they can explore many iconic landmarks without breaking stride and experience firsthand what makes Paris one remarkable city that brings together history and modernity hand-in-hand while curating unique experiences tailored for every guest no matter who they may be!
Is Le Meurice Worth the Splurge?
Le Meurice, with its elegant design and prime location in the City of Lights, offers guests a luxurious stay that is truly unmatched. Its state-of-the-art accommodations provide all the amenities one might need while enjoying an indulgent experience.
Their commitment to delivering top-quality customer service ensures every guest has a memorable time during their Parisian vacation. Despite the added charges that come along with such luxury at Le Meurice, it is worth investing for those seeking unforgettable accommodation in this vibrant city's most central area.
When planning your trip to Paris, the majestic Le Meurice is an experience not to be missed. Its prime location in the heart of this vibrant city, opulent design, and luxurious amenities make it a perfect place for guests seeking comfort and beauty. Personalized services are offered for those who want their stay at Le Meurice truly unforgettable.
From its esteemed heritage and stylish interior design details to world-class facilities catering perfectly to special occasions and each guest's needs – there can be no question that one of Paris' best hotels offers luxury beyond comparison!
Frequently Asked Questions
What is Le Meurice famous for?
Le Meurice, an iconic hotel in Paris right opposite the Tuileries Gardens since 1835, is a much sought-after destination. It's well known for its luxurious setting and celebrated restaurants and spa, making it one of France's most exclusive luxury hotels.
How much is dinner at Le Meurice Paris?
A typical meal at the Parisian restaurant Le Meurice will set you back an average of €287 per person, not including drinks if selecting a starter and main course or mains and dessert.
What is the starting price for a room at Le Meurice?
A night's stay at Le Meurice starts at US$1,235.
Does Le Meurice offer parking facilities?
Le Meurice provides parking services for disabled guests at an additional cost for their guests.
Are pets allowed at Le Meurice?
At Le Meurice, pets are allowed but may come with extra fees and other stipulations.
Related Resources