Details
Address:
District:
Check-in:
Check-out:
Room Count:
Starting Price: $2,200.00
Ritz Paris Description
For those wanting a peek into the world of luxury and opulence, the Ritz Paris provides an unforgettable experience. Situated in one of Europe's most sought-after cities, this iconic hotel has been synonymous with grandeur for generations, from its lavish design to its renowned gastronomic offerings.
Our comprehensive review will uncover all that The Ritz Paris offers. This gives travelers insight into why the name Ritz remains at the top regarding luxurious stays in Paris!
Key Takeaways
The Ritz Paris is an iconic luxury destination renowned for its rich history, prestigious guests and French art de vivre.
It offers a prime location in the heart of Paris with exquisite architecture, luxurious furnishings and amenities, and diverse dining options to suit all palates.
The Ritz Paris provides a truly opulent experience worth the splurge for those looking to enjoy the epitome of elegance and sophistication.
The Ritz Paris: An Iconic Luxury Destination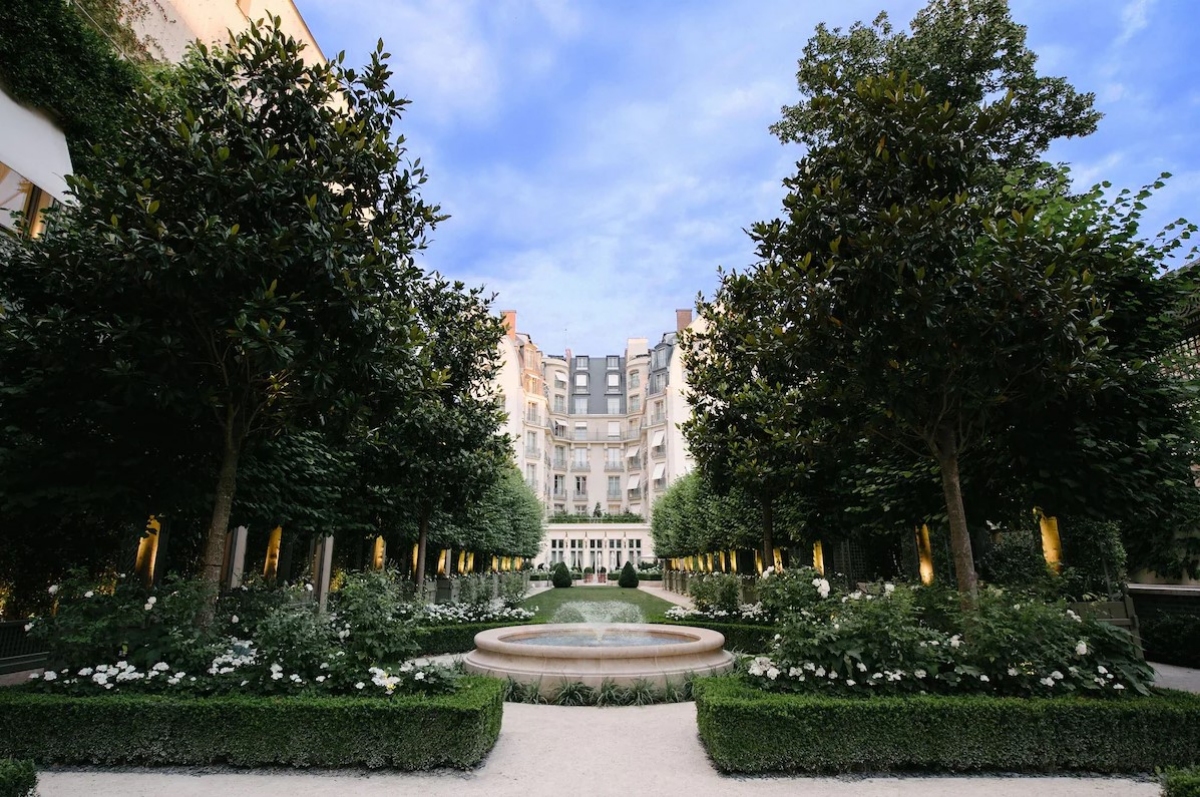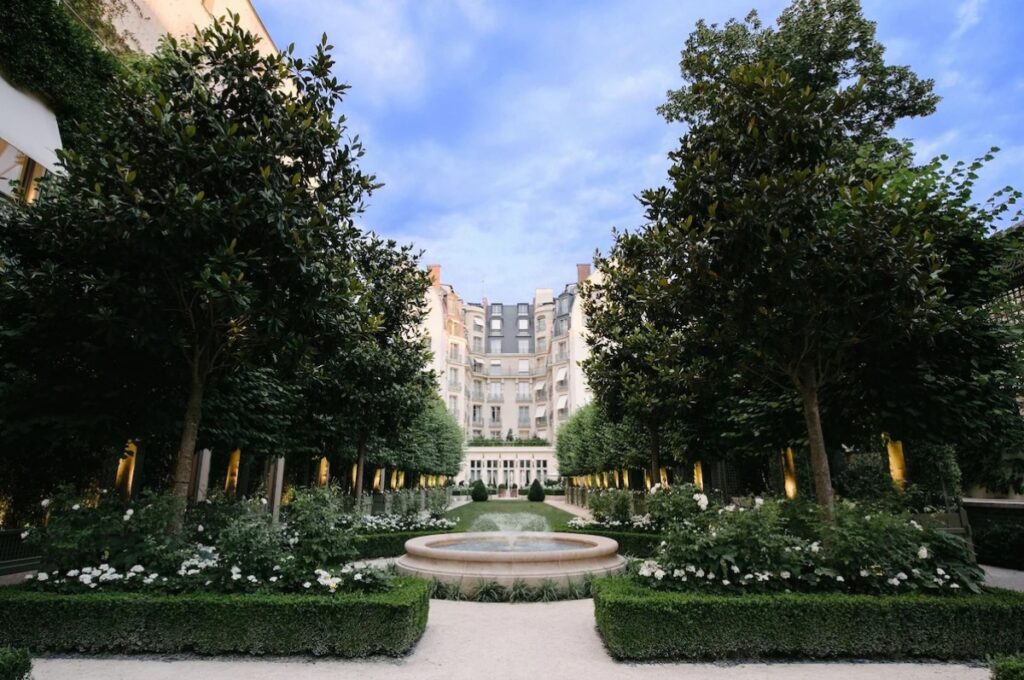 Ritz Paris, located in the center of Paris and established in 1898, is renowned for its illustrious guest list consisting of Coco Chanel, Princess Diana, and Ernest Hemingway, as well as being a famous hotel. Its French art de vivre sets it apart from other hotels around the city.
Guests to the Ritz are guaranteed professional service yet with friendly hospitality, which takes one back to when F. Scott Fitzgerald visited during his lifetime. The iconic bar Hemingway creates an inviting atmosphere that has become part of this legendary establishment's heritage, where affluent individuals spanning different backgrounds such as fashion, media, or technology often frequent quietly but assuredly too.
Accommodations come at quite high rates, starting from 1,100 EUR per night, depending on seasonality. They include complimentary free Wi-Fi, modern amenities like flat-screen TVs integrated into gilded mirrors above marble fireplaces, and touchscreen phones enabling control over lighting, air conditioning, etc.
Embarking on your Ritz Paris Journey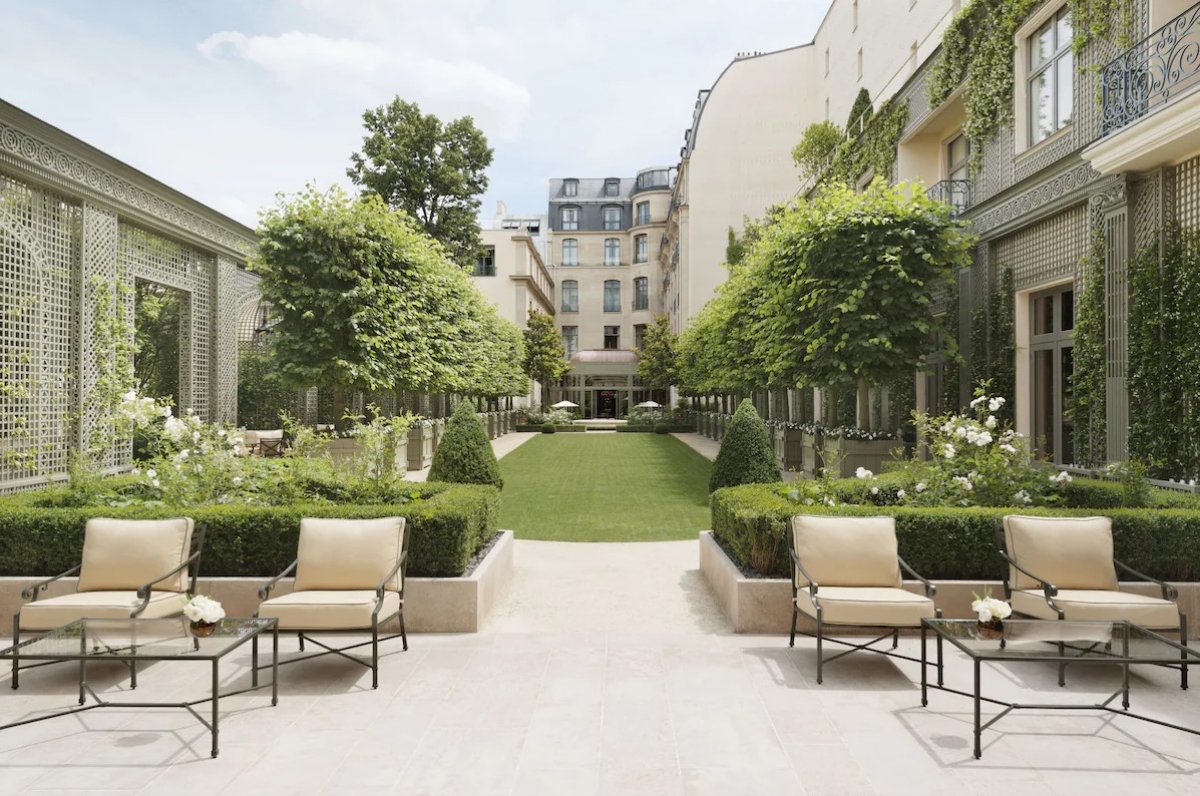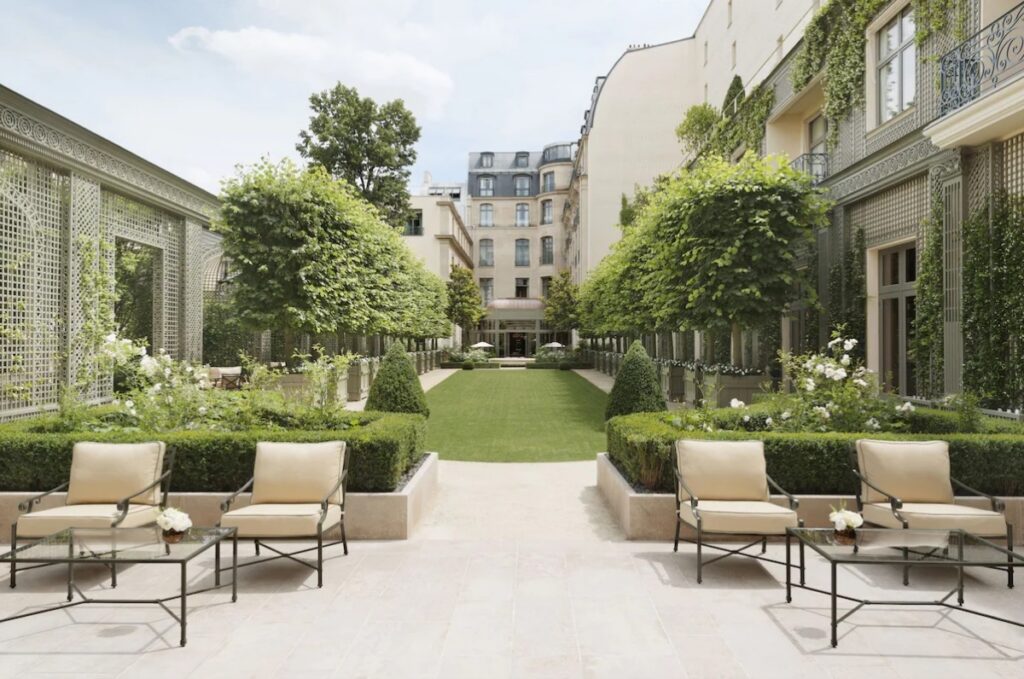 Located in the heart of Paris, the Ritz Hotel offers an incomparable luxury experience thanks to its proximity to Charles de Gaulle airport and nearby subway stations. Upon arriving at the property, guests are welcomed by a front office staff member who escorts them for check-in before reliving in top-notch room service or enjoying French delicacies from restaurants inside this exquisite building.
The Ritz also boasts premier amenities such as stately architecture, adding more flavor to this remarkable visit throughout your stay!
Location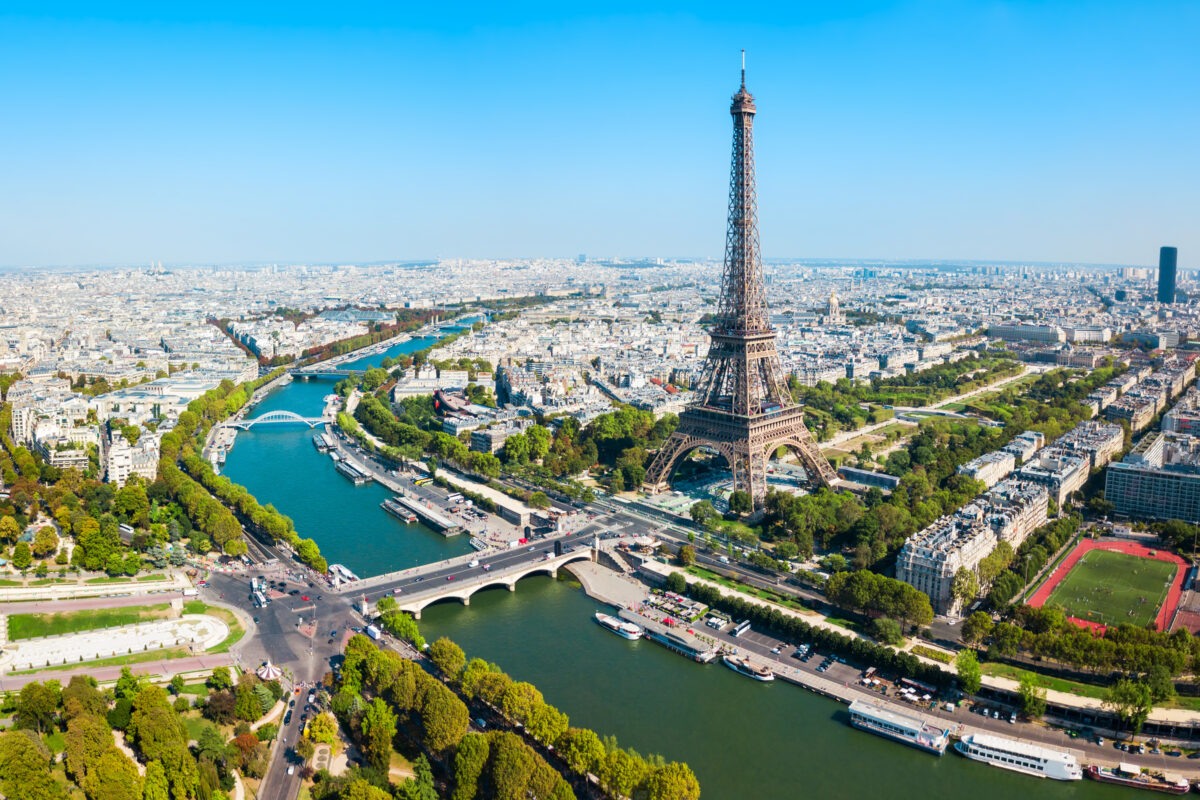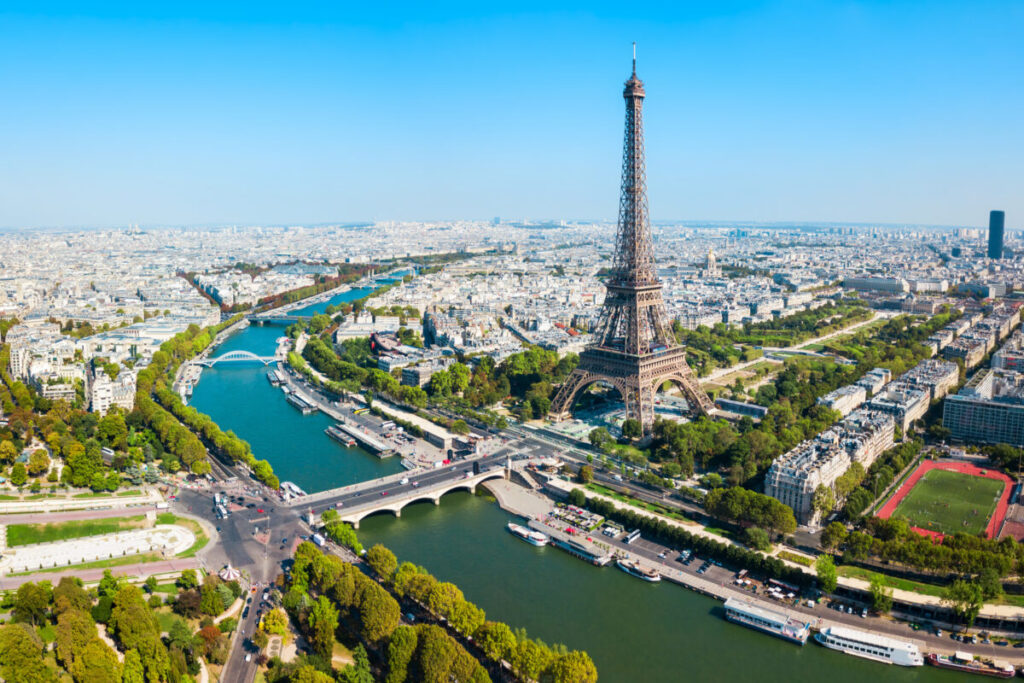 Situated in the center of Paris and close to numerous popular attractions such as Place Vendôme (1st arrondissement), The Opéra, Madeleine & Tuileries metro stations – not to mention Coco Chanel's iconic boutique located on Rue Cambon – the Ritz Paris offers its guests a prime location that is walking distance from all these sites. They will be just steps away from France's most renowned landmarks: The Palais Royal.
The hotel complements this with luxurious amenities for visitors wanting an exceptional experience in city life's hustle and bustle, allowing them to take full advantage of their stay while immersing themselves amongst nearby cultural destinations.
See Related: Best Hotels Near Arc de Triomphe in Paris, France
Opulence Redefined: Architecture and Decor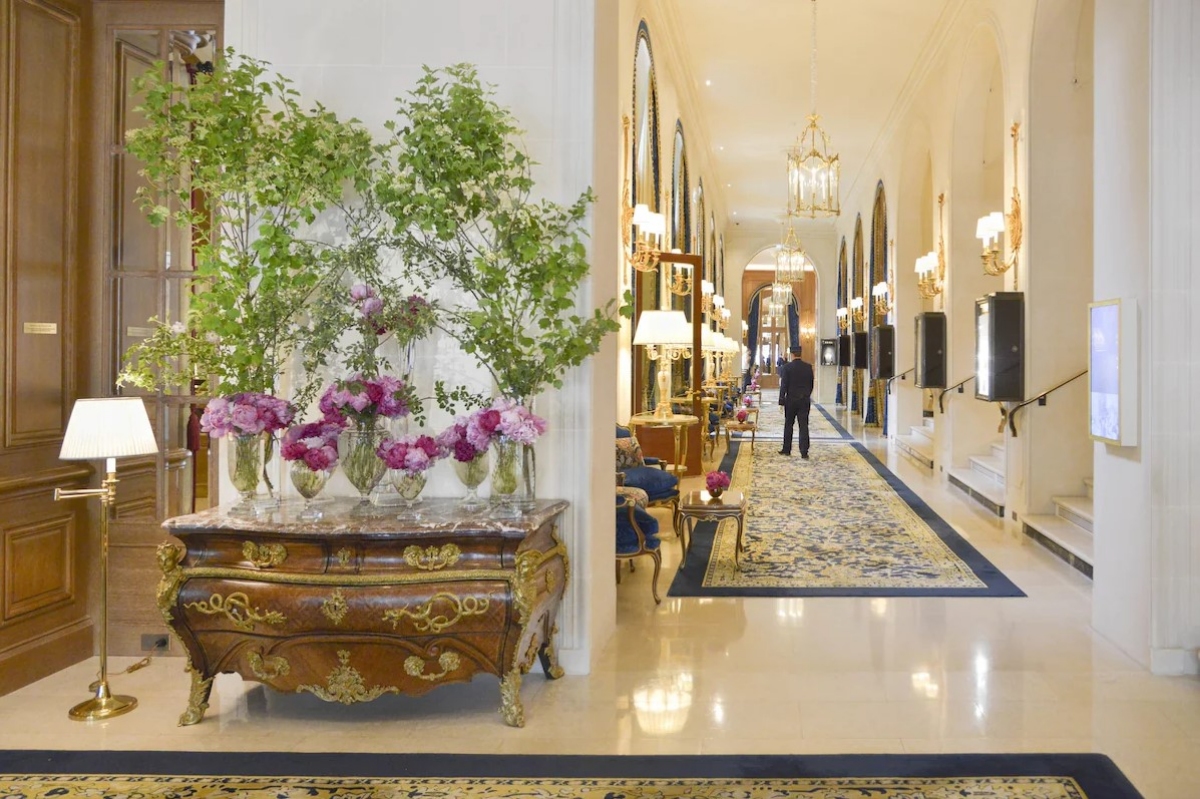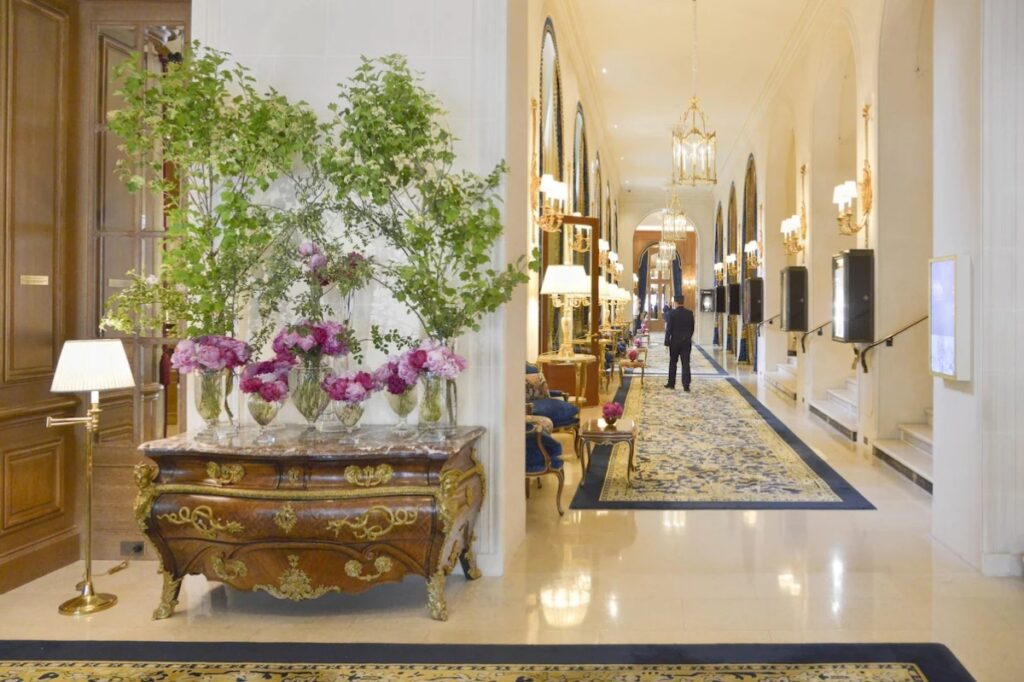 As you step into the Ritz Paris, a realm of magnificent grandeur immediately awaits. The hotel's interior has been painstakingly reconstructed to showcase exquisite furnishings from the Baroque and Belle Époque periods, such as tasseled curtains and plush carpets, reflecting its prominent classical style.
Each one of the 142 guest rooms boasts an elegant decor with creams or pastel hues complemented by luxurious brocades, oil paintings, Louis XV furniture pieces, chandeliers, plus their signature key-shaped light switches and silk tulip lampshades – all these adding up to make for refined living spaces that provide comfort along with modern convenience in features like en suite bathrooms equipped with electricity & phone services per room/suite.
These aspects come together at Salon Proust – giving visitors another reason to relax while savoring their stay at Ritz Paris!
The lobby is something else altogether. Its design takes guests back in time due largely (if not solely) to aesthetic values alone, which speaks volumes about this hotel's dedication to luxury experiences over anything else.
As if the beautiful indoors weren't enough, there is also outside where tranquility can be found amidst ritzy settings on account of landscaped gardens around the terrace being offered alongside plentiful sunshine out here, which makes it so much more desirable. It fully complements outdoor enjoyment, ensuring your satisfaction remains undiminished throughout the experience within city limits!
Unmatched Amenities at Ritz Paris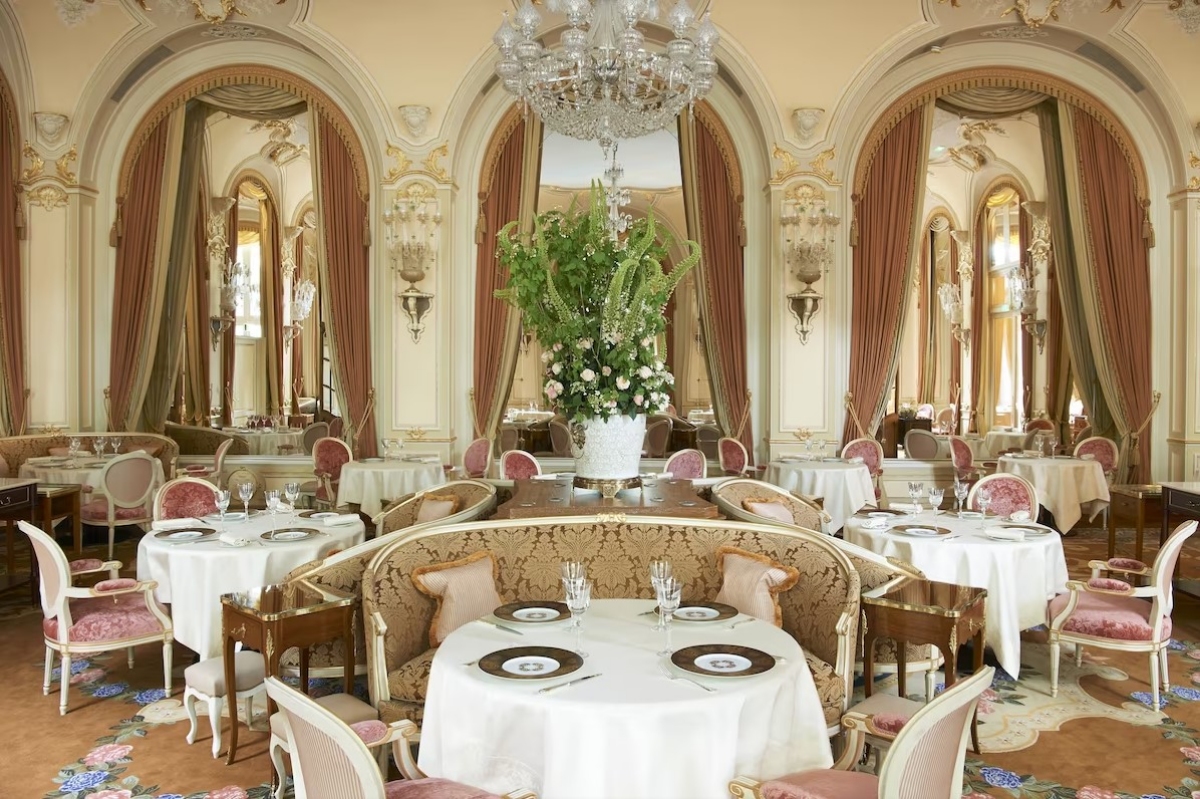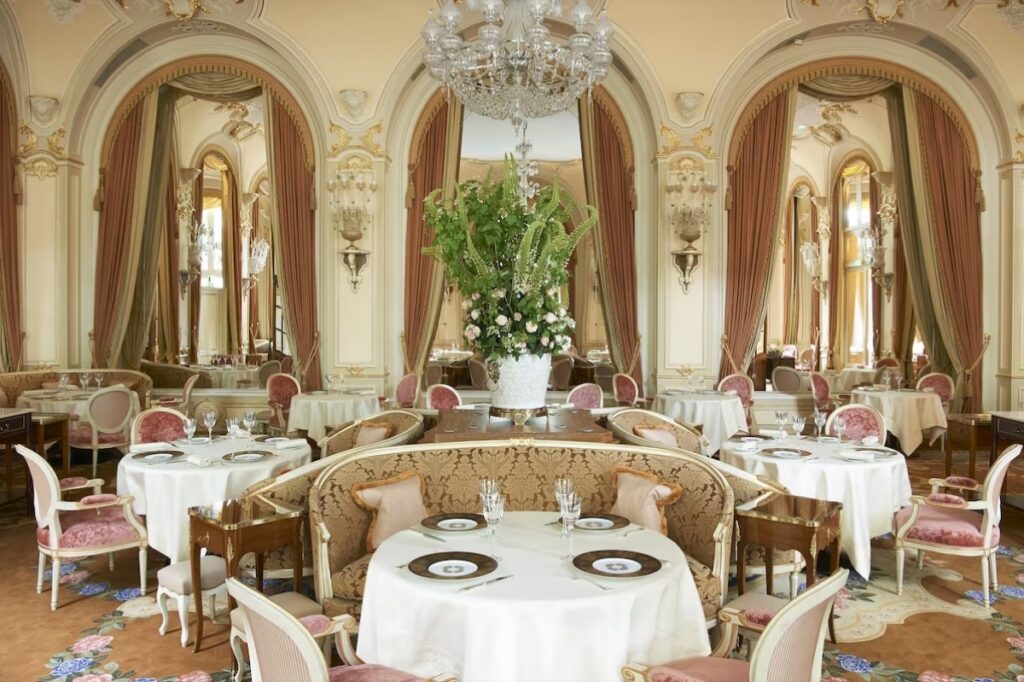 At the Ritz Paris, guests can always expect to receive nothing but the most exquisite amenities. Its famous Chanel spa is in its basement and offers services from renowned skincare provider Biologique Recherche for visitors seeking relaxation and renewal.
Along with this luxe facility, travelers are also welcome to enjoy a fitness center, pool area as well as shops featuring designer goods while there. A flat-screen tv ensures that everyone has access to luxury entertainment during their stay at this iconic hotel situated in Paris – ensuring each visitor's needs are fully met throughout every moment spent within its walls.
The École Ritz Escoffier cookery school provides an exclusive experience for those looking to learn new culinary techniques or perfect existing skills, enabling them to discover something special about themselves, too!
With everything offered here – spectacular property amenities included – it's no wonder why many have chosen to stay here. The Ritz Club Paris, time again, over any other option when traveling around France's capital city of love & beauty alike!
Rooms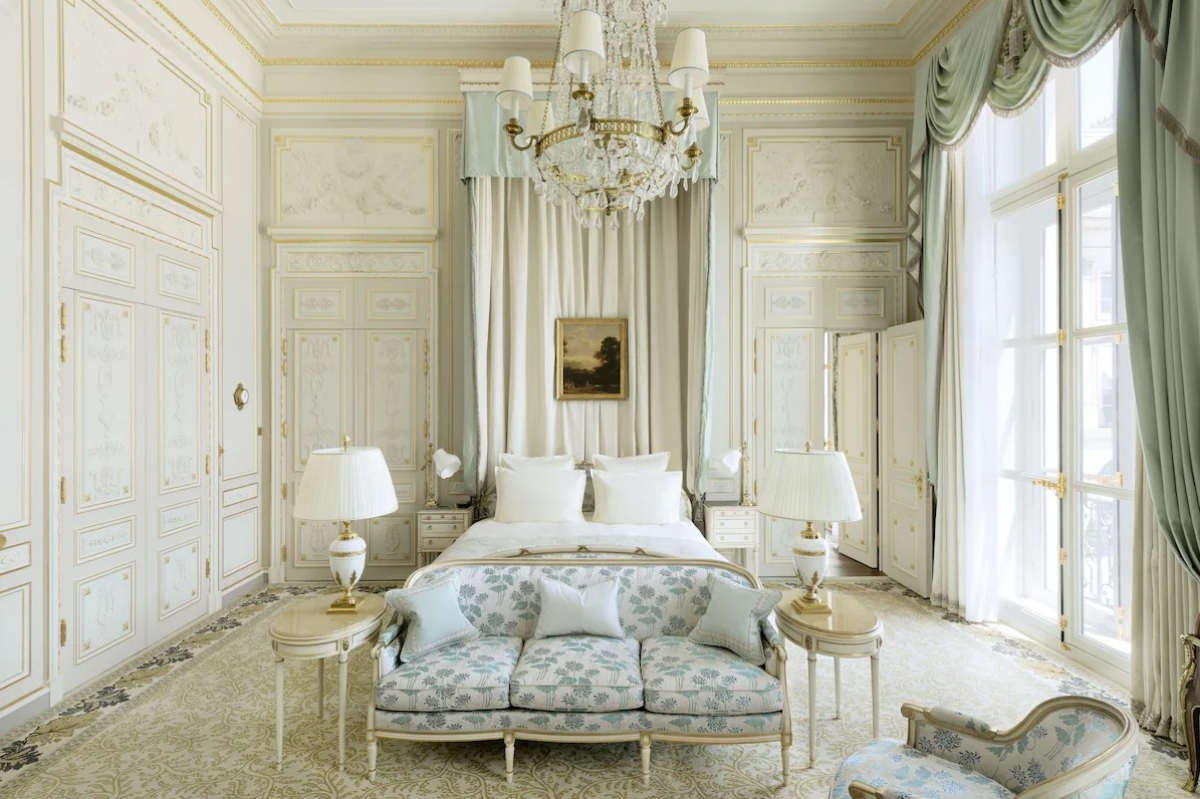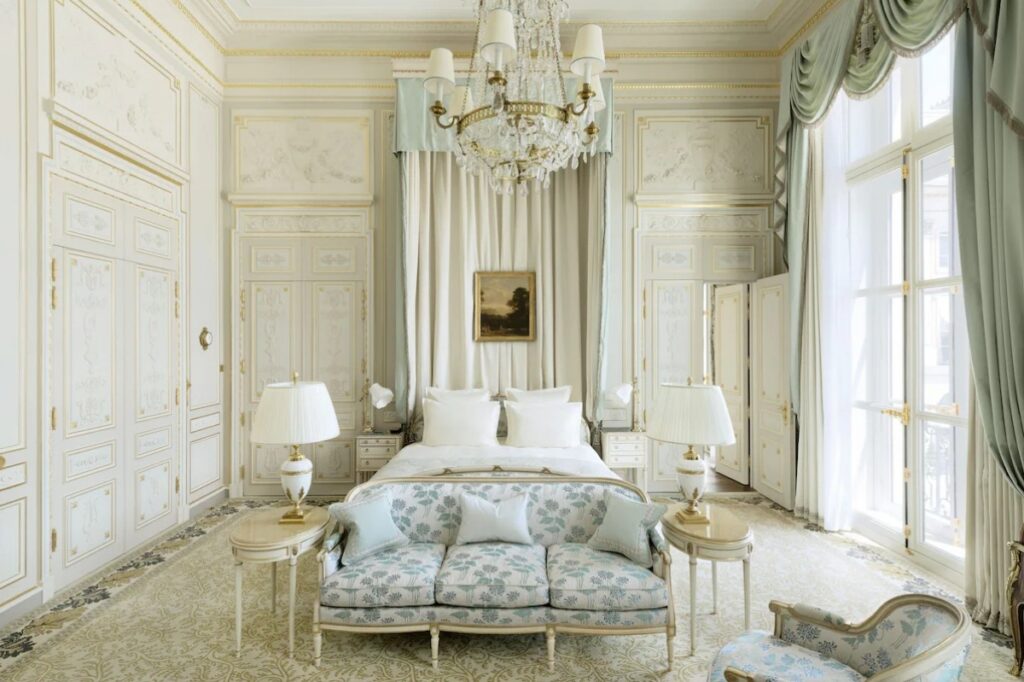 The Ritz Paris is renowned for its commitment to luxury, as seen in their exquisitely decorated rooms and suites. The accommodations range from the generous Executive Rooms to the grand Imperial Suite. All are decorated with elegant Empire designs and include modern amenities such as flat-screen TVs integrated into ornate gilded mirrors above marble fireplace mantels alongside features unique to this hotel, like gold swan faucets and bells for calling a valet service if desired!
Marble bathrooms featured within these sumptuous spaces give guests an extra level of pampering experience – featuring Villeroy & Boch sink complete with those distinctive golden swans, dual shower heads, plus separate toilet compartments perfect for shared usage or couples traveling together. At the same time, large tubs provide the space required during long baths filled with peach bath linens that exude relaxation at every turn.
Taking inspiration from Versailles itself, visitors staying in Grand Deluxe Rooms gain serenity through spectacular views out towards the central garden, making it feel as though they have stepped away from bustling city life altogether without leaving behind any luxurious elements associated with already mentioned!
Finally, each room remains intuitively managed via touchscreen phones, allowing you control over your climate environment, including exterior awnings, should one wish for maximum privacy when enjoying time inside Ritz' iconic Parisian establishment.
Guest Experience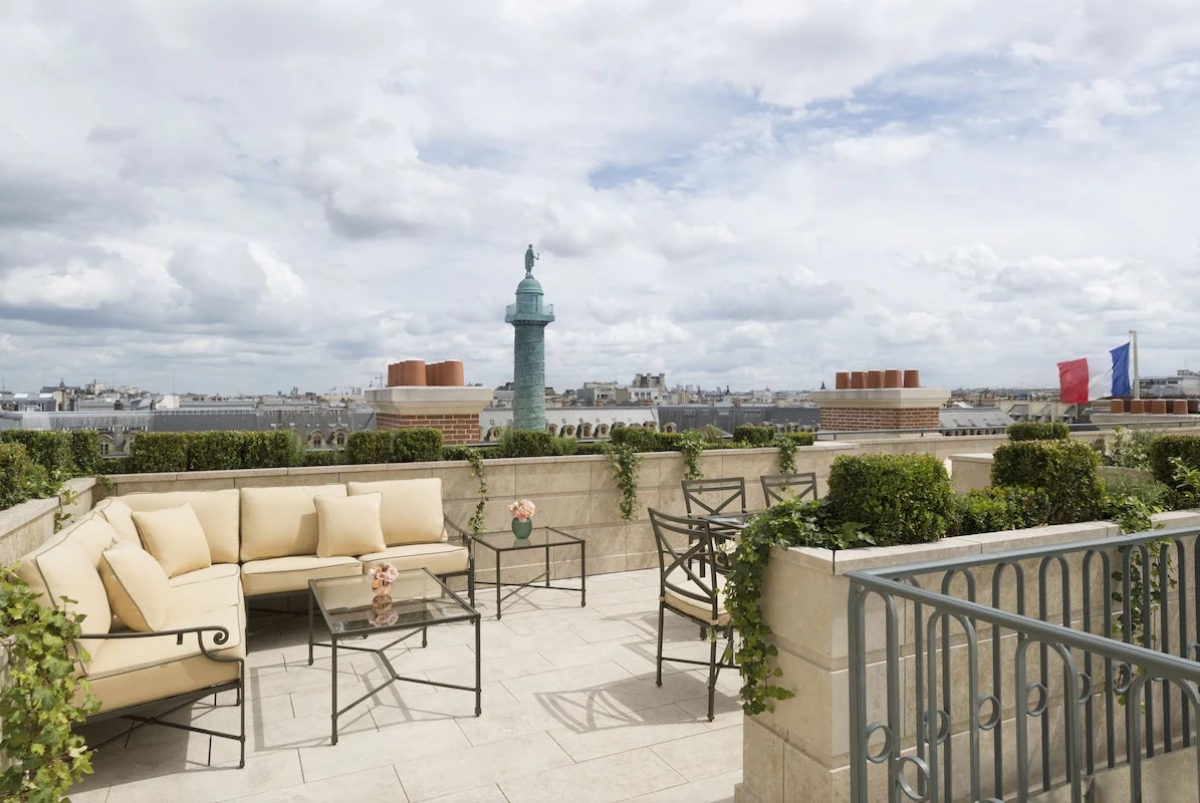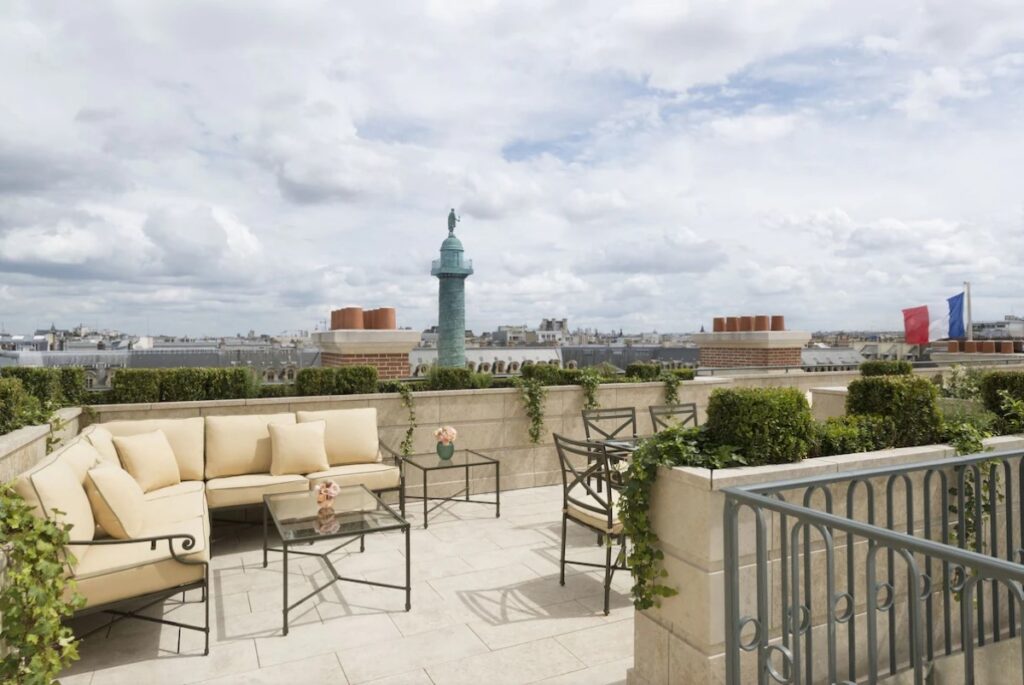 At the Ritz Paris, guests can expect a top-class experience with personal services tailored to their needs. A dedicated Guest Experience Manager and staff at all of the hotel's prestigious restaurants provide attentive care for every detail throughout each visit.
From comfortable stays in high-quality rooms to French delicacies served by renowned eateries or spa treatments found at the exclusive Ritz Club, there is something for everyone here that will allow visitors to fully immerse themselves in this luxurious atmosphere. Family activities such as swimming lessons and cooking classes are also available, so even young travelers may participate in exquisite hospitality experiences from The Ritz Hotel Paris.
See Related: Best Hotels Near Gare du Nord in Paris, France
Living the Ritz Paris Experience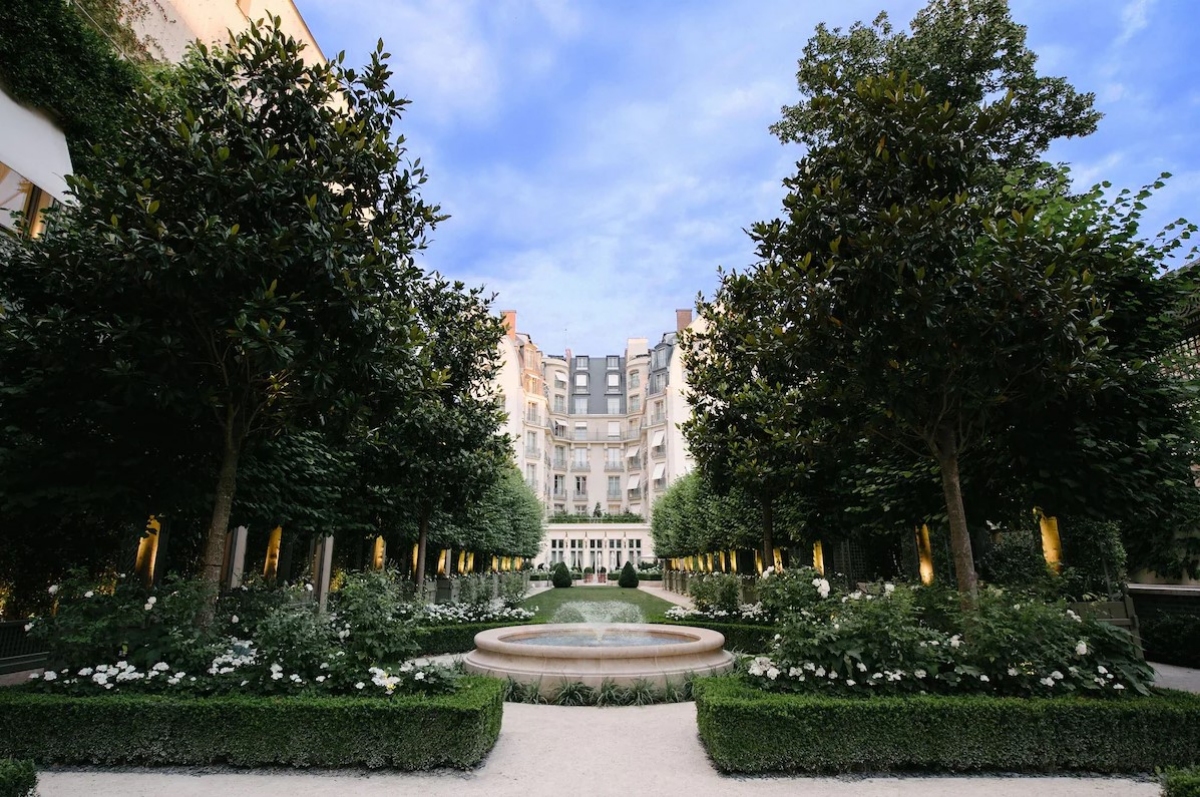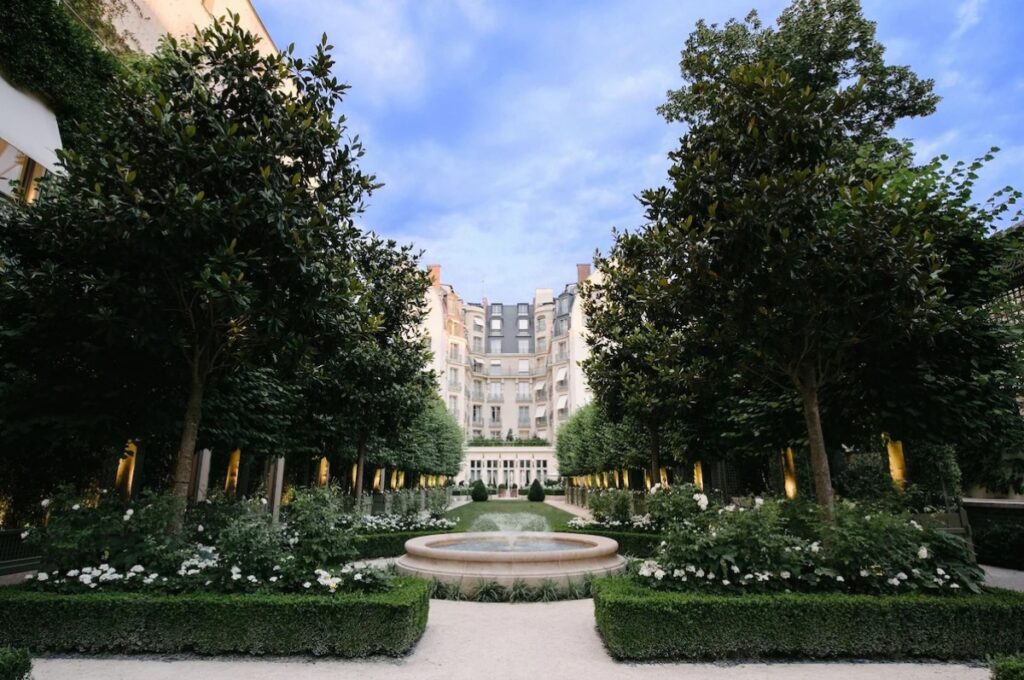 The Ritz Paris invites you to come and discover its world-renowned dining options as well as accessible services that are tailored toward family activities. With Bar Vendôme, Les Jardins de l'Espadon, Table de l'Espadon, Hemingway's Bar, and the legendary Ritz Bar on offer (all featuring special afternoon tea selections), every palate is catered for in a range of exceptional gastronomic experiences.
The hotel also prides itself on providing attentive support to each guest through their special requests and ensuring their stay at the famous Hotel will be comfortable regardless of mobility or familial demands, offering exclusive features aimed at those with limited accessibility and diversified exciting entertainment suitable for families.
Lastly, The Ritz remains committed to making sure your time spent in this beloved city can be an unforgettable one, too!
Culinary Delights at Ritz Paris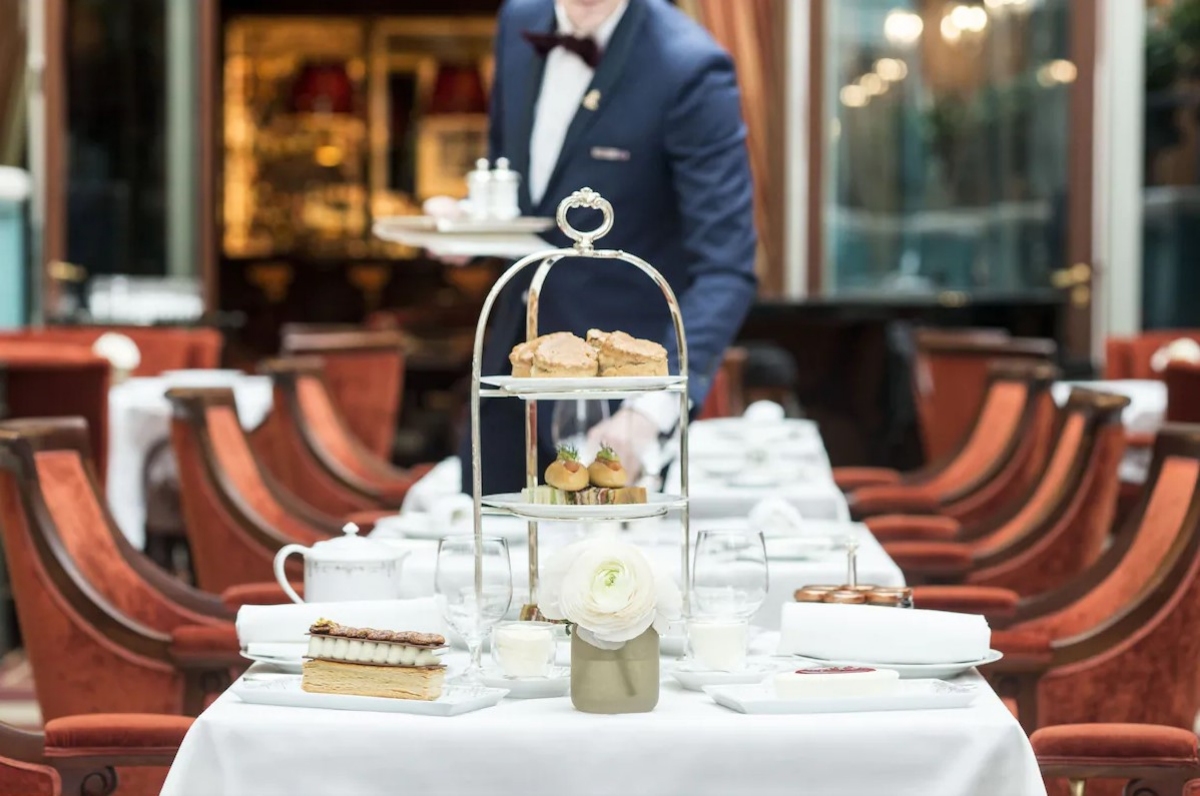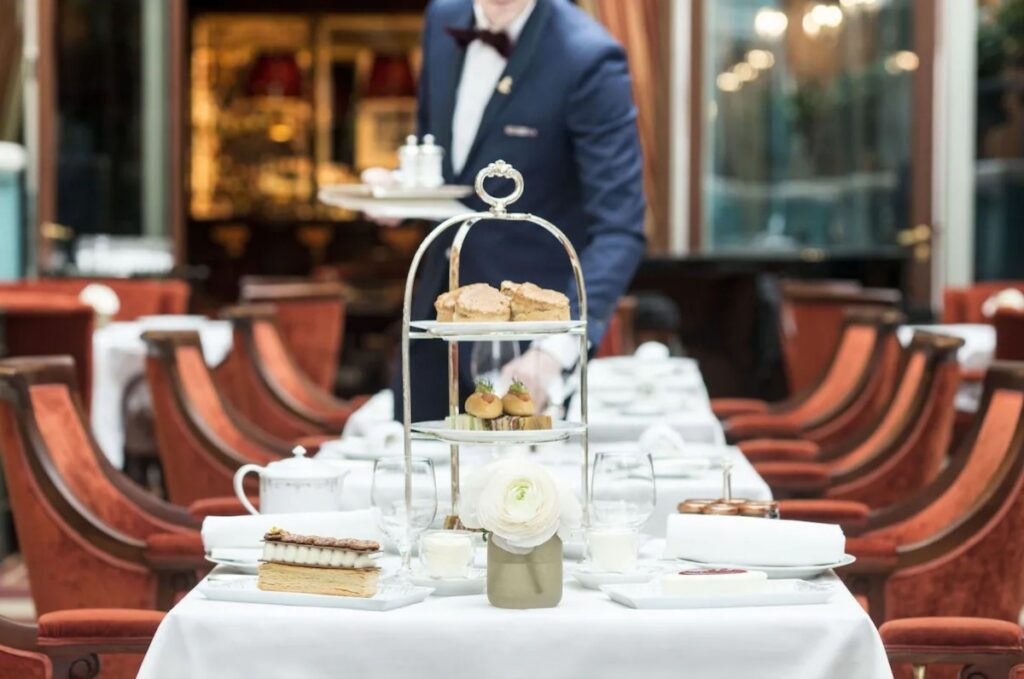 The Ritz Paris offers many exquisite dining options that satisfy all its guests. Stop by Bar Vendôme for an extensive selection of classic French cuisine and enjoy the relaxed atmosphere it provides. Alternatively, have a more formal meal at Les Jardins de l'Espadon restaurant or Table de L' Espadon, prepared with Chef Nicolas Sale's creativity in mind.
Be sure not to miss out on visiting Bar Hemingway – for one night, you should find great entertainment here as this bar was frequented by literary masters such as F Scott Fitzgerald and Ernest Hemingway themselves! Colin Field is the head barman who crafts drinks served there while adding historical charm to your evening experience. This intimate corner has a capacity for up to 25 individuals, so hurry if you'd like to take part in nostalgia-filled nightlife within these legendary walls.
Finally, after exploring through the beautiful streets of Paris, why not stop at The Ritz Bar? There are plenty of opportunities from lunchtime to dinner onwards where light bites can be taken alongside warm conversations amongst friends, new or old. Resulting in an ideal way to spend leisurely hours away from busy day trips around the city, which welcomes you wholeheartedly.
Assessing Accessibility and Family-Friendliness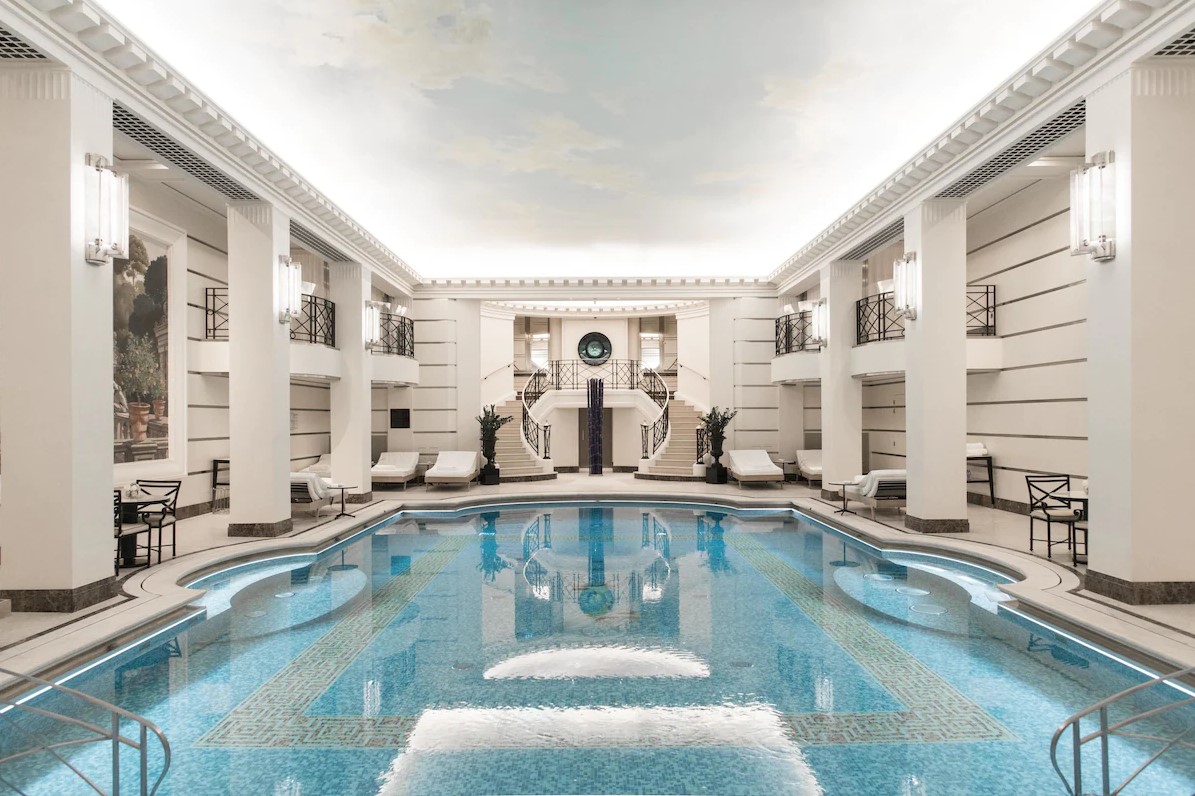 The Ritz Paris has committed itself to ensuring guest satisfaction, regardless of their mobility abilities. To do so, the hotel offers amenities such as grab bars near toilets and showers for easy access, ensuring that all visitors can comfortably stay without worries.
Aside from its handicap-friendly features, the renowned establishment provides various family-friendly activities like swimming classes or cooking courses at École Ritz Escoffier to keep guests entertained during their visit here in Paris at The Ritz Hotel.
Nearby Attractions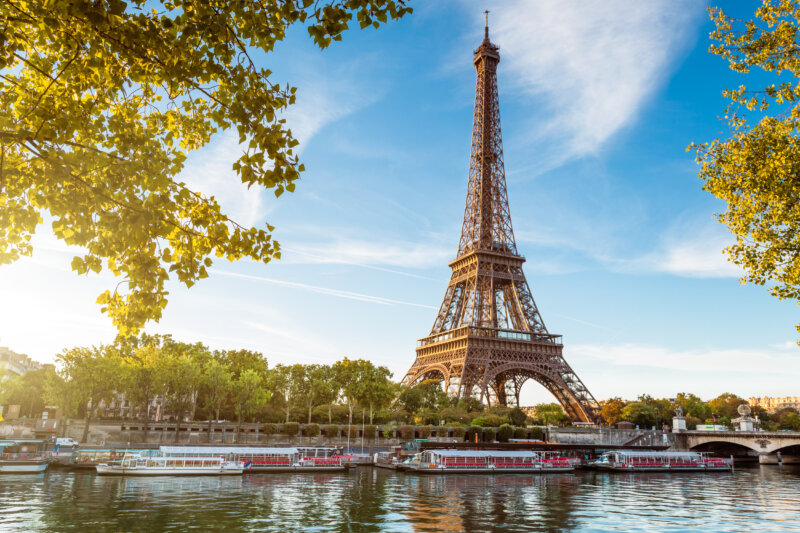 For those looking for Excursions outside walking distance, there is the Musee d'Orsay, The Eiffel Tower, Arc de Triomphe, or Notre Dame Cathedral, easily accessible due to its central location within Paris. Of course, not forgetting Love Lock Bridge as an especially romantic place couples visit when they find themselves among these "Lights of City".
See Related: Best Things to Do in Paris With Kids in 2023
The Ritz Paris: Worth the Splurge?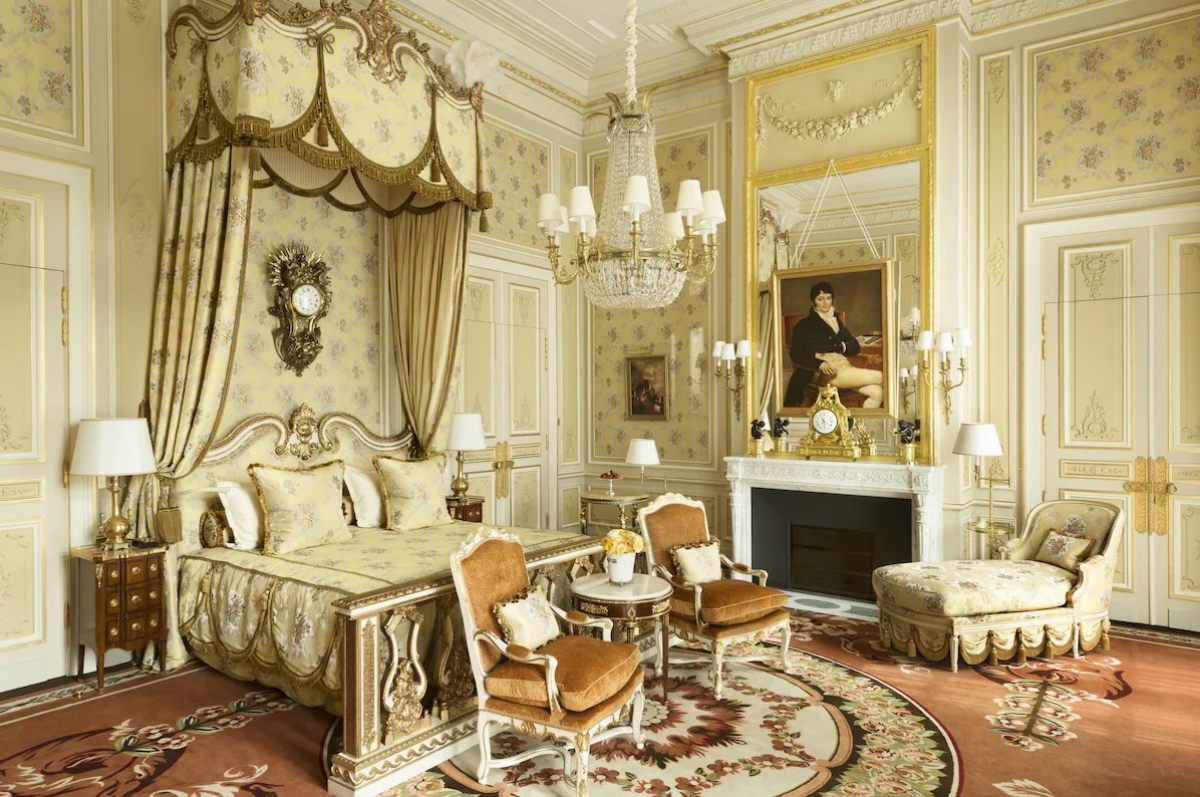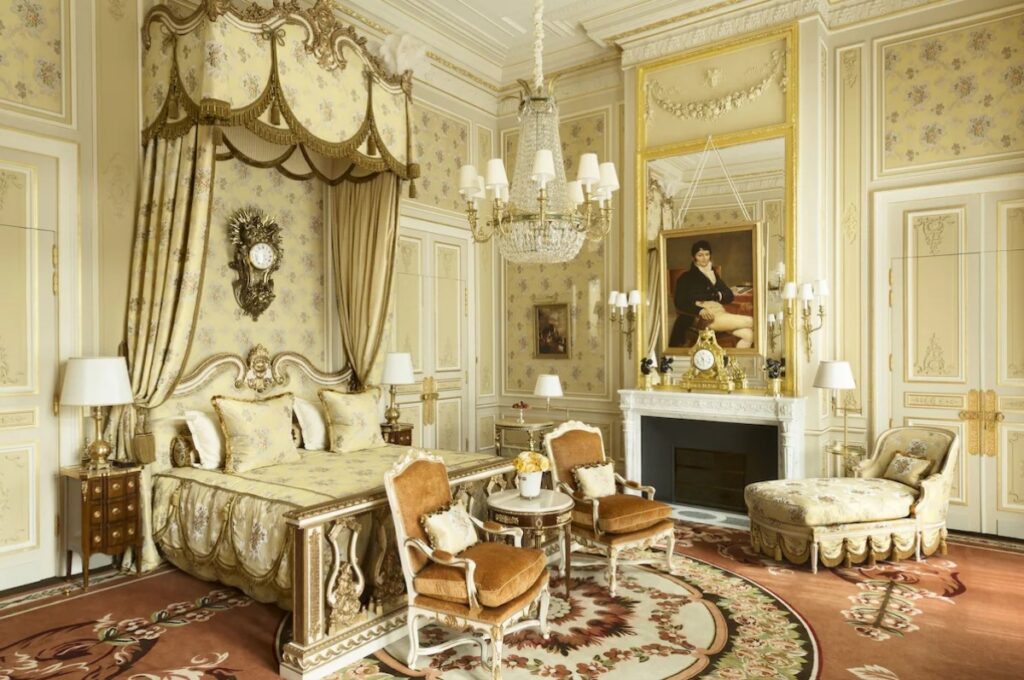 The Ritz Paris is an iconic destination renowned for its luxurious amenities and remarkable service, making it a truly memorable adventure worth the cost.
Although prices for rooms, food, and beverages can be high compared to other hotels in the city of Paris, those searching for top-notch luxury during their stay will not be disappointed with what this regal property offers.
You may find better deals if booking at certain times of year, such as April or July, when rates are typically lower than usual.
Regardless of how one wishes to spend their money while visiting this celebrated hotel – whether seeking exclusive accommodation or just wanting something unique – guests should ensure they have done all necessary research beforehand so there are no unwanted surprises upon arrival regarding price range or personal preferences met by The Ritz Paris's offerings.
The Ritz Paris is a luxurious, historic hotel in the city's prime. It provides exquisite architecture and top-notch service to guests seeking an indulgent experience.
Whether you're looking for something steeped in heritage or wish to bask in extravagance, this iconic destination certainly fits the bill and won't disappoint with its gourmet dining options, either! Thus, if it's luxury living that you are after, then look no further than The Ritz Paris. Guaranteed satisfaction awaits!
Frequently Asked Questions
Is it worth it to stay at the Ritz Paris?
Visitors looking for an extravagant stay in Paris should consider the Ritz – which offers lavish, well-appointed rooms with flat-screen TVs, private bathrooms, and minibars. The experience here is truly unforgettable!
What are the perks of staying at the Ritz Paris?
Those who choose to stay at the Ritz Paris can enjoy several benefits. These include early check-in and late check-out times each day, free wifi along with full breakfast provided for two guests per bedroom, and complimentary roundtrip airport transfers with VIP meet & greet service offered too.
Can you wear jeans to the Ritz Paris?
Visitors to Ritz Paris should dress in a smart casual style, including jeans. Shoes such as trainers and sporting clothes are not appropriate for the setting of this chic luxury hotel located in the city of lights, Paris.
What do you wear to the Ritz Paris?
At the Ritz Paris, dressing smartly is mandatory – no shorts, sportswear, or trainers are allowed. The renowned hotel located in the French capital expects its visitors to be dressed accordingly.
Why is the Ritz Paris so famous?
The Ritz Paris has a long history of providing luxury and hosting famous guests. It was the first hotel to equip its rooms with telephones, electricity, and bathtubs when it opened in 1898.
These features soon made it highly desirable among the people at the top of society, fondly referred to as "ritzy." Together, César Ritz and Georges Auguste Escoffier worked hard on crafting high standards for service excellence, which went hand-in-hand with remarkable dining experiences that continue even today at this renowned Parisian lodging.
Related Resources