A while ago (in 1880), the Empress Eugenie was really taken by this house, designed by a Swiss architect, so Napoleon III bought it for her, had it dismantled and moved where it stands now, in the middle of the Bois de Boulogne inferior lake.
Today, three peaceful terraces are available, but it's not possible to make a reservation. From the Metro station Porte Dauphine, you'll have a nice walk through a part of the park, before taking the 1 minute engine boat thansfer!
🗼 Paris Insider's Top Picks! ✨
Dive into the heart of Paris with our handpicked partners. Trusted by thousands, they ensure you experience the best of Paris.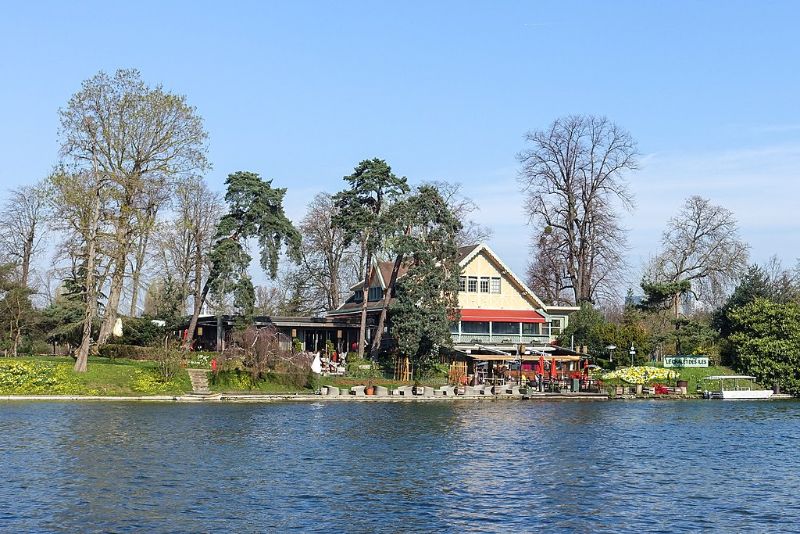 Are you looking for a unique and exciting place to stay while visiting Paris? Look no further – Le Chalet des Iles is the perfect destination for travelers who are looking to experience the city in a totally different way. Located right on the banks of the Seine River, this boutique hotel offers stunning views of Paris' iconic landmarks, as well as luxurious accommodations and amenities.
About Le Chalet des Iles
Le Chalet des Iles is an ideal choice for those who want to explore Paris like a local. Surrounded by some of the city's most iconic attractions, including the Eiffel Tower and Notre Dame Cathedral, visitors will never be short of things to do and places to see.
The hotel is only a few minutes away from popular neighborhoods like the Latin Quarter and Saint Germain des Pres, where you can spend hours strolling around quaint cafes and boutiques.
The building has been bought and refreshed in 2001, by Raphaël de Monrémy, who is also the owner of other nice restaurants and cafés with terraces, such as Le Petit Poucet (on the Ile de la Jatte in Levallois-Perret), La Guinguette de Neuilly (on the Ile de la Jatte in Neuilly), and Le Café de l'Homme (Place du Trocadéro, in the 16th area).
Prices: fixed-price weekday lunch menu: appetizer, main dish and dessert, 31 euros. Appetizer and main dish or main dish and dessert, 25 euros.
Open every day from 12.00 a.m. in the summer; closed Sunday evening and Monday in the winter. Terrace open from mid-March to mid-October.
Accommodation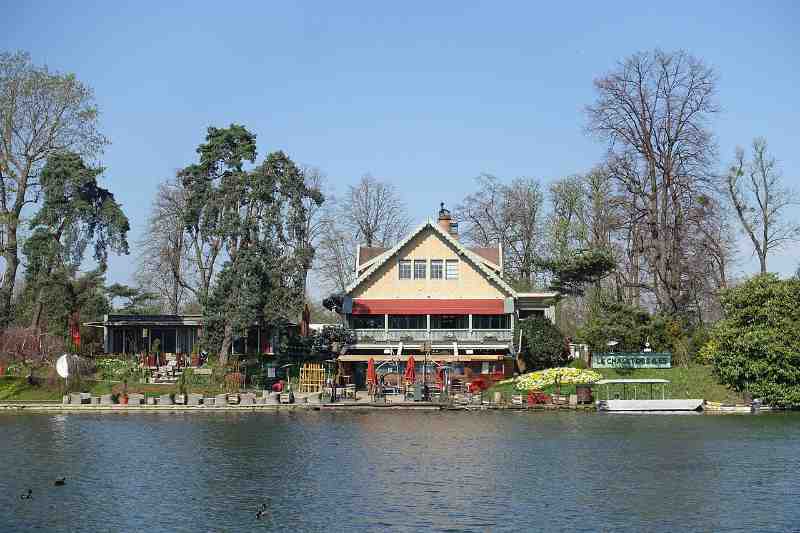 Le Chalet des Iles offers 30 modern rooms that come fully equipped with luxury amenities such as flat-screen TVs, free Wi-Fi, air conditioning, and minibars.
Each room has its own balcony or terrace where guests can enjoy breathtaking views of Paris' skyline. For added convenience, there is also a 24-hour front desk service available at all times.
Amenities & Services
At Le Chalet des Iles, guests can relax in style with their selection of world-class amenities and services. The hotel boasts two outdoor pools – one heated indoor pool with Jacuzzi jets along with a beautiful outdoor terrace overlooking the Seine River – perfect for unwinding after a day exploring the city. For those who prefer to get active during their stay, there is also an onsite fitness center complete with cardio equipment such as treadmills and bikes.
The hotel also offers several spa treatments including massages and facials which can be enjoyed in their luxurious treatment rooms or in your room itself! To top it off, they offer complimentary laundry services so you don't have to worry about packing extra clothes for your trip.
Dining & Culinary Experiences
If you're looking for something delicious while staying at Le Chalet des Iles then look no further than their award-winning restaurant located onsite. Offering both French cuisines along with international favorites such as sushi rolls and Italian pasta dishes – you won't go wrong with any meal here! They also offer vegetarian options too!
Their bar area consists of an extensive cocktail menu created by some of France's top mixologists; plus there are wines from all over Europe available by glass or bottle. And if you're feeling extra adventurous, why not try one of their signature absinthe cocktails? It'll definitely spice up your night!
Conclusion
If you're looking for an unforgettable stay in Paris then look no further than Le Chalet des Iles! With its stunning views of iconic landmarks along with luxurious accommodations and amenities – it's hard to find another place like this one!
Plus it's conveniently located right on the banks of the Seine River so getting around town is super easy too! So take advantage of everything this boutique hotel has to offer – from award-winning restaurants and bars to indulgent spa treatments – you're sure to leave feeling relaxed yet energized after your stay here in Paris!
Related Resources