It doesn't look like a typical brasserie but more like a classic restaurant. It was the first "Café" in Paris, founded in 1686 by the Italian Francesco Procopio Dei Coltelli. Characters of the French Revolution, like Danton and Robespierre, met here.
However, the place, decorated with portraits and fleur-de-lis (the royal emblem), is excellent and delicious food. Le Procope, located in the historic Latin Quarter of Paris, is a renowned French restaurant that has attracted locals and tourists for centuries. Established in 1686, it is considered the oldest continuously operating eatery in the City of Lights.
🗼 Paris Insider's Top Picks! ✨
Dive into the heart of Paris with our handpicked partners. Trusted by thousands, they ensure you experience the best of Paris.
Its exquisite atmosphere and remarkable history have drawn the likes of famous figures such as Voltaire, Napoleon, and Benjamin Franklin, who even completed writing parts of the US Constitution within its walls.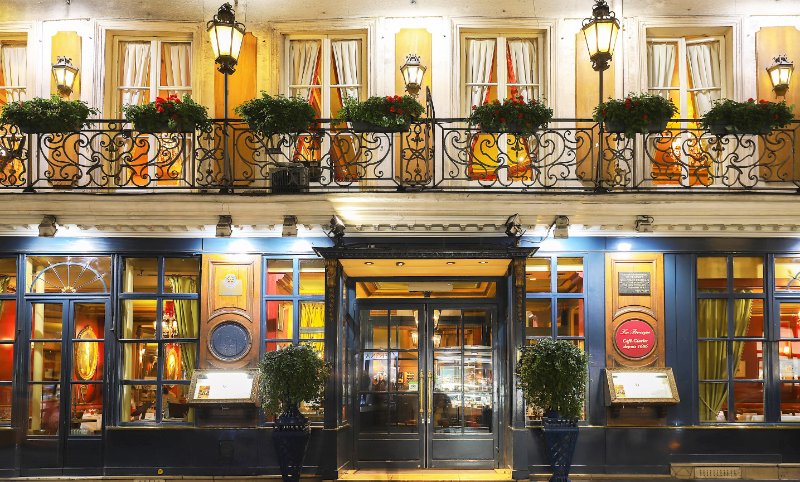 The restaurant offers an extensive menu showcasing a range of classic French dishes, including seafood specialties, and catering to vegetarians and those with special dietary needs.
With its iconic setting, delectable cuisine, and commitment to exceptional service, Le Procope remains a must-visit destination for anyone seeking an authentic Parisian dining experience. Its ability to maintain a strong reputation and remain relevant throughout the centuries speaks to the dedication and passion of the staff and management, making it a truly timeless establishment in the heart of Paris.
History of Le Procope
Le Procope, the oldest café in Paris, was founded in 1686 and has been a gathering place for the intellectual elite for over three centuries. Situated in the heart of Paris, the café has played a significant role in the city's cultural and historical development.
The establishment's founder, Francesco Procopio dei Coltelli, was an Italian chef who brought his expertise and innovative ideas to Paris. Le Procope quickly became known in this new setting for its delicious coffee, Italian sorbets, and warm atmosphere that attracted scholars, philosophers, and writers.
Among the many notable patrons were French philosopher Voltaire and American statesman Benjamin Franklin. Voltaire, famous for his satirical wit and contribution to the European Age of Enlightenment, frequently visited Le Procope. He would engage in passionate discussions there, shaping the intellectual conversations of his time. On the other hand, Benjamin Franklin was said to have spent many hours at Le Procope during his time in France. It was even rumored that he worked on parts of the US Constitution while sipping coffee at the café.
As Le Procope's reputation grew, so did its impact on greater Paris and the world. The café became a hub for exchanging ideas, fueling the creative and innovative thoughts of patrons who would go on to make historical contributions to literature, politics, and philosophy.
In its modern form, Le Procope continues to be a destination for tourists and locals alike, who appreciate its rich history, charming ambiance, and delicious cuisine.
Ambiance and Atmosphere
Le Procope, located in Paris, presents an unforgettable ambiance that transports its guests back in time, making it a popular dining destination for locals and tourists alike. The atmosphere of this historic establishment is rich with history, dating back to the 17th century when it first opened its doors as a respected coffee house.
Today, the restaurant maintains an elegant and sophisticated atmosphere, combining modern comforts with a touch of history. Patrons can dine surrounded by memorabilia from illustrious French figures such as Napoleon, whose hat is famously displayed in the establishment. This rich collection provides a unique backdrop to the dining experience, creating a conversation piece and a window into the past.
The ambiance at Le Procope is enhanced by the carefully chosen lighting and décor, which contribute to the historic and romantic feel of the space. Settling into the plush seating, guests can admire the high ceilings, chandeliers, and wall sconces that harken back to the glamour and charm of the French capital's golden age.
Beyond the impressive interior, Le Procope's location in the heart of Paris adds to the overall atmosphere. Nestled among the bustling streets and picturesque architecture, this iconic establishment offers an authentic taste of Parisian life, both past and present.
In summary, Le Procope provides a dining atmosphere steeped in history, transporting its guests to a bygone era while retaining the charm and elegance that has made Paris a world-renowned destination. The impeccable blending of historical artifacts, like Napoleon's hat, and traditional Parisian décor create a unique ambiance that leaves a lasting impression on all who dine there.
Menu and Cuisine
Le Procope, a renowned French restaurant in Paris, offers a diverse menu featuring classic and innovative dishes prepared with high-quality ingredients. Guests can expect options appealing to various dietary preferences, including vegetarian-friendly selections.
One of the menu's highlights is the traditional Coq au Vin, a delicious slow-cooked chicken dish braised in red wine, mushrooms, and onions. This signature offering showcases the classic French techniques and flavors that Le Procope is known for, making it a popular choice among diners.
For seafood enthusiasts, the restaurant offers a variety of fish dishes prepared in exquisite ways. The fish options highlight the season's freshest catches, ensuring a mouth-watering and satisfying experience for seafood lovers.
Another featured dish on the menu is the calf's head casserole. This unique dish combines tender meat with a rich, savory sauce and showcases the restaurant's expertise in blending textures and flavors. While some may consider it an acquired taste, the dish has become a favorite among adventurous diners seeking an authentic French culinary experience.
Starters at Le Procope are designed to set the tone for the dining experience. The restaurant offers a selection of appetizers showcasing myriad flavors and textures. From traditional options like French onion soup to more contemporary dishes like marinated salmon, there's something for every palate.
The cuisine at Le Procope allows visitors to immerse themselves in the rich history of Parisian dining while enjoying expertly crafted dishes in a comfortable, authentic setting.
Notable Dishes
Le Procope, a historic restaurant in Paris, offers an array of mouth-watering, traditional French dishes that have satisfied many customers. Among the more notable dishes on their menu are the Coq au Vin and the Calf's Head Casserole 1686 Style.
The Coq au Vin is a classic French dish that has been enjoyed by generations. This slow-cooked meal features tender chicken marinated and braised in red wine, accompanied by a variety of vegetables such as mushrooms and onions. The rich, flavorful sauce and succulent chicken make this dish a must-try for anyone visiting Le Procope. Reviewers on Yelp and Tripadvisor often rave about the delicious, traditional taste of this popular entrée.
Another standout dish at Le Procope is the Calf's Head Casserole 1686 Style. This dish is rooted in history and tradition and testament to the restaurant's longstanding culinary expertise. The casserole features tender calf's head meat, slow-cooked and served in a rich, savory sauce. Although it may seem like an unusual choice for some diners, many customers have reported enjoying this dish's unique flavors and textures, according to the reviews on Yelp and Tripadvisor.
Apart from these signature dishes, Le Procope also offers a variety of other French cuisine options. Vegetarian-friendly choices and dishes catering to special dietary requirements are also available, ensuring everyone can enjoy a delightful meal at this iconic Parisian restaurant.
Customer Reviews
Le Procope, a renowned restaurant in Paris, has garnered various customer reviews reflecting their experiences. Many patrons praise the restaurant for its atmosphere and quality of food. A recent review from Joëlle V on Zenchef rated the establishment 5 out of 5 for service, atmosphere, menu, and quality price, mentioning that she continues to come back over the years without disappointment.
On Tripadvisor, Le Procope has many reviews, with many guests recommending the restaurant for its excellent dining experience. In one review, a user commends the restaurant as a "great experience", mentioning over 5,000 positive reviews and candid photos from satisfied customers.
While many reviews praise the overall experience at Le Procope, some negative reviews also exist. In particular, one Tripadvisor review highlights dissatisfaction with the customer service and cancellation policy. This user rated the restaurant lower, expressing disappointment with their experience.
Despite some negative reviews, it is evident that Le Procope generally offers a pleasant dining experience. Many customers have reported their satisfaction with the service, atmosphere, and food quality in their online reviews. By maintaining a neutral tone within this section, it is essential to recognize that customer experiences can vary, but overall, Le Procope has a pattern of positive customer reviews.
Location and Hours
Le Procope is located at 13 rue de l'Ancienne Comédie, 75006 Paris, France, in the Saint-Michel/Odéon neighborhood within the Saint-Germain-Des-Prés district. This historic restaurant in the heart of Paris is easily accessible via public transportation, making it a convenient dining spot for tourists and locals alike.
The restaurant operates the following hours: open from 12:00 PM until 1:00 AM the next day. It caters to a wide range of diners, including those looking for a leisurely lunch, a refined dinner, or a late-night meal in a pleasant atmosphere. However, it is important to note that Le Procope may be closed on certain days, so it is advisable to check their website or contact them directly for updated information on their operating hours.
Le Procope is known for its French cuisine, including seafood and vegetarian options. Reservations are accepted at this establishment, making planning a dining experience at this storied locale easy. Additionally, the restaurant offers various services and amenities for their guests, ensuring a comfortable and pleasurable visit.
Reservations and Seating
Le Procope, an iconic Parisian restaurant, offers its patrons a comfortable and elegant dining atmosphere. To accommodate their guests, the restaurant accepts reservations, although it's not mandatory. Making a reservation to ensure a table, especially during peak hours or for larger groups, is recommended. Reservations can be made online or over the phone.
The restaurant's interior is decorated in a classic French style, reflecting the establishment's rich history. Tables are well-spaced to provide patrons with a sense of privacy, and the attentive staff tends to the guests' needs throughout the meal.
In addition to the indoor seating, Le Procope also offers outdoor seating for those who prefer an open-air experience or to enjoy Paris' beautiful weather. An outdoor seating area is an excellent option for those who would like to absorb the vibrant atmosphere of the Quartier Latin neighborhood while dining on delicious French cuisine.
Payment and Credit Cards
Le Procope accepts various payment methods for the convenience of its customers. They have long been known to accept credit cards as payment, helping patrons enjoy a seamless restaurant experience. As a popular tourist spot in Paris, being able to pay by credit card is an essential feature for international travelers.
When dining at Le Procope, being aware of your bill is important. Some reviews have suggested that there have been instances of attempted double charging or discrepancies in the bill. To prevent any unpleasant surprises, it is advisable to double-check the billed items and their corresponding prices before proceeding with the payment.
Most customers have had positive experiences with the quality-price ratio and the service at Le Procope. The atmosphere, history, and magnificent décor make it a remarkable dining experience. However, some reviews have noted that the prices can be higher, potentially giving visitors the perception that the dining experience is not worth the expense.
Le Procope accepts credit cards as a payment method, providing convenience for its diverse clientele. Patrons should be vigilant about their bills to avoid potential issues and be prepared for prices that reflect the high-quality experience for which the restaurant is known.
Staff and Service
Le Procope, a renowned restaurant in Paris, has received mixed reviews regarding staff and service. Many customers have praised the friendly and attentive waiters, who add to the overall positive dining experience. For instance, some patrons have highlighted the excellent service and warm interactions with the staff. The waiters are often complimented for their dedication to ensuring a satisfying experience for guests.
However, it's worth noting that there have also been reports of less-than-stellar experiences with the staff at Le Procope. Some visitors have found the service subpar, ranging from inattentive waiters to less-than-welcoming interactions. Consequently, these negative reviews can create some uncertainty for potential diners who prioritize good service.
In summary, while the staff at Le Procope can leave a positive impression on many guests due to their friendliness and attentiveness, others have experienced difficulties with the waiters that have detracted from their overall visit. When visiting Le Procope, guests may need to manage their expectations about the consistency of staff and service to ensure a memorable dining experience.
Tourist Experience
Le Procope, a popular destination for tourists visiting Paris, offers a unique dining experience combining history and exquisite French cuisine. With its charming atmosphere, it is no surprise that many tourists are drawn to this establishment.
The restaurant has a rich history from 1686, fascinates the visitors, and keeps them engaged. Dining at Le Procope is more than just a meal; it is a journey into the past, as each dish adds a bit of knowledge and appreciation for French culture and gastronomy.
Tourists visiting Le Procope note the enjoyable experience it provides. From the welcoming and attentive staff to the lively ambiance, it is a place where visitors can sit back and take in the sights and sounds of Paris. The attention to detail in the decor, featuring ornate chandeliers and antique paintings, captivates diners as they enjoy their meal.
The menu at Le Procope tempts tourists with an array of traditional French dishes. The impressive selection showcases the best of French cuisine, encouraging visitors to indulge in delectable meals like escargot, coq au vin, and crème brûlée. The quality of the ingredients and the skillful preparation make every dish a treat for the senses.
However, some visitors may find the restaurant a bit of a tourist factory due to its popularity. Despite this, Le Procope maintains a positive reputation, earning favorable reviews from those who appreciate its charm, history, and gastronomic delights.
Frequently Asked Questions
What is the dress code for Le Procope?
Le Procope has no strict dress code; however, it is advised to dress smartly, as the restaurant has a classic and stylish ambiance. You can feel comfortable in business casual attire or even slightly more formal clothing to align with the atmosphere.
What is Le Procope's notable history?
Le Procope is Paris's oldest café, dating back to 1686. The establishment has a rich history; many famous figures, including Voltaire, Napoleon, and Benjamin Franklin, frequented the café. It also has the distinction of being where parts of the U.S. Constitution were completed.
Is Le Procope considered a tourist trap?
While Le Procope is a popular destination for tourists, being a historically significant location, it maintains its reputation for high-quality food and service. Visitors and locals enjoy the restaurant's traditional French cuisine and exceptional ambiance.
Le Procope offers a diverse menu with various price ranges, catering to different budgets. Some dishes are moderately priced, while others are more expensive, reflecting the premium ingredients and exceptional quality. Overall, the menu is designed to offer a range of options to suit different preferences and budgets.
How is Le Procope rated?
Both tourists and locals highly rate Le Procope. The establishment has a 4 out of 5 rating on Tripadvisor and is currently ranked #1,717 out of 18,925 restaurants in Paris. Customers particularly appreciate the high-quality food, service, and the restaurant's unique atmosphere steeped in history.
Does Le Procope have a terrace?
Le Procope has no terrace, but its charming interior design and ambiance compensate for the lack of outdoor seating. The restaurant's décor reflects the historical significance of the establishment, featuring antique furnishings, old paintings, and memorabilia, which add to the overall dining experience.
Related Resources