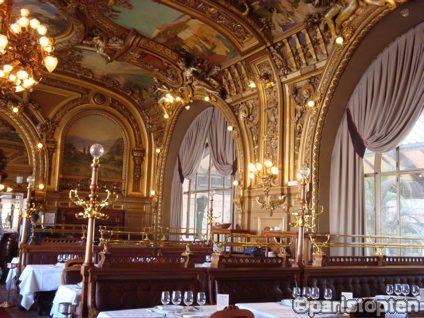 Here too, the decor is impressive, with its 41 paintings on the walls and ceilings! It was on the occasion of the Universal Exhibition of 1900 that the PLM train company built that place. It was inaugurated in 1901. In 1972, Malraux saved it from destruction by getting it added to the National Register of Historical Monuments.
"A la carte": Starters from 23 euros (foie gras, snails, etc), main dishes from 27 euros and desserts from 16 euros. Or different menus from 60 to 102 euros.
The service too is french, and you guessed it means not too " smooth and gentle", but unfortunately it's part of the french experience!
Open every day from 11.30 A.M. until 11.00 P.M.