The glittering entertainment of Parisian cabarets is renowned worldwide. From the internationally celebrated Moulin Rouge to the sensual Crazy Horse and elegant Le Lido, these establishments have awed spectators for years with their captivating performances.
In this article, we will compare all three illustrious locations in our exploration into which one provides a truly unique experience when visiting the City of Lights! Hence, let us examine the Moulin Rouge vs. Crazy Horse vs. Le Lido controversy and how they match up against each other on various levels, such as ambiance, musicality, or opulence within cabaret culture.
Key Takeaways
Experience the unforgettable nights of Paris with Moulin Rouge, Crazy Horse & Le Lido!
Enjoy a night of captivating performances and delicious dinner packages at these iconic cabarets.
Audience reviews are overwhelmingly positive; experience the best in Paris today!
Moulin Rouge vs. Crazy Horse vs. Le Lido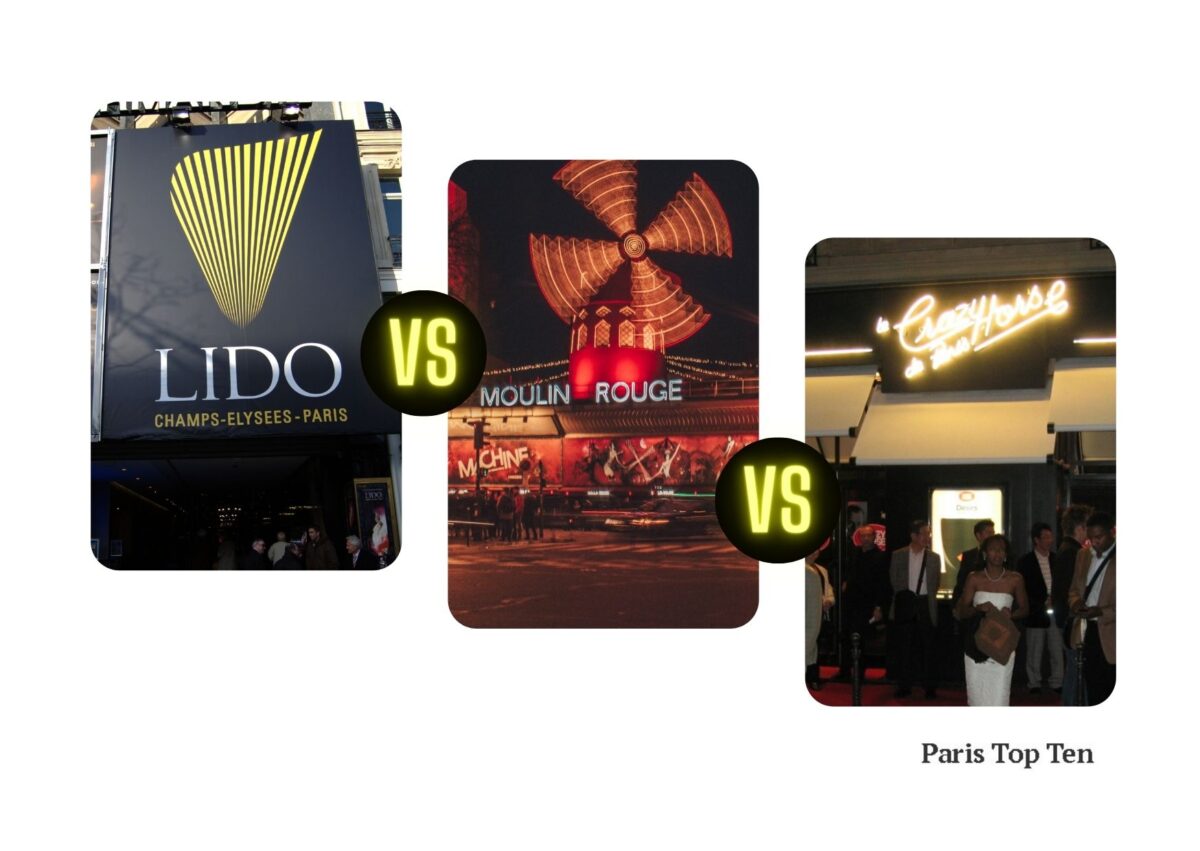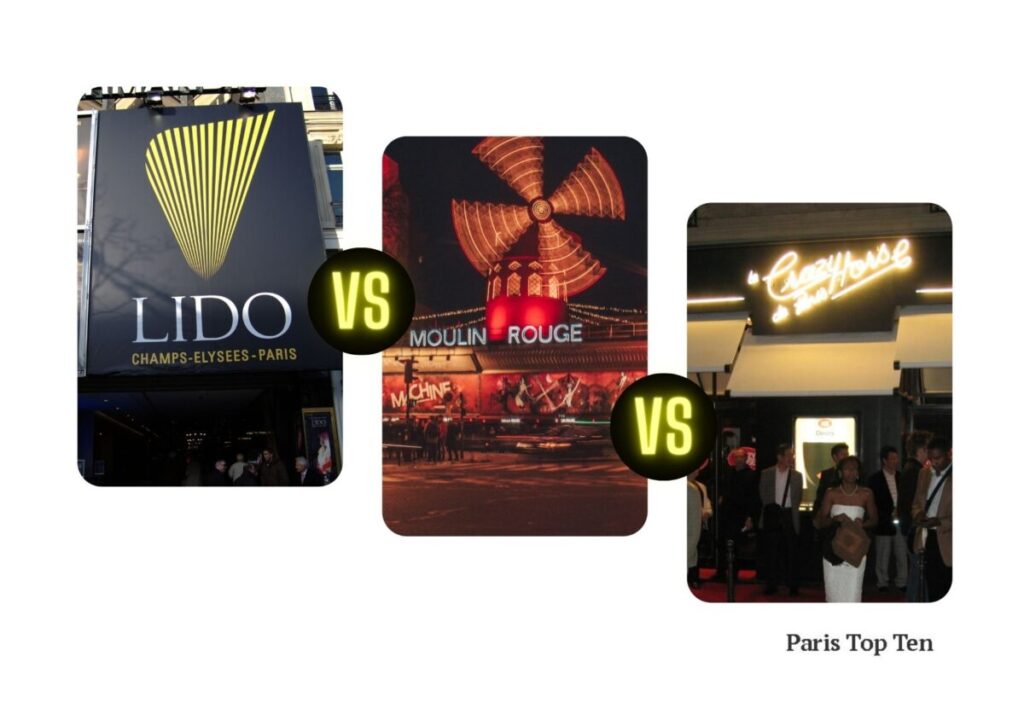 When visiting the City of Lights, it is hard to miss out on Paris' most famous cabarets. With Moulin Rouge and Crazy Horse leading the way, along with Le Lido in close company, these venues offer unforgettable nights featuring a blend of history, shows, and dinner options that give them their unique character.
Parading through Paris nightlife brings forth an array of vibrant cabarets, each possessing one special touch – making your choice something you'll savor! Delve deeper into this exciting scene to uncover what makes each destination charmingly different.
History and Background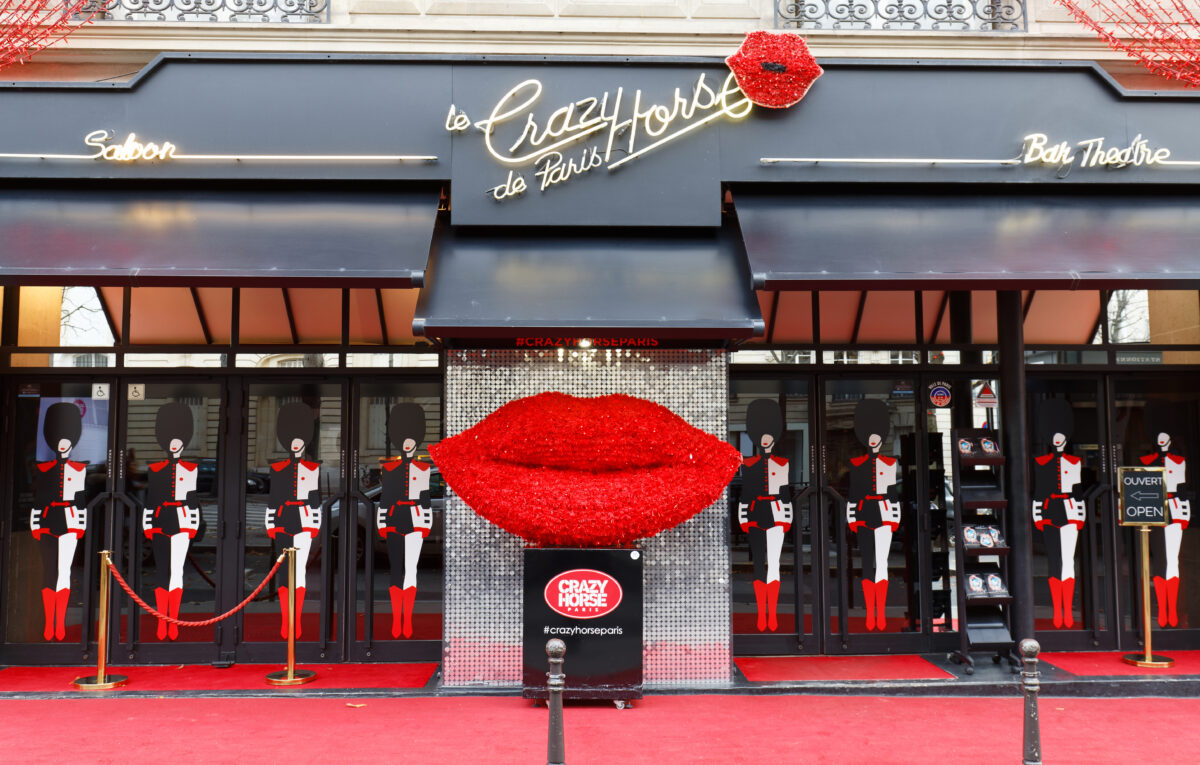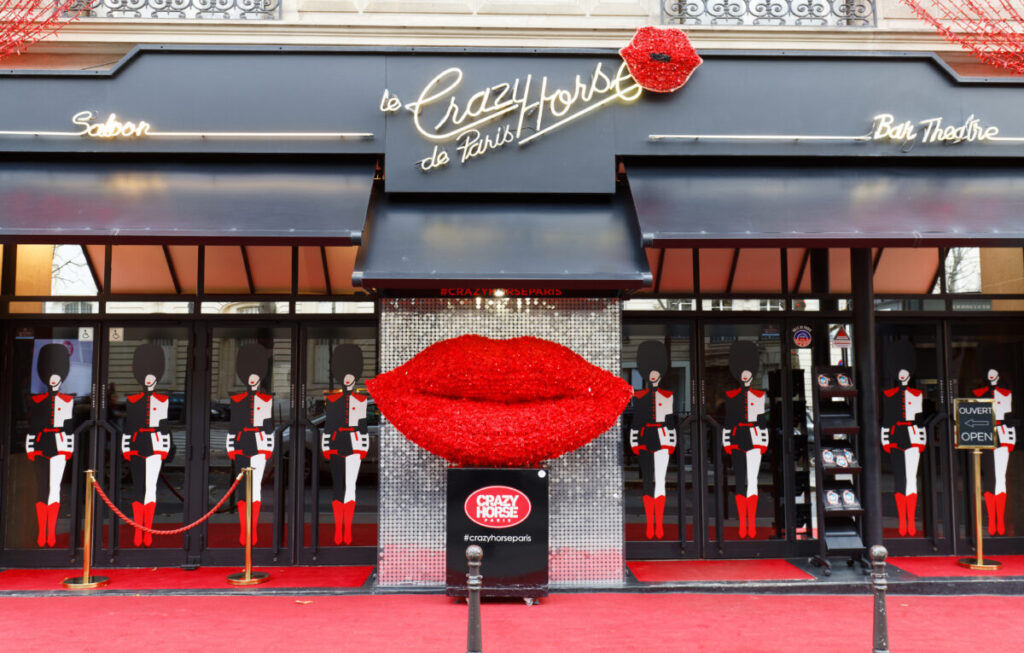 Parisian cabarets, boasting a unique combination of music, dance, and entertainment, have long been popular throughout the city. The oldest and most renowned is the Moulin Rouge, which opened its doors in 1889 with an iconic windmill on top, making it instantly recognizable worldwide!
Shortly behind came Le Lido in 1946, providing luxurious stage productions at Paris' prestigious Champs-Élysées Avenue. Finally Crazy! Horse entered the scene opening in 1951 with avant-garde performances drawing admiration from audiences everywhere.
During this Belle Époque period, many more famous Paris establishments were flourishing, such as Les Folies Bergère & Chat Noir, to name just two who contributed to these vibrant scenes still seen today. Nowhere is this more so than through our three prized venues, Moulon Rougue, Le Lido & Crazy Horse, each offering their style. Yet, all committed together to ensure every visitor experiences something truly remarkable when attending one of their memorable shows.
See Related: Most Famous Historical Landmarks in Paris
Venue and Atmosphere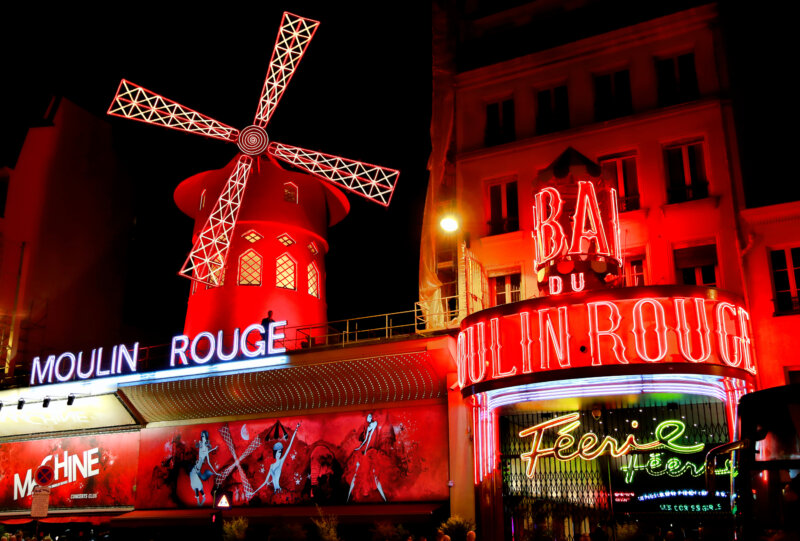 The renowned cabarets of Paris are places full of allure and excitement, enthralling audiences for generations. A few notables in the area include the Moulin Rouge, with its active energy pulsing through Montmartre. Le Lido on Champs-Élysées presents exquisite performances exuding class. Crazy Horse is the most famous cabaret show in the 8th arrondissement, showcasing provocative displays fusing artistry with temptation.
Each venue has a unique feel – at Moulin Rouge, there's an intense celebration vibe, while Le Lido transmits that eminent French sophistication, and Crazy Horse provides an inviting atmosphere shrouded in secrecy. No matter which artistic cabaret you pick, music will fill your senses as partaking in any traditional dinner show here will surely give delight unlike ever before!
Performances and Acts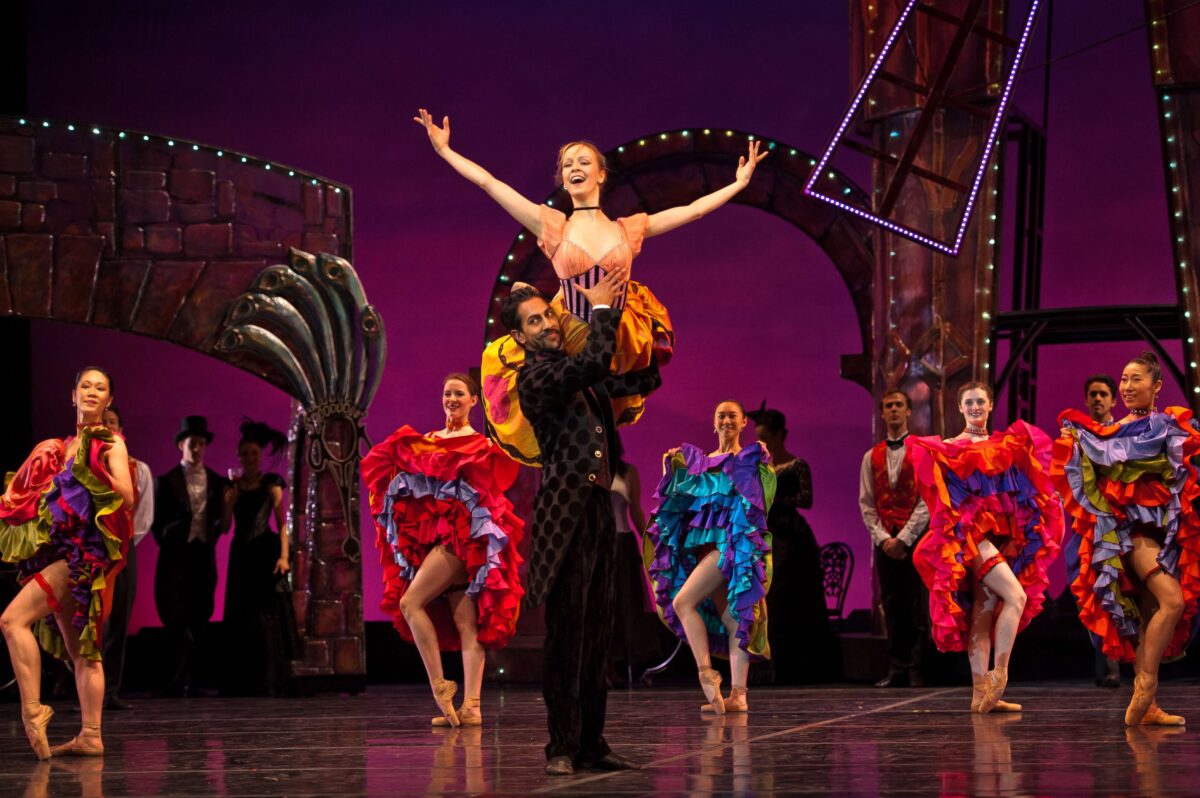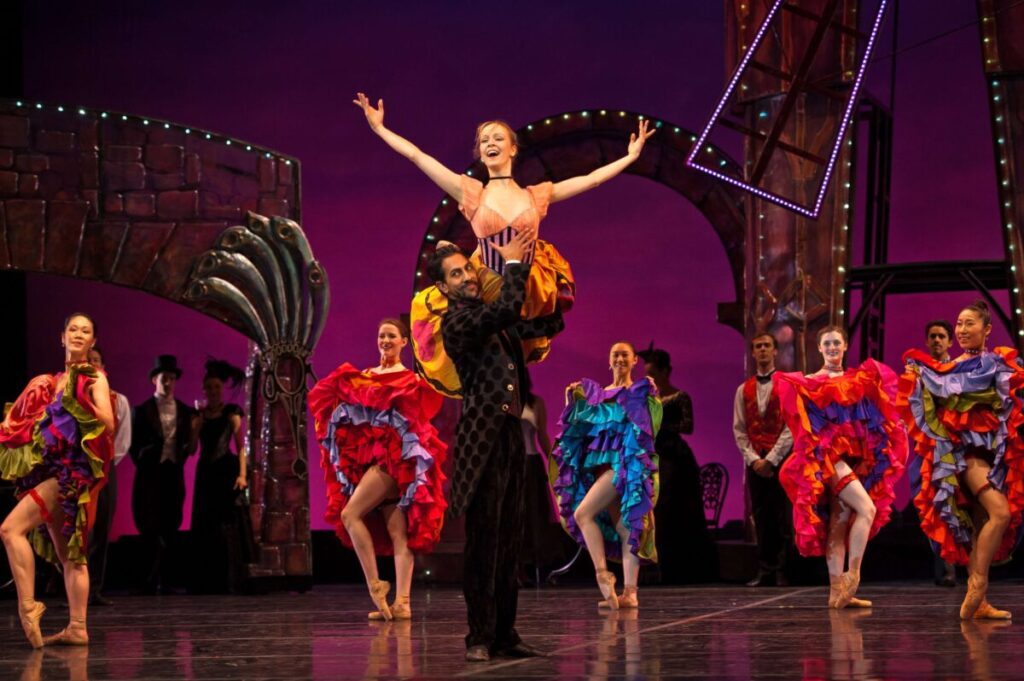 The Moulin Rouge, home to the most celebrated cabaret show on earth, is famous for its dance and music productions. Its iconic French cancan performances are a sight to behold as dancers, costumes, choreography, and music come together in spectacular harmony.
Crazy Horse has made a name for itself with groundbreaking avant-garde acts that celebrate nude female performers using innovative light effects. It's an unparalleled experience of sensuality and artistic expression mixed together.
Le Lido has also achieved notoriety thanks to sophisticated musical numbers and elaborate stage production combined with singing, aerial acrobatics, and dancing. What started as one Parisian venue now provides countless unforgettable experiences for visitors yearning for something more than your average cabaret night!
Dinner Options and Packages
To make the wonderful evening in the Parisian cabaret experience perfect, a delectable meal must be paired with the show. These iconic cabarets provide various dinner packages for any appetite and wallet size.
Moulin Rouge provides three-course meals and champagne, guaranteeing lavishness and delight throughout the night! Those looking for another option should explore Le Lido's menu, where they can choose between 3 courses, including drinks or no drinks selection, depending on their preference.
Finally, Crazy Horse has mouthwatering dinner deals, ensuring visitors have something scrumptious while taking in the cabaret shows and all its mesmerizing performances. Providing everyone with a spectacular dining event filled with captivating entertainment from this magical world, French Cabaret.
See Related: Best Paris Food Tours in Paris
Moulin Rouge vs Le Lido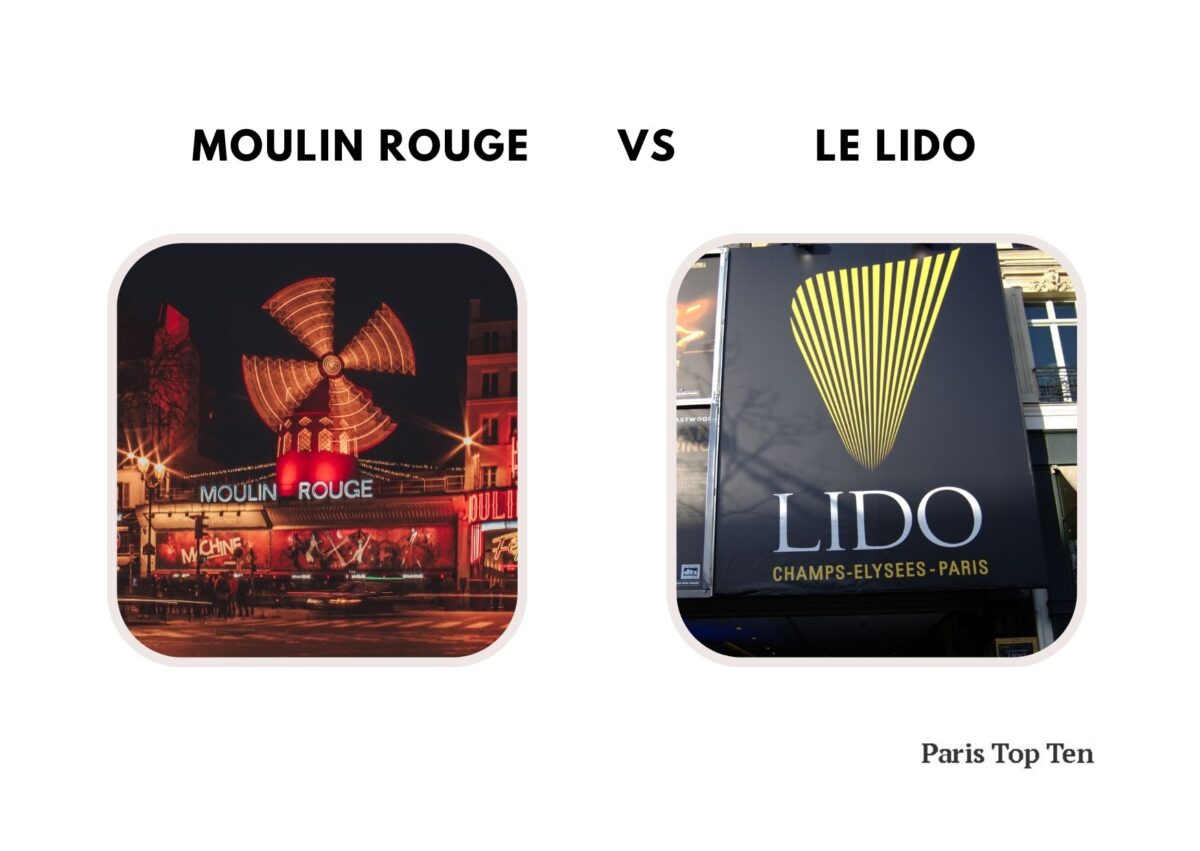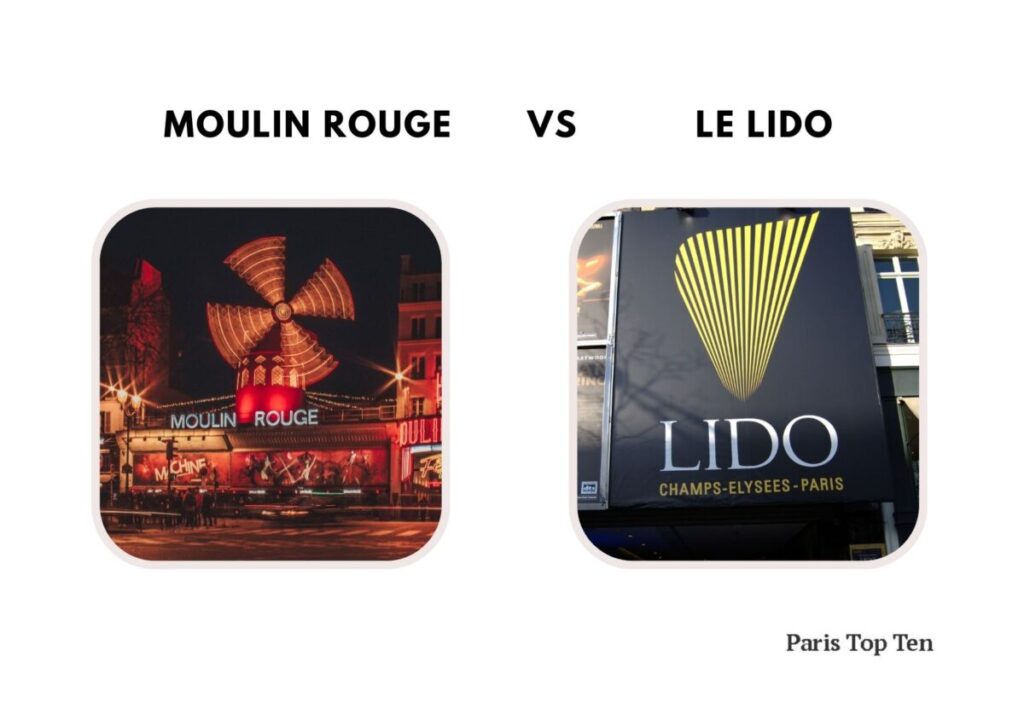 When you have to decide between Moulin Rouge and Le Lido, your ultimate choice will be determined by what kind of experience you are seeking. These two cabarets both provide fantastic shows that draw from the unique vibes of each place. They possess the characteristics that set them apart.
Moulin Rouge is renowned internationally for its lively environment with captivating performances, including the famed can-can dance and many other dazzling acts sure to mesmerize any audience members present.
Le Lido offers an air that is more arranged and cultivated than Moulin Rougge's energy, leaning towards sophistication rather than extravagance while still featuring wonderful spectacles within its displays. This makes it perfect for those looking for a refined evening in opulence amongst premium entertainment quality-wise.
Le Lido vs. Crazy Horse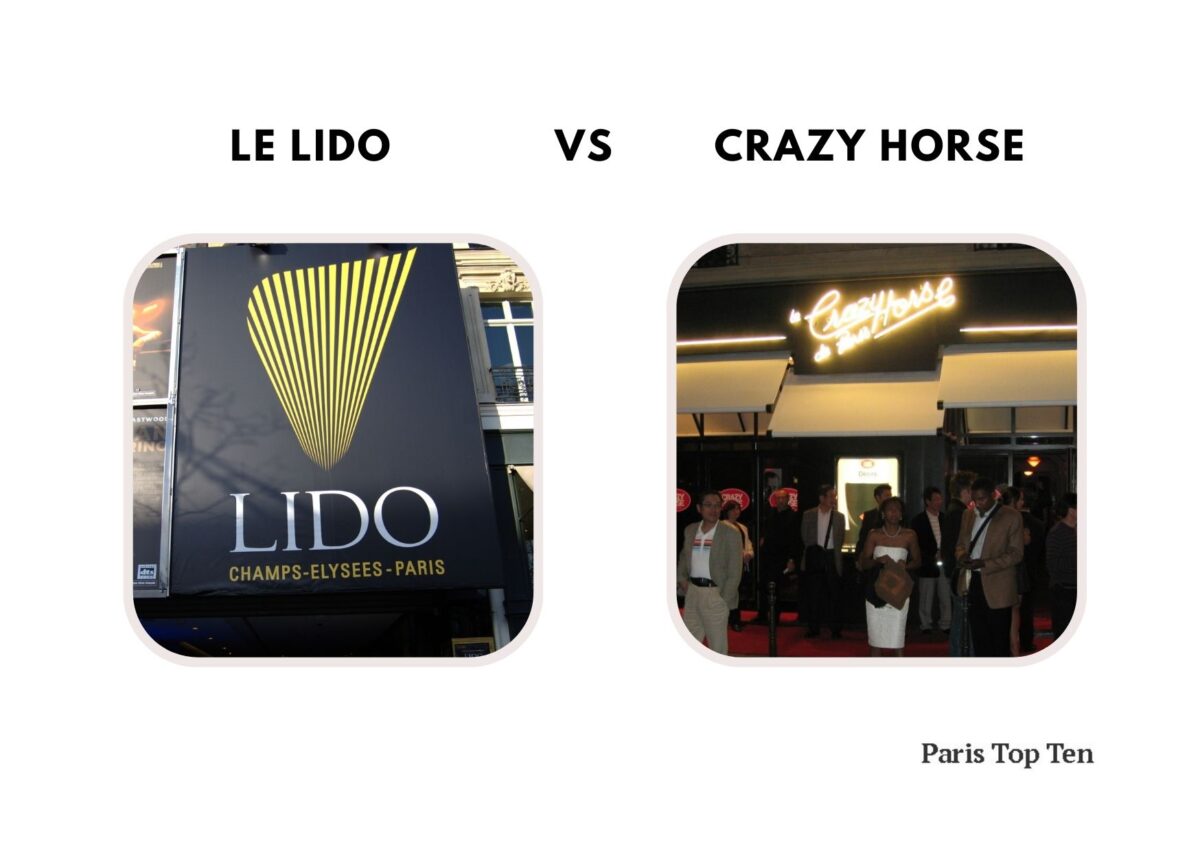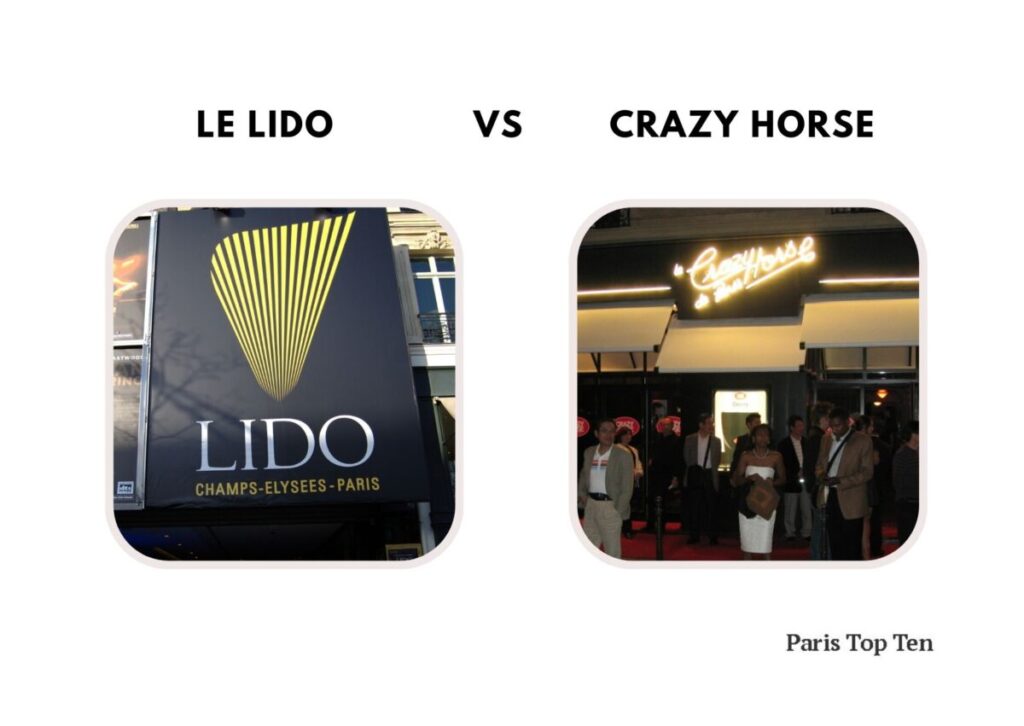 A comparison between Le Lido and Crazy Horse is like putting together classic refinement with innovative artistry.
Le Lido has a grand stage and captivating acts, which give an unforgettable experience while also emphasizing the performers' skills in creating beautiful scenes.
On the flip side, Crazy Horse wins fans over for its avant-garde performances solely performed by women and special lighting to create a more personalized atmosphere.
Ultimately, whether you choose Le lido or go to any Parisian cabaret venue, such as Crazy Horse, comes down to your preference. If you need traditional glamour, there's no place better than this legendary venue, but when wanting something new and creative at Paris' best cabarets, look no further than the iconic name of a crazy horse!
Moulin Rouge vs. Crazy Horse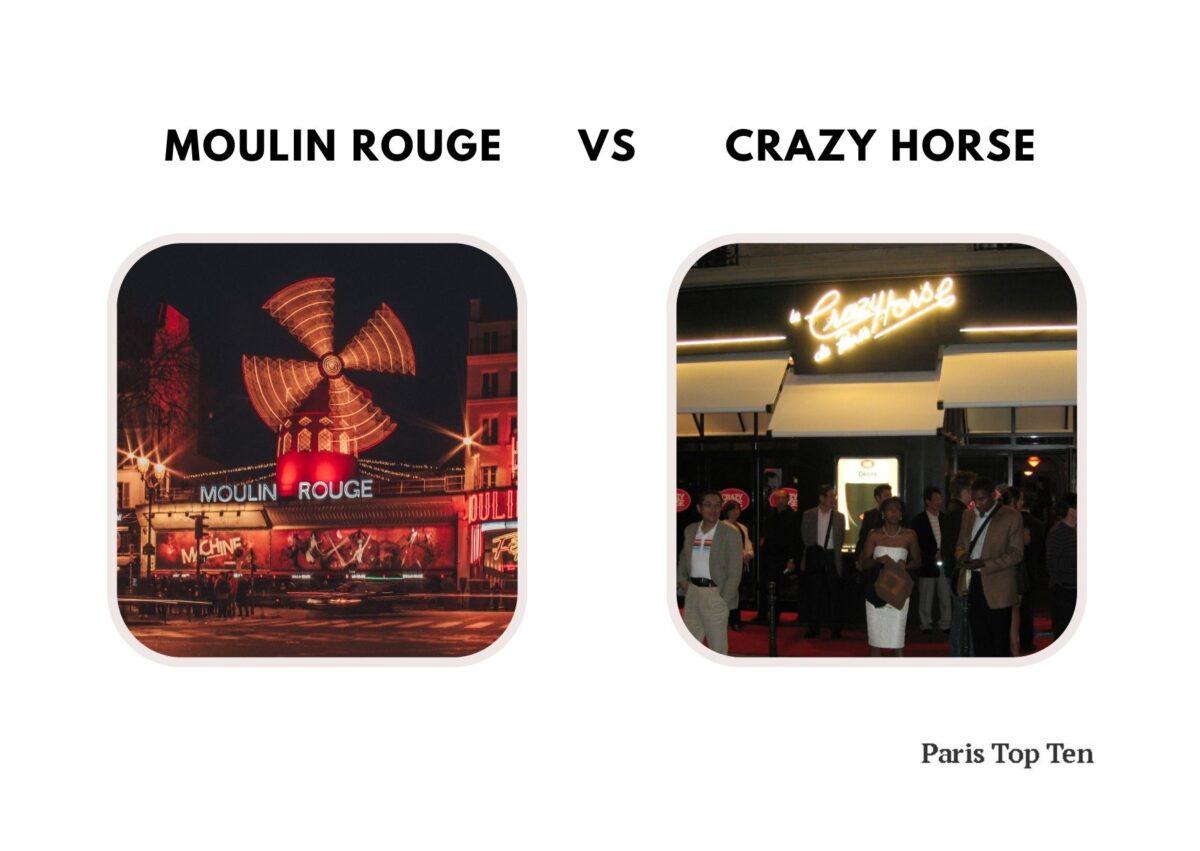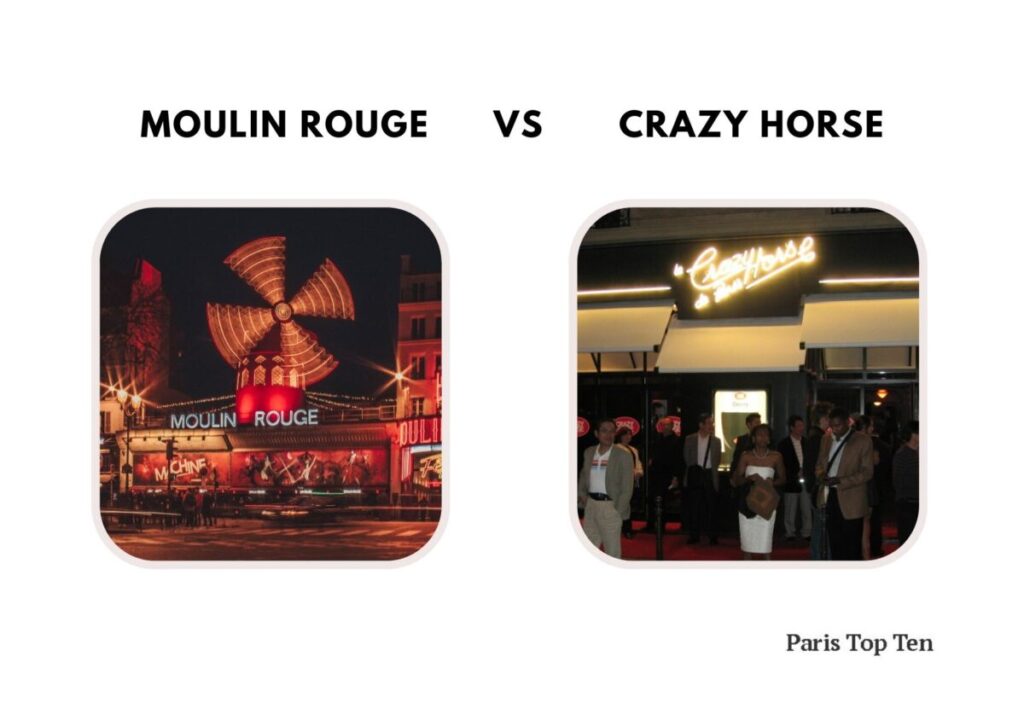 When selecting between the popular cabarets, Moulin Rouge and Crazy Horse, personal preference plays a role. The former provides an energized space with singing, dancing, traditional French cancan, and acrobats that take you back to its captivating history.
On the other hand, Crazy Horse visitors are given an intimate performance that combines sensuality through artful expressions, all done by women only, Emphasized by special lighting effects creating a unique avant-garde setting.
No matter your taste, both will give you unforgettable experiences due to their styles of atmosphere as well as performances, making them highly sought-after destinations for entertainment purposes.
Additional Cabarets to Consider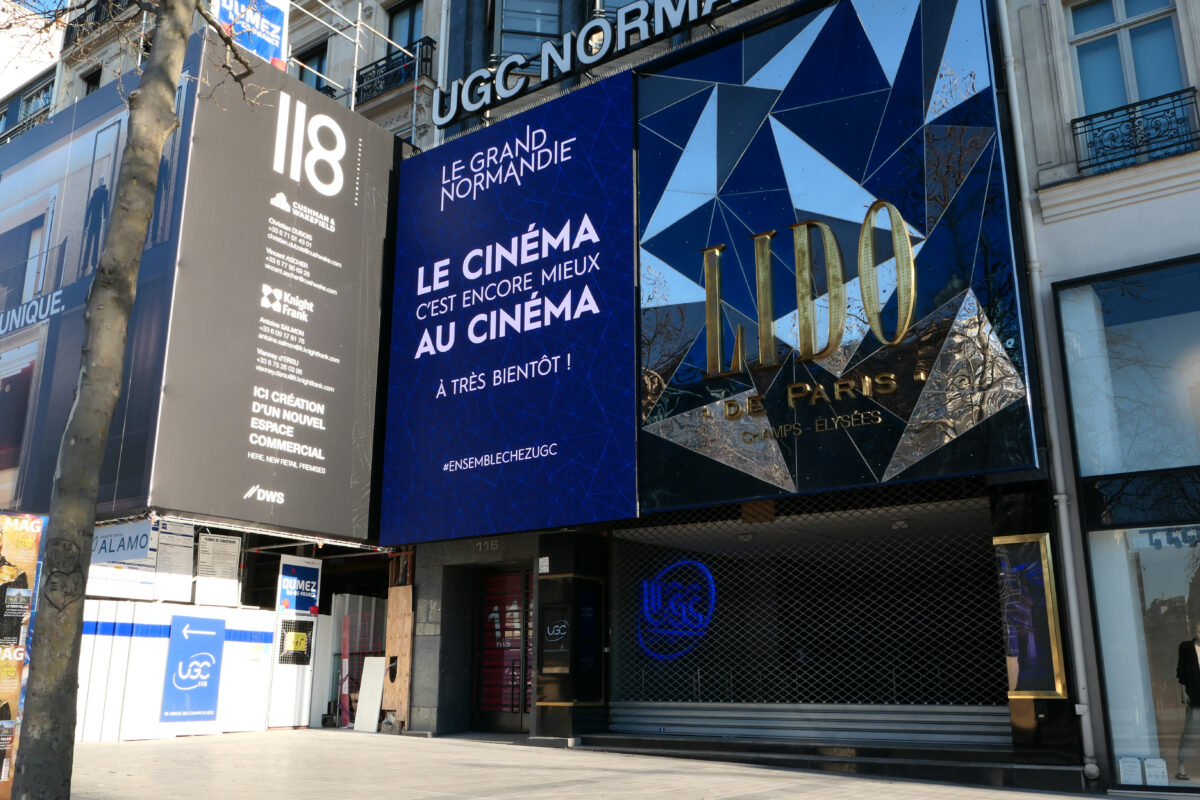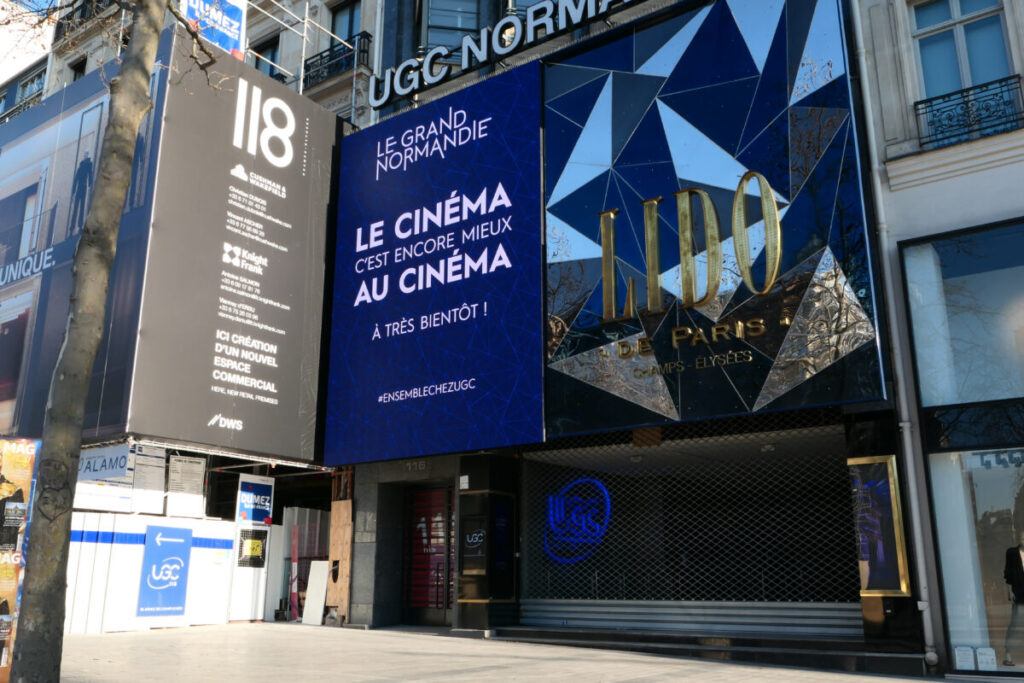 Paris boasts several fabulous cabarets, including the well-known Moulin Rouge, Crazy Horse, and Le Lido. Paradis Latin -, Paris' oldest cabaret venue, offers guests an enchanting carousel ride, a masquerade ball filled with beautiful modern ballet numbers, and classic French cancan displays.
Au Lapin Agile is another renowned city cabaret. It's great for hearing talented new artists in an intimate atmosphere while experiencing music performances throughout your night there.
Anyone interested in a unique experience to remember during their stay at the La Nouvelle Eve Parisian cabaret near the Montmartre district might want to check out its show "Paris je t'aime," which delivers 12 minutes of exciting cancan combined with an alluring tango interpretation of "La Vie en Rose."
With so many amazing choices among these acclaimed Parisian Cabarets, one will find the perfect fit for an enjoyable, unforgettable evening.
See Related: Best Paris Tour Packages: Tips to Book the Perfect Vacation
Tips for Attending a Parisian Cabaret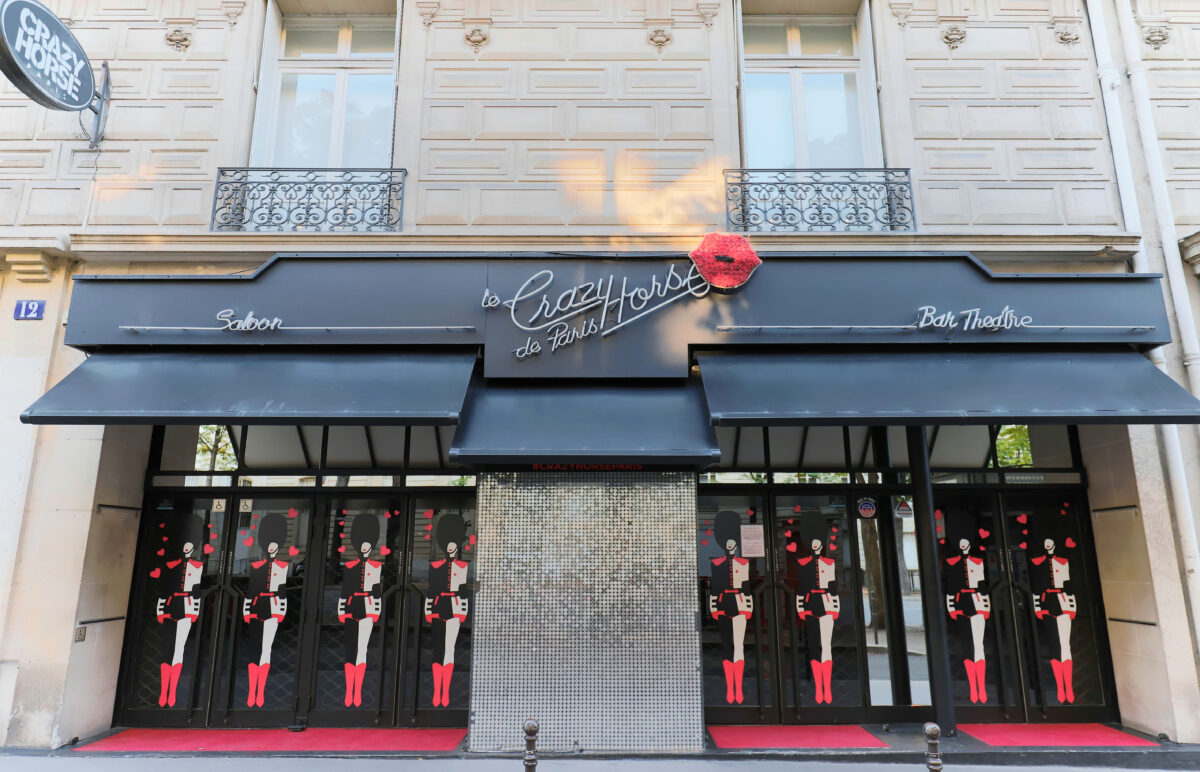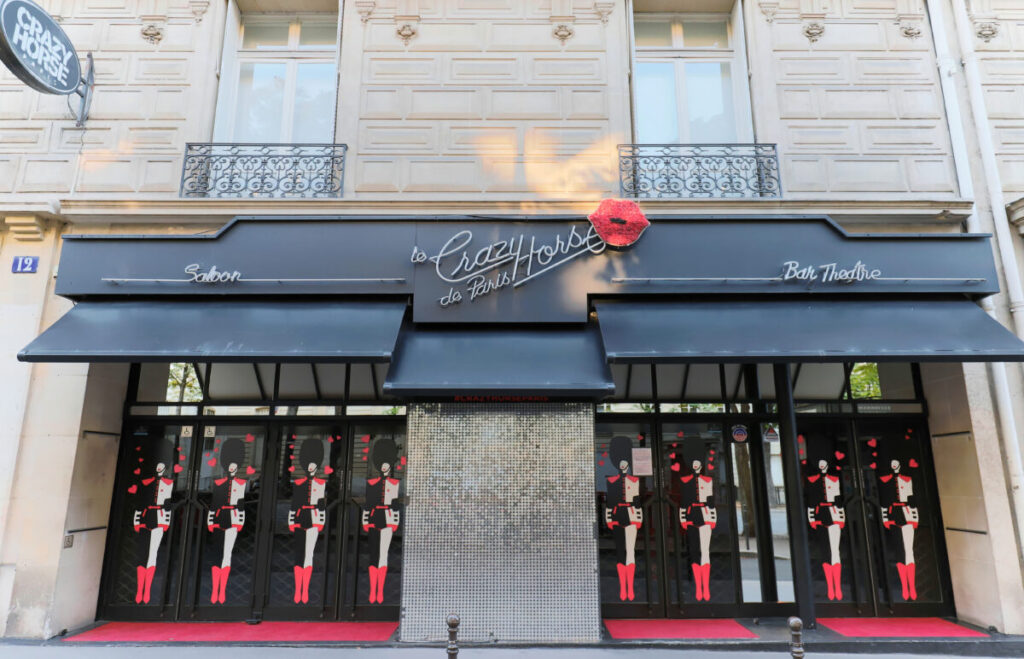 For a memorable night in Paris at the traditional cabaret show, there are certain tips to be aware of. Firstly, when attending any show, you should always check and adhere to the dress code. Most venues require smart-casual clothing, so leave your jeans or shorts behind!
To ensure you have one of those famous seats with an enviable view, purchase tickets for your chosen establishment before they run out – nothing worse than watching half the performance from afar! Last but not least, no evening would be complete without delicious dinner options.
Grab yourself a toast while also appreciating its spectacular atmosphere pre-show time. Considering these few points, this will become an unforgettable experience within The City Of Lights' iconic cabarets.
Audience Reviews and Testimonials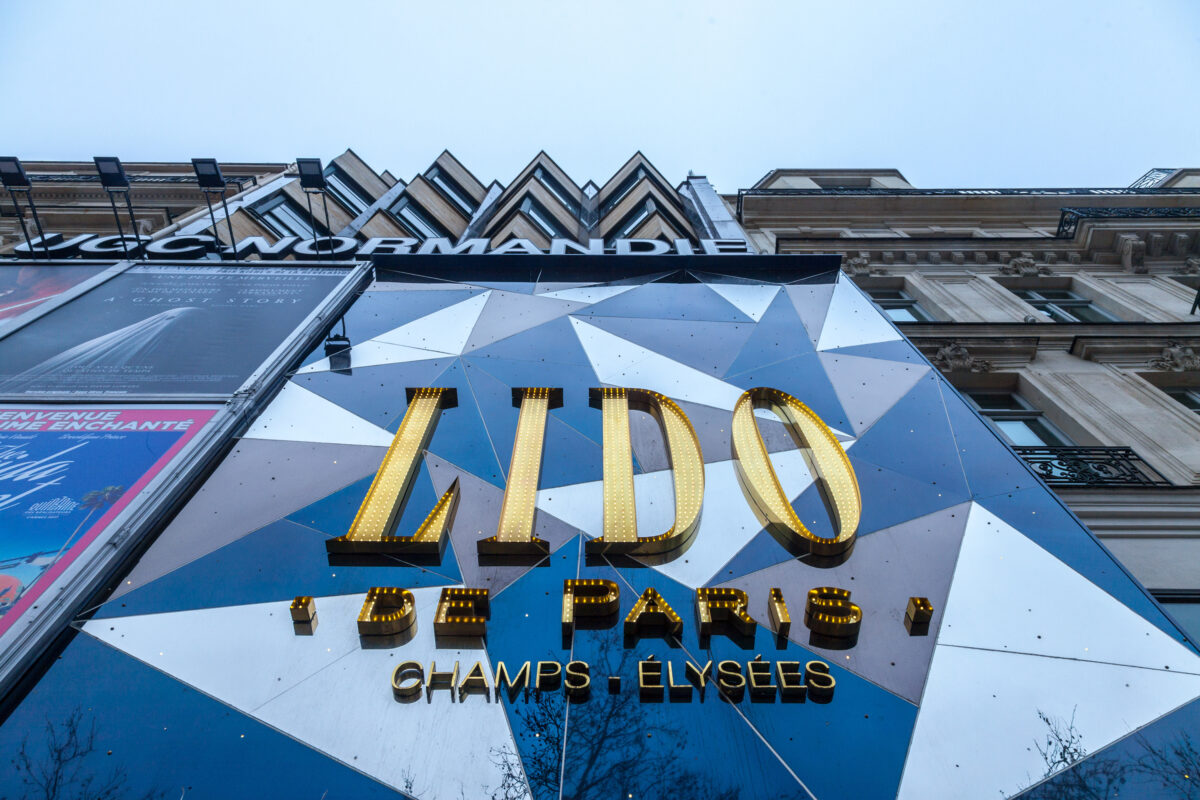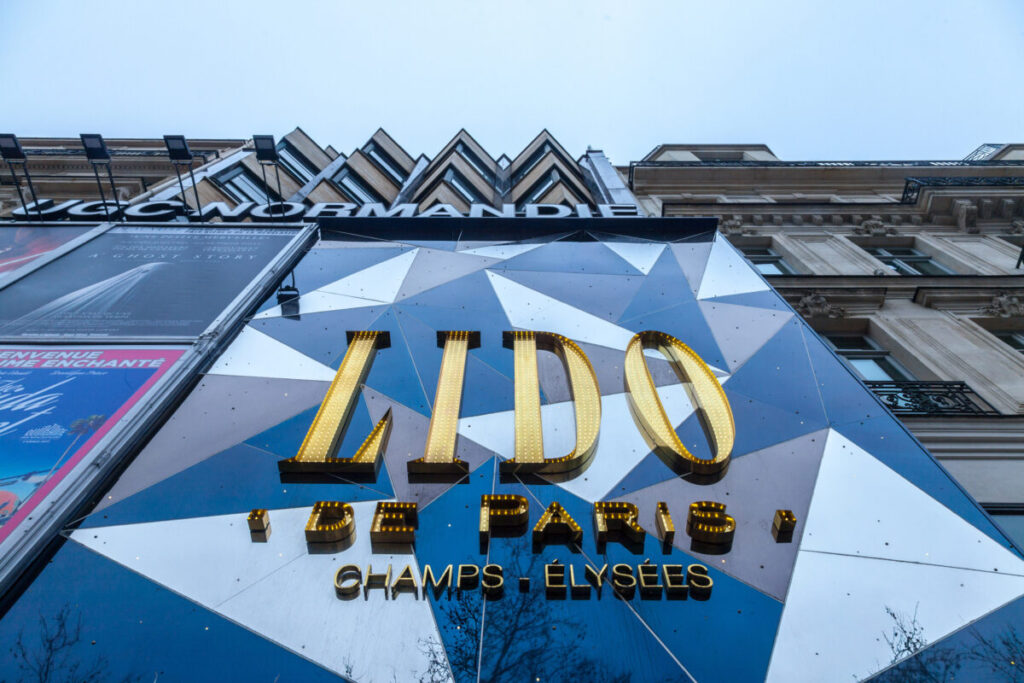 For a memorable evening, attending a Parisian cabaret is essential. Both Moulin Rouge and Le Lido have earned the reputation of providing excellent performances in an elegant atmosphere.
Visitors describe it as a must-see attraction while in Paris. Crazy Horse stands out for its unique take on traditional cabarets with inspiring performances that captivate audiences; they view this show as especially exciting and leave full of lasting memories from their experience there!
Whether you go to any of these most famous cabaret venues or another Parisian cabaret, be prepared for spectacular performance experiences accompanied by delicious food within a magical ambiance.
What's the best cabaret in Paris?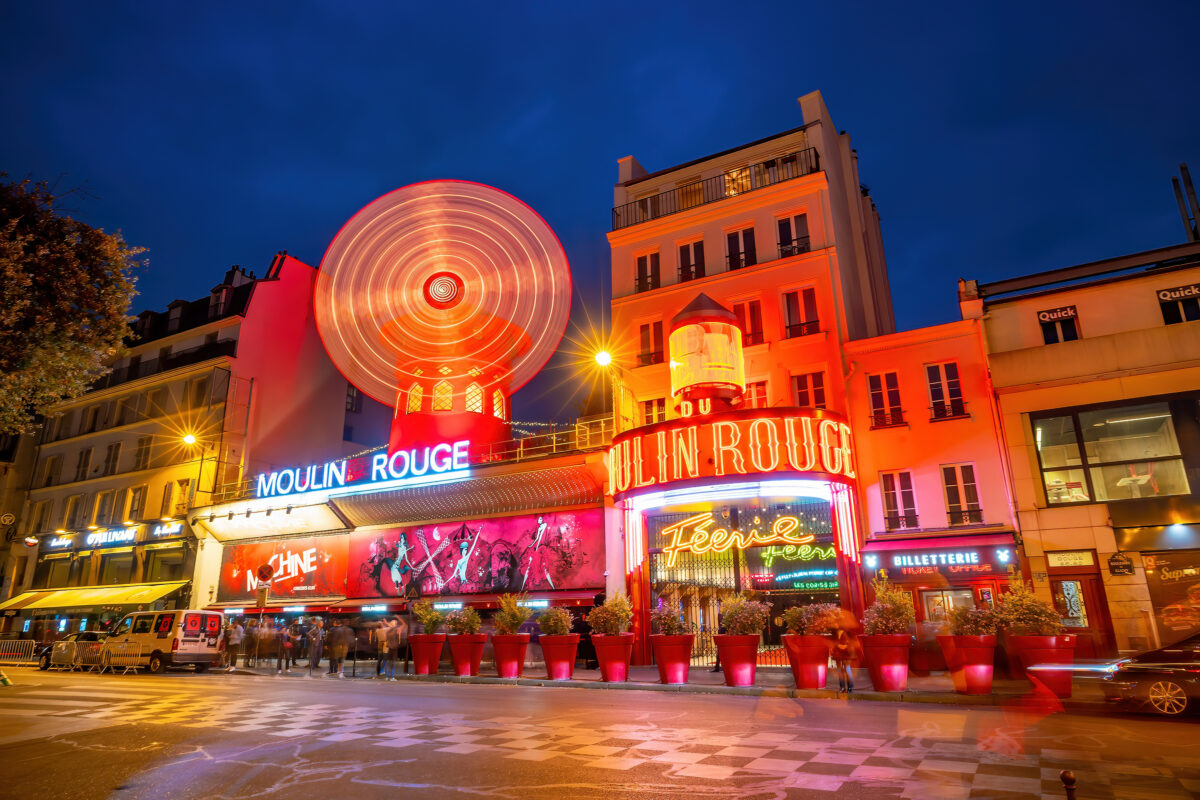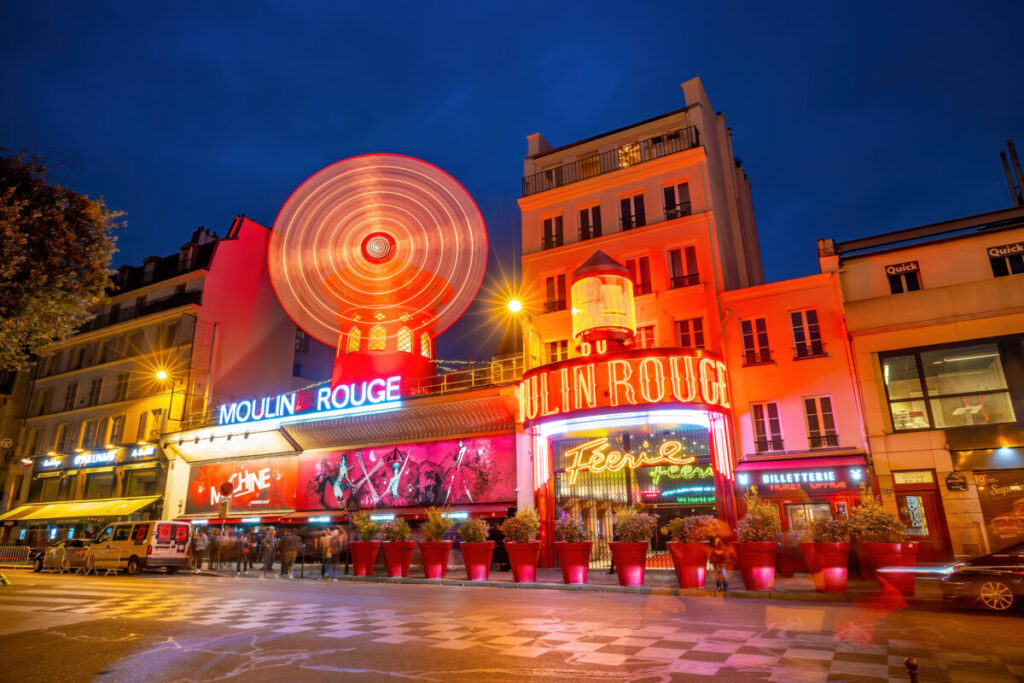 If you want to experience an unforgettable night out in a Parisian cabaret, it comes down to your tastes and preferences. Moulin Rouge, Crazy Horse, and Le Lido each offer distinctive charms.
Live shows and inviting atmospheres are hallmarks of these three famous cabaret venues. Whether the energetic vibes at Moulin Rouge attract you most or whether the sultry atmosphere of Crazy Horse appeals more – one thing is certain – no matter which venue entices you most, an evening spent at any cabaret will be something that won't soon leave your memory!
Experience Parisian cabarets' diverse and captivating atmosphere with dazzling performances, ranging from the well-known Moulin Rouge to more creative experiences such as Crazy Horse or Le Lido. These unique locations guarantee an enjoyable evening you'll remember for a long time, so why not indulge yourself in all they offer?
See Related: When is the Best Time to Visit Paris?
Frequently Asked Questions
Which show is better, Crazy Horse or Moulin Rouge?
If you're searching for a classic Parisian cabaret show to attend or a dinner with an extraordinary performance, look no further than Moulin Rouge. Not only does it feature the traditional cancan dance, but it also offers more entertainment compared to Crazy Horse, which is known for its sexier and unique approach. Both offer exciting experiences, yet nothing beats Moulin Rouge's all-encompassing atmosphere!
Is Moulin Rouge the same as Crazy Horse?
Moulin Rouge and Crazy Horse provide distinct experiences despite both involving art forms. Moulin Rouge is devoted to performance with song and dance as its centerpieces. Crazy Horse's focus lies in the realm of nude artistic expression. They are certainly not interchangeable offerings by any means.
Where can I go instead of Moulin Rouge?
Looking for a memorable night out in Paris? Try Crazy Horse, La Nouvelle Eve or Le Paradis Latin Cabaret. All three are celebrity-approved and just as good (if not better!) than the iconic Moulin Rouge on the Champs Elysées, with the Lido de Paris another great option!
What is the dress code for attending a Parisian cabaret?
Experience the unforgettable atmosphere of a Parisian cabaret by dressing up in elegant casual attire. Think no shorts, jeans, or flip-flops. This is your chance to experience all that this renowned Cabaret has to offer!
What additional cabarets are worth considering in Paris?
For a Parisian cabaret experience, see Paradis Latin, Au Lapin Agile, and La Nouvelle. Eve is an ideal choice to give you something fresh. Enjoy the magic of the city's vibrant entertainment scene in these amazing places that will provide an unforgettable evening!
Related Resources