Originally from Cherbourg in Normandy, Easy Sacha was influenced by metal, punk rock music, and the hand-made tattoos he could see in the port bars on old sailors' arms. In Paris since 1998, he worked in a Tribal Act shop, then with Tin Tin. After opening his shop in the 11th area, he's now installed in a cozy and very friendly boutique in the 10th area near the Saint Martin Canal.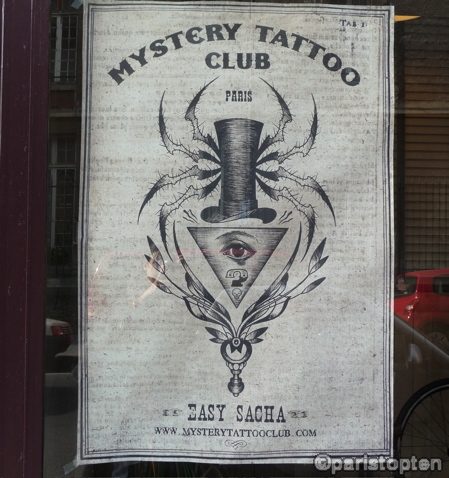 He integrated and developed different styles, from the Japanese to the Tim Burton cartoon style, through "Art Nouveau" and the biomechanical (Allien). From the tribal fashion of the beginning, Easy Sacha is in constant evolution, thanks to his curiosity.
🗼 Paris Insider's Top Picks! ✨
Dive into the heart of Paris with our handpicked partners. Trusted by thousands, they ensure you experience the best of Paris.
His inspiration comes from various sources, like architecture, for example. He says he prefers good contact with the client rather than searching for a big artistic tattoo. Two other tattooers (Navette and Karl Marc) offer many possibilities for great quality tattoos.
Mystery Tattoo Club, established in 2008, is a renowned tattoo parlor located in the 10th arrondissement of Paris. With a team of skilled and creative artists, the salon caters to diverse clients seeking unique and personalized tattoos. Customers are welcome to visit the studio without an appointment to discuss their tattoo ideas, as the experienced staff will provide necessary guidance and assistance throughout the entire process, from design creation to the healing phase.
Nestled in the heart of Paris, near the Canal St Martin and Gare de l'Est, Mystery Tattoo Club has gained significant popularity for its commitment to exceptional service and artistry. The tattoo artists at the club are well-versed in various styles and techniques, ensuring that each client receives a one-of-a-kind tattoo that reflects their vision and personality. With a strong online presence and a remarkable following of satisfied customers, Mystery Tattoo Club maintains its status as a go-to destination for locals and tourists, seeking a valuable and unforgettable tattoo experience in the City of Lights.
Mystery Tattoo Club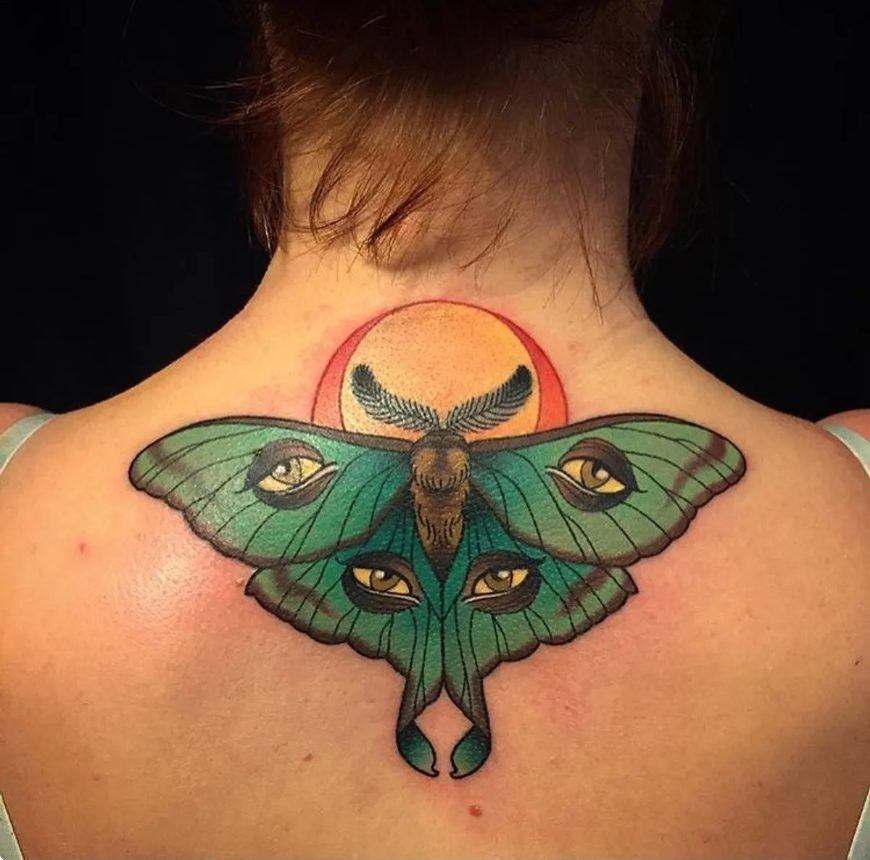 Origins and Location
Mystery Tattoo Club is a renowned tattoo salon in Paris, founded in 2008. Its creator, Easy Sacha, originally from Cherbourg in Normandy, was inspired by metal and punk rock music and the hand-made tattoos he observed on old sailor's arms in port bars. He moved to Paris in 1998 and worked in the Tribal Act shop before joining forces with Tin Tin.
The artists at Mystery Tattoo Club are dedicated to creating unique and personalized tattoos for each client, providing guidance throughout the tattoo process, from designing and application to aftercare and healing.
13 Rue de la Grange Aux Belles
Mystery Tattoo Club is situated at 13 Rue de la Grange Aux Belles in the 10th arrondissement of Paris. This prime location is easily accessible, close to République and the Gare de l'Est and Gare du Nord train stations. The salon's atmosphere is both welcoming and professional, with a focus on client satisfaction. Walk-ins are welcome to discuss their tattoo projects, regardless of their preferred style.
The Mystery Tattoo Club has gained popularity and a strong following on social media. Its Facebook page, "Club de Gentlemen Tatoués MYSTERY TATTOO CLUB," has accumulated over 386,000 likes, showcasing its influence and reach in the tattoo community. Yelp reviews also shed light on the overall experience, with real people sharing their positive experiences and recommendations for those seeking quality tattoos in Paris.
For anyone considering a tattoo in Paris, Mystery Tattoo Club offers professional service, knowledgeable artists, and a comfortable environment to ensure each client's vision comes to life.
Artists and Styles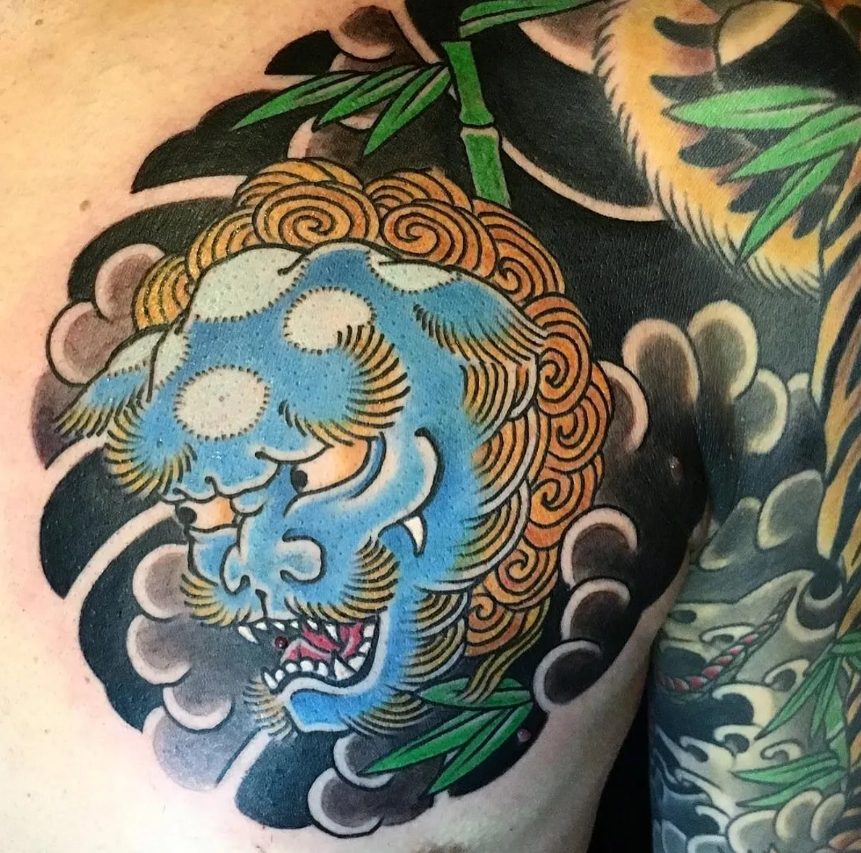 Easy Sacha
Easy Sacha is a fantastic artist at Mystery Tattoo Club Paris, known for his precise and intricate work. He specializes in Japanese style tattoos, which have a rich history and require great skill to execute perfectly. Sacha has made a name for himself with his mastery of this artistic style and is a valuable member of the club's team.
Just
Just is another talented member of the Mystery Tattoo Club Paris artist roster. His style differs from Easy Sacha's, catering to clients seeking unique and personalized designs. He can produce tattoos that truly reflect the individuality of each client, making every piece a one-of-a-kind work of art.
Wonka
With his artistic flair, Wonka brings a distinctive touch to the Mystery Tattoo Club Paris team. He creates tattoos that stand out and draw attention, ensuring that his clients leave with a piece that truly represents their desired style. With his expertise, clients can expect stunning tattoos that beautifully accentuate their individuality.
Gary
Gary is a skilled artist who contributes his talents to the diverse Mystery Tattoo Club Paris lineup. His aptitude for creating remarkable tattoos and his dedication to the art form has secured his place as a key figure among the club's team of artists. Expect excellence and an unforgettable tattoo experience when working with Gary.
Paul
Paul is an accomplished tattoo artist at Mystery Tattoo Club Paris, whose experience and passion for the art is evident in the pieces he produces. Alongside his fellow artists, Paul works to create unforgettable and unique tattoos for clients. His dedication and expertise make him an essential artist within the team.
Specialized Approaches
Each artist at Mystery Tattoo Club Paris brings their own specialized approach, ensuring that clients receive tattoos that are tailored to their specific needs and desires. Whether it's Sacha's Japanese-inspired designs, Just's personalized creations, or the variety offered by Wonka, Gary, and Paul, clients can rest assured that they are in capable hands.
Booking and Consultations
Appointments System
Mystery Tattoo Club, located in Paris, offers an appointment system to accommodate clients interested in discussing their tattoo project. Clients can also visit the studio without a prior appointment to discuss their preferred tattoo style and project requirements. To book an appointment, clients can call the studio at +33 1 42 01 87 60 or use their preferred app to schedule a consultation.
Pre-Tattoo Advice
In order to ensure a smooth tattooing experience, Mystery Tattoo Club provides pre-tattoo advice to clients, guiding them throughout the entire process, from the creation of the design to its healing. Here are some essential tips to follow before getting a tattoo:
Hydration: Make sure you are well-hydrated before your appointment. Drink plenty of water in the days leading up to your tattoo session.
Nutrition: Eat a nutritious, balanced meal before your appointment to maintain energy levels and avoid feeling lightheaded or faint during the session.
Punctuality: Arrive on time for your appointment. This ensures that the tattoo artist has enough time to understand your design requirements and create a personalized tattoo for you.
Aftercare: Follow the aftercare instructions provided by the tattoo artist to ensure proper healing of your new tattoo.
By adhering to the conseils pour les soins and maintaining ponctualité for your appointment, you can enjoy a seamless experience at the Mystery Tattoo Club.
Hygiene and Safety
Mystery Tattoo Club in Paris prioritizes hygiene and safety to ensure a comfortable and secure experience for its clients. The highly skilled artists at the studio are well-aware of the significance of maintaining a clean and sanitary environment.
The studio adheres to all necessary hygiene protocols, which include the regular sanitization of surfaces, equipment, and workstations. The artists use disposable gloves and sterilized instruments for each procedure, ensuring that every tattoo session is safe and propre.
Furthermore, Mystery Tattoo Club is dedicated to educating its clients about proper aftercare and healing methods. This comprehensive guidance helps minimize any risks and promotes a healthy cicatrisation process. By maintaining high standards of cleanliness and safety, the studio guarantees exceptional service and customer satisfaction.
In conclusion, hygiene and safety are of utmost importance at Mystery Tattoo Club Paris. The commitment to upholding these standards is clearly evident in its practices and care for clients.
Customer Experience
Studio Atmosphere
At Mystery Tattoo Club Paris, the studio atmosphere is designed to put clients at ease during their tattoo sessions. The ambiance is a perfect blend of bienveillance, écoute, and bonne humeur. The décor is carefully thought out to be welcoming, brightening the space and making it visually appealing. The studio also places great emphasis on convivialité, ensuring that everyone who walks in feels part of a creative community.
Professionalism and Attentiveness
The artists at Mystery Tattoo Club Paris exhibit a high level of professionalism and attentiveness. They are known for their genuine écoute, making sure they understand their client's needs and expectations before beginning the tattooing process. The artists are deeply committed to their craft, providing each client with a personalized and unique experience. This level of dedication to clients is a cornerstone of the Mystery Tattoo Club Paris experience, making clients feel comfortable and understood during the entire process.
Post-Tattoo Care Guidance
Mystery Tattoo Club Paris doesn't stop at providing a memorable tattooing experience. They also offer clear and detailed guidance on post-tattoo care. The artists value their clients' well-being and view the tattoo's healing process as an essential part of the overall experience. They take the time to explain how to care for new tattoos properly, including cleaning, moisturizing, and avoiding sun exposure. By offering this guidance, they ensure their clients have everything they need to maintain the appearance and longevity of their new tattoos.
Social Media Presence
Mystery Tattoo Club maintains a strong social media presence to connect with their clients and showcase their tattoo artistry. One of the platforms they are particularly active on is Instagram.
With their Instagram handle ⚫️Mystery Tattoo Club⚫️ (@mystery_tattoo_club), the tattoo studio shares photos and videos of their unique and personalized tattoo designs. Boasting 13.7k followers and over 1,000 posts, their Instagram feed is a testament to their popularity and expertise in tattooing.
On Instagram, they display their completed works and provide glimpses into the creative process behind each design. Prospective clients can peruse their feeds to better understand the artists' skills and the diverse range of tattoo styles available at the studio.
In addition, Mystery Tattoo Club uses this platform to share studio updates and engage with their followers via stories, which may include live tattoo sessions, behind-the-scenes looks, and information about upcoming events or promotions. By maintaining a dynamic and interactive Instagram presence, the tattoo studio stays connected with their clientele and showcases the talent of their artists to a wider audience.
See Related: Best Tattoo Shops in Paris
How to Reach
Mystery Tattoo Club is located at 13 rue de la Grange aux Belles, 75010 Paris, in the 10th arrondissement. It is near the République district and relatively close to Gares de l'Est and du Nord. To reach the tattoo studio, you have several options:
By Metro: The closest metro stations to Mystery Tattoo Club are Jacques Bonsergent (Line 5) and Gare de l'Est (Lines 4, 5, and 7). From either station, it is only a short walk to the tattoo parlor.
By Bus: There are several bus lines that have stops near the tattoo studio. The most convenient bus routes are 65, 46, and 75. The 65 bus line connects Gare de Lyon to Gare du Nord, making it ideal for those traveling from nearby train stations. The 46 bus connects Château de Vincennes and Gare du Nord, and the 75 bus connects Porte de Pantin and Concorde.
Walking or Biking: If you prefer a more leisurely journey, the studio is a pleasant walk or bike ride from other popular areas in Paris, such as Canal St Martin or the bustling streets of Gare de l'Est. There are numerous Vélib' bike-sharing stations in the vicinity, making it easy to rent a bike and navigate to the studio.
Remember to plan your trip accordingly, as the area can be busy during peak hours. Opt for public transportation or walking to avoid potential traffic and parking difficulties.
Frequently Asked Questions
What are the top tattoo studios in Paris?
Paris is home to many renowned tattoo studios, including Abraxas and American Body Art. These studios provide high-quality tattoos and piercings, attracting both locals and tourists. The artistic skills shown by the tattoo artists in these establishments have made a strong mark in the tattoo scene of Paris.
Which Paris tattoo shops offer custom designs?
Many tattoo studios in the city, such as Mystery Tattoo Club, specialize in custom designs for their clients. These shops prioritize working closely with their customers to create unique, personalized tattoos that reflect their individual styles and preferences.
Are there any tattoo studios in Paris with a unique or mysterious style?
Mystery Tattoo Club is a tattoo studio in Paris with a distinct style, as the name suggests. Located in the 10th arrondissement, this studio offers a mysterious and creative atmosphere for tattoo enthusiasts looking for a unique tattoo experience.
What is the process for getting a tattoo at Mystery Tattoo Club?
At Mystery Tattoo Club, clients can walk in without an appointment to discuss their tattoo ideas with the artists. The team guides clients throughout the process, from helping with design creation to providing advice on aftercare and healing.
Does Mystery Tattoo Club Paris have any notable tattoo artists?
Although specific tattoo artists may gain recognition, it is recommended to check the individual portfolios of the talented artists working at Mystery Tattoo Club to better understand their styles and expertise. This way, clients can identify who might be the best fit for their tattoo project.
What kind of tattoo styles are prominent in Paris?
Paris is known for its diverse tattoo scene and offers a wide range of styles, catering to various preferences and tastes. Some of the popular tattoo styles in Paris include traditional, neo-traditional, geometric, dotwork, fine line, and black and grey. Many artists at Parisian studios, including Mystery Tattoo Club, are proficient in these styles and can create unique designs to suit individual clients' visions.
See Related: Artcorp Tattoo