Ah, Paris – the City of Lights, the epitome of romance and elegance. There's something about the charming cobblestone streets, ornate architecture, and delightful cafes that capture the imagination of travelers from all around the world. If you're planning a whirlwind visit to this enchanting destination, this article will guide you through the must-see attractions and hidden gems for a truly memorable three-day experience.
With such a rich history, diverse culture, and seemingly endless array of sights to see, it's no wonder that Paris can be a little overwhelming for first-time visitors. But fret not, our carefully curated three-day itinerary will ensure that you make the most of your time, striking the perfect balance between the city's iconic landmarks and its lesser-known treasures.
🗼 Paris Insider's Top Picks! ✨
Dive into the heart of Paris with our handpicked partners. Trusted by thousands, they ensure you experience the best of Paris.
In the next sections, we will explore notable attractions such as the Eiffel Tower, the Louvre, and the Arc de Triomphe, as well as charming Parisian neighborhoods and the stunning Palace of Versailles. So pack your bags and prepare to embark on an unforgettable journey through the heart of one of the world's most captivating cities.
Planning Your Paris Itinerary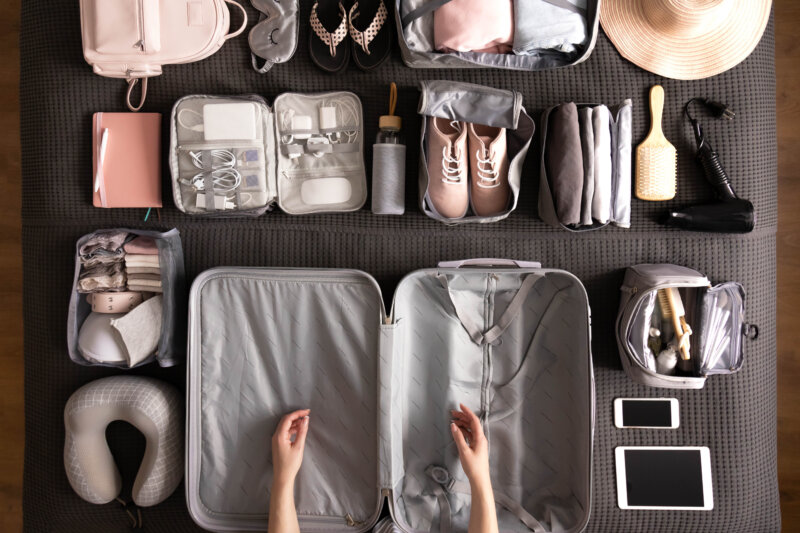 Best Time to Visit Paris
While Paris is a delightful destination to visit year-round, choosing the right season to explore the city can enhance your experience. Here's a brief overview of what to expect in each season:
Spring (March to May): Spring is a charming time to visit Paris, with mild temperatures and flowers blooming across the city. However, it may also rain a bit more during this period.
Summer (June to August): Summer is the most popular season for tourists, offering warm temperatures and longer days. Keep in mind that it can get quite crowded during this time, and accommodation prices may be higher.
Autumn (September to November): Autumn is another beautiful time to visit Paris, with the foliage's changing colors creating a picturesque setting. The weather is mild, and the number of tourists dwindles compared to the peak summer months.
Winter (December to February): Winter in Paris can be cold, but it offers a different charm with Christmas markets and cozy cafes. Additionally, the city is less crowded during this time, making it a more peaceful experience.
Paris in 3 Days: Sample Itinerary
Here's a sample itinerary for a 3-day trip to Paris that includes popular attractions and lesser-known gems:
Day 1:
Begin your day by visiting the iconic

Eiffel Tower

. Arrive early to avoid long queues.

Afterward, head to the

Louvre Museum

and spend a few hours admiring masterpieces such as the Mona Lisa and the Venus de Milo.

From the Louvre, take a leisurely stroll along the Seine River before making your way to the

Notre-Dame Cathedral. Note that the cathedral is currently under restoration, but you can still admire its stunning exterior.
Day 2:
Start your day by climbing the

Arc de Triomphe

for a fantastic view over Paris.

Next, wander through the charming streets in the

Montmartre

neighborhood, perhaps visiting the famous

Sacré-Cœur Basilica

.

Afterward, head to the

Musée d'Orsay

to explore its impressive collection of Impressionist art.
Day 3:
Dedicate your final day in Paris to exploring the grand

Palace of Versailles

, located just outside the city. Prepare to spend most of your day marveling at the palace's opulent interiors and expansive gardens.

Once back in Paris, end your evening with a visit to the Gothic masterpiece,

Sainte-Chapelle

.
Remember that this is just a sample itinerary and can be customized to fit your interests and preferences. Enjoy your 3 days in Paris!
Essential Paris Attractions
In this section, we'll explore some of the must-visit attractions for your 3-day trip to Paris, including the Eiffel Tower, Louvre Museum, Arc de Triomphe, Montmartre, and Notre Dame Cathedral.
Eiffel Tower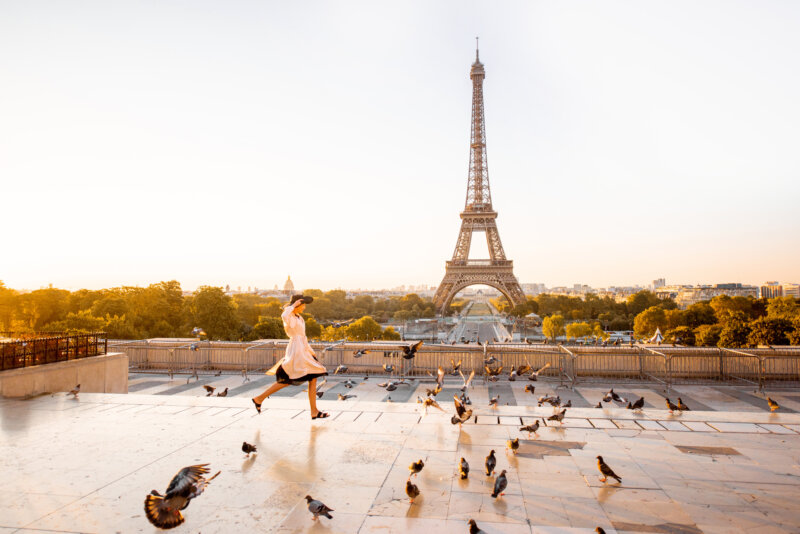 The Eiffel Tower is undoubtedly the most iconic symbol of Paris. Standing at 324 meters tall, it offers breathtaking views of the City of Light from its various observation decks. You can either take the elevator or, if you're feeling energetic, climb the stairs to the first two levels. Don't forget to pre-book your tickets online to avoid long queues at the entrance.
See Related: Best Boat Tours in Paris, France
Louvre Museum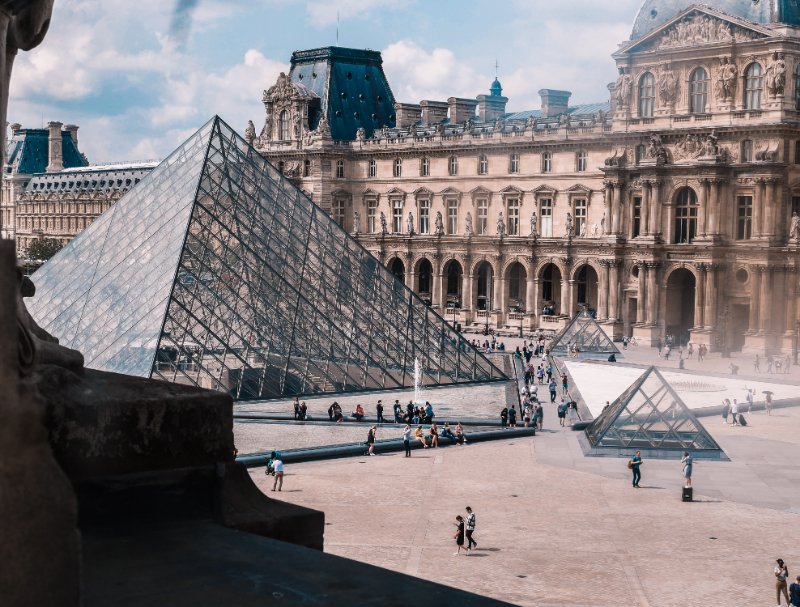 As one of the world's largest and most visited museums, the Louvre is home to thousands of invaluable art pieces, including Leonardo da Vinci's Mona Lisa and the ancient Greek sculpture, Venus de Milo. To make the most of your time here, consider joining a guided tour or renting an audio guide that covers the highlights of the museum's vast collection.
See Related: Arc de Triomphe: Exploring the Iconic Paris Arch
Arc de Triomphe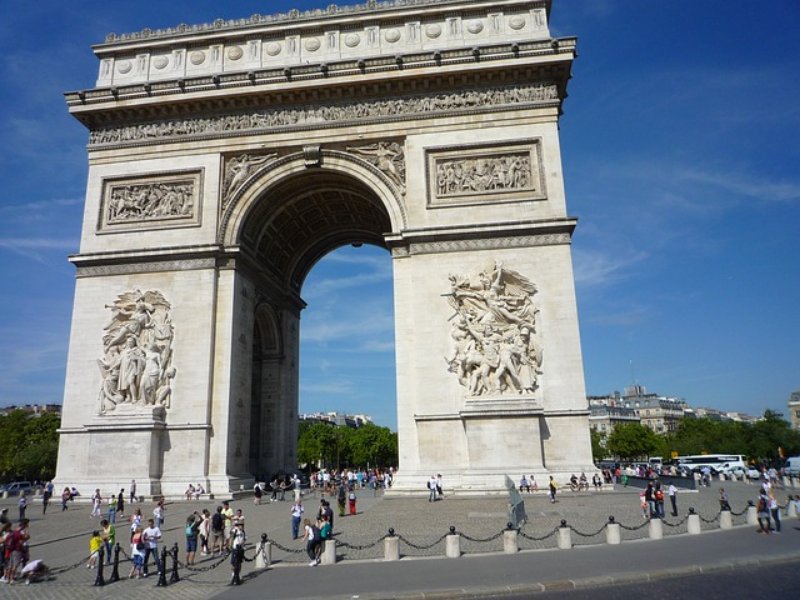 The Arc de Triomphe stands majestically at the western end of the Champs-Élysées, celebrating the victories and sacrifices of the French military throughout history. Climb the 284 steps to the top for a panoramic view of Paris, or simply admire the intricate sculptures and reliefs adorning the monument's exterior.
See Related: Winters in France: A Comprehensive Guide to the Season
Montmartre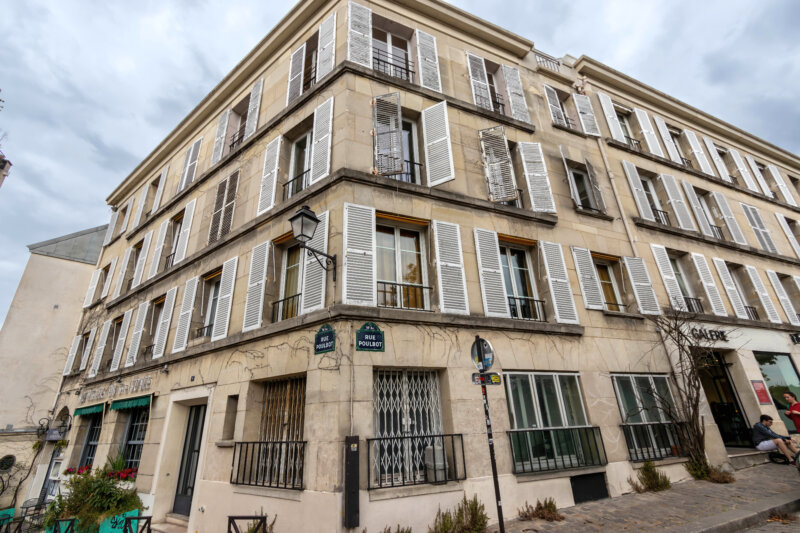 Montmartre is a charming, bohemian neighborhood known for its artistic history and the stunning white-domed Sacré-Cœur Basilica. Stroll the cobblestone streets, perusing local street art, and savoring Parisian treats at quaint bakeries and cafes. Montmartre is also famous for its lively nightlife, with a variety of bars and entertainment venues like the popular Moulin Rouge.
See Related: Best Weekend Trips from Paris, France
Notre Dame Cathedral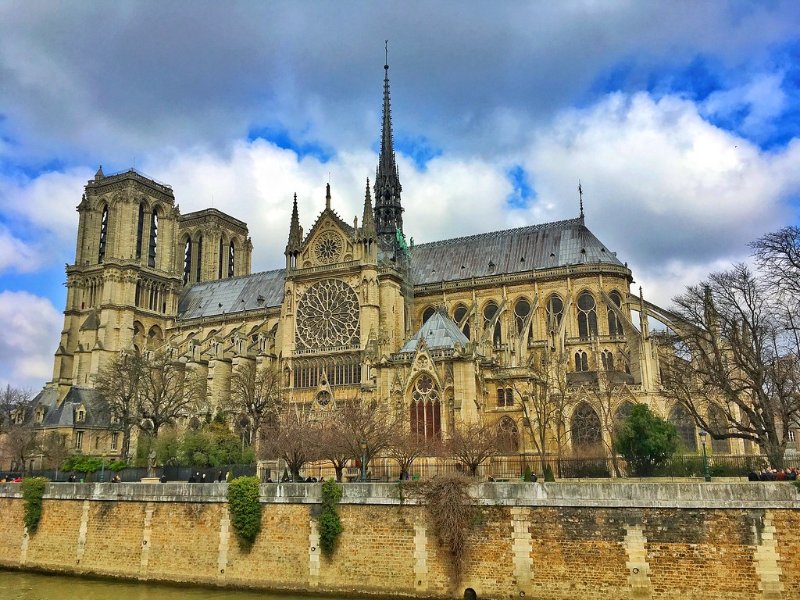 Although currently closed for restoration due to a devastating fire in 2019, the Notre Dame Cathedral remains an iconic Parisian landmark. This masterpiece of Gothic architecture is renowned for its breathtaking stained glass windows, intricate stonework, and dramatic spires. Even though you can't currently enter the cathedral, it's still worth admiring from the outside and strolling along the picturesque Île de la Cité where it's situated.
See Related: Paris in September: Top Events and Travel Tips
Exploring Paris Neighborhoods
Le Marais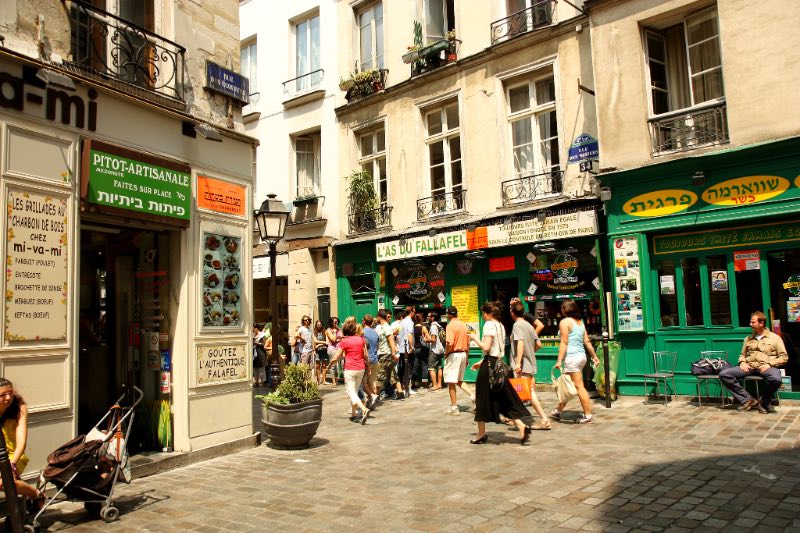 Le Marais is one of the most vibrant and historic neighborhoods in Paris. Known for its maze-like streets, it is home to numerous art galleries, boutique shops, and lively cafes. The area is also famous for its strong LGBTQ+ community and its beautiful mansions, called "hôtel particuliers." While strolling through Le Marais, be sure to visit the Place des Vosges, a picturesque square surrounded by symmetrically-designed buildings, and the Musée Picasso, featuring an extensive collection of the artist's work.
See Related: Is It Illegal to Work on Weekends in Paris, France?
Latin Quarter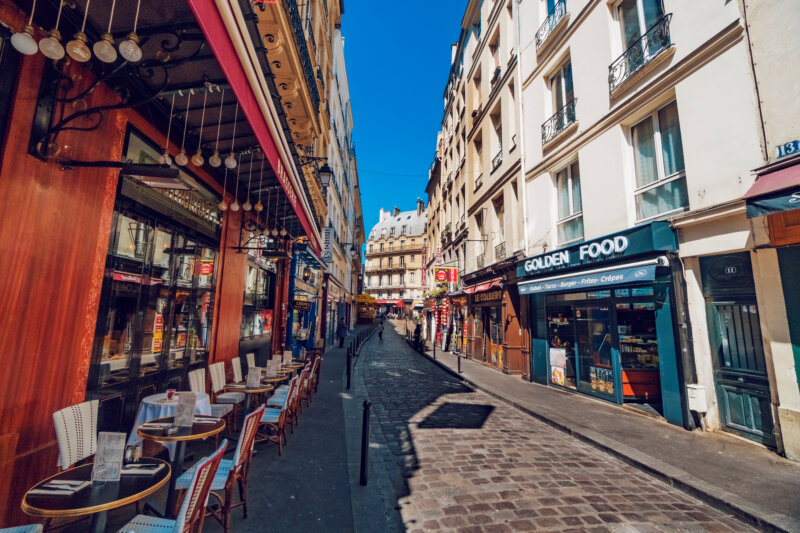 Nestled on the Left Bank of the Seine, the Latin Quarter is one of the most intellectually and culturally rich neighborhoods in the City of Light. Its name derives from the numerous scholars who, during the Middle Ages, spoke Latin in this area. Today, it is home to the prestigious Sorbonne University and several other renowned institutions. Key attractions in the Latin Quarter include the Panthéon, a magnificent building dedicated to French heroes, and the Jardin des Plantes, a stunning botanical garden. For a true taste of Parisian life, explore the charming streets lined with bookstores, bistros, and historic buildings.
See Related: Best Travel Books About Paris: Must-Read Guides
Saint Germain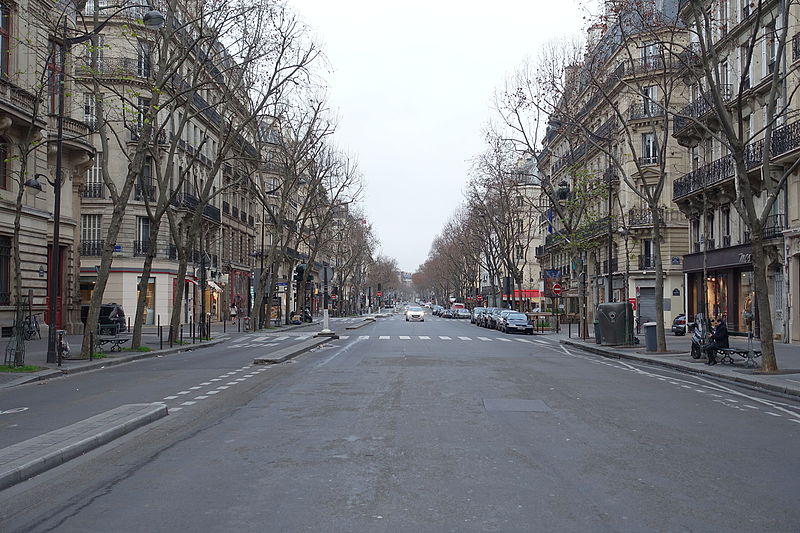 Saint Germain, another iconic Parisian neighborhood, is known for its elegance and artistic heritage. Located on the Left Bank of the Seine, it offers a blend of high-end boutiques, renowned cafes, and historic landmarks. Among the must-visit sites in Saint Germain are the Saint-Germain-des-Prés Church, the oldest church in Paris, and the Musée d'Orsay, a former railway station transformed into a beautiful museum housing Impressionist and Post-Impressionist masterpieces. For a leisurely walk, head to the Luxembourg Gardens, a beautiful park perfect for relaxing and enjoying nature.
By exploring these neighborhoods in Paris, visitors can delve deep into the heart of the city and immerse themselves in the unique culture, history, and charm that make Paris unforgettable.
See Related: Things To in Paris on Bastille Day: A Comprehensive Guide
Cultural Experiences and Museums
Musée d'Orsay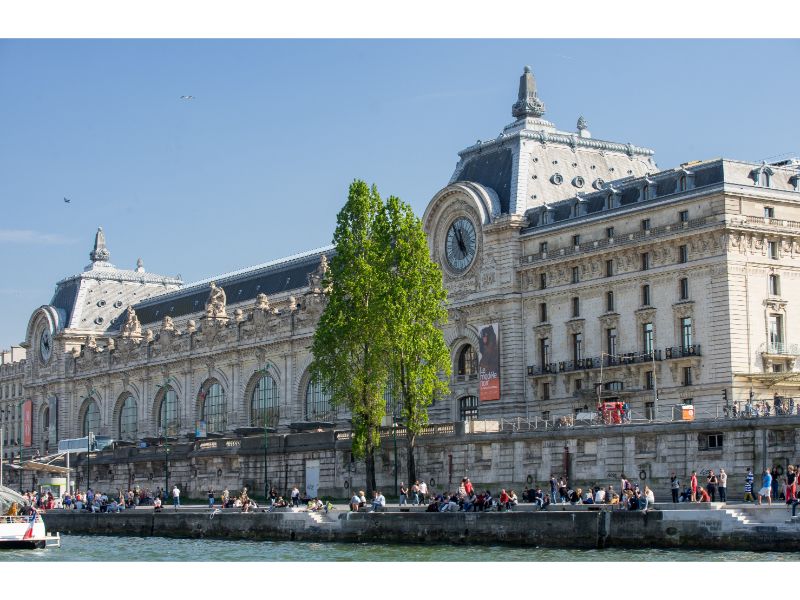 The Musée d'Orsay is a must-visit museum in Paris, located on the left bank of the Seine River. It houses an extensive collection of Impressionist and Post-Impressionist masterpieces by artists such as Claude Monet, Pierre-Auguste Renoir, Vincent van Gogh, and Paul Cézanne. This former railway station has been transformed into a beautiful space with natural light and elegant architecture to showcase the artwork.
The museum's collection spans from the mid-19th century to the early 20th century, providing a comprehensive view of this significant era in art history. Admission to Musée d'Orsay is included in the Paris Museum Pass, which covers entrance to numerous other sites and attractions throughout the city.
Versailles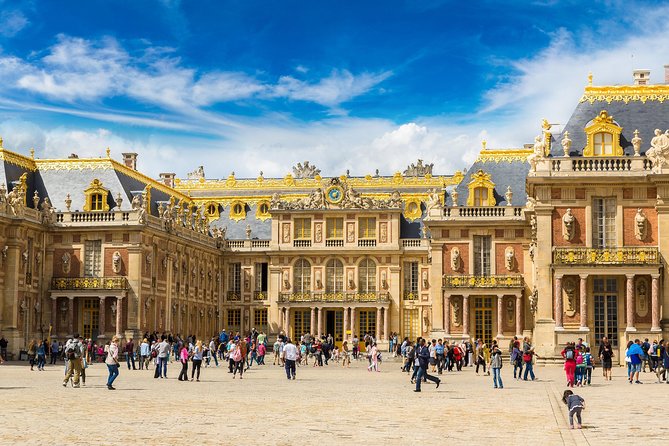 The Palace of Versailles is an iconic and opulent symbol of French history, located just outside of Paris. Built during the reign of Louis XIV, the palace exemplifies the absolute monarchy of the time and is a testament to the incredible lavishness of the French court. The expansive gardens surrounding the palace are also a major attraction, designed by André Le Nôtre, and feature carefully manicured lawns, fountains, and sculptures.
While exploring the palace, don't miss the Hall of Mirrors, the Royal Apartments, and the Petit Trianon – Marie Antoinette's private retreat. The Versailles estate is also part of the Paris Museum Pass, granting you access to the palace and gardens.
Sainte-Chapelle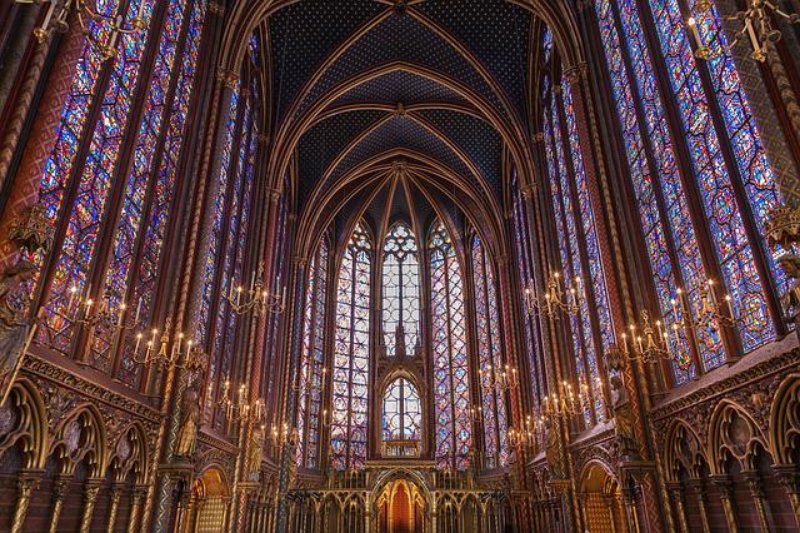 Sainte-Chapelle is a stunning Gothic church located on Île de la Cité, in the heart of Paris. Completed in 1248, it was built by King Louis IX to house sacred Christian relics, including the Crown of Thorns. The highlight of Sainte-Chapelle is undoubtedly its magnificent stained glass windows, which cover an impressive 6,458 square feet and depict over 1,000 scenes from the Bible.
Each of the 15 windows tells a story from the Old and New Testaments, culminating in the stunning Rose Window depicting the Apocalypse. The intricate detailing and vibrancy of the colors make this a must-see while visiting the city. Access to Sainte-Chapelle is also covered by the Paris Museum Pass.
In summary, a three-day trip to Paris should include visits to the Musée d'Orsay, the Palace of Versailles, and Sainte-Chapelle to gain an appreciation for the city's rich cultural and artistic heritage. The Paris Museum Pass grants you admission to these attractions and more, simplifying your experience in the City of Lights.
Outdoor Activities
Seine River Cruise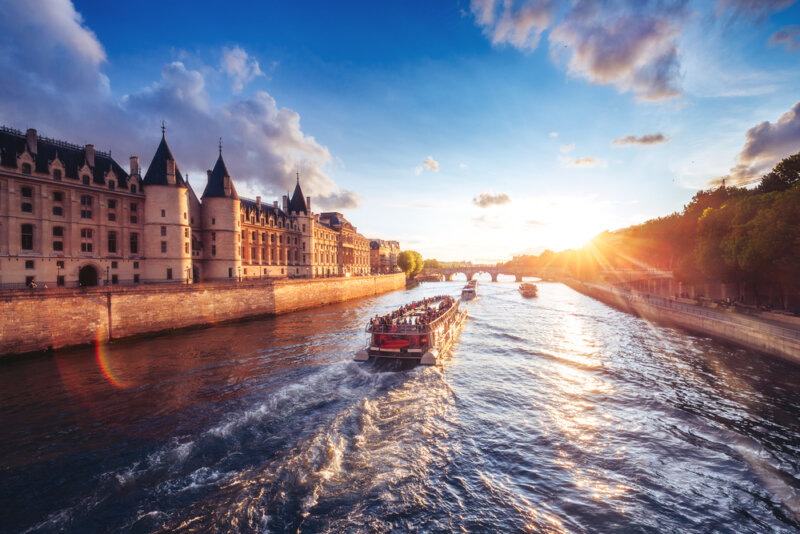 Experience the beauty of Paris from a different perspective with a Seine River cruise. This popular activity allows you to view the city's iconic landmarks, such as the Eiffel Tower, Notre Dame Cathedral, and the Louvre Museum, as you gracefully glide along the water. There are various cruise options available, ranging from simple sightseeing trips to luxurious dinner cruises. If you have a Paris Pass, you may also have access to a complimentary Seine River cruise, depending on the pass you purchased.
Tuileries Garden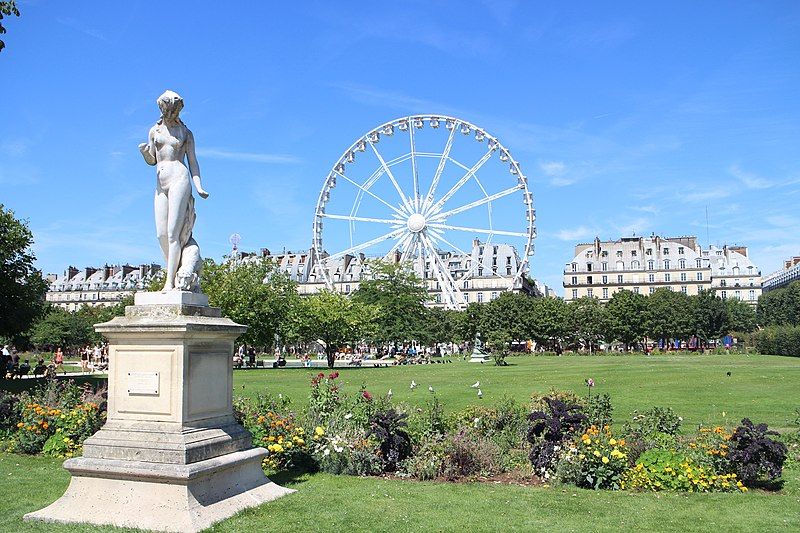 Take a leisurely stroll through the stunning Tuileries Garden, a historic park located between the Louvre Museum and Place de la Concorde. With its beautiful tree-lined paths, vibrant flowerbeds, and tranquil ponds, it is a perfect spot to unwind and soak in the Parisian atmosphere. The garden features several statues, fountains, and exquisite landscapes that invite visitors to explore and discover the many hidden gems of this urban oasis. Remember to preserve the beauty of the gardens by respecting the nature and the designated paths.
Walking Tours
Walking tours are an excellent way to get acquainted with the city while discovering its rich history, architecture, and culture. There are numerous guided walking tours available in Paris, focusing on various themes and districts. Popular options include Montmartre, Marais, and the Latin Quarter. If you prefer to go at your own pace, consider downloading self-guided tour apps or using a detailed map to explore the city's charming streets, squares, and cafes. Walking tours can be an engaging and informative way of immersing yourself in the authentic Parisian experience.
Local Cuisine and Wine Tasting
Paris is a haven for food lovers, offering a variety of exquisite dishes and world-renowned wines. The city is known for its diverse culinary scene, with restaurants serving traditional French cuisine alongside contemporary establishments that explore international flavors.
One must-try dish in Paris is the classic French baguette, a long, thin loaf of bread that is crispy on the outside and soft on the inside. It can be enjoyed on its own, with butter or jam, or as a sandwich. Bakeries across the city, such as Montmartre's quaint pastries, offer several varieties of baguettes and other baked goodies to satisfy your cravings.
When it comes to wine tasting, the city offers a variety of options for both novices and connoisseurs. A popular tour is the Le Marais Paris The Original District Food and Wine Tasting Tour, which lasts 3.5 hours and takes visitors through the fascinating nooks and crannies of Le Marais, introducing them to local food vendors and artisans. While on this tour, you'll have the opportunity to sample different wines alongside delicious cheeses, charcuterie, and pastries.
Some notable restaurants and wine bars in the city include:
Le Comptoir du Relais: Known for its delicious bistro dishes and an extensive wine list.
Chez L'Ami Jean: A Basque restaurant that serves hearty meals and offers a curated selection of wines.
Frenchie Wine Bar: A trendy spot where you can enjoy small plates and a diverse list of wines.
Le Verre Volé: A cozy wine bar and restaurant that serves natural wines and offers a daily-changing menu.
For a more immersive wine experience, consider visiting the nearby Champagne region as part of your three-day itinerary. This region is home to the famous Champagne vineyards and boasts several artisan wineries, as well as the capital of the wine-growing region, Reims. While visiting, don't miss the opportunity to participate in a Champagne tasting to truly appreciate the subtleties and nuances of this prestigious sparkling wine.
In summary, your three-day Paris adventure won't be complete without taking the time to indulge in the city's delightful local cuisine and wine culture. From artisan bakeries to luxurious wine tastings, you're sure to create unforgettable memories as you savor the flavors of Paris.
See Related: Best Paris Food Tours in Paris
Parisian Accommodations
Choosing the Right Area to Stay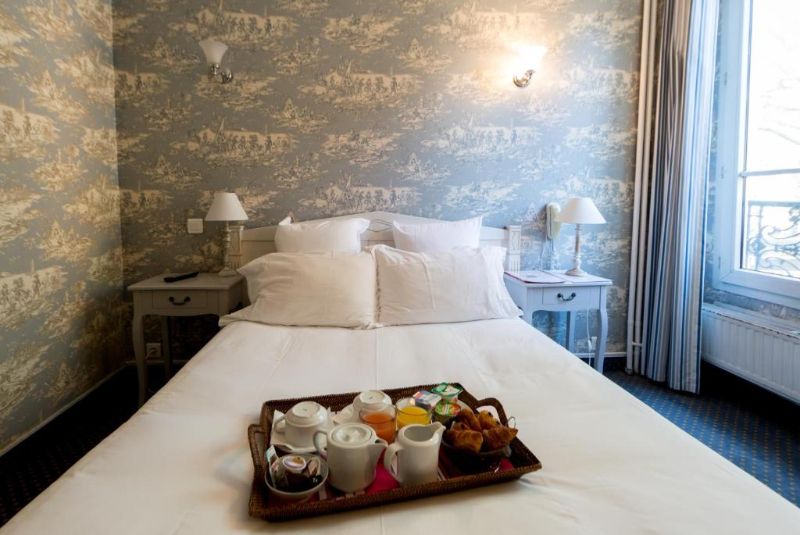 When planning your 3-day trip to Paris, choosing the right area to stay is crucial. Your decision may depend on the activities you plan to engage in or the famous landmarks you want to be close to. Some popular areas to consider are Montmartre, The Latin Quarter, and the Marais.
Montmartre: Known for its artistic history and charming streets, Montmartre is an excellent choice for those who want to experience the bohemian side of Paris.
The Latin Quarter: Filled with beautiful buildings, universities, and historic sites, this area is ideal for travelers interested in Parisian culture and history.
The Marais: Trendy and vibrant, The Marais is an excellent choice for those looking to explore boutique shops, restaurants, and bars while staying near major tourist attractions.
Hotel and Accommodation Options
Paris offers various accommodation options to cater to tourists' preferences and budgets. For luxury, mid-range, and budget accommodations, consider the following:
During your 3-day trip, enjoy Paris's beauty and charm while staying within a comfortable and suitable accommodation. Make sure to book in advance, especially during peak tourist seasons, to ensure availability and the best rates.
Getting Around Paris
Metro System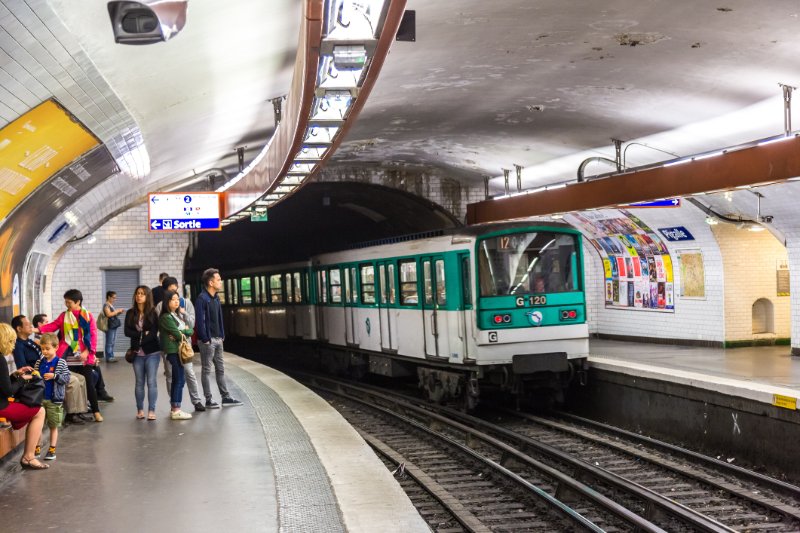 Paris boasts an extensive and efficient Metro system, making it the preferred mode of transportation for locals and tourists alike. The Metro has 16 lines, numbered 1 through 14, with two additional lines running on the outskirts (3bis and 7bis). Trains run frequently between 5:30 AM and 1:00 AM during the week, with extended hours until 2:00 AM on weekends.
To use the Metro, purchase tickets at automated machines in the station, or opt for a Navigo card or Paris Visite pass for unlimited travel during your stay. Keep in mind the following:
While navigating the Metro, pay attention to the end-of-the-line stations, as they determine the direction of travel. Maps are available in each station and on trains, but you can also use mobile apps or Google Maps to plan your route.
Google Maps is an invaluable tool for exploring Paris and its public transportation system. By inputting your destination, you can access walking directions, travel times, and various transit options. When using Google Maps for the Metro, the app provides the following information:
Line number and direction
Departure and arrival times
Transfer points
To access real-time information on public transportation, enable the transit layer on Google Maps. Additionally, offline maps can be downloaded for use without WiFi or data, ensuring uninterrupted navigation throughout your trip.
In summary, navigating Paris during your three-day visit is made easy with the extensive Metro system and the convenience of Google Maps. Whether you're exploring popular tourist attractions or hidden gems, these tools will help you make the most of your time in the City of Light.
Shopping and Boutiques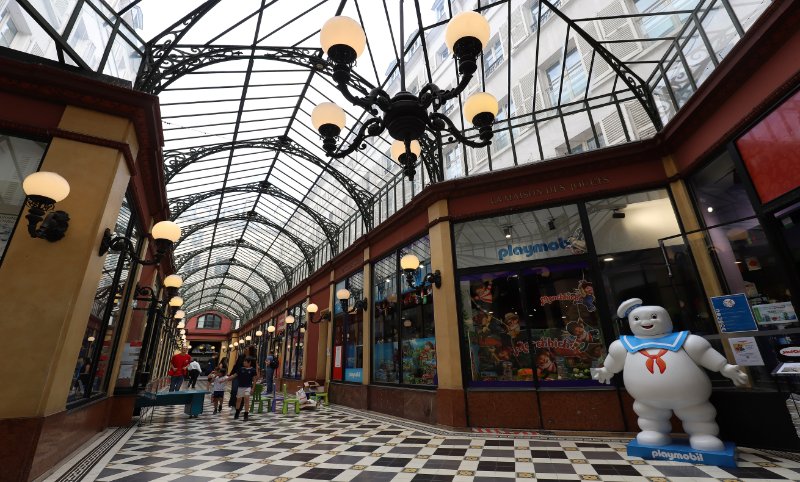 Paris is a paradise for shoppers and fashion enthusiasts, with countless boutiques and shopping districts to explore. One of the most iconic shopping streets in Paris is the Champs-Élysées, which stretches 1.9km long and is lined with high-end designer stores and well-known global brands, including:
Chanel
Louis Vuitton
Longchamp
H&M
Adidas
Disney Store
For a more local experience, head to Le Marais, a historic and trendy neighborhood, where you'll discover a mix of unique design boutiques, vintage shops, and art galleries. The cobblestone streets of Le Marais create a charming atmosphere, perfect for leisurely strolls and impromptu café stops.
Another area worth visiting is Montmartre, a bohemian district with an artistic ambiance. Here, you will find quaint shops, including one of the city's best bakeries, located at 40 rue Lepic. Montmartre is an ideal destination for those searching for one-of-a-kind souvenirs or artisanal products.
Remember to allocate some time to explore Paris' department stores, such as:
These historic shopping institutions offer a wide range of products, from designer clothing to gourmet food, all under one roof. Each store also has its unique architectural features, making them a must-see even for non-shoppers.
In summary, a three-day trip to Paris offers ample opportunity to indulge in some retail therapy. Whether you're seeking high-end luxury, vintage finds, or unique local designs, the City of Lights has something for every shopper.
Tips for Enjoying Paris
Shakespeare & Company
Shakespeare & Company is an iconic English-language bookstore nestled in the heart of Paris. A must-see when exploring the city for three days, it offers a touch of literary magic for visitors. The store is situated in the Latin Quarter, just across the Seine from Notre Dame. This picturesque area is an excellent spot for a leisurely stroll before or after your visit to the bookstore.
Inside, you'll find a vast selection of books in various genres, with a focus on literature, poetry, and theater. The store also hosts readings, signings, and other literary events, providing an engaging experience for book lovers. If you're in need of a break, head to the cozy café located within the bookstore. They offer a variety of beverages and light snacks, perfect for sipping a coffee while diving into a new book.
To make the most of your visit to Shakespeare & Company, follow these tips:
Arrive early: The store can get crowded, so the best time to visit is in the morning when it opens. This will give you the opportunity to browse the collection at your own pace and beat the rush of tourists.
Take your time: The bookstore is a treasure trove of literary gems, both old and new. Take the time to explore every nook and cranny, and you may just stumble upon a rare first edition or a beloved classic.
Attend events: Keep an eye on the store's calendar and try to catch one of their events while you're in Paris, whether it's a reading, workshop, or discussion.
In addition to Shakespeare & Company, be sure to explore other nearby attractions such as the Notre Dame Cathedral, the Pantheon, and the picturesque Saint-Germain-des-Prés neighborhood. Overall, a visit to this iconic destination will enrich your understanding of Paris's unique blend of culture and history.
Related Resources: