Paris in January offers a unique charm that enchants locals and tourists alike. As the holiday festivities end and the new year begins, the city enters a peaceful and serene atmosphere. The temperatures dip to as low as 2°C (35.6°F) and rarely exceed 6°C (42.8°F). The weather is chilly, and clouds often blanket the city, but this only adds to the allure and beauty of the winter season in the French capital.
During this time, the city experiences fewer crowds, offering visitors a more intimate perspective of its iconic landmarks and attractions. Fashion enthusiasts are in for a treat as January marks the Men's Fashion Week, showcasing menswear trends for the fall-winter seasons. While the short days and grey skies might seem gloomy to some, the tranquil character of Paris in January presents the perfect opportunity to explore the City of Light in a different light altogether.
🗼 Paris Insider's Top Picks! ✨
Dive into the heart of Paris with our handpicked partners. Trusted by thousands, they ensure you experience the best of Paris.
Why Visit Paris in January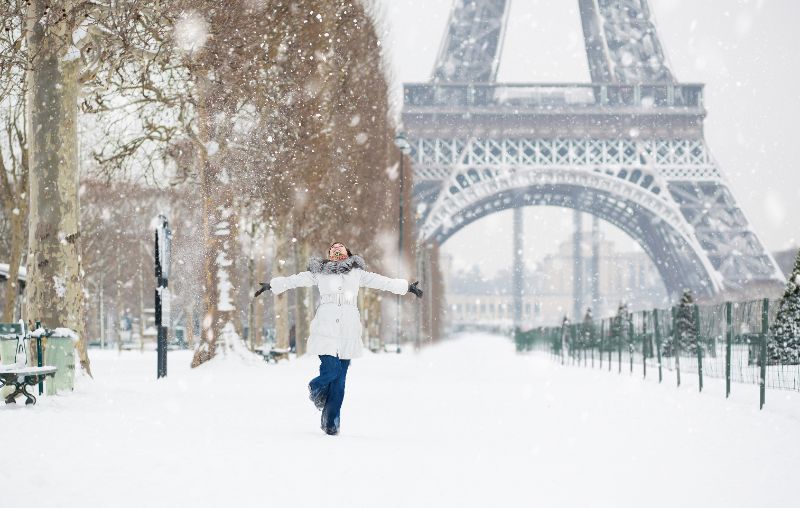 Fewer Crowds
Visiting Paris in January has advantages, particularly for those who want to enjoy the city without the usual influx of tourists. During this time of year, most museums or popular attractions like the Musée d'Orsay or the Centre Pompidou have shorter waiting times and a more relaxed atmosphere, allowing you to linger and absorb the art and culture without feeling rushed.
Lower Accommodation Prices
Another benefit of traveling to Paris in January is the potential accommodation savings. As the off-season approaches, many hotels reduce their rates to attract tourists who take advantage of the lower airfare prices. This price reduction makes it possible for travelers to stay in better accommodations than they might be able to afford during peak season.
Winter Sales
For those who love shopping, January in Paris is a dream. The annual winter sales, also known as "Les Soldes," occur during this month, and they offer discounts on everything from fashion to home goods. It's the perfect opportunity to indulge in some retail therapy while enjoying the beauty and charm of the city.
Events
Paris in January also boasts a variety of events and activities. The weather may be chilly, but plenty of indoor attractions and experiences exist. Sample the famous vin chaud (mulled wine) at the many cafés, or try Angelina's renowned hot chocolate. The City of Light transforms into a winter wonderland, creating a magical backdrop for a getaway with family, friends, or a romantic partner.
Weather in Paris in January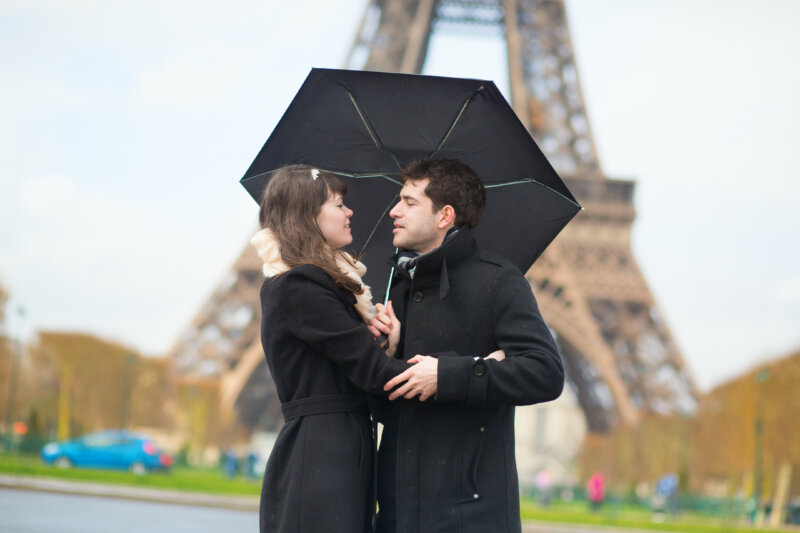 Temperature and Rainfall
In January, Paris experiences chilly and cloudy weather, with temperatures ranging from a low of 2 degrees Celsius (35.6 degrees Fahrenheit) to a high of 6 degrees Celsius (42.8 degrees Fahrenheit). During this month, daylight hours are shorter, around 8 and 50 minutes, and an average of 2 hours of sunshine per day. Expect rain on 10-15 days throughout the month.
Snow and Extreme Weather
Though winters in Paris are cold, windy, and rainy, snowfall is sporadic. It can happen, but it's not a common occurrence. Parisians and visitors may still be able to enjoy the city lights and cafes without the presence of heavy snowfall. The days are very short, with the sun rising around 8 AM-8:30 AM and setting at 5 PM-5:15 PM. Despite the chilly weather, Paris remains an attractive destination for tourists who want to experience the charm of the city during the quiet winter months.
What to Wear in January
Clothing Recommendations
When visiting Paris in January, you can expect cold and occasionally rainy weather. To stay comfortable during your trip, here are some clothing recommendations:
Outerwear: A warm, waterproof jacket or coat is essential. Consider a stylish trench coat or a down jacket for warmth and a local look.
Tops: Layering is key. Wear thermal or long-sleeved tops underneath sweaters or cardigans.
Bottoms: Opt for warm pants or jeans. You may also want to wear thermal underwear if you plan on doing a lot of outdoor activities.
Shoes: Waterproof shoes with good tread and grip are important, such as sneakers or Chelsea boots.
Accessories: Don't forget a scarf, gloves, and a hat to cover your head and ears. A foldable umbrella is also helpful for the occasional rain.
Tips to Stay Warm
Staying warm during your visit to Paris in January requires some planning and strategic layering. Here are some tips to help you stay comfortable:
Layer up: Wear multiple layers of clothing, starting with a base layer of thermal or moisture-wicking fabric, followed by insulating layers like sweaters or fleece, and finally, a waterproof and wind-resistant outer layer.
Footwear: Ensure your shoes are waterproof and have a good grip to avoid slipping on wet or icy surfaces. Bring warm socks to keep your feet cozy.
Cover up: Keep your extremities warm by wearing gloves, a hat, and a scarf that can be easily adjusted as needed.
By following these guidelines for what to wear in Paris in January, you'll be able to fully enjoy your trip to the City of Lights while remaining warm and stylish.
See Related: Paris in July: Top Events and Attractions Guide
Top Attractions and Activities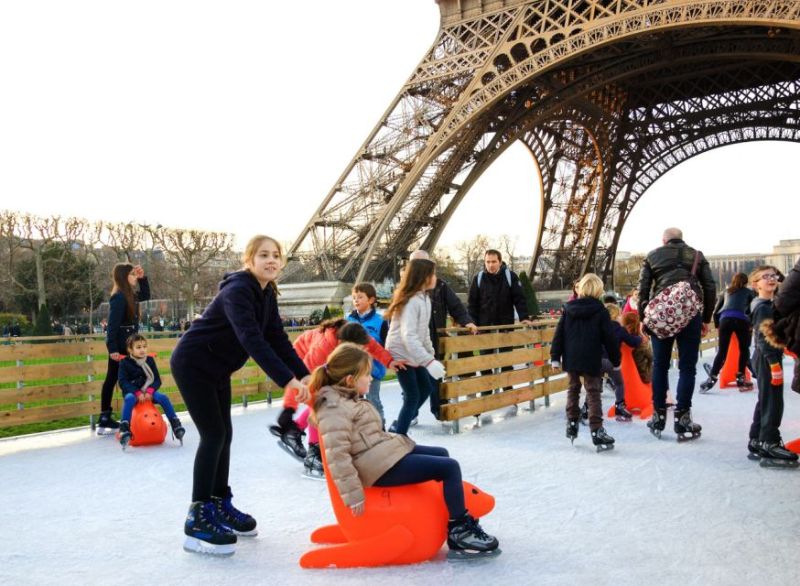 Sightseeing Favorites
Soldes (Winter Sales): January is an excellent time to shop in Paris, as the famous soldes offer great discounts on various items.
Day trips: Explore the beautiful and historically significant sites around Paris, such as the Palace of Versailles, the Champagne Region, or the Loire Valley.
See Related: Winters in France: A Comprehensive Guide to the Season
Museums and Events
Musée d'Orsay: In January, crowds are generally smaller, making it a perfect time to visit famous art museums like the Musée d'Orsay.
Centre Pompidou: Similarly, you can take a unhurried saunter through the Centre Pompidou, enjoying its modern and contemporary art collection.
Paris Fashion Week: If you're a fashion enthusiast, don't miss out on the prestigious Paris Fashion Week.
Edvard Munch exhibition: For art lovers, January in Paris might bring exciting exhibitions like the one featuring Edvard Munch at Musée d'Orsay.
Outdoor Activities
Ice skating: Take advantage of the chilly weather and enjoy ice skating at one of the city's rinks. Some places might even offer free admission.
Winter walks: Bundle up and wander through iconic neighborhoods like Montmartre or Île de la Cité to absorb the city's winter charm.
To help plan your visit to museums and attractions, consider purchasing a Paris Museum Pass which offers access to over 60 museums and monuments. Additionally, there are several free museums in Paris that you can visit, such as the Petit Palais and the Musée d'Art Moderne de la Ville de Paris.
See Related: Best Weekend Trips from Paris, France
Accommodation and Staying Safe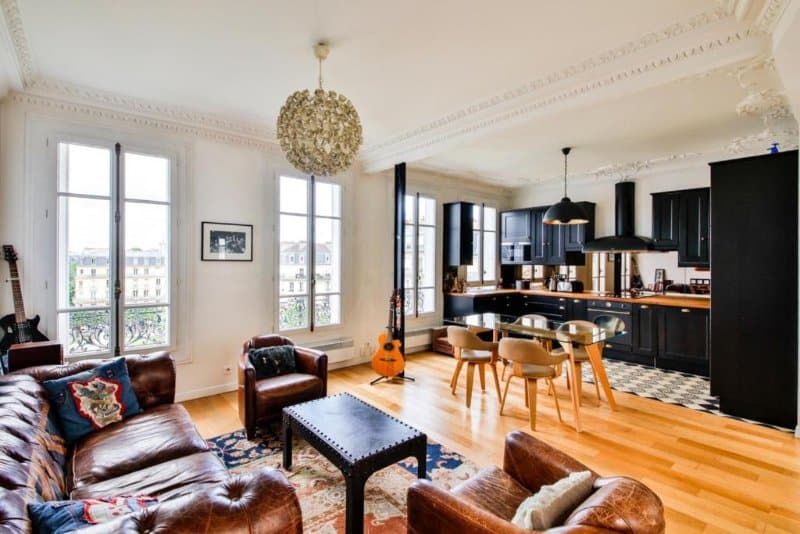 Best Neighborhoods and Hotels
When visiting Paris in January, choosing the right neighborhood and hotel for your accommodation is essential. Here are some of the top neighborhoods where you might consider staying:
Le Marais: Known for its historical charm, fashionable boutiques, and trendy cafes, Le Marais offers a lively atmosphere and is within walking distance of many major attractions.
Saint-Germain-des-Prés: This neighborhood features a blend of luxury, history, and nightlife, making it ideal for those seeking culture and entertainment.
Le Quartier Latin: Filled with universities, bookshops, and cafes, this lively area is perfect for travelers seeking a true Parisian experience.
When choosing a hotel, consider the following options to ensure a comfortable and safe stay in Paris in January:
Hôtel Le A: Located in the upscale 8th arrondissement, this boutique hotel offers a modern and luxurious experience.
Hôtel Fabric: Situated in the lively 11th arrondissement, Hôtel Fabric offers an authentic Parisian setting.
Hôtel des Grands Boulevards: This boutique hotel, nestled in the bustling 9th arrondissement, combines luxury with an Old World charm.
See Related: Best Free Walking Tours in Paris, France
Travel Insurance Tips
To ensure a safe and worry-free visit to Paris in January, here are some travel insurance tips to consider:
Comprehensive coverage: Opt for a policy that covers medical expenses, trip cancellation, lost luggage, and personal liability. Check for the best policies with VisitorsCoverage.
Pre-existing conditions: Some travel insurance policies may not cover pre-existing medical conditions, so disclosing any such conditions is important when purchasing a policy.
Activities and sports: If you plan to participate in adventure activities or sports, ensure your travel insurance covers them.
Valuables: Check the limits for specific items, such as electronics and jewelry, and the total limit for all valuables.
Vaccine requirements: Stay updated on the latest vaccine requirements, such as the "Covid-19 vaccine pass," for entry into many public spaces in Paris.
When visiting Paris in January, consider your accommodation options, ensure you have appropriate travel insurance coverage, check policies, and get a plan that suits your trip by using VisitorsCoverage. Doing so will prepare you for a memorable and safe trip.
See Related: Most Beautiful Places in France to Visit
Final Thoughts and Summary
Paris in January offers a unique experience compared to the bustling summer months. As Europe's most famous city, it still maintains its charm during the chilly winter months. Travelers can enjoy fewer crowds, lower accommodation prices, and embrace the authentic Parisian atmosphere during this season.
The weather in January varies, with temperatures ranging from 3°C (37°F) to 8°C (46°F). Rain is also possible, with an average rainfall of 46 millimeters (1.8 inches). Despite the colder climate, visitors should not be deterred from exploring the city's famous landmarks, museums, and parks. It's important to pack appropriate clothing, like warm coats and waterproof shoes, to ensure comfort during outdoor excursions.
In January, Paris offers several cultural events and attractions, including post-Christmas shopping, ice skating rinks that pop up across the city, and exhibitions in various museums. It's an excellent time to indulge in traditional French cuisine, warm beverages, and cozy cafes to escape the cool air.
For travelers who prefer to explore Europe during off-peak seasons, January in Paris provides a delightful and more intimate experience. The slower pace deeply connects the city's history, architecture, and people.
In summary, visiting Paris in January promises a memorable, less-crowded adventure compared to the peak summer months. With a bit of planning and embracing the chilly atmosphere, travelers can enjoy all the City of Lights offers during this enchanting time of year.
Related Resources: