As the warm sun basks over the City of Lights, Paris comes alive with many activities and events in July. The city's bustling streets are filled with locals and tourists seeking to make the most of their Parisian summer. With pleasant weather offering temperatures ranging between 16°C to 26°C, Paris in July is the perfect destination for a truly magical and unforgettable experience.
July has celebrations, outdoor events, and an unmistakable Parisian charm. Among the highlights are the lively Bastille Day festivities, the electrifying finish of the Tour de France, and the relaxing Paris Plages, where the riverside is temporarily transformed into a beach-like atmosphere. In addition to these popular events, visitors can enjoy outdoor movies, music festivals, and cultural exhibitions, immersing themselves in the city's rich artistic and historical heritage.
As you plan your visit to Paris in July, include these exciting events on your itinerary, allowing you to explore the vibrant atmosphere and captivating elegance that the French capital has to offer. No matter your interests or preferences, the city's diverse range of activities ensures that your Parisian adventure will be as enchanting as the city itself.
Weather in Paris in July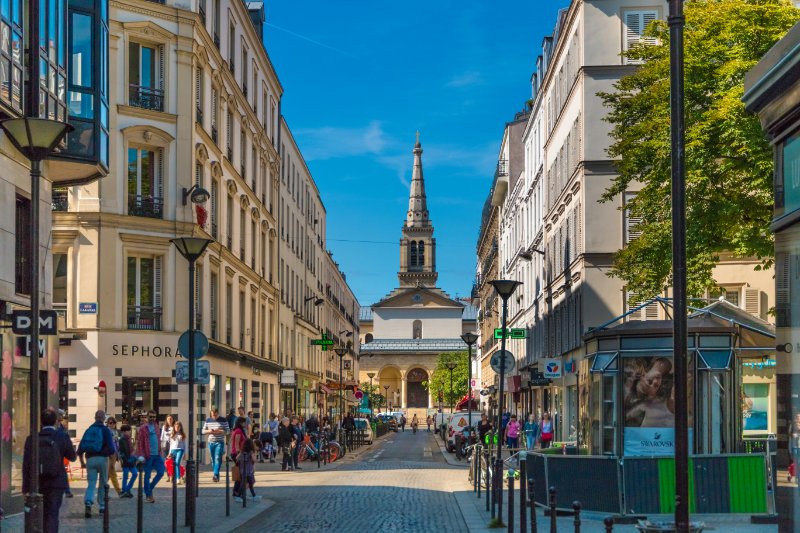 July Weather Overview
In July, Paris experiences moderately hot summer weather, with average high temperatures of 24.6°C (76.3°F) and average low temperatures of 14.8°C (58.6°F). However, it's essential to note that Paris might face significant temperature variations and heat waves during this month.
Rain and Sunshine
July brings warm, sunny days to Paris, but prepare for occasional rain showers. Here are some key points regarding rainfall and sunshine during July in Paris:
Average rainfall: 66mm (2.6 inches) per month
Average number of rainfall days: 10 days
Average hours of sunshine per day: 8 hours
With this information in mind, don't forget to pack suitable clothing when visiting Paris in July. Enjoy exploring the beautiful city, and stay comfortable by being prepared for its variable summer weather.
Key Events and Attractions
| Event/Attraction | Location | Description |
| --- | --- | --- |
| Bastille Day Military Parade | Champs-Elysées | France's biggest public event, a military parade on the Champs-Elysées, celebrating Bastille Day. |
| Paris Jazz Festival | Parc Floral de Paris | A series of outdoor jazz concerts in the beautiful Parc Floral de Paris, happening throughout July. |
| Paris Plages | Seine River | Every summer, the banks of the Seine are converted into temporary beaches filled with fun activities. |
Bastille Day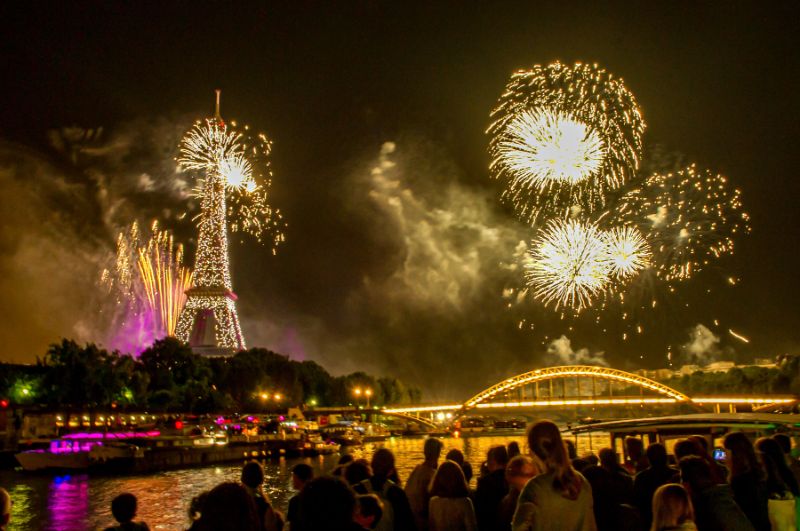 Bastille Day, also known as French National Day, is celebrated on July 14th every year. It marks the anniversary of the storming of the Bastille during the French Revolution in 1789. In Paris, the festivities begin with a grand military parade on the Champs-Élysées, showcasing the French armed forces. The parade is a must-see spectacle with various military regiments, tanks, and aircraft flying overhead.
In the evening, the Eiffel Tower becomes the backdrop for a dazzling fireworks display that attracts thousands of spectators. You can also find parties, concerts, and picnics throughout the city.
See Related: Winters in France: A Comprehensive Guide to the Season
Paris Jazz Festival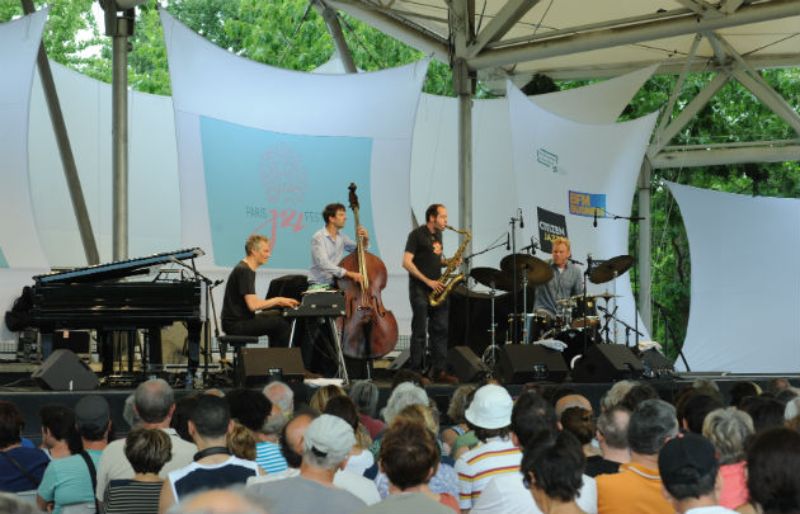 The Paris Jazz Festival is a popular annual event held during July at the Parc Floral, a beautiful park in the Bois de Vincennes. This event showcases both international and local jazz musicians, with various concerts taking place on open-air stages throughout the park.
Dates: Usually spans over four weekends in July
Location: Parc Floral de Paris, Bois de Vincennes
Tickets: Free entry to the park, but there may be a fee for some concerts
Visitors can enjoy the Paris Jazz Festival's relaxed atmosphere while listening to fantastic music and exploring the lush surroundings of the park.
See Related: Paris Night Attractions: Top Spots for Memorable Evenings
Tour de France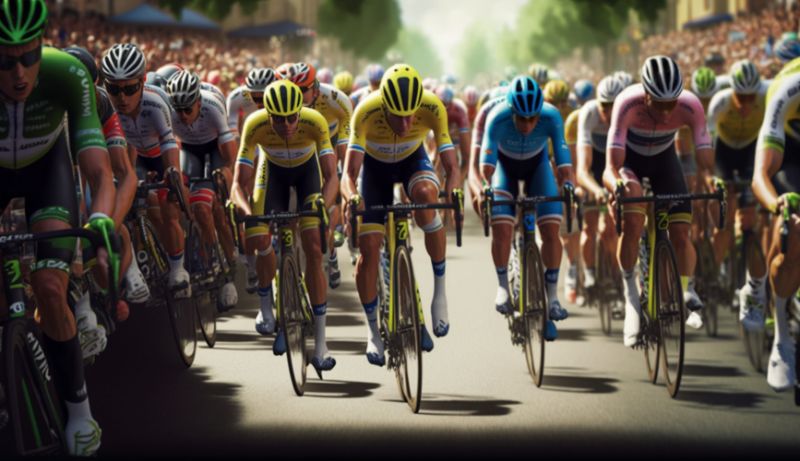 One of the most iconic sporting events in the world, the Tour de France, wraps up in Paris every July. The final stage of this grueling cycling race sees the competitors race through the city's heart before reaching the finish line on the Champs-Élysées.
Date: Last Sunday in July
Location: Streets of Paris, finishing on the Champs-Élysées
Spectators line the streets to witness the thrilling sprint finish and experience the incredible atmosphere. If you're in Paris during the Tour de France's final stage, secure a spot along the route to join in the excitement.
See Related: Best Free Walking Tours in Paris, France
Outdoor Activities
Paris Plages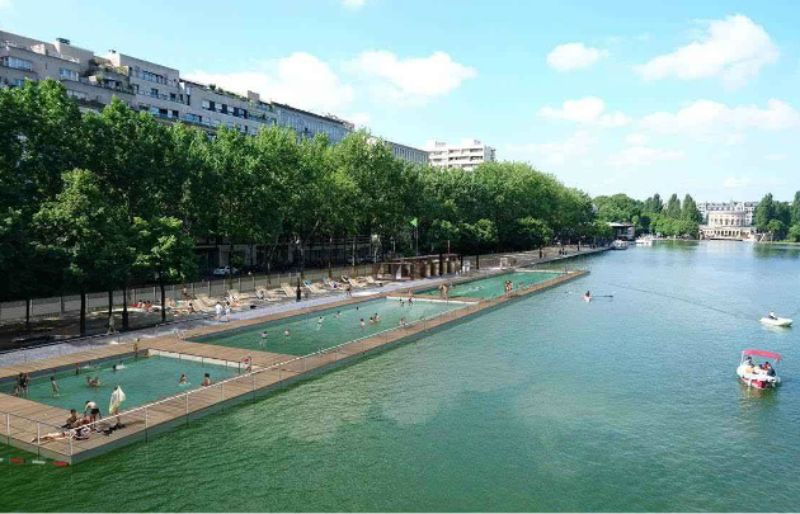 Paris Plages, a popular summertime event in Paris, transforms several spots along the Seine River into temporary urban beaches. From mid-July to late August, you can enjoy various activities, such as sunbathing on deckchairs or sand, playing beach volleyball, and attending free outdoor concerts. The Seine riverbanks become a perfect place to relax and soak up the sun during warm July days.
See Related: Best Boat Tours in Paris, France
Picnics by the Seine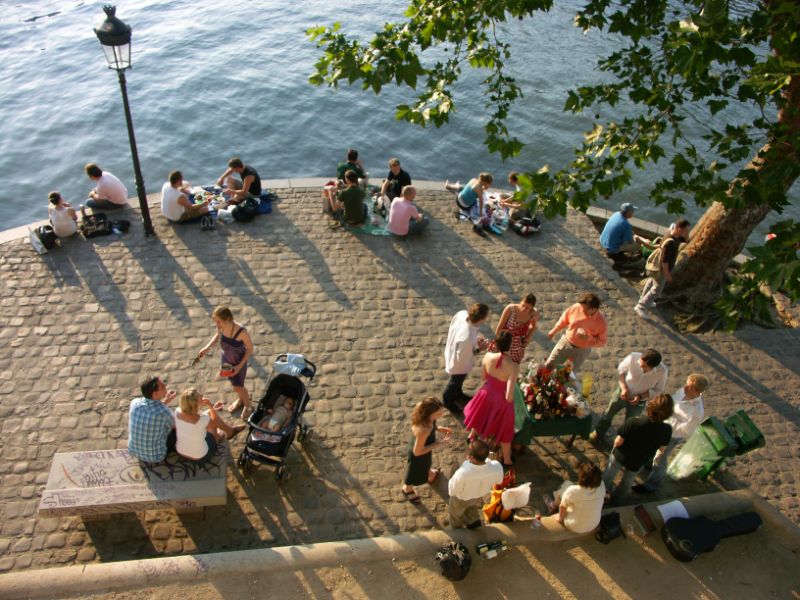 One of the best ways to experience the charm of Paris in July is by having a picnic along the Seine River. Dotted with picturesque spots, the riverbanks provide a lovely atmosphere for a leisurely meal. Some popular picnic locations include:
Île Saint-Louis: A peaceful and historic island in the heart of Paris, perfect for enjoying skyline views while munching on your favorite treats.
Parc des Buttes-Chaumont: A romantic park with stunning views of the city, ideal for a sunset picnic.
Square du Vert-Galant: Located on the tip of Île de la Cité, this small park is a great spot for a riverside picnic with a view of Pont des Arts and the Louvre.
See Related: Paris in September: Top Events and Travel Tips
Parc Floral
Situated in the Bois de Vincennes, Parc Floral is a must-visit location for nature lovers visiting Paris in July. The park has over 35 hectares and features a wide range of botanical collections, including themed gardens, arboretums, and greenhouses. During the summer months, Parc Floral hosts various events, such as outdoor concerts and exhibitions, making it an ideal destination for both relaxation and entertainment.
In conclusion, Paris offers numerous opportunities for outdoor activities during the warm and sunny month of July. Whether it's lounging on the temporary beaches of Paris Plages, enjoying a picturesque picnic by the Seine, or admiring the stunning floral displays at Parc Floral, it features a wide range of options to satisfy multiple desires to enjoy the City of Lights.
See Related: Exploring Paris by Arrondissement: A Guide to the 20 Districts
Museums and Monuments
Eiffel Tower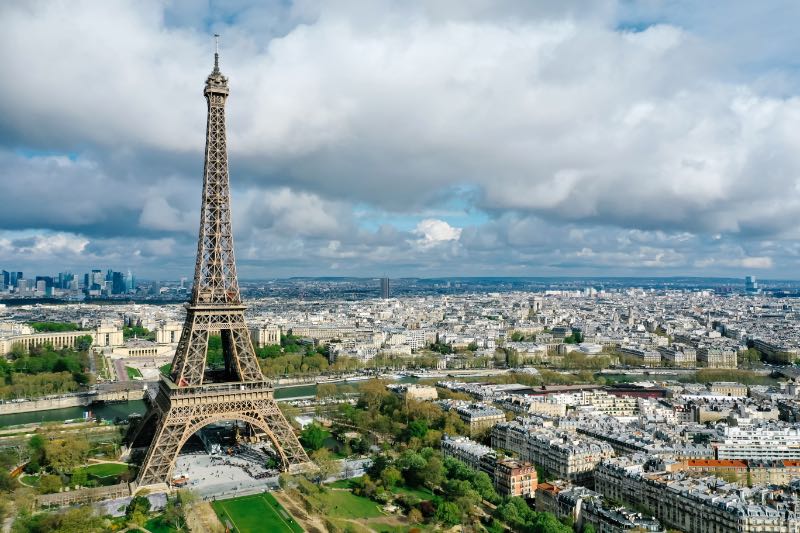 The Eiffel Tower is a must-visit attraction in Paris during July. With the warm summer weather, it's the perfect time to ascend the tower and take in the stunning panoramic views of the city. Book your tickets in advance to avoid long queues, and consider visiting during the evening to witness the spectacular light displays illuminated on the structure.
See Related: Best Parks in Paris to Visit
Louvre Museum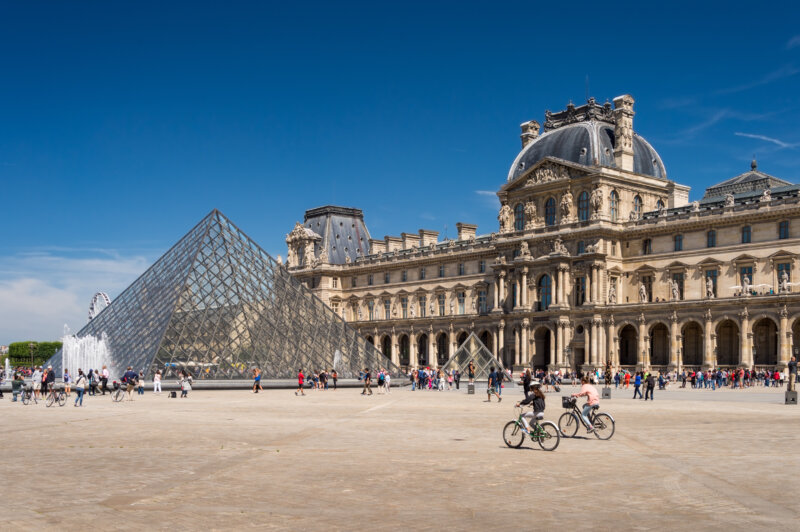 The Louvre Museum, known as one of the world's most iconic museums, is another go-to destination during your July visit. This museum houses an extensive collection of artwork and historical artifacts, including the famous Mona Lisa painting. In July, the Louvre has the following times:
Thursday, Saturday, Sunday, and Monday: 9:00 AM – 6:00 PM
Wednesdays and Fridays: 9:00 AM – 9:45 PM
Closed on Tuesdays
Admission starts from €17. To make the most of your visit, plan your itinerary and prioritize the artworks and exhibits you want to see. Do keep in mind that the museum tends to be busy during this time, so it's recommended to buy tickets online to save time.
See Related: Solo in Paris: Top Attractions for the Independent Explorer
Arc de Triomphe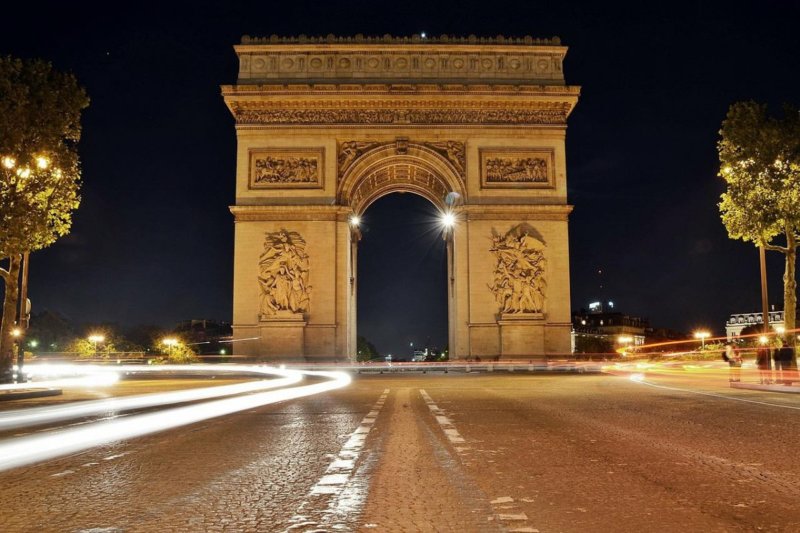 Another iconic Parisian monument that should be on your July itinerary is the Arc de Triomphe. This historical landmark is a tribute to the soldiers who fought and died during the French Revolutionary and Napoleonic Wars. The Arc de Triomphe offers a unique view of the city from its terrace, making it a popular spot for photography enthusiasts.
During your visit, don't miss out on the opportunity to explore the surrounding areas, such as the Champs-Élysées, one of the most famous avenues in the world. In celebration of Bastille Day on July 14th, a military parade occurs along this avenue, making it an exciting time to be in the area.
To summarize, a visit to Paris in July should definitely include stops at the Eiffel Tower, Louvre Museum, and the Arc de Triomphe. By planning your visits and taking advantage of online tickets and bookings, you can make the most of your time in this beautiful city.
See Related: Things To in Paris on Bastille Day: A Comprehensive Guide
Performances and Festivals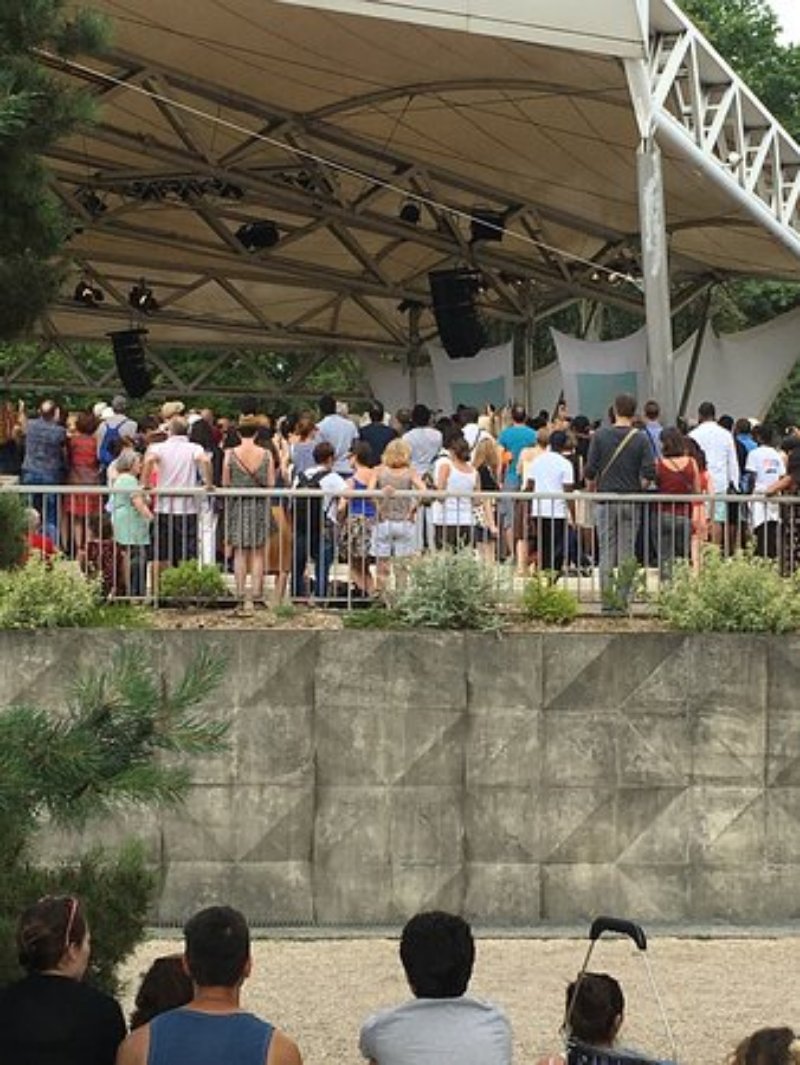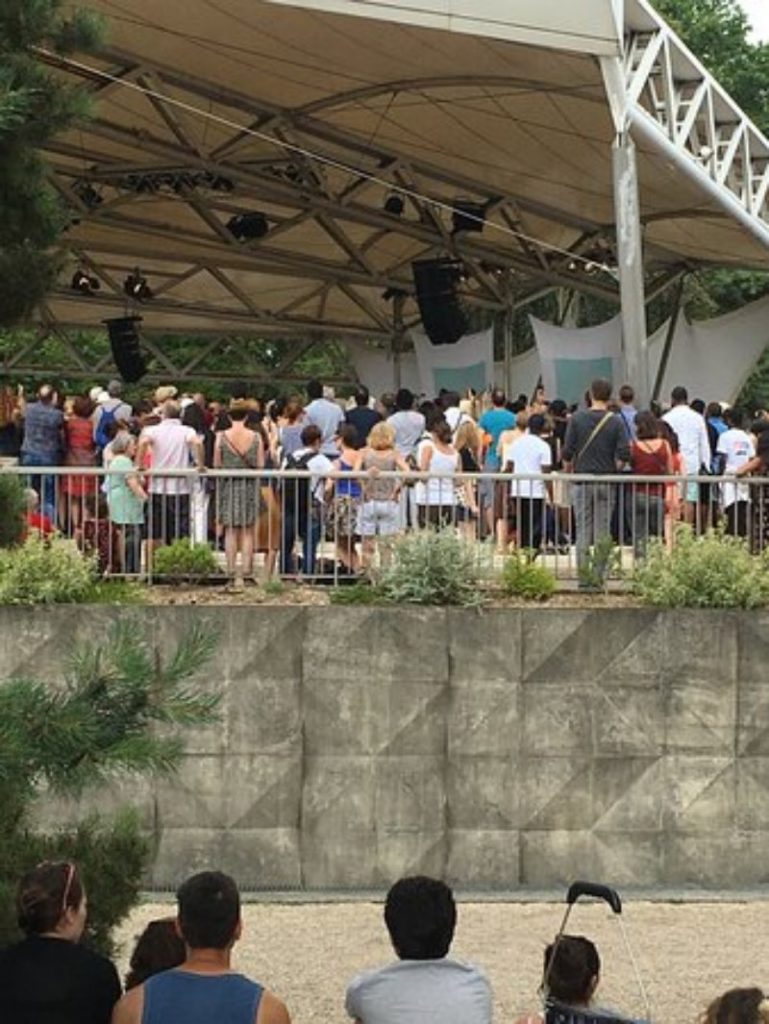 Concerts at Palais Garnier
Palais Garnier, a historic opera house in Paris, hosts a variety of concerts and performances in July. Visitors expect to witness world-class musicians and ensembles performing at this iconic venue. The concert calendar may vary each year, so it's essential to check the official website for the latest updates and schedules.
See Related: Arc de Triomphe: Exploring the Iconic Paris Arch
Opéra Bastille
Another excellent venue for music lovers in July is the Opéra Bastille. As a modern opera house, it offers diverse performances, from classical operas to contemporary shows. This venue is known for showcasing some of the finest talent in the world of opera, as well as ballet and classical music. Browse their event listings to find shows that align with your interests and preferences.
Fête des Tuileries
The Fête des Tuileries is a popular event in Paris during July. This annual summer fair takes place in the beautiful Tuileries Garden and offers a variety of entertainment options, including:
Carnival rides and games for all ages provide a fun atmosphere for children and adults.
Food stalls and stands offer diverse culinary delights, from classic French dishes to international street food.
Outdoor performances, including live music, dance shows, and theatrical acts, showcase the rich artistic talent in the city.
In addition to these events, explore other festivals in Paris during July. Some notable highlights include the Paris Plages, a temporary beach along the Seine River, the FNAC Live festival, free concerts in front of City Hall, and the Paris Japan Festival, celebrating Japanese culture and influence in the French capital.
See Related: Paris Packing List: What to Bring for a Perfect Trip
Other Events and Tips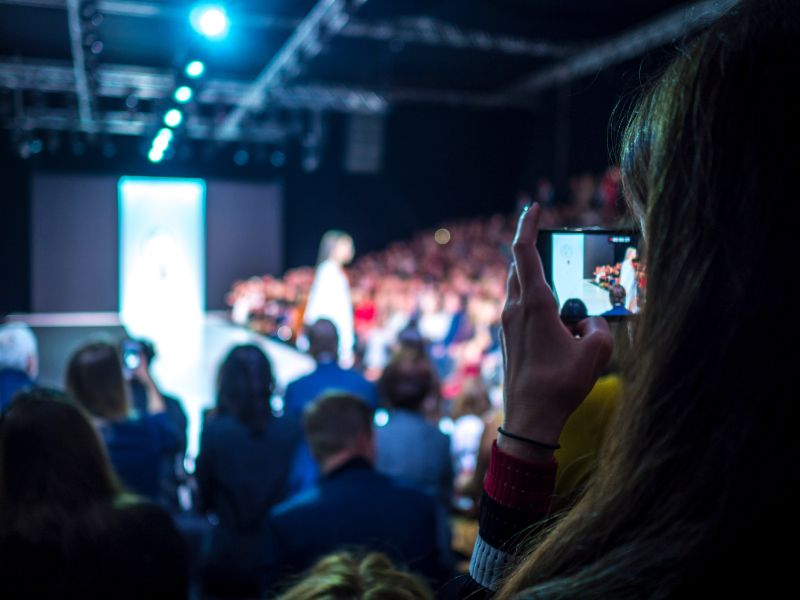 Paris Fashion Week
Paris Fashion Week takes place in July, showcasing the latest haute couture and designer collections. The event attracts top designers, models, and fashion enthusiasts from around the world, making it an exciting time to visit the city. Watch the event schedule to attend runway shows or related events during your stay.
Where to Stay in Paris
Paris has many accommodation options to suit different budgets and preferences. Some popular neighborhoods to consider staying in include:
Le Marais: A trendy and historic district known for its boutique shops, galleries, and cafes.
Saint-Germain-des-Prés: An upscale area with luxury boutiques, fine dining, and proximity to major attractions such as the Louvre and Notre-Dame.
Montmartre: A charming, bohemian neighborhood with stunning views of the city and the iconic Sacré-Cœur Basilica.
Quartier Latin: A lively and student-friendly area with affordable accommodation options, bookstores, and cafes.
See Related: When Does the Eiffel Tower Sparkle? A Guide to its Stunning Light Display
Things to Do in Paris in July
July is a vibrant month in Paris, offering numerous events and activities for visitors. Some of the top things to do in Paris in July include:
Bastille Day: Celebrated on July 14th, Bastille Day commemorates the beginning of the French Revolution. The day includes military parades, concerts, and fireworks near the Eiffel Tower.
Cinema en Plein Air: From July 15th to August 21st, enjoy outdoor movie screenings in Parc de la Villette. Films range from classic to contemporary and represent diverse genres.
Fnac Live Festival: A free music festival held at Hotel de Ville with a mix of popular and emerging musical acts.
Paris Plages: Temporary beaches set up along the Seine River, offering sun, sand, and a variety of activities for visitors to enjoy.
Lollapalooza Paris: A three-day music festival at the Hippodrome ParisLongchamp featuring big-name artists and a dedicated kids' program called Kidzapalooza.
During your visit, enjoy Paris's beautiful weather to explore the city's famous landmarks, museums, parks, and outdoor cafes.
Related Resources: