Passage Brady in Paris, France, is a shopping destination offering everyone something. Located in the 2nd arrondissement of Paris, this historical passage was built in 1828 and has delighted shoppers ever since.
Passage Brady, built in 1828, is a unique feature of Paris that transports visitors on a sensory journey through its vibrant and aromatic atmosphere. Comprised of two distinct sections, one covered by a glass roof and the other open-air, this historic arcade spans from 46 Rue du Faubourg St Denis to 22-23 Boulevard de Strasbourg, with its central area being demolished in 1854 for the opening of the Boulevard de Strasbourg. Often referred to as Paris' Little India, the Passage Brady is a hub for Indian and Pakistani cuisine, colorful shops, and culture.
Located in the bustling 10th arrondissement, Passage Brady has a rich history that has shaped its unique composition. It was named after the merchant who financed its construction and has since evolved into a thriving marketplace reminiscent of the covered initially passages of Paris. Today, visitors can meander through the corridor, discovering various restaurants and shops offering exotic spices, colorful fabrics, and mouthwatering dishes.
Despite the passage of almost two centuries, Passage Brady has remained a special destination for locals and tourists who seek an authentic glimpse into a lesser-known side of Paris. This cultural gem, nestled in the heart of the city, is a testament to the enduring appeal of the historic covered passages and the richness of multicultural influences in the French capital.
From designer brands to traditional French stores, Passage Brady is a must-visit spot for those looking for a unique shopping experience in the City of Light.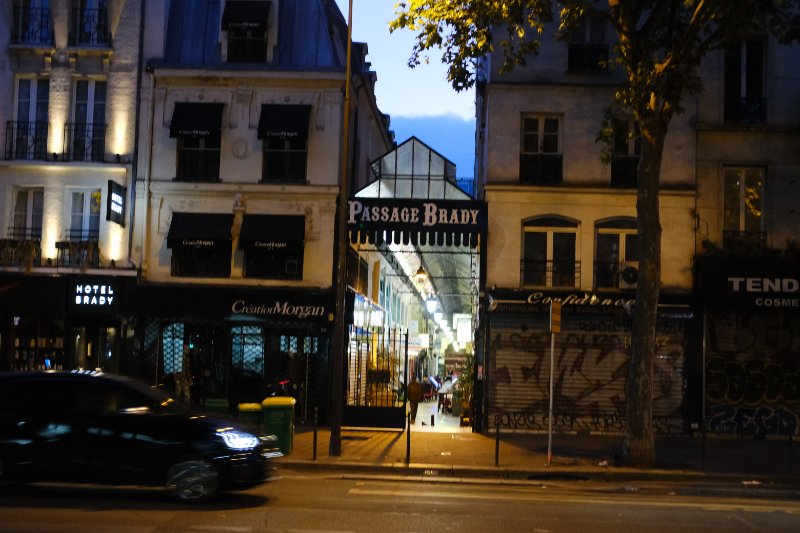 Passage Brady: Paris' Little India
History and Background
Passage Brady, built in 1828, is a unique cultural attraction in Paris that has come to be known as "Little India." This covered arcade was named after the merchant who financed its construction.
It originally consisted of a single section, but the central area was demolished in 1854 for the opening of Boulevard de Strasbourg, resulting in two distinct sections. Passage Brady is a prime example of the few remaining Parisian-covered passages and a treasure trove of Indian, Pakistani, Mauritian, and Reunion shops.
Location and Access
Located in the 10th arrondissement of Paris, between Rue du Faubourg Saint-Denis and Boulevard de Strasbourg, Passage Brady is easily accessible by Metro. To reach this aromatic and colorful district, take Line 4 and get off at the Strasbourg-Saint-Denis or Château d'Eau station. Passage Brady is open from Monday to Saturday, from 9:30 am to 11:30 pm, and on Sundays from 6:00 pm to 11:30 pm.
The Passage Brady Experience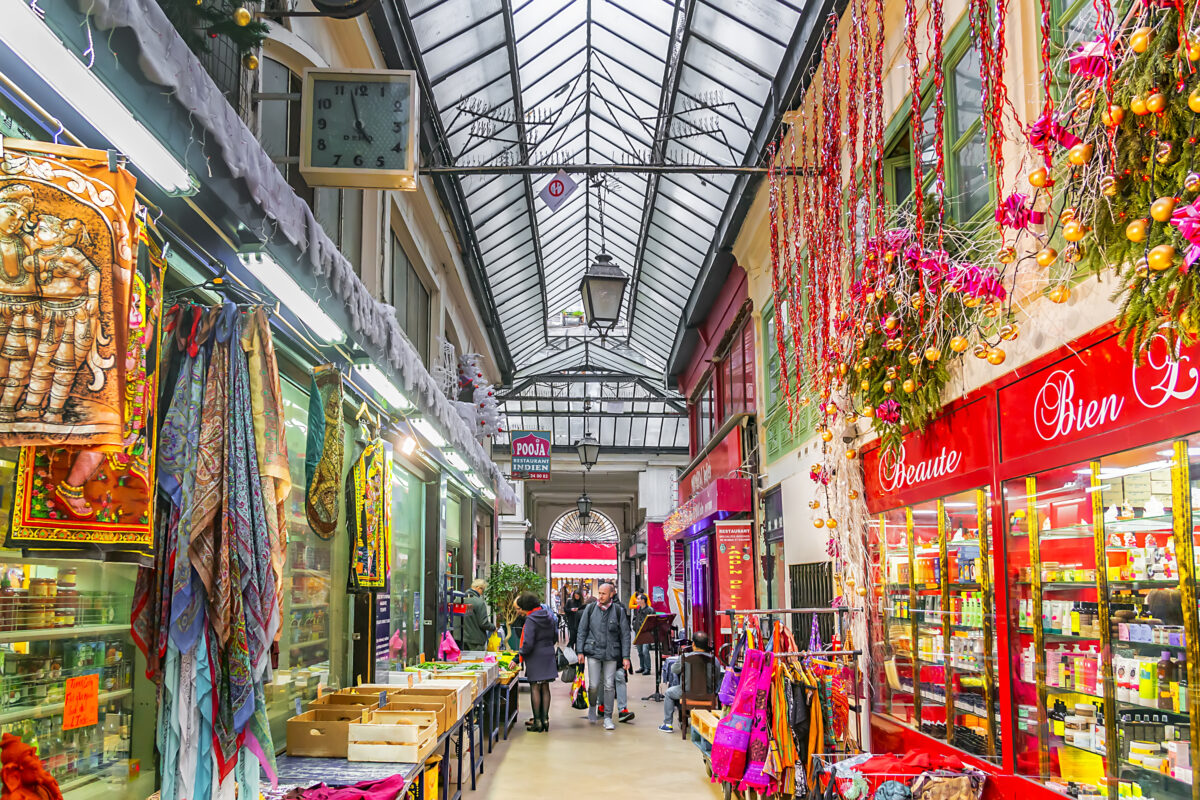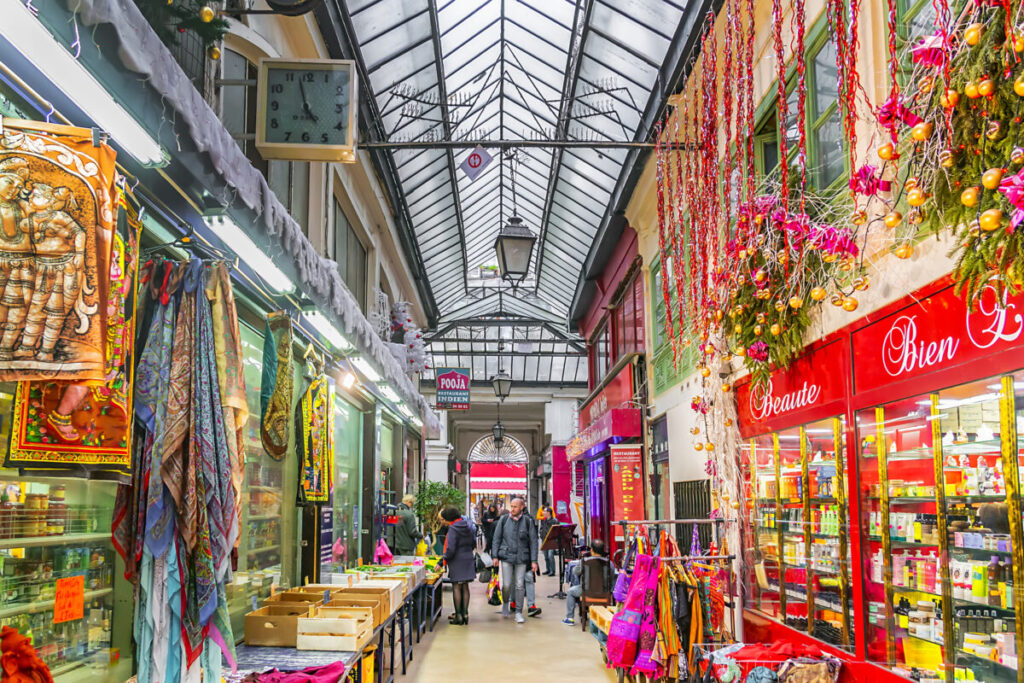 Architecture and Atmosphere
Passage Brady is a historic covered passage in Paris, situated in the 10th arrondissement and constructed in 1828. It features a unique glass roof that covers one side of the arcade, filling the space with natural light and creating a charming atmosphere. The other side of Passage Brady is uncovered, exposing an open-air section for visitors to enjoy. The arcade is divided into two parts by Boulevard de Strasbourg, allowing visitors to experience covered and outdoor areas.
As you stroll through Passage Brady, you'll be transported on a visual and sensory journey, thanks to the beautiful architectural details and abundant aromas surrounding you. Often referred to as "Little India in Paris," this passage is known for its diverse range of eateries and shops, many of which offer Indian and Southeast Asian cuisine, products, and services.
Eateries and Shopping
Lining the walkways of Passage Brady, you'll encounter a myriad of eateries and shopping opportunities that cater to various tastes and preferences. Here, you can find numerous Indian and Asian restaurants serving authentic dishes that tantalize the taste buds. Passage Brady is located on Rue du Faubourg Saint-Martin and offers visitors a chance to indulge in mouthwatering meals and explore unique shopping experiences. Some highlights of this area include:
Indian Restaurants: Passage Brady has become synonymous with delicious Indian cuisine. You'll find various restaurants serving traditional and contemporary dishes, ranging from flavorful curries to aromatic biryanis.
Asian Restaurants: In addition to Indian cuisine, Passage Brady also features a variety of other Asian dining options. Whether you're in the mood for Southeast Asian flavors or craving sushi, you'll find an eatery to satisfy your appetite.
Specialty Shops: The Passage Brady experience extends beyond dining, offering shoppers an eclectic selection of unique and specialty stores. Explore the vibrant bazaars that showcase intricate jewelry, handwoven textiles, and an array of exotic spices and ingredients.
While visiting Passage Brady, the stunning architecture, delightful culinary offerings, and enticing shopping experiences will make for an enjoyable and memorable time in this fascinating part of Paris.
See Related: Best Farmers Markets in Paris: A Comprehensive Guide
Indian and Asian Cuisine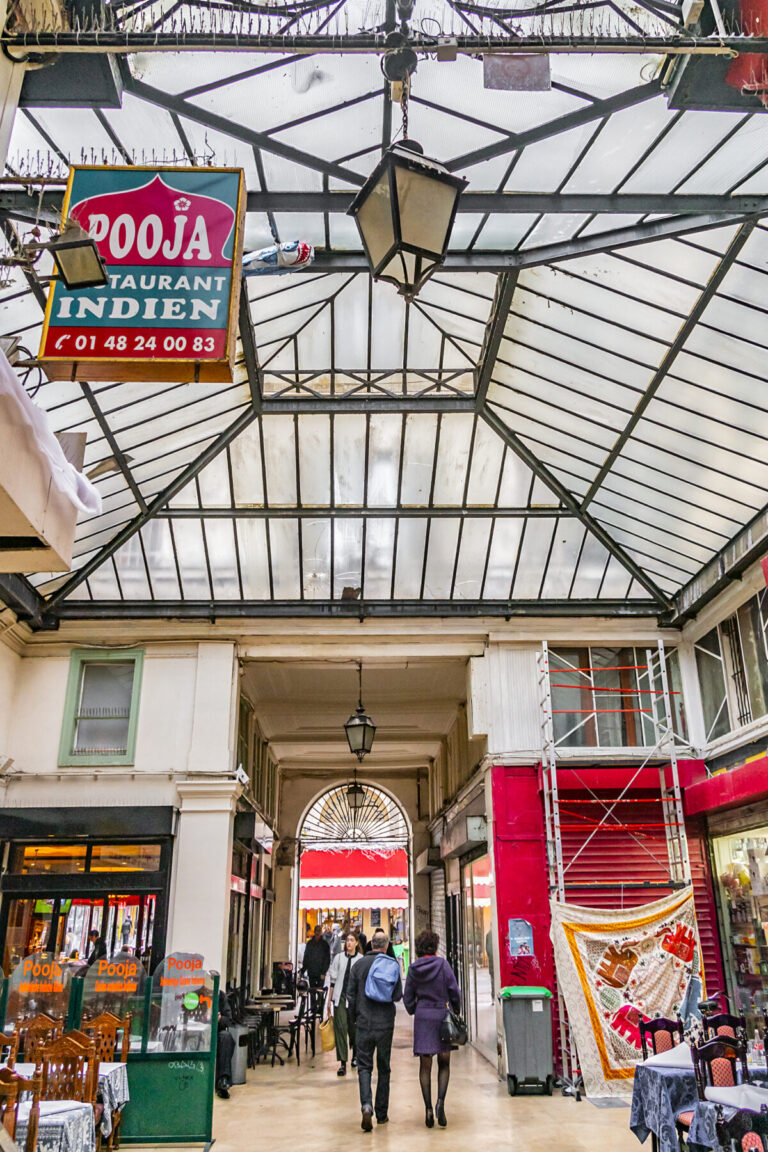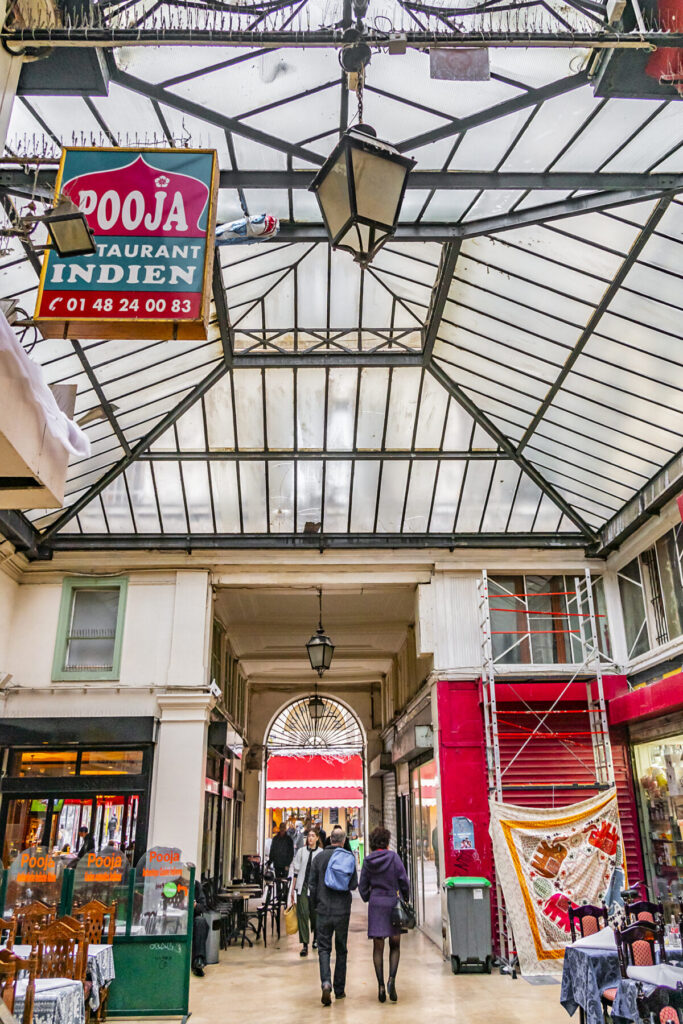 Popular Restaurants and Menus
Passage Brady, Paris, is a hub for Indian and South Asian restaurants, offering food enthusiasts a delightful variety of Indian, Mauritian, and other ethnic cuisines. One such popular choice in the area is Le Passage de Pondichéry, which serves a wide array of Indian dishes focusing on North Indian cuisine. Lunch menus at Le Passage de Pondichéry start at 7 euros per person, and their offerings include Poulet Tandoori (Chicken) and Poulet Curry (Chicken), accompanied by naan, rice, and sauces.
Another notable eatery is Pooja, a restaurant serving authentic North Indian food for over 14 years. Diners can indulge in their famous Biryani or traditional caviar d'aubergines, renowned for their fresh ingredients and delicate flavors.
Affordable Ethnic Cuisine
For visitors seeking more affordable yet delicious ethnic cuisine, Passage Brady caters to everyone's taste and budget. For instance, one can find great deals during lunchtime at the Indian eateries in the area, where set menus start from just 7 euros per person and typically include rice, naan, and sauces alongside the main dish.
In addition to the Indian restaurants, there are also several South Asian establishments offering flavors from Mauritius and the surrounding region. These establishments provide a unique dining experience while still maintaining affordability.
To sum up, Passage Brady is a melting pot of Indian and South Asian cuisine, with an array of popular restaurants thriving in the area. Visitors looking for authentic flavors will be delighted by the varied menus and accessible prices offered by these eateries. With its combination of culinary variety and cultural vibrancy, Passage Brady truly represents the diverse spirit of Paris.
Visitor Reviews and General Tips
Passage Brady, located in Paris, is a popular attraction known for its charming atmosphere and array of Indian restaurants and shops. Visitors often share their experiences on platforms like TripAdvisor, where they provide detailed reviews and general tips for exploring this vibrant area.
Several TripAdvisor members highlight the place's ambiance and the smell of Indian spices wafting through the air, adding to the allure. The passage is known for its cleanliness, with many reviewers praising the well-maintained spaces and tidy storefronts.
Regarding general tips, visitors suggest strolling through this covered passage leisurely to fully experience the sights, sounds, and smells. They also recommend trying different Indian dishes offered in the numerous eateries, as well as exploring the nearby attractions and events. For example, some TripAdvisor members suggest taking a guided tour through Paris's other covered passages, such as the ones from Palais-Royal to Grands-boulevards.
In terms of location information, Passage Brady is ranked #398 on TripAdvisor among 3,412 attractions in Paris. The area is easily accessible by public transportation and within walking distance of other notable sights in the city.
It is important for visitors and reviewers to adhere to community guidelines when sharing their experiences online. TripAdvisor LLC requires members to maintain a respectful tone and provide accurate information about their visits.
Taking note of these Visitor Reviews and General Tips can be helpful for potential visitors planning their trip to Paris and Passage Brady. The experiences others share can guide them on what to expect, making their visit more enjoyable and fulfilling.
Passage Brady in a Wider Scope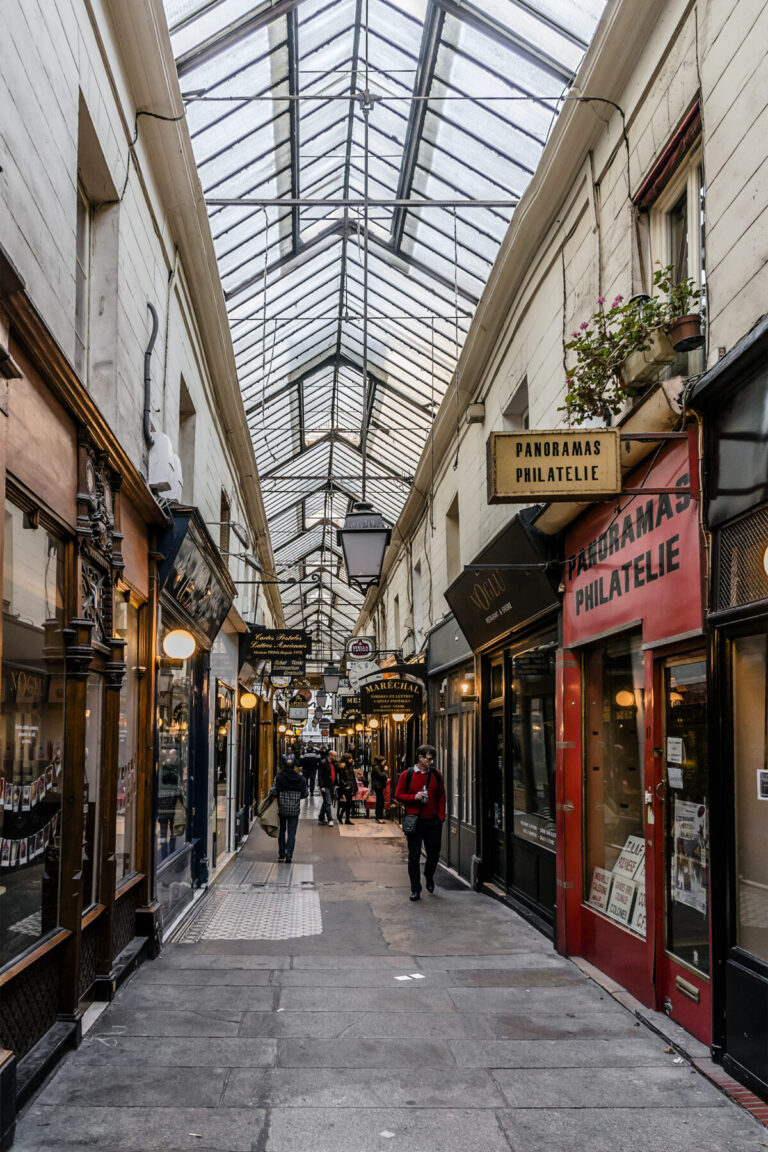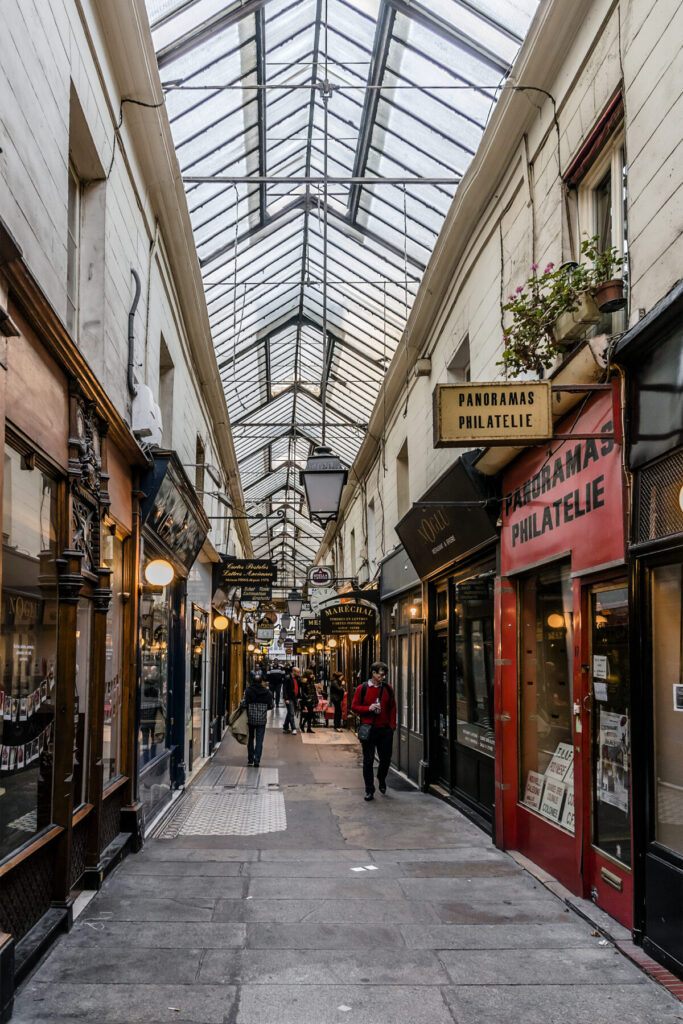 Other Covered Passages in Paris
Passage Brady is one of the many covered passages in Paris. These historical passageways are unique architectural features and cultural enclaves scattered throughout the city. Some other notable covered passages include:
Passage des Panoramas: Known for its shops, boutiques, and restaurants, this passage has a beautiful, intricate mosaic floor that is a must-see.
Galerie Vivienne and Galerie Colbert: These two nearby passages are home to prestigious institutions like the Institut National d'Histoire de l'Art and the Institut National du Patrimoine.
Passage Jouffroy: Along with its neighbor Passage Verdeau, Jouffroy is known for its charming antique shops and proximity to the Grands Boulevards.
Cultural and Social Complexities
Passage Brady can be considered a cultural enclave with its numerous Indian eateries offering classic North Indian cuisine. The passage can be seen as a representation of the cultural and social complexities that exist within the city of Paris. As the "Little India of Paris," it showcases the diverse influences and communities that make the city a vibrant and exciting destination.
The covered passages of Paris, including Passage Brady, serve as unique landmarks with both architectural and cultural importance. Exploring these passageways allows visitors to appreciate the rich history and diversity that the city has to offer.
Noteworthy Dates and Nearby Locations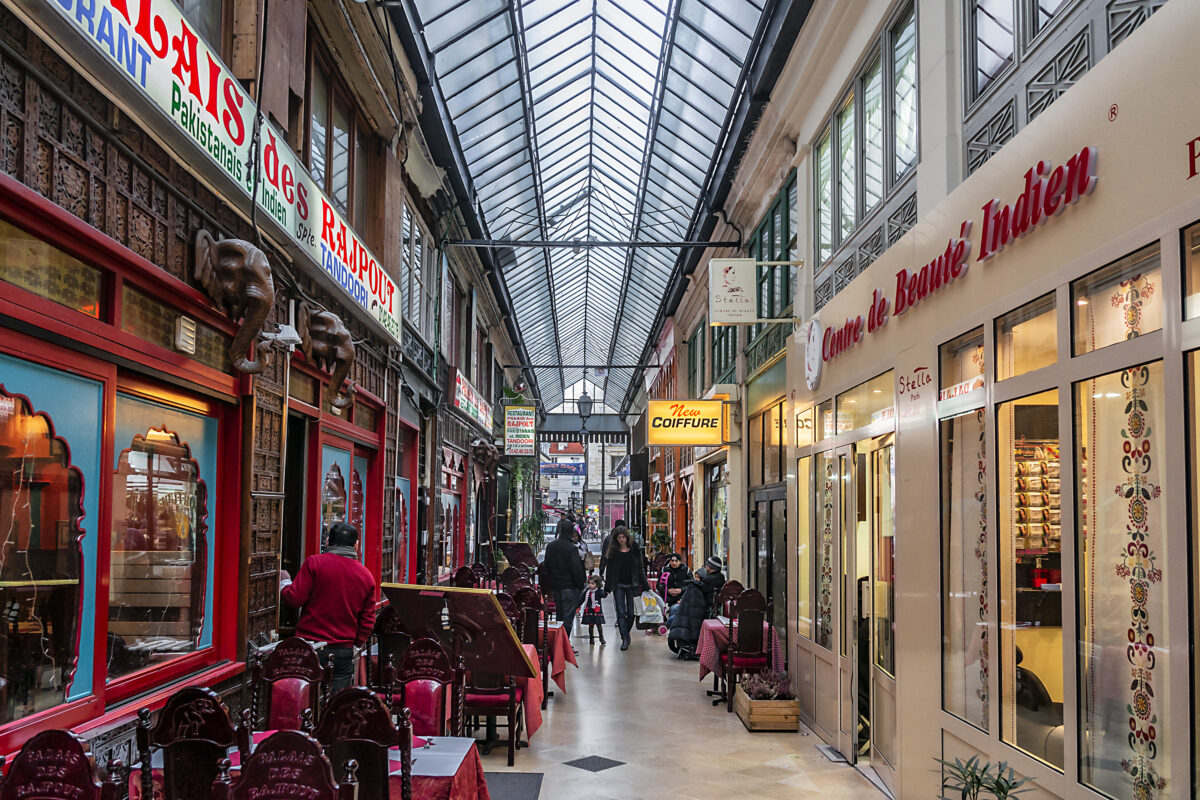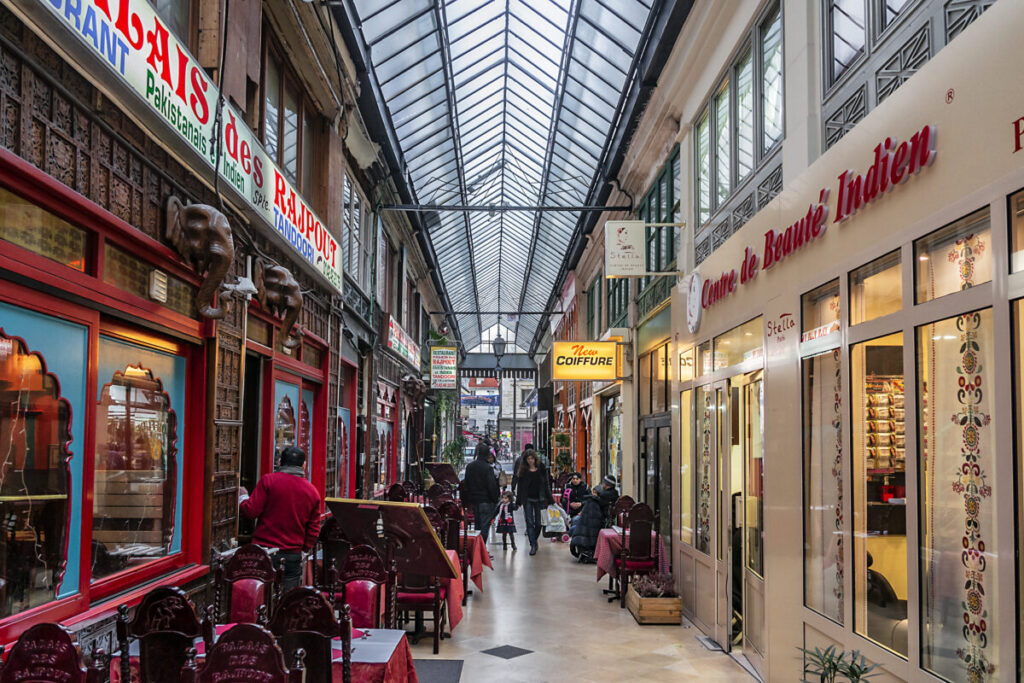 Passage Brady, located in the 10th arrondissement of Paris, is a unique covered walkway known for its vibrant atmosphere and fascinating history. It dates back to the early 19th century and is distinguished by its two distinct parts – one enclosed and the other open to the air on the other side of Rue Strasbourg.
In recent years, several noteworthy events have taken place at Passage Brady. In January 2020, the passage saw increased foot traffic and culinary enthusiasts due to a food festival featuring diverse international cuisines. Additionally, in October 2022, Passage Brady hosted a local artisan market, showcasing handmade jewelry, clothing, and home goods from talented craftsmen and women.
Close to Passage Brady, visitors can discover the historic Palais Royal, a former royal residence turned into a public space. Here, one can find a charming bookshop, tearoom, and the Théâtre des Variétés, an opulent theater built in the 19th century.
Near Passage Brady, there are many interesting buildings and passages to explore. Passage du Caire, for example, is the oldest covered passage in Paris, known for its stunning metal and wrought iron architecture. On the other hand, Passage de l'Ancre, another historic covered walkway, stands out for its serene, plant-filled atmosphere and quaint shops.
For visitors seeking health and relaxation, the area also offers public baths – a popular choice during the colder winter. Alternatively, hairdressers and beauty salons can be found in neighboring streets, offering various personal grooming and styling services.
In terms of dining options, the area is home to several gluten-free establishments, such as Noglu, a renowned bakery, and café, perfect for those with dietary restrictions.
Lastly, when planning a trip to Passage Brady and its surroundings, consider booking a stay at Hotel Chopin, a charming 19th-century hotel nearby. With such a convenient location, guests can easily access the historical passages, explore the surrounding shops, and make a memorable visit to a vintage toy shop.
Overall, Passage Brady and its neighboring locations offer a wealth of history, culture, and enjoyment for visitors of all ages and preferences.
See Related: Top Affordable Restaurants in Paris with a View
Things to do near Passage Brady
For those looking for a unique shopping experience, Passage Brady is home to some of the finest shops in Paris. From high-end designers like Dior and Louis Vuitton to vintage boutiques selling antique jewelry and clothing, there is something here for everyone.
In addition, Passage Brady also offers a variety of cafes and restaurants so you can grab a bite while you shop.
See Related: Sainte Clotilde
Places to stay near Passage Brady
If you plan on staying close by during your visit to Passage Brady, plenty of hotels and apartments are nearby. There is something for every budget, from chic boutique hotels like Hotel de Nell and La Maison Champs Elysees to budget-friendly options like AirBnB apartments.
Many of these properties are just steps away from Passage Brady, so you can be at the center of the action within minutes!