Exploring the Passage du Havre in Paris, France is an adventure for any traveler. This historic area of Paris has been a popular destination since the 1800s and is still one of the best places to experience the culture and history of the city.
Passage du Havre in Paris was built in 1854 and is an impressive example of 19th-century architecture. It has charming shops, restaurants, and cafés between two main streets. It also features artwork from local artists throughout its interior. This passage is sure to be a highlight of any trip to Paris!
Located in the heart of Paris, Passage du Havre is a delightful gem for shopping enthusiasts and lovers of architectural beauty. This covered, historic passage offers visitors a charming experience in a modern urban environment. With its glass-roofed design and elegant structure, the passage invites shoppers to stroll through a peaceful haven amidst the hustle and bustle of the city.
The Passage du Havre boasts an impressive selection of 40 shops covering various domains such as fashion, beauty, multimedia, and accessories. Notable establishments include FNAC, Sephora, Nature & Découvertes, Caroll, Courir, and Normal. Its proximity to Gare Saint-Lazare and the inviting atmosphere make it an attractive spot for tourists and locals looking to spend a relaxing time shopping in an enchanting setting.
History and Location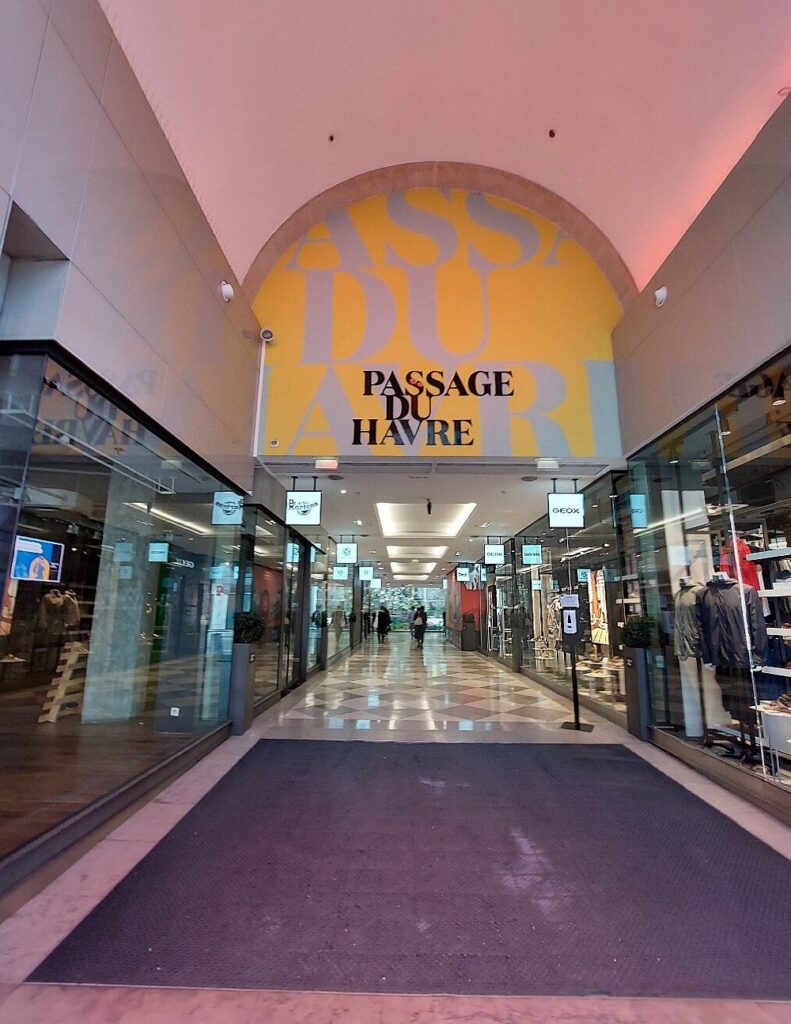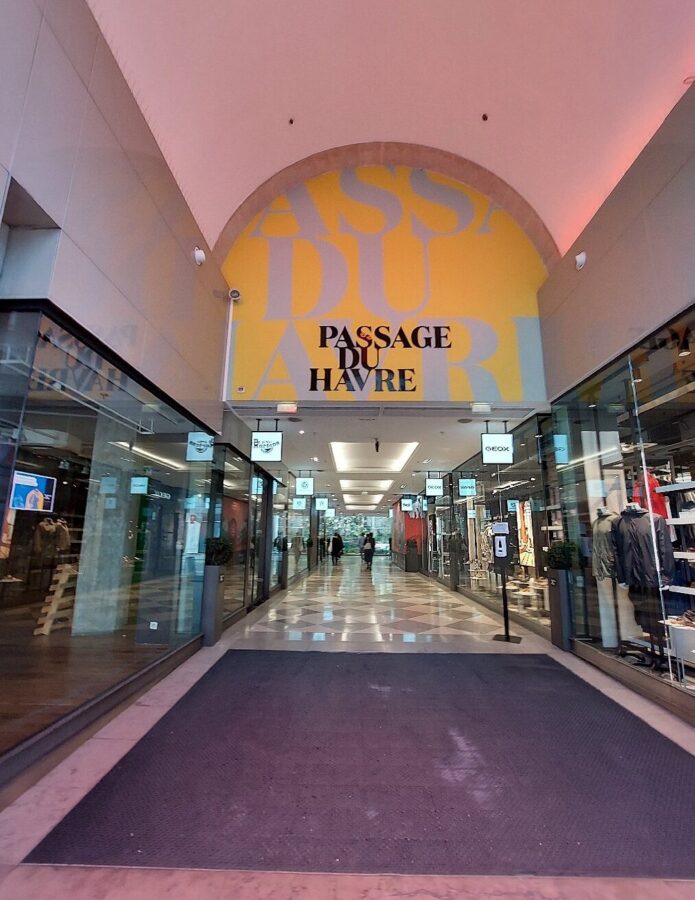 The Passage du Havre is a historically covered arcade near the Paris-Saint-Lazare station in the heart of Paris. It is located in the Quartier de l'Opéra-Saint Lazare, which forms an integral part of the city's major business district. Originally, the arcade was home to fish shops and railway modeling stores, including well-known names such as Hornby and La Maison du Train.
In the late 1990s, the Passage du Havre underwent significant transformations and was rebuilt as a modern mall. This change coincided with the construction of Paris' RER E underground railway line, which aimed to integrate newer shops and cater to the growing business hub in the area. The redesign allowed the arcade to maintain its historical roots while adapting to the evolving commercial landscape of Paris.
Today, the Passage du Havre remains a tribute to its history while offering a contemporary shopping experience to visitors. Its strategic location near the Paris-Saint-Lazare station ensures easy access for both locals and tourists, and its unique blend of traditional Parisian architecture and modern amenities make it an interesting point of interest for those exploring the city.
Shopping Experience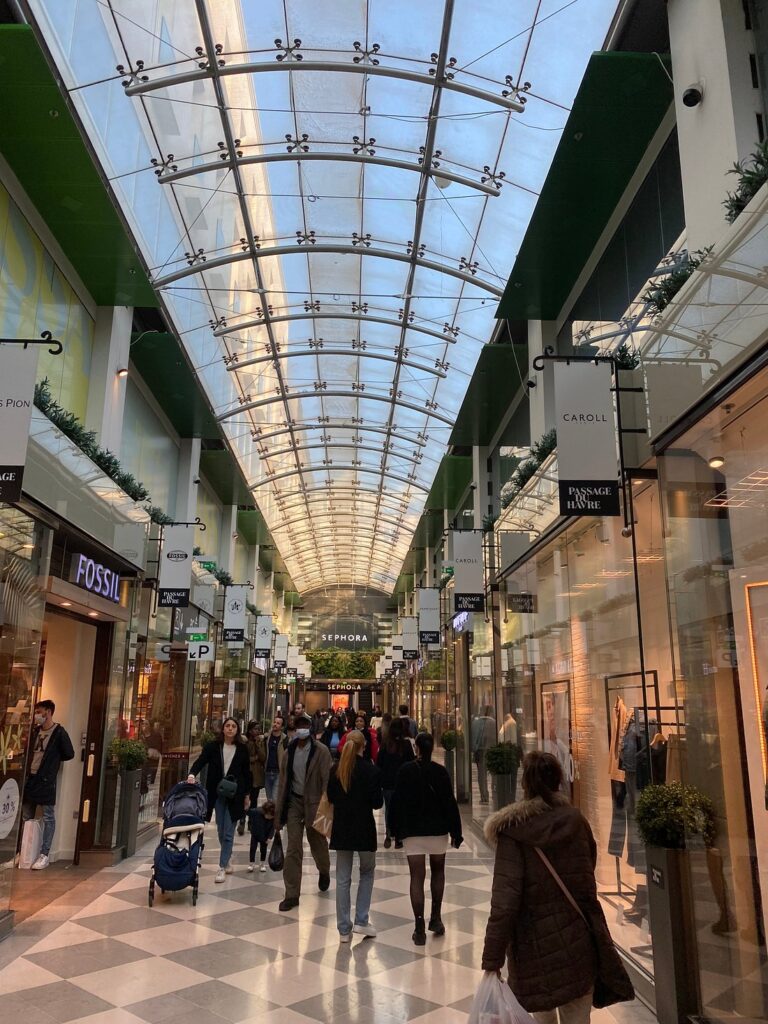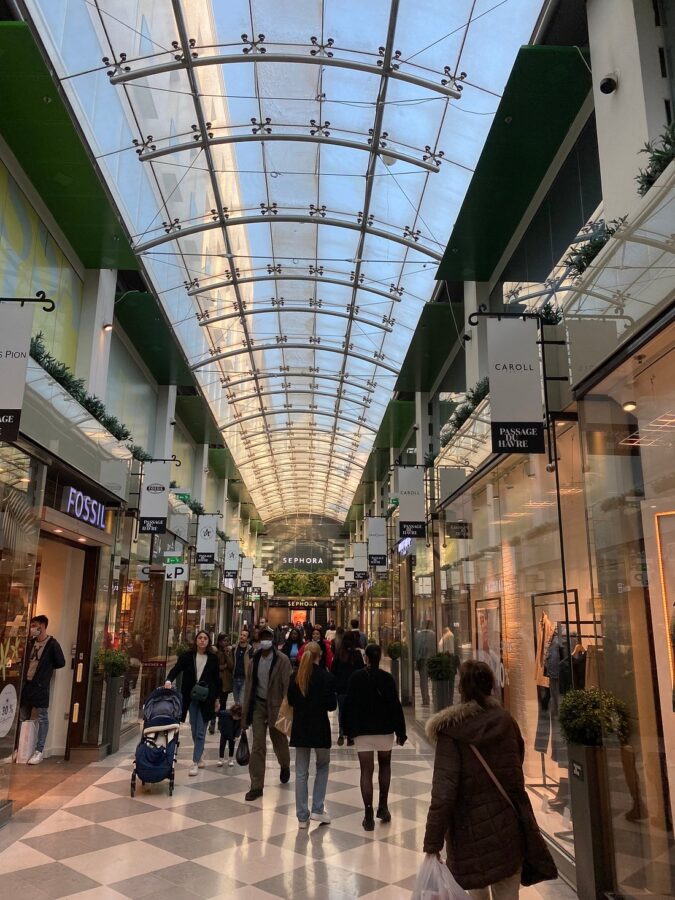 Fashion and Lifestyle
At the Passage du Havre, customers can immerse themselves in a unique shopping experience with a wide variety of fashion and lifestyle stores. Ranging from premium clothing shops to trendy accessory outlets, this shopping mall offers the latest in mode and style for the modern shopper. Here, visitors can explore over 40 shops on two floors, including notable brands like FNAC, Sephora, Nature&Découvertes, Caroll, and Normal.
The mall is near other famous shopping destinations such as Galeries Lafayette and Printemps. True fashion enthusiasts can easily access these iconic departmental stores to enhance their shopping experience this summer and discover exclusive products and brands at Passage du Havre.
Sports and Accessories
In addition to fashion and lifestyle brands, the Passage du Havre offers a range of stores catering to sports enthusiasts and those looking for stylish accessories. With shops like Courir offering the latest in sports apparel, and other enseignes focused on athletic gear, customers will be well-equipped for their active lifestyle.
The mall's accessible location near Gare Saint-Lazare makes it a convenient destination for shoppers searching for a diverse range of retail options in a comfortable and modern environment. No matter the category, the Passage du Havre provides a truly memorable shopping experience for all its visitors.
Entertainment and Events
Passage du Havre, nestled in the heart of Paris, offers more than just shopping experiences. This elegant venue hosts a variety of entertainment and events for visitors to enjoy, combining cultural heritage with contemporary attractions.
For music enthusiasts, concerts are occasionally held at the Passage du Havre, adding a lively atmosphere to this historic location. Most notably, on September 17, 2022, the Passage du Havre and the Comité Haussmann collaborated for European Heritage Days, presenting an event titled "Haussmann Side Story." Inspired by the famous Broadway musical, this event showcased a unique mix of music and fashion, appealing to a wide range of tastes and interests.
This shopping mall is more than just a shopping destination, and its relaxed approach aims to cater to shoppers' comfort and leisure needs. With its pristine, light-flooded arcades and climbing vines, Passage du Havre is a perfect spot for visitors seeking an engaging and inspiring environment.
In summary, visitors to Passage du Havre can expect not only a variety of shopping opportunities but also a mix of engaging entertainment and events to enhance their experience. From concerts inspired by legendary musicals to cultural celebrations during European Heritage Days, there's always something happening in this beautiful and bustling Parisian gem.
Dining Options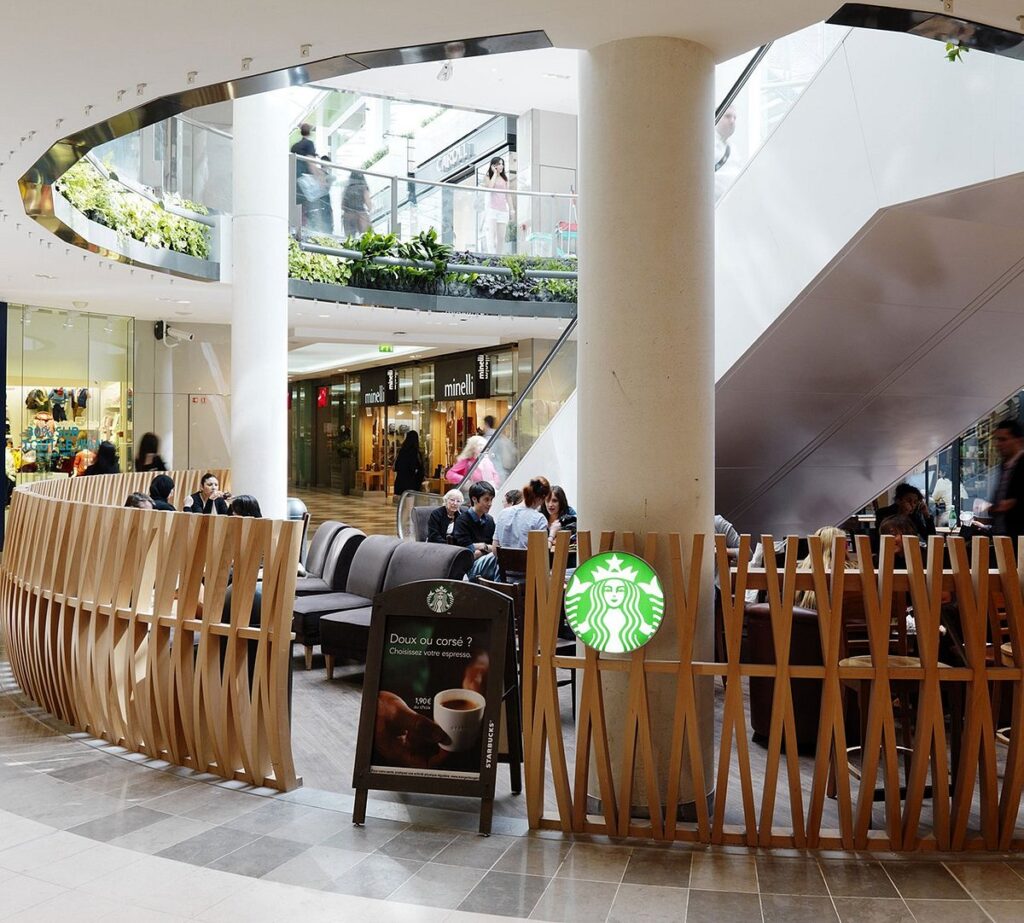 Cafés
Maison Pradier is a French café situated in Passage du Havre, offering a variety of delicacies to satisfy your cravings. Known for its good food and staff, this establishment has received positive reviews from visitors. Offering both French and European cuisine, it is an ideal spot for a quick break during your visit to Passage du Havre.
Another well-known café in the area is Starbucks. Known for its globally popular offerings, Starbucks in Passage du Havre provides a familiar and comfortable setting where you can relax and enjoy your favorite coffee and snack options. With a wide variety of beverages and pastries to choose from, Starbucks is a popular choice for both locals and tourists.
Snacks
For those in need of a quick bite on the go, Prêt-à-Manger is the perfect solution. Offering a range of sandwiches, salads, and wraps, this popular chain is known for its fresh, healthy, and delicious offerings. Located near Passage du Havre, Prêt-à-Manger ensures you get a satisfying meal without compromising on your shopping time.
In addition to these main options, Passage du Havre also hosts various stands and food stalls that offer diverse and convenient snacking opportunities. From sweet treats to savory bites, there's something for everyone to enjoy as they explore this iconic location.
Beauty and Multimedia
Located in the heart of Paris, Passage du Havre is a popular shopping destination for locals and tourists. Visitors can find a wide range of beauty and multimedia options within this shopping mall to cater to their needs.
Sephora, a well-known beauty retailer, houses an array of makeup, skincare, and fragrance products. With its vast selection and expert staff, shoppers can discover the latest cosmetic trends and find the perfect beauty solutions for themselves.
At FNAC, visitors can explore various multimedia products and services. This store offers an impressive selection of books, movies, music, video games, and electronics. Shoppers can browse the latest gadgets and entertainment options in a welcoming and organized environment.
In addition to Sephora and FNAC, Passage du Havre also features several other stores emphasizing beauty and multimedia. This mix of local and international shops provides various options, ensuring a satisfying experience for all shoppers.
The mall is designed for convenience and ease, featuring spacious walkways and ample lighting that make the shopping experience all the more enjoyable. With its multitude of beauty and multimedia offerings, visitors can indulge in a diverse and rewarding retail experience at Passage du Havre.
Services and Amenities
Passage du Havre is a modern shopping arcade located in the 9th arrondissement of Paris, close to Paris-Saint-Lazare station. It offers a variety of amenities and services to cater to the needs of its visitors.
Amazon Lockers
For those who prefer online shopping and a convenient pick-up location, Passage du Havre is equipped with Amazon Lockers. These lockers allow customers to receive their Amazon orders at a secure and easily accessible spot within the shopping center. Visitors can select the Amazon Locker location as their delivery address during checkout and retrieve their package using a unique code provided by Amazon.
Parking
Those arriving by car can take advantage of the garage parking available at Passage du Havre. The parking facility ensures visitors can securely park their vehicles while enjoying their shopping experience. With wheelchair accessibility, the shopping center caters to the needs of all its customers.
When it comes to payment options, Passage du Havre accepts a variety of card types, including CB/Visa and Eurocard/Mastercard. This flexibility allows shoppers to enjoy their shopping experience without the hassle of carrying cash.
Other useful services and facilities available at Passage du Havre include ATMs and Photomaton, ensuring convenience and accessibility for all visitors. By providing these services, Passage du Havre aims to create a seamless and enjoyable shopping experience for its visitors, catering to their needs and preferences.
Prominent Stores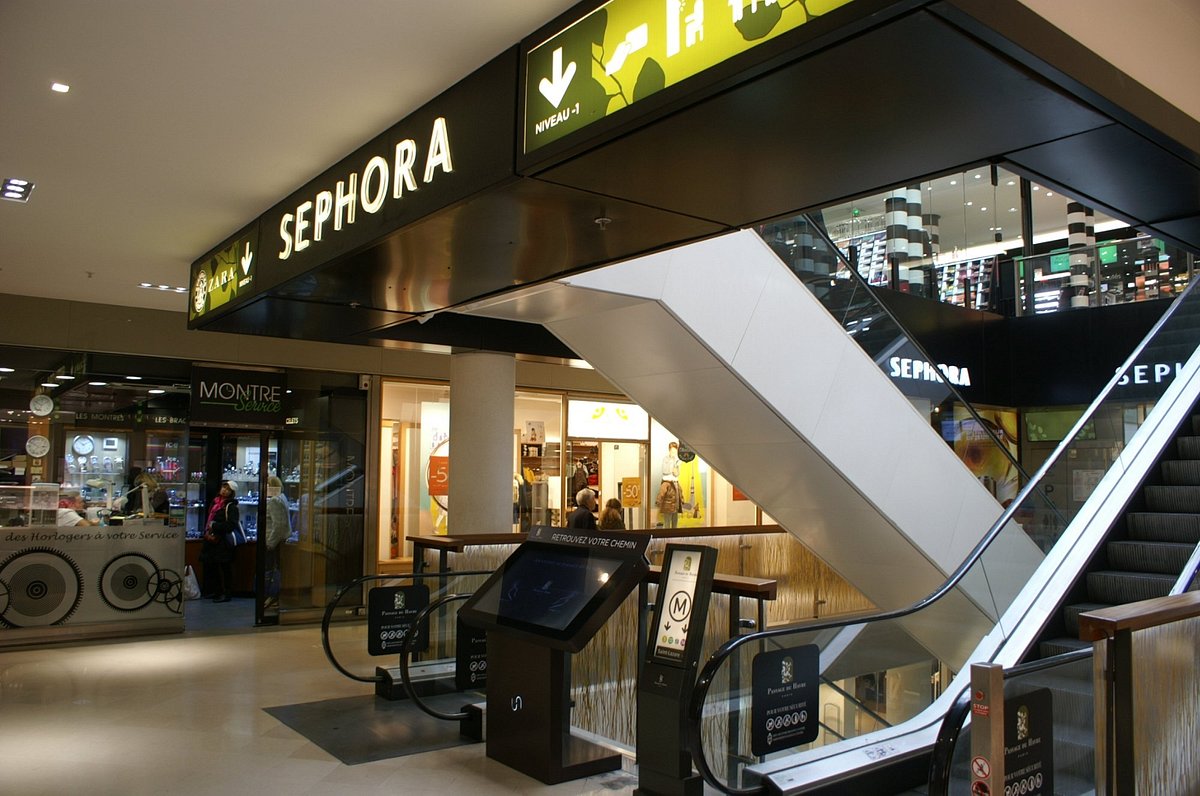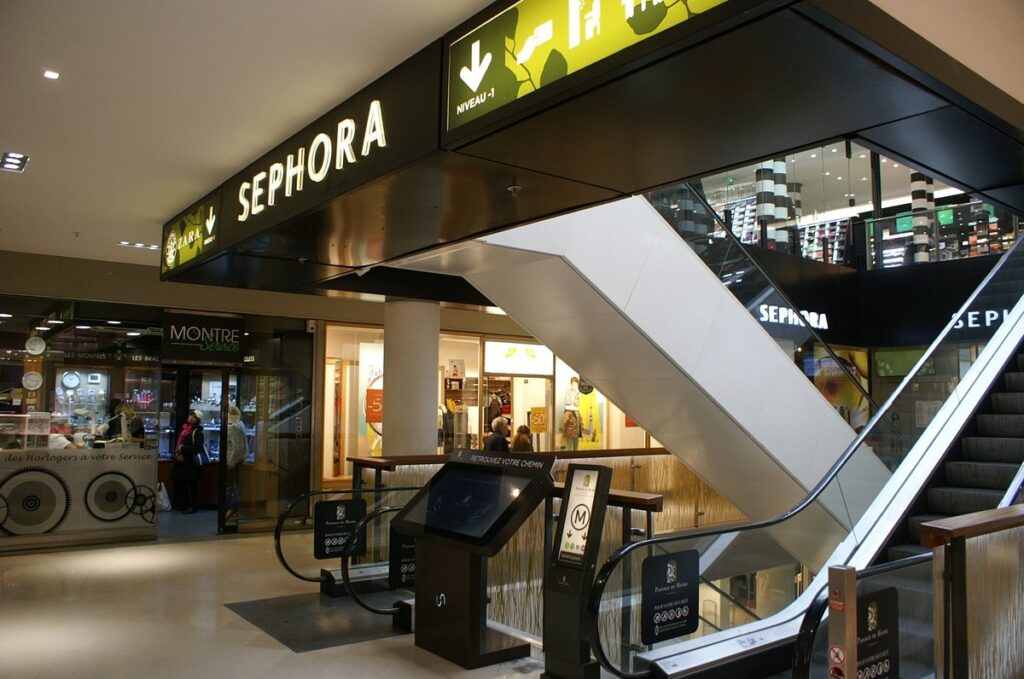 Passage du Havre, located in the 9th arrondissement of Paris, is a shopping mall that boasts forty shops offering a variety of products and services. Some notable stores in this shopping center include fashion, beauty, multimedia, and accessory shops.
Caroll is a well-known fashion store in Passage du Havre, offering trendy clothing for women. This store is popular for its stylish and high-quality pieces that cater to the fashion needs of modern women.
Courir is another prominent store in the Passage du Havre shopping mall, providing a wide range of footwear options. This store specializes in athletic and lifestyle shoes from top brands, catering to fitness enthusiasts and those who appreciate a comfortable and trendy pair of kicks.
Normal is a distinct shop within the mall, presenting customers with a selection of everyday items at consistent, low prices. Shoppers can find various household products, from personal care items to home essentials, providing a one-stop shop for their daily needs.
In addition to these specific stores, Passage du Havre also houses popular franchises such as FNAC (a multimedia electronics store), Sephora (a beauty and skincare retail giant), and Nature&Découvertes (a store specializing in nature-related products and gifts). These establishments cater to a diverse clientele, drawing in locals and tourists alike for an enjoyable shopping experience in the heart of Paris.
Outdoor Spaces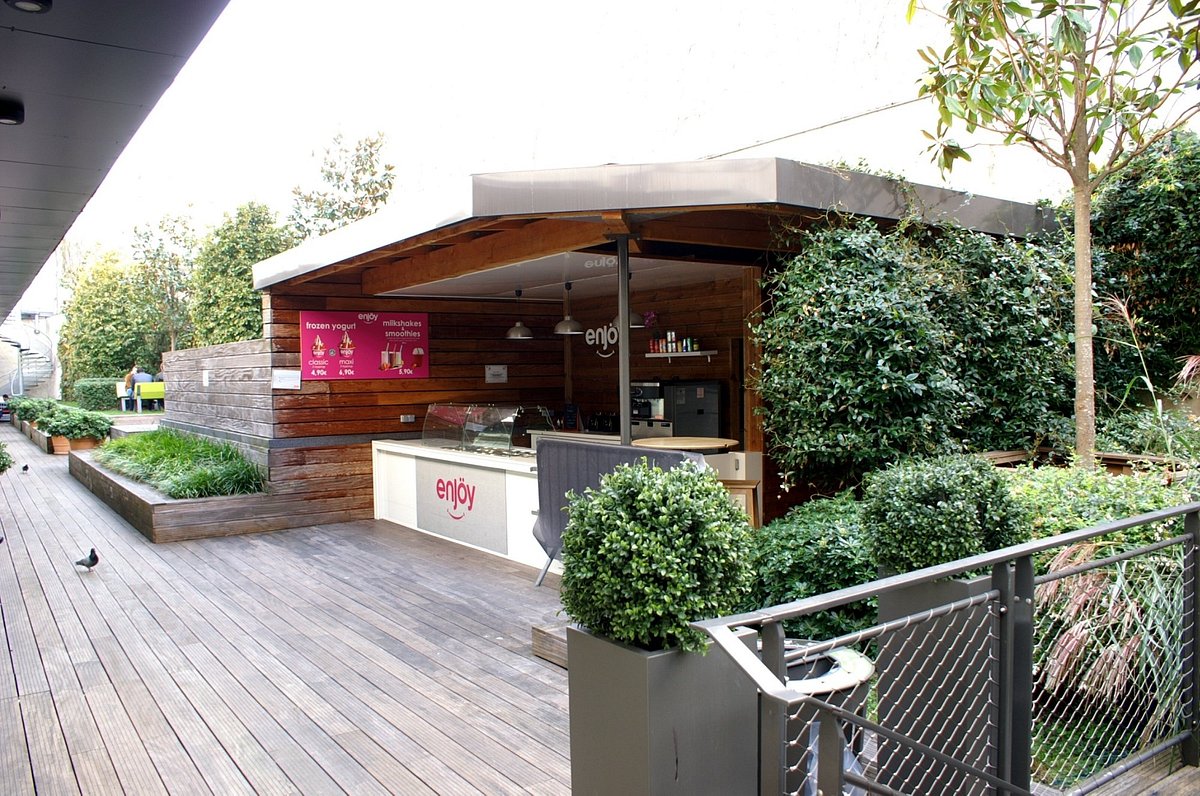 Passage du Havre, located in the 9th arrondissement of Paris, is a modern shopping mall that has evolved from its historical roots as a covered arcade geared towards fish shops and railway modelling. Surrounded by the bustling Quartier de l'Opéra, this charming destination offers visitors an opportunity to explore not only its diverse range of shops, but also inviting outdoor spaces that provide an urban respite.
Nestled within the mall's structure are thoughtfully designed gardens and terraces which offer individuals a chance to take a break from shopping and soak in the tranquil atmosphere. These green areas bring a touch of nature within an otherwise urban environment, enhancing the overall allure of Passage du Havre.
Visitors wandering through the mall can find a variety of seating options on the terraces, where they can relax and enjoy a moment of peace amidst their shopping adventures. These outdoor spaces seamlessly blend modern and historical elements, creating a unique charm that is synonymous with the Parisian covered passages.
As one ventures beyond the mall, the surrounding area of the 9th arrondissement presents an abundance of parks and green spaces for individuals to explore. From iconic gardens to picturesque promenades, the outdoor offerings near Passage du Havre cater to a wide range of interests and preferences.
In summary, Passage du Havre is not just a shopping destination, but a location that integrates outdoor spaces for visitors to appreciate and enjoy. With its gardens, terraces, and proximity to the parks of the 9th arrondissement, this Parisian mall presents a perfect blend of retail therapy and urban retreat.
Things to do Near Passage du Havre
There are plenty of activities and things to do near the Passage du Havre in Paris. Visitors can take advantage of free Wi-Fi while walking around or they can explore some of the nearby attractions such as Notre Dame Cathedral or Luxembourg Gardens.
Shopping enthusiasts will love browsing through the wide selection of boutiques offering everything from antiques to modern clothing. Foodies can also sample some delicious French cuisine at one of many nearby restaurants.
Places to Stay Near Passage du Havre
If you're looking for a place to stay near the Passage du Havre in Paris, you won't be disappointed! There are several hotels close by that offer comfortable accommodations with easy access to all the sights and attractions around this part of town. You can also choose from a variety of private apartments if you prefer something more intimate and cozy.
Whether you're planning a short weekend getaway or an extended holiday in Paris, don't forget to include a visit to Passage du Havre on your itinerary!
Its unique blend of history, culture, shopping, and dining options makes it an essential destination for any traveler visiting this amazing city.
Frequently Asked Questions
What stores can be found in Passage du Havre?
Passage du Havre is a shopping mall with around 40 shops offering various products. Some of the notable stores include FNAC (multimedia), Sephora (beauty), Nature & Découvertes (gifts, home decor), Caroll (fashion), and Courir (sports and footwear).
How can I access the Passage du Havre?
You can access Passage du Havre at 109 rue Saint-Lazare, 75009 Paris in the 9th Arrondissement. It is near the Saint-Lazare train station, making it easily accessible by public transportation.
What is the historical background of Passage du Havre?
Although the current Passage du Havre is a shopping mall, it was initially one of Paris' covered passages, built in the 19th century. Covered passages in Paris were precursors to the modern shopping mall, where shops, cafes, and other establishments were housed under a glass-roofed structure.
What are the opening hours of Passage du Havre?
The standard opening hours for Passage du Havre are from Monday to Saturday, 10 AM to 8 PM. However, individual store hours may vary. It is a good idea to check the mall's official website for specific hours and any temporary updates or changes.
Are there similar passages to Passage du Havre in Paris?
Yes, there are several other covered passages in Paris. Some notable examples include Passage des Panoramas, Galerie Vivienne, and Passage Jouffroy. These passages are a fascinating part of Parisian history and offer a unique shopping and dining experience.
What makes Passage du Havre unique compared to other covered passages?
Passage du Havre stands out because it has been transformed into a modern shopping mall while preserving its historical charm. The glass-roofed structure and elegant architecture offer a pleasant shopping atmosphere, while the variety of stores caters to various interests and preferences.
Related Resources