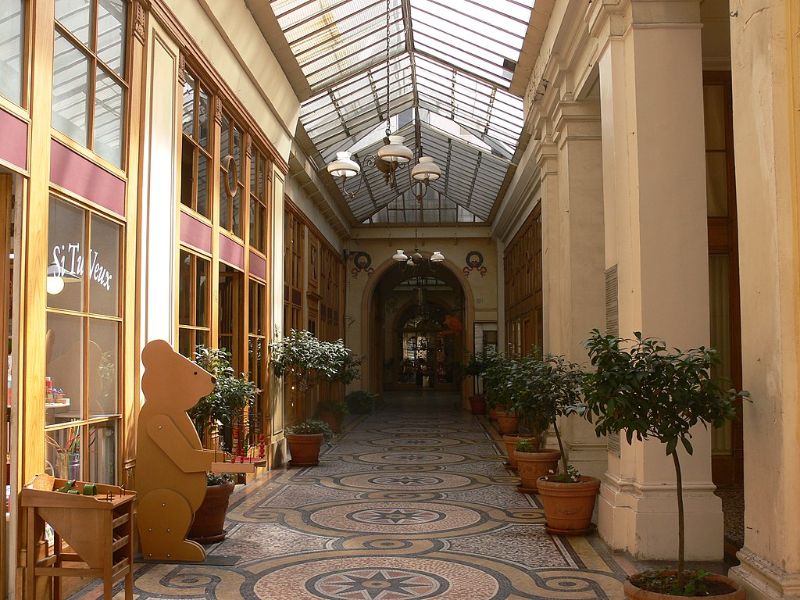 In this galerie, you can see different nice shops, such as art galeries or old book shops. It has a beautiful glass roof and mosaic floor. It's a real pleasure to wander around, in a protected and old fashioned atmosphere.
This Galerie was built in 1826, just 3 years after the Galerie Vivienne, and just next to it. No shops to see here, because it's a place with universities annexes. Wait until a ray of sun goes through the magnificent glass dome in the middle, and you'll feel like in a peaceful and nearly empty museum.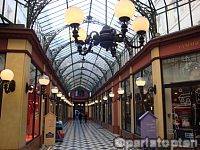 The entrance of this Passage on the Boulevard des Italiens side is not very impressive as the facade of the buiding is modern and without any charm. But it's worth going inside as the glass roof is also very well preserved and give this inimitable atmosphere. All the shops of the Passage are monopolized by a big toys compagny, but it's well done because it respects the original arrangement. The place is split into different themes, like a shop for dolls and accessories, a shop for baby …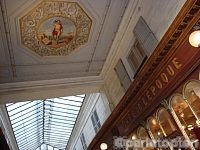 Nice but very short covered passage, with art and old books shops, and a restaurant.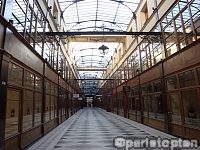 This nice Passage is also good for shopping, with a lot of classy craft shops, leather bags, clothes and jewellery designers.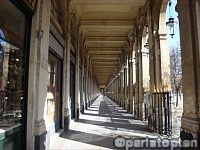 Surrounding the secluded garden of the Palais Royal, the ceilings of those galeries could do with bit of restauration, but the place is still unique and you can find quite a few luxury boutiques such as Marc Jacobs, StellaMc Cartney, Shiseido, Jérôme l'Huillier, Rick Owens or Delage. In the smaller Galerie Beaujolais, the Grand Véfour restaurant can welcome you for a unforgetable gastronomic meal, unless it's sunny and you prefer to sit ouside for a drink or a snack in …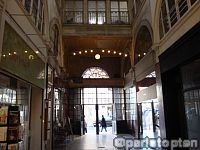 It's a pity that the glass roof is so damaged that a protection net is filtering the light. let's hope a financial solution will be found to restore this beautiful passage, a bit spoiled by the numerous cheap shops and fast-food restaurants. Some of them though are interesting (such as the japanese Momo no ki, specialised in porc with breadcrumbs, called "Tonkatsu" in japanese) and trendy (a healthy smooth-bar!). At least, those restaurants bring life at mid-day, making a happy meeting point …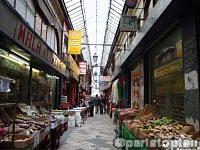 Also called 'Little India", it's the place for an Indian restaurant! The passage itself is in a really bad state, but the atmosphere is typically… indian, with its restaurants and asian food shops!
This passage is split in two parts, cut by the Boulevard de Strasbourg. The covered part is the most interesting.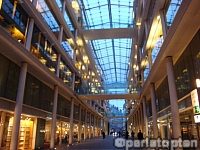 in the space of the Saint Honoré market was built in 2002 this spacious (90 meters lengh and 8 meters large) and modern passage. All along stands luxuous shops, such as design and interior decoration, furniture, and cars!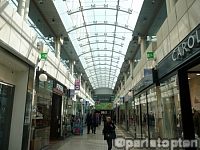 This modern passage with a nice glass roof is mainly dedicated to shopping. You'll find there many clothes names, and lingerie, cosmetics or chocolate shop etc… But it's also the way to the metro and the train at Saint Lazare station, and many people are just commuting here. Well, if they don't stop for a coffee or to buy a book or a DVD!