At the core of dynamic Paris, amidst the bustling streets filled with cafes, boutiques, and wine bars, lies a haven of peace and tranquility: the Père Lachaise Cemetery (Cimetière du Père Lachaise). This legendary necropolis, often called the "City of the Dead," holds countless stories of love, heroism, passion, and sacrifice within its walls, making it a crucial visit destination for visitors who wish to experience the captivating allure of the city's past.
As one wanders through the timeless passages of Père Lachaise, encountering the graves of famous figures, elaborate monuments, and whispers of poetic reverie, it becomes clear that this sacred ground offers not only a sanctuary for the souls interred within but also a serene and touching retreat for those who venture to explore its mystical charm.
Join us as we journey through the history, art, and beauty of Père Lachaise Cemetery and uncover the myriad emotions and inspirations that have come to define this immortal Parisian landmark.
About Père Lachaise Cemetery
Père Lachaise Cemetery is the largest cemetery in Paris, France, with an area of 44 hectares (110 acres). It is one of the most visited cemeteries in the world, attracting more than 3.5 million visitors every year. The cemetery is known for its elaborate monuments, sculptures, and beautiful and peaceful grounds.
It was established in 1804 by Napoleon Bonaparte to revive the French tradition of burying loved ones close to home. It was named after Père François de la Chaise, a Jesuit priest who served as Louis XIV's confessor from 1675 until he died in 1709.
The cemetery has become a popular tourist attraction over the years. It's a haven for most famous graves in Paris, including those of French writer Victor Hugo and singer Edith Piaf. Many other notable gravesites are in the cemetery, including those of Oscar Wilde, Jim Morrison, and Marcel Proust.
History of Pere Lachaise Cemetery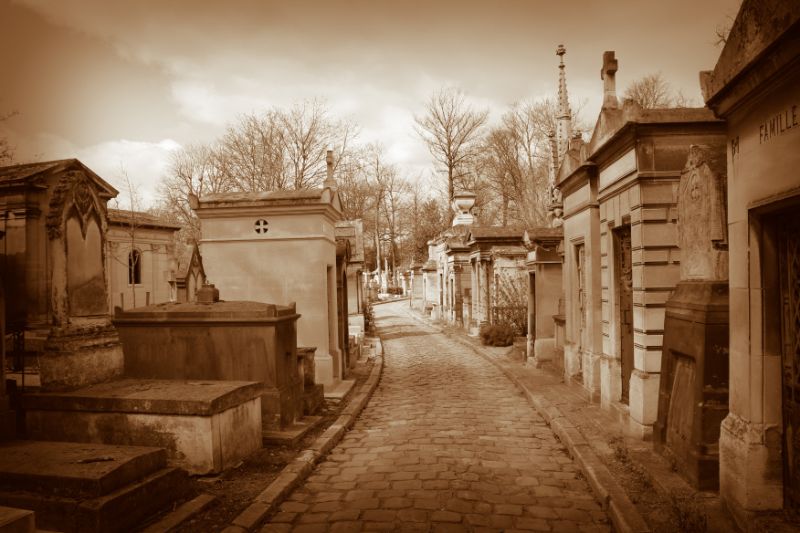 Pere Lachaise Cemetery, located in the 20th arrondissement of Paris, was the city's first garden and municipal cemetery. It owes its name to Père François de la Chaise (1624-1709), the confessor of King Louis XIV, who resided in the Jesuit building on a hillside once known as Champ Evêque.
The cemetery was designed by Alexandre-Théodore Brongniart – a famous architect who modeled it on an English garden. When it opened in 1804, it was considered too far from the central city and initially attracted few funerals.
To promote the cemetery, a famous marketing launched featuring a prominent tomb – that of Héloise and Abélard in 1817 – which saw an increase in burials there. Since then, many notable figures have been buried at Pere Lachaise Cemetery, including writers such as Victor Hugo and Honoré de Balzac, musicians such as Jim Morrison and Edith Piaf, politicians such as Jean Jaurès and Georges Clemenceau, and artists like Camille Claudel and Auguste Rodin.
The grounds of Pere Lachaise also feature monuments to honor victims of wars and disasters such as World War I, World War II, and the Holocaust. Additionally, many artworks around the cemetery grounds reflect its history and culture.
Getting here is relatively easy; it is accessible via public transportation or car from anywhere in Paris. Once there, visitors can explore the grounds or visit individual tombs easily, as maps are available at entrances to help visitors navigate the cemetery's winding paths. Visiting Pere Lachaise is a unique experience that offers insight into Paris's history and culture.
Location and Size
Père Lachaise Cemetery, the largest cemetery in Paris, is located in the 20th arrondissement on the city's northeast side. It spans 44.5 hectares (110 acres), making it the largest park in Paris. Its picturesque landscape is adorned with over 5,000 trees, creating an attractive and peaceful environment for its visitors.
Père Lachaise is a notable attraction for its historical significance and natural beauty. Every year, millions of tourists flock to this globally recognized cemetery to pay their respects and admire its magnificent architecture, making Père Lachaise the most visited cemetery in the world.
Historical Events and Commemorations
Here are several events and commemorations that have occurred here:
Napoleon's Decree: In 1804, Napoleon proclaimed that every citizen, regardless of race or religion, had the right to be buried, and thus, Père Lachaise Cemetery was established.
Famous Reburials: The remains of notable people like Jean de La Fontaine and Molière were reburied there in 1804 to increase the cemetery's popularity and prestige.
Abelard and Heloise: Another notable event in the cemetery's history was the 1817 transfer of Pierre Abélard's and Héloïse d'Argenteuil's remains.
Funerary Chapel: Étienne-Hippolyte Godde designed the cemetery's funerary chapel in 1823 and its monumental entrance on Boulevard de Ménilmontant.
Communards' Wall: In 1871, 147 Paris Commune insurgents were executed inside the cemetery at the Communards' Wall, making it an important historical site.
Crematorium: In 1894, a Neo-Byzantine columbarium and crematorium designed by Jean-Camille Formigé were added to the cemetery.
Trois Baudets Music Hall: Before her reburial in 1943 at Père Lachaise Cemetery, Édith Piaf performed at the Trois Baud
Notable Graves in Pere Lachaise Cemetery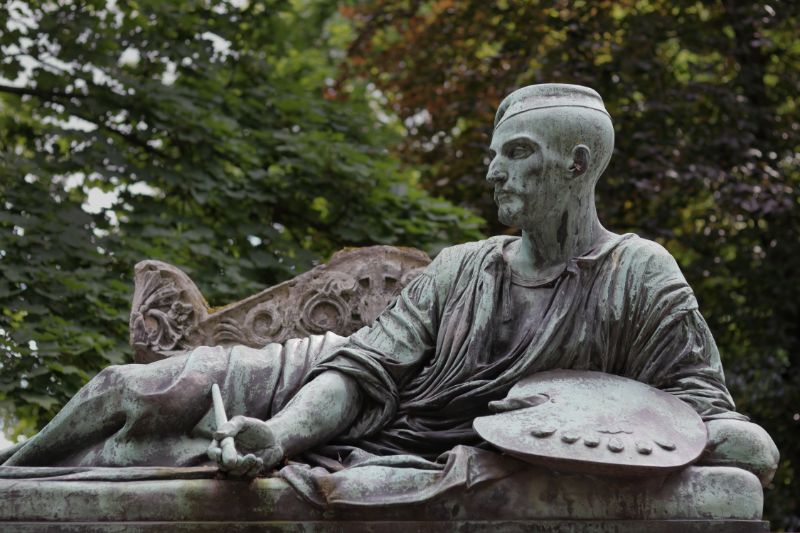 Famous figures in the arts are just some of the many notable graves at the cemetery. These graves are meaningful and widespread tourist attractions from Oscar Wilde to Jim Morrison. Here's a list of the most famous people buried at Père Lachaise.
Oscar Wilde: Best known for his novel The Picture of Dorian Gray, this Irish poet and playwright was buried here in 1900. His grave is one of the most visited, with visitors leaving lipstick marks as a sign of love and admiration.
Jim Morrison: The legendary singer-songwriter and lead singer for The Doors died in 1971, and his grave has become a shrine for his fans across the globe.
Frédéric Chopin: The composer and pianist were buried here in 1849, and his grave site is now marked by a beautiful sculpture of two angels mourning him.
Édith Piaf: The "Little Sparrow" was buried here in 1963, and her grave is often adorned with flowers and other mementos left by her fans.
Marcel Proust: This author's most famous work is Remembrance of Things Past, which he wrote while living in France from 1902-1922 until his death. His grave bears a bust that serves as a reminder of his life's work.
Michel Ney: This French military leader and a few of the Empire fought in several wars during Napoleon's reign, including the Battle of Waterloo in 1815, before being exiled to Germany, where he died in 1815. He was later buried here in 1843.
Émile Waldteufel: This French composer became famous for his light classical music, especially his waltzes, which were popular during the
Gertrude Stein: The American author and patron of the arts shares a simple grave with her lifelong partner.
Exploring the Grounds and Monuments of Pere Lachaise
Père Lachaise is one of Paris's most beautiful cemeteries, with 44 hectares (110 acres) of lush greenery, rolling hills, and tree-lined avenues. Exploring beauty, history, and its grounds is a must-do for any visitor. Besides the few monuments, multiple other attractions throw an illustration cemetery to explore. For instance, there is a museum dedicated to the history of Pere Lachaise and a chapel where visitors can light candles for loved ones, Among the finest asset away.
Among the finest iconic sights in Pere Lachaise is the "Wall of Separators," which separates the graves of those who died in WWI from those who died in WWII. It's a powerful reminder of the cost of war and worth taking time to admire when visiting the cemetery.
Finally, your visit isn't complete without walking through its many gardens and parks, full of beautiful plants and flowers all year round and offering a peaceful respite from the hustle and bustle of Parisian life.
The Nature of the Cemetery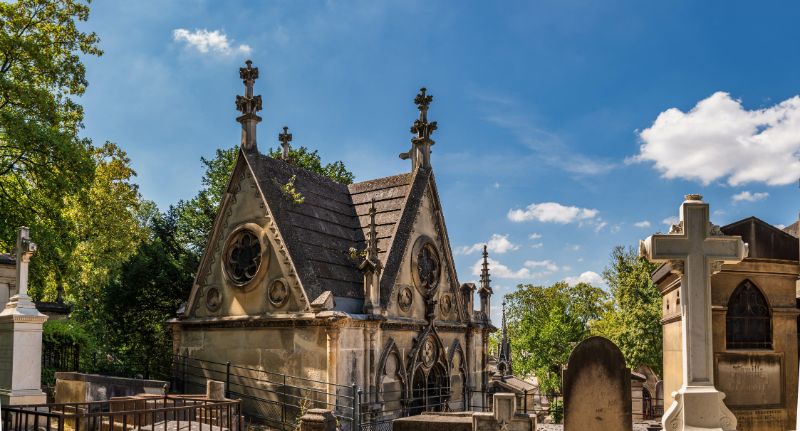 Spread over 44 hectares (110 acres), the Pere Cemetery is the largest in Paris, Franceoverawling grounds include more than 5,000 trees and provide a tranquil and beautiful backdrop for visitors to explore. While the cemetery is known for its many, not a range of home to wildlife and nature, Pere Lachaise is a haven for birds, butterflies, and other animals, making it a great place to immerse yourself in the beauty of nature.
The burial grounds of Pere Lachaise are also full of lustrous. Visitors can find various plants and flowers on the cemetery grounds, ranging from roses to magnolias to cypresses. The cemetery has carefully desisted as the core of a peaceful oasis in the heart of Paris, with winding paths leading visitors through picturesque landscapes and secluded corners away from the hustling of city life.
Artwork Found in Père Lachais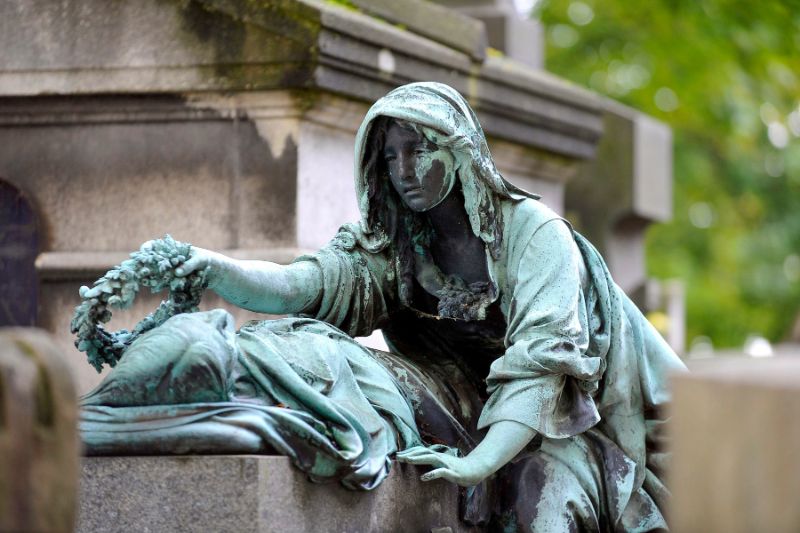 The cemetery is a haven for the world's most beautiful and renowned artwork. Auguste Rodin, a French sculptor and artist, is also represented in Père Lachaise, with several of his pieces adorning the grounds. The Thinker, one of his most famous sculptures, is found at the entrance to the cemetery and is an iconic piece that draws many visitors.
Other pieces by Rodin can be found scattered throughout the cemetery, such as The Gates of Hell, The Burghers of Calais, and The Kiss. These sculptures are all marvels of artistry and bring a unique atmosphere to this sacred resting place together.
In addition to the artwork by Rodin, visitors can also find many other sculptures from renowned artists such as Emmanuel Frémiet and Henri de Triqueti, among others. Each piece adds its unique touch to Pere Lachaiessential visitors, making it a must-see for any art lover.
Finally, visitors can take time to admire the beauty of Père Lachaise's monuments and tombs, each with a style that makes it stand out from the others around it. This mix of artwork and nature makes this one of Paris's most significant visiting places and a must-see attraction for any traveler or art lover.
Getting to and Around Père Lachaise
The cemetery can easily be accessed by car, public transportation, or wheelchair. The easiest way to get to the cemetery is on the Paris metro. If you arrive on line 3, get off at Philippe Auguste station.
Once you reach the cemetery, you can explore by foot or car. Cars can drive around the cemetery but must travel slowly and respect other visitors and graves. Visitors should know that walking around the cemetery may take time as many monuments and graves exist to explore. It is recommended to wear comfortable shoes and a hat and bring sunscreen if visiting on a sunny day.
There are also three World War I memorials in the cemetery and a few sculptures and artwork throughout the grounds. Additionally, visitors will find cafes and restaurants near Père Lachaise's entrance that offer a place to rest and enjoy refreshments after exploring the cemetery.
Tips for Visiting Pere Lachaise
Here are some of our favorite tips before you visit:
Before heading to Père Lachaise Cemetery, wear comfortable shoes, bring water, and plan your route.
If you're taking the Paris Metro there, get off at Gambetta instead of Pere Lachaise, as this is the closest station.
For a self-guided visit, pick up a map from a local vendor or download the free Père Lachaise mobile site or app – it includes audio tours as well.
Be aware that there is limited shade and seating, so bring a hat and sunscreen for protection from the sun.
Take plenty of photos – Père Lachaise is full of impressive monuments and sculptures that make great memories and keepsakes.
If you desire a particular grave, look out for fans and flowers – these are usually left by visitors looking to pay homage and remember someone special in their life.
Consider taking a guided tour in English to ensure you don't miss any important monuments or gravesites of famous people interred in Père Lachaise cemetery, like Jim Morrison and Oscar Wilde.
Lastly, keep your voice down while visiting – Père Lachaise is a solemn place full of history and culture that should be respected there.
What to Expect from a Visit to Père Lachaise
Père Lachaise Cemetery is one of the most famous cemeteries in the world. It's a sprawling 44-hectare park and open-air museum with many notable graves, monuments, and artwork. When visiting Père Lachaise, it's best to come prepared with comfortable walking shoes, water, and a camera. The terrain can be uneven, and the graves may be easily missed.
Once inside the gates of Père Lachaise, visitors can expect to explore historical monuments and view a range of artwork. Notable graves include those of Jim Morrison, Oscar Wilde, and Chopin.
While exploring the grounds of Père Lachaise, visitors can also enjoy the cemetery's natural beauty. Greenery abounds with towering trees, colorful flowers, and lush grassy areas to wander through.
Countless ways to get to Père Lachaise, from nearby metro stations to bus routes and bike paths. A guided tour is also an option for those wanting to best experience this grand monument to the dead.
FAQs
What is the most visited grave in Père Lachaise?
The most visited grave in Père Lachaise Cemetery is that of Jim Morrison, the iconic frontman of The Doors. Attracting millions of fans worldwide, his grave is often surrounded by admirers paying their respects. Visitors also leave tributes such as flowers, photographs, and personal notes in memory of the legendary rock star.
Due to its popularity, it is recommended to visit Morrison's grave early in the day to avoid large crowds. While at Père Lachaise, tourists can also explore the equally famous graves of other notable figures such as Oscar Wilde, Edith Piaf, and Frédéric Chopin.
How much does it cost to be buried at Père Lachaise?
Being buried at the famous Père Lachaise Cemetery comes with a steep price due to the scarcity of available burial plots. Last year, only 171 plots were allocated out of 5,000 requests, each costing a staggering 16,000 euros (approximately $18,200).
Even the affluent might find it difficult to secure a final resting place in this iconic cemetery where renowned personalities like Chopin, Balzac, and Edith Piaf are interred. As Paris' cemeteries become increasingly saturated, the city is exploring options to create more burial spaces both within and outside the capital to accommodate the growing demand.
Is Pere Lachaise Cemetery worth visiting?
Père Lachaise Cemetery is worth visiting due to its rich history, distinctive design, and the many famous personalities buried there. As the largest cemetery in Paris and the most visited worldwide, it offers visitors a peaceful and reflective experience.
Notable residents include Honoré de Balzac, Oscar Wilde, Jim Morrison, Frédéric Chopin, Molière, Edith Piaf, and many more. The cemetery's 44-hectare grounds feature diverse tombs and mausoleums, providing a fascinating insight into the lives of the people interred there. In addition, the tree-lined cobblestone alleys and the tranquil atmosphere make it an ideal place to find respite from the chaos of Paris.
Related Resources: