You sit in a house surrounded by vegetation in a Second Empire setting. The reception room on the ground floor has a nice view over the garden. The proper restaurant room is on the first floor, and look at the back of the Petit Palais. Capacity around 40 persons. Some "salons" are also available.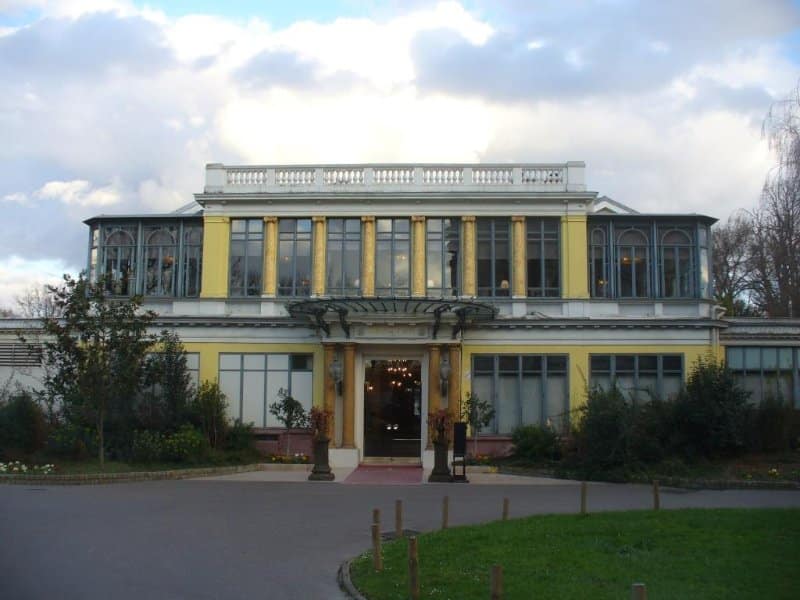 Nestled in the heart of Paris, Restaurant Ledoyen is a culinary gem renowned for its exquisite French cuisine and ambiance. With a prestigious reputation spanning centuries, this three Michelin-starred establishment continues to impress food enthusiasts and discerning diners alike. With chef Yannick Alléno at the helm, Ledoyen has become a sophisticated dining destination that combines classical and modern sensibilities, attracting both locals and tourists from all corners of the world.
The elegance of Ledoyen's decor reflects its rich history while providing a timeless and luxurious atmosphere. Patrons can savor an unforgettable dining experience that mirrors the enchanting surroundings and exceptional service. Each dish is carefully crafted, using the finest ingredients to create a truly captivating culinary journey. The chef's innovative take on traditional French cuisine has garnered highly favorable reviews, and has solidified Ledoyen's standing as one of the top Michelin-starred restaurants in Paris.
In this article, we delve deeper into the gastronomic wonders that await at Restaurant Ledoyen. From exquisite dishes to the exceptional level of service, we will provide an insightful, unbiased review of this unparalleled dining experience. Whether planning a special occasion or simply seeking an unforgettable culinary adventure, Ledoyen is poised to exceed all expectations.
See Related: Top 10 Affordable Restaurants in Paris with a View
Location and Ambiance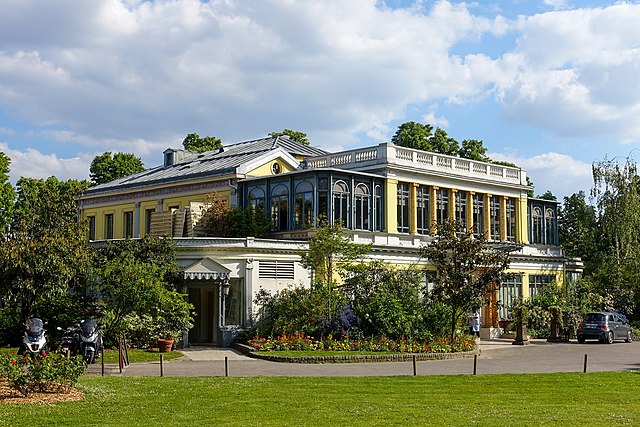 Located in the heart of Paris, Pavillon Ledoyen is nestled near the famous Champs-Élysées, with close proximity to iconic attractions like the Petit Palais. Its strategic location offers diners an opportunity to indulge in a fine dining experience while enjoying the vibrant atmosphere of the city.
Historic Setting
The historic setting of Pavillon Ledoyen further enhances the charm of the place, contributing to the ambiance that the restaurant provides. The neo-classical mansion boasts many bay windows, providing natural light and an airy feel. The plush and Napoleonic décor resonates with the rich heritage of French cuisine, creating an unforgettable dining experience. The luxurious setting and beautifully dressed tables are complemented by the seamlessly orchestrated service, highlighting the essence of gastronomy in all its glory.
The ambiance at Pavillon Ledoyen is elegant and refined, yet welcoming, making it a perfect choice for those looking to experience exquisite French culinary artistry. While the restaurant maintains the highest levels of excellence in both food and service, it keeps its atmosphere inviting and inclusive, allowing diners to truly savor the experience.
See Related: Best Desserts in Paris to Try
Chef Profiles
Christian Le Squer
Christian Le Squer is a renowned French chef with an impressive and extensive culinary background. Before joining Restaurant Ledoyen, he gained recognition for his work at prestigious establishments such as Le Meurice and Le Cinq, where he was awarded multiple Michelin stars. Chef Le Squer is known for his unique and innovative approach to traditional French cuisine, experimenting with flavors and textures to create unforgettable dishes. He has worked alongside culinary legends like Alain Ducasse, further refining his skills and solidifying his position as one of the top chefs in the industry.
Yannick Alléno
Yannick Alléno is a celebrated chef who took over the reins at Restaurant Ledoyen in July 2014, when it was renamed Alléno Paris. Through his passion for cooking and focus on technique, originality, and flavor, Chef Alléno has successfully brought his vision to life in this prestigious Parisian establishment. Alléno's dishes draw on global influences, expertly combining various culinary concepts to create a fresh and innovative dining experience.
Under Yannick Alléno's leadership, Alléno Paris au Pavillon Ledoyen has been awarded three Michelin stars and has also earned a place in The World's 50 Best Restaurants list. Alongside his talented pastry chef Aurélien Rivoire, Alléno has continued to be a culinary force to be reckoned with. Some of his most notable dishes include the twice-fermented almond shells served with oscietra caviar jelly and sour cream. His unwavering attention to detail and commitment to gastronomy has established Chef Yannick Alléno as an esteemed figure in the culinary world.
Menu Offerings
Dinner Options
At Ledoyen, the dinner menu focuses on showcasing the chef's unique point of view through carefully crafted dishes. The tasting menu provides a delightful gastronomical experience with a 10-course meal priced at €295. The à la carte menu offers options for starters, mains, and desserts, ranging from €23 – €71, €89 – €120, and €36 respectively. Each dish emphasizes the use of fresh, high-quality ingredients with innovative preparation techniques, steering away from the classic French sauces and embracing modern culinary creativity.
Lunch Options
For those looking to indulge in a more budget-friendly yet equally satisfying meal, Ledoyen offers a 4-course lunch menu at €128. This set menu allows guests the opportunity to sample a range of dishes that still embody the restaurant's refined palate while catering to the diverse preferences and dietary restrictions of their patrons. Lunch begins with a selection of four amuse-bouches, followed by starters, mains, and desserts chosen from the curated options on the menu. With its attentive service and skillful presentation, Ledoyen ensures a truly memorable dining experience regardless of the time of day.
Signature Dishes
Seafood Features
Ledoyen showcases an exquisite selection of seafood dishes that are bound to impress even the most discerning palates. Among the prominent offerings, turbot takes center stage, with its delicate flavor and elegant presentation. Prepared with precision and finesse, this dish highlights the skill and technique the kitchen holds.
Another standout is the sea urchin. Known for its unique taste and luxurious texture, Ledoyen ensures that the sea urchin is impeccably sourced and meticulously prepared, allowing the natural flavors to shine through.
Langoustine is another key seafood feature in Ledoyen's menu, offering a perfect balance of taste, flavor, and texture. The preparation accentuates the succulent and tender meat, creating a memorable dish for seafood lovers.
Land Protein Favorites
Moving to the land proteins, Ledoyen embraces classic French ingredients, always placing a keen focus on quality and sourcing. The chicken at Ledoyen is tender, juicy, and packed with flavor. The skillful preparation and innovative presentation make this seemingly common ingredient a remarkable signature dish.
The foie gras at Ledoyen is an experience in itself. Carefully selected and prepared, it showcases the rich, buttery texture, and luxurious mouthfeel that one expects from this French delicacy. The dish beautifully demonstrates the chef's ability to elevate such a classic ingredient to new heights.
Another standout among land protein offerings is the eel dish. The unctuous, tender, and flavorful eel adds an unexpected yet delightful twist to the menu. Lastly, lobster makes an appearance on the menu, maintaining Ledoyen's commitment to highlighting only the finest and carefully sourced ingredients. This dish manages to display both luxuriousness and gastronomic ingenuity, rounding out an impressive array of signature dishes at Ledoyen.
Appetizers and Entrees
At Restaurant Ledoyen, the dining experience begins with an impressive array of appetizers. The selection offers a delightful mix of flavors and textures, setting the stage for the main course. Among the standout appetizers are the fresh, melt-in-your-mouth scallops, served with a delicate sauce that enhances their natural sweetness.
Another appetizer highlight is the spaghetti dish, expertly prepared with al dente pasta and a flavorful sauce that showcases a perfect balance of herbs and spices. This dish is not only a testament to the chef's skill but also a reminder of the versatility of pasta as an appetizer option.
As guests move on to the entrees, they are treated to a variety of expertly-crafted dishes featuring unique combinations of ingredients, showcasing the chef's creativity and attention to detail. Vegetables play a key role in Ledoyen's entrees, with each dish thoughtfully incorporating the freshest seasonal produce, creating an array of vibrant colors and flavors on the plate.
In addition to their focus on vegetables, Restaurant Ledoyen's entrees also revolve around delicious protein options. For instance, guests can enjoy exquisitely cooked fish, with an irresistible seared crust and a tender, flaky interior. The accompanying sauces perfectly complement each dish, further elevating the dining experience.
At Restaurant Ledoyen, the appetizers and entrees not only tantalize the taste buds but also demonstrate the establishment's dedication to culinary excellence. The thoughtfully crafted dishes and exquisite presentation leave diners eagerly anticipating the rest of their meal.
Dessert Selections
The dessert offerings at Restaurant Ledoyen showcase the same level of creativity and attention to detail as the rest of their culinary creations. The diverse dessert selections cater to various tastes, skillfully blending traditional French techniques with innovative modern twists.
A popular choice among patrons is the exquisite vanilla ice cream. Meticulously prepared with high-quality ingredients, this dessert exhibits a perfect balance of flavors and a smooth, velvety texture. The rich and creamy vanilla ice cream provides a comforting, familiar taste that is not to be missed.
In addition to the ice cream, the dessert menu features an assortment of delightful petit fours. These bite-sized confections display the chef's impeccable craftsmanship and dedication to tantalizing the palate with a symphony of tastes. Each piece is crafted with precision, boasting unique combinations of flavors and textures that leave a lasting impression.
Guests will not only appreciate the expertly prepared desserts but also the beautiful presentation of each dish. The artistic plating contributes to the overall dining experience, further elevating the magnificent flavors found within each dessert served at Restaurant Ledoyen.
Innovative Techniques
At Restaurant Ledoyen, innovation is an integral part of the culinary experience. Led by Chef Yannick Alléno, the restaurant is known for incorporating cutting-edge techniques and bold flavors into its dishes. One of the ways the restaurant displays its innovation is through its unique use of ingredients like mushrooms, gnocchi, ginger, and various extractions.
In one of the restaurant's signature dishes, they reinvent the traditional mushroom dish by utilizing an inventive cooking method. To enhance the natural earthy flavors and bring out the best textural qualities, the mushrooms are carefully treated with a combination of roasting and sautéing techniques. This innovative approach results in a dish that highlights the mushroom's inherent qualities while introducing a fresh twist.
Another interesting dish featured on the menu is the gnocchi, which is prepared using a distinctive and creative process. Instead of following the standard recipe, the team at Restaurant Ledoyen opts for a lighter, airier gnocchi that is achieved by incorporating cutting-edge cooking techniques like sous vide cooking. This method allows for perfect control over the texture and taste, ensuring a delightful experience for diners.
The use of ginger in Restaurant Ledoyen's dishes is another prime example of their commitment to innovation. Ginger is a versatile, fiery root that lends itself especially well to fusion cuisine. By combining traditional French techniques with unexpected ingredients like ginger, the restaurant is able to craft dishes that provide a stimulating sensory experience for its patrons.
Lastly, the team at Restaurant Ledoyen is always experimenting with various extractions to coax the maximum flavor from their ingredients. This dedication to innovation can be seen in their expertly crafted sauces, where extractions of vegetables, herbs, and spices are used to amplify the taste and aroma of each dish. These intricate extractions showcase the restaurant's commitment to pushing the boundaries of culinary art and elevating even the most traditional dishes to new, exciting heights.
In conclusion, Restaurant Ledoyen's focus on innovative techniques and creative use of ingredients, such as mushrooms, gnocchi, ginger, and various extractions, is what sets it apart from other fine dining establishments. Through this dedication to pushing culinary boundaries, the restaurant is able to provide its diners with a truly unique and unforgettable dining experience.
Vegetarian and Vegan Choices
Ledoyen restaurant offers a diverse selection of vegetarian and vegan dishes crafted with fresh, high-quality ingredients. Their creative menu takes classic vegetables like butternut squash, celery, and beetroot and transforms them into innovative, flavor-filled dishes that satisfy food lovers.
One of their standout vegetarian dishes includes a delightful butternut squash ravioli, with perfectly seasoned roasted squash filling, accompanied by a light sage butter sauce. The dish highlights the natural sweetness of the squash while remaining elegant and refined.
For a unique vegan option, Ledoyen offers a beetroot tartare, fashioned with finely diced beetroots marinated in a light vinaigrette. The dish is then beautifully plated with an array of vegetables such as crisp celery sticks and topped with delicate microgreens that add a fresh, contrasting note.
Mushroom enthusiasts can enjoy Ledoyen's stunning variety of mushroom-based dishes, from a rich, fragrant mushroom risotto with truffle-infused oil to an innovative vegan stuffed portobello mushroom, featuring a barley and vegetable filling accompanied by a flavorful reduction sauce.
Not to forget the humble potato, Ledoyen presents an upscale interpretation of a classic potato dish, such as a creamy truffled potato gratin. The dish is made with thinly sliced potatoes, layered with a rich vegan cream sauce, and finished with a generous sprinkling of grated truffle, creating ultimate indulgence.
In conclusion, Ledoyen's vegetarian and vegan choices showcase the restaurant's commitment to providing delicious, high-quality options for diners with these dietary preferences. With meticulously crafted dishes highlighting vegetables like butternut squash, celery, beetroot, mushrooms, and potatoes, Ledoyen ensures that every visitor can enjoy a satisfying and elegant meal.
Wines and Beverages
Ledoyen offers an extensive wine list to complement their exquisite dishes. The selection showcases a diverse array of both international and regional wines, enabling guests to find the perfect pairing for their meals. The wine list is curated by a knowledgeable sommelier who is more than happy to provide guidance and suggestions based on guests' preferences and the dishes they have chosen.
The restaurant takes pride in featuring wines from an assortment of terroirs, spanning from the elegant offerings of Burgundy and Bordeaux to the crisp and aromatic varieties of Alsace and Loire Valley. Not only do they cater to the discerning palates of fine wine connoisseurs, but they also ensure an inclusive selection that embraces a range of prices, suiting various budgets.
In addition to the impressive wine assortment, Ledoyen provides a thoughtful selection of other beverages. This includes a well-executed list of signature cocktails, crafted by their skilled mixologists to present unique and delightful creations that cater to a wide range of taste preferences.
For those who prefer non-alcoholic options, an assortment of mocktails, freshly squeezed juices, and artisanal sodas are available, allowing guests to enjoy invigorating and satisfying alternatives.
Ledoyen's extensive wine list and diverse assortment of beverages contribute to the overall dining experience, ensuring every guest finds the perfect drink to complement their meal, while embodying a confident, knowledgeable, and clear presentation that makes selection enjoyable and straightforward.
See Related: Best Farmers Markets in Paris: A Comprehensive Guidec
Dining Experience
At Restaurant Ledoyen, guests can expect a remarkable dining experience that showcases haute cuisine with exceptional attention to detail. The establishment is known for its innovative approach to traditional French culinary techniques, ensuring that every dish is expertly crafted and presented.
Upon arrival, patrons are greeted by the observant staff, who ensure that guests feel welcomed and well-taken care of throughout the meal. The mise en place in the dining room is skillfully arranged, demonstrating the restaurant's commitment to excellence in both service and presentation.
The seating at Ledoyen is comfortable and well-spaced, allowing for an intimate atmosphere while still permitting ample room for conversation and enjoyment of the meal. This design choice contributes to the overall elegance and refinement of the dining experience.
In the dining room, the ambiance is carefully curated to enhance the enjoyment of the haute cuisine. The lighting is soft and warm, while the overall décor is both sophisticated and inviting. This creates a pleasant atmosphere in which guests can fully appreciate the depth and breadth of flavors presented in each dish.
The staff at Restaurant Ledoyen are consistently attentive and professional, ensuring that every need is met without encroaching on the guest's personal space. Their knowledge of the menu and wine pairings greatly contributes to the overall dining experience, allowing patrons to make informed decisions and sample the best of what the restaurant has to offer.
In summary, a visit to Restaurant Ledoyen promises a memorable dining experience that is characterized by exceptional cuisine, attentive service, and an elegantly comfortable atmosphere.
Reservation Information
Pavillon Ledoyen, also known as Alléno Paris, is a renowned 3 Michelin-starred restaurant situated in Paris, France. Reserving a table at this esteemed establishment is highly recommended to ensure a memorable dining experience.
To book a reservation at Le Pavillon Ledoyen, it is best to visit their official website or contact the restaurant directly through telephone. When making the reservation, you may be asked for any specific preferences or dietary restrictions, as the staff takes pride in providing a personalized experience for their guests.
Regarding the dress code, while there is no strict requirement, guests are encouraged to wear elegant attire to complement the sophisticated atmosphere of the restaurant. Wearing pants and avoiding overly casual clothing are recommended.
As for the hours of operation, Pavillon Ledoyen typically serves lunch from 12:00 PM to 2:30 PM and dinner from 7:30 PM to 10:30 PM. However, it is advisable to confirm the hours with the restaurant as they may be subject to change, especially during holidays or special events.
When planning your reservation, keep in mind the popularity of the restaurant, and consider booking well in advance to ensure availability. With its exceptional culinary offerings and enchanting ambiance, Le Pavillon Ledoyen is a sought-after dining destination in the heart of Paris.
See Related: Restaurant La Tour d'Argent
Customer Reviews
Ledoyen, also known as Alléno Paris, is a prestigious Michelin-starred restaurant located in Paris, France. Customers have shared their experiences at this renowned establishment through various review platforms. On Yelp, the restaurant has earned an impressive 4 out of 5 stars based on 73 reviews1.
Patrons praise the unique and creative dishes presented by Chef Yannick Alléno. One reviewer appreciated that each menu offering conveyed a clear point of view from the chef, deviating from the classic French sauces reliant on butter and cream1. Another review rates Ledoyen at 97 and highlights the tumultuous high-end dining scene in Paris, including big-name chef swaps2.
Customers often note the sublime ambiance of the restaurant, with its refined and elegant interior. According to a review from March 2011, the overall rating for Ledoyen stood at 20/203. Notably, the value for money was considered adequate, with an average price of £180 for a meal3.
Some visitors have expressed their delight at the restaurant's delicious and savor-worthy creations. They appreciate the attention to detail in terms of presentation, flavor combinations, and the overall dining experience.
In summary, Ledoyen receives positive reviews from various sources, highlighting its exquisite cuisine, elegant setting, and the unique vision of Chef Yannick Alléno. Patrons confidently recommend this Michelin-starred establishment for a memorable dining experience.
Footnotes
Le Pavillon Ledoyen in Paris – 3 Michelin stars (review by ElizabethOnFood) ↩
Frequently Asked Questions
The menu at Ledoyen, Alléno Paris, is a modern take on French cuisine. The dishes are innovative, with a focus on conveying a clear point of view from the chef. Traditional French sauces reliant on butter and cream are replaced with new and fresh techniques, showcasing the chef's culinary mastery and artistic presentation.
How does Ledoyen compare to other Michelin star restaurants?
Ledoyen holds three Michelin stars and is considered one of the most prestigious restaurants in Paris. Its rich history dates back to the 1700s, and with Yannick Alléno at the helm since 2014, the restaurant has continued to evolve, offering a powerful culinary narrative of modern French cuisine.
What is the price range at Ledoyen?
As a high-end restaurant, Ledoyen has a significant price range. You can expect to pay a premium for a unique and exceptional dining experience in an opulent setting. The cost will vary depending on your choice of menu and the number of courses.
Which dishes are most recommended at Ledoyen?
While specific dishes may change depending on seasonality and chef's choice, Ledoyen is known for its innovative and beautifully presented creations. Each dish is crafted to surprise and delight your taste buds, making it difficult to pinpoint specific recommendations. Ultimately, any selection at Ledoyen will likely be an unforgettable experience.
What is the dress code at Ledoyen?
Ledoyen maintains a sophisticated atmosphere, and as such, guests are expected to dress in smart casual attire. It is advised that diners avoid casual clothing such as jeans, shorts, and flip-flops, opting for more formal wear to match the refined ambiance.
Is the service at Ledoyen worth the price?
The service at Ledoyen is attentive, professional, and discreet, ensuring guests have a memorable experience. The staff is well-trained and knowledgeable about the menu, helping to guide diners through the culinary journey. While the cost of dining at Ledoyen is high, the combination of exceptional cuisine, exquisite ambiance, and superior service justifies the price for a special occasion or a once-in-a-lifetime experience.