Nestled in the heart of Paris, Les Ambassadeurs is a sophisticated bar that offers an exquisite dining experience for its patrons. Located within the iconic Hôtel de Crillon, this elegant establishment exudes an air of luxury and refined taste. With a rich history dating back to the late 18th century, the redesigned venue seamlessly blends classic French décor with modern design, providing an unmatched ambiance for those looking to indulge in the finer things in life.
At Les Ambassadeurs, guests can expect to enjoy a wide range of delectable French and European cuisine, accompanied by a meticulously curated selection of wines and cocktails. With a focus on exceptional service and attention to detail, this high-class cocktail joint ensures that every visit is an unforgettable experience. The prime location at 10 Place de la Concorde, in the 8th Arrondissement – Elysee, makes it an ideal spot for visitors seeking a taste of Parisian sophistication.
🗼 Paris Insider's Top Picks! ✨
Dive into the heart of Paris with our handpicked partners. Trusted by thousands, they ensure you experience the best of Paris.
The enchanting atmosphere and high-quality offerings at Les Ambassadeurs continue to attract locals and travelers, earning it numerous positive reviews. As one of the top-choice dining venues in Paris, this distinguished establishment truly offers a remarkable experience for those seeking to immerse themselves in the city's rich culinary and cultural history.
Location and Ambiance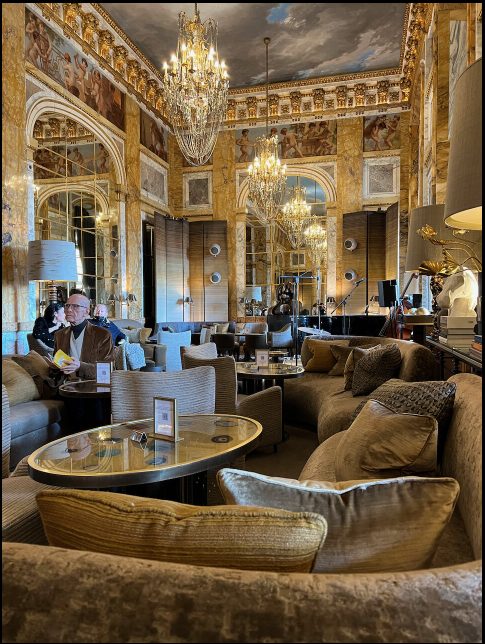 Rosewood Hôtel de Crillon
Les Ambassadeurs is located within the prestigious Rosewood Hôtel de Crillon, one of the most iconic Parisian establishments. With a confident, knowledgeable, and neutral atmosphere, the bar caters to an upscale clientele looking for high-end hotel bars in the heart of the city. The opulent room within the hotel provides a luxurious setting for guests to unwind and enjoy their drinks.
The interior design of Les Ambassadeurs is a combination of elegance and grandeur, featuring marble walls, exquisite chandeliers, and a beautifully painted ceiling. This cohesive display of opulence provides a clear and visually appealing ambiance for patrons, creating an unforgettable experience.
Place de la Concorde
Situated at 10 Place de la Concorde, 75008 Paris, France, in the 8th Arrondissement, Les Ambassadeurs is ideally located for those seeking an authentic Parisian experience. Its proximity to the iconic Place de la Concorde offers visitors a prime spot to indulge in French, European, and international cuisine while soaking in the area's historic charm.
History and Background
Les Ambassadeurs is a historic restaurant in the prestigious Hôtel de Crillon in Paris, France. The hotel dates back to 1758 and has long been a symbol of luxury and refinement in the city. Over the years, Les Ambassadeurs has gained a reputation for its elegance and exquisite cuisine, attracting dignitaries, ambassadors, and members of high society.
The Hôtel de Crillon is an architectural marvel and has a significant historical background. Originally a palace, it was commissioned by King Louis XV and designed by renowned architect Ange-Jacques Gabriel. Some of the most prominent figures in French history have graced its halls, including Marie Antoinette, who took piano lessons at the palace before her tumultuous reign.
Les Ambassadeurs restaurant has been integral to the Hôtel de Crillon's rich history since the mid-19th century. The restaurant has received numerous accolades and held two Michelin stars for its exceptional culinary offerings. Notable chefs such as Dominique Bouchet and Jean-François Piège have helmed Les Ambassadeurs' kitchen, contributing to its reputation as a gastronomic icon in Paris.
In recent years, the Hôtel de Crillon underwent major renovations under the creative direction of acclaimed designer Chahan Minassian. This makeover has brought a contemporary touch to Les Ambassadeurs while preserving the historic charm that has made it so well-known. Today, the restaurant serves as a lounge where patrons can enjoy a curated selection of drinks and refined bar snacks in an opulent setting.
Bartenders and Service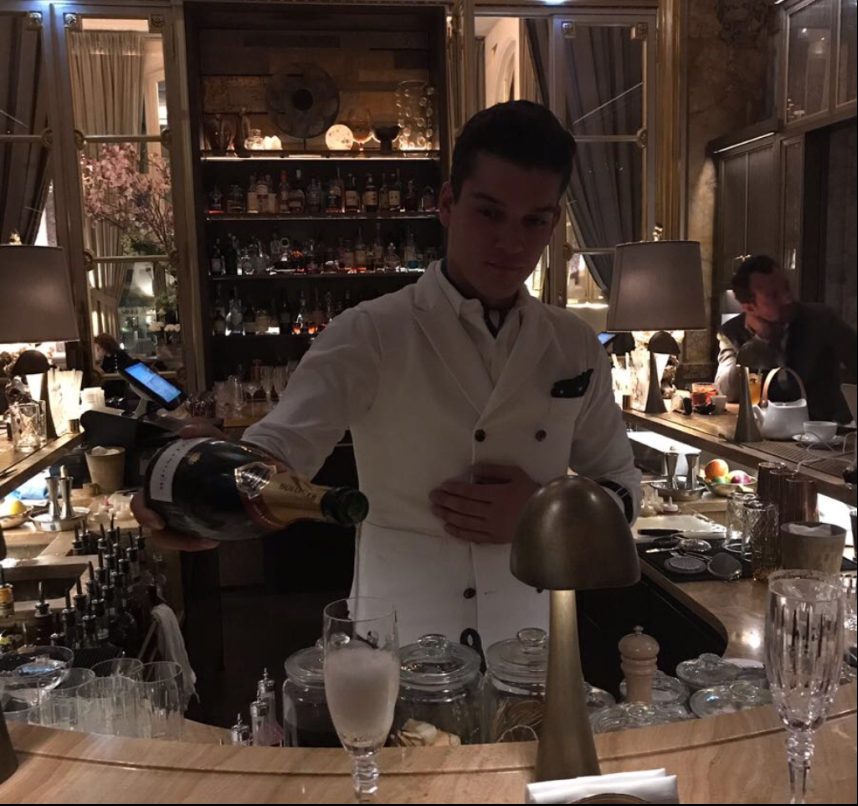 At Les Ambassadeurs, the highly skilled bartenders create fantastic cocktails that travelers have praised in their reviews. Their expertise in mixology is evident in the innovative and delicious concoctions they serve. Visitors to the bar can expect to encounter a wide range of delightful drinks crafted with precision and care.
The service at Les Ambassadeurs is also top-notch, ensuring guests have an enjoyable experience every time they visit. Servers are attentive, knowledgeable, and personable, making patrons feel welcomed and cared for throughout their stay at the bar. They are equipped to handle any requests or to provide recommendations for those unsure of what to order, ensuring a seamless and enjoyable time at the bar.
The Director of Bar Les Ambassadeurs plays an essential role in maintaining the venue's high standards for both the drinks served and the service provided. Under their leadership, the bar continues to offer exceptional customer experiences and deliver on its promise of excellence. The Director's influence is evident in the harmonious and successful operation of Les Ambassadeurs, a testament to their dedication and expertise.
Les Ambassadeurs offers a remarkable combination of talented bartenders, attentive servers, and strong leadership, which creates a memorable and enjoyable experience for its patrons. Anyone visiting Paris should not miss the opportunity to indulge in the exquisite drinks and service that this distinguished establishment has to offer.
Cocktail Menu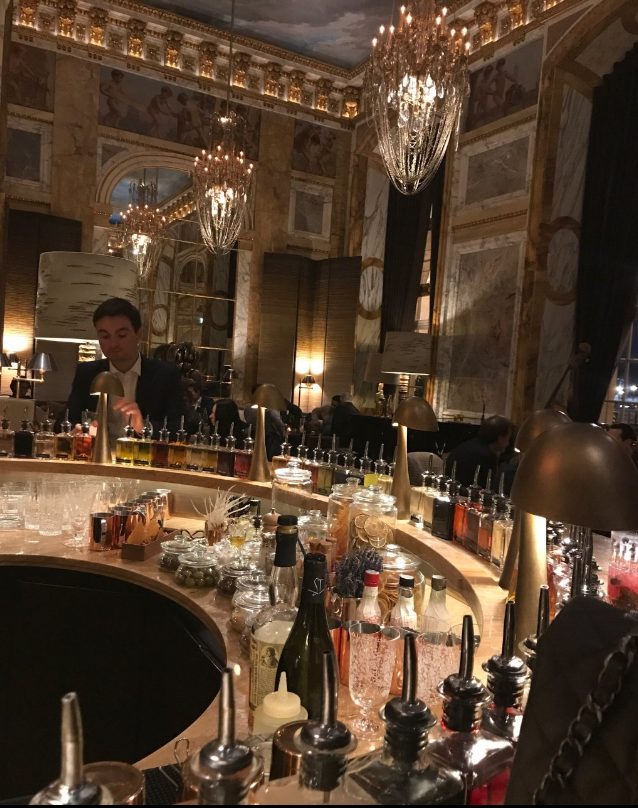 Signature Cocktail Menu
Les Ambassadeurs offers an impressive signature cocktail menu, showcasing their expertise in mixology. Each drink is crafted with attention to detail, using high-quality ingredients. One of their standout cocktails is the Heavy Metal Champagne Flute, which combines French tradition with contemporary flair.
Gin-Based Drinks
Gin enthusiasts will find themselves well-catered to at Les Ambassadeurs. The establishment offers a range of gin-based drinks that highlight the natural flavors and nuances of the spirit. Two popular options are the Gin and Tonic and the French 75.
The Gin and Tonic is a classic choice, combining gin with tonic water and garnished with a twist of lemon or lime. It is a testament to Les Ambassadeurs' commitment to perfecting traditional cocktails.
The French 75 is another enticing gin-based option, featuring gin, lemon juice, simple syrup, and a splash of champagne. This elegant drink is served in flute glass, exemplifying the sophistication that Les Ambassadeurs brings to their cocktail menu.
In addition to these gin-focused drinks, the bar offers other classic concoctions like the Negroni and the Martini. The Negroni is a well-balanced blend of gin, Campari, and sweet vermouth, while the Martini provides a timeless combination of gin (or vodka) and dry vermouth. Each cocktail helps showcase the breadth of the mixological prowess at Les Ambassadeurs, ensuring that guests find something to suit their tastes.
Unique Features and Art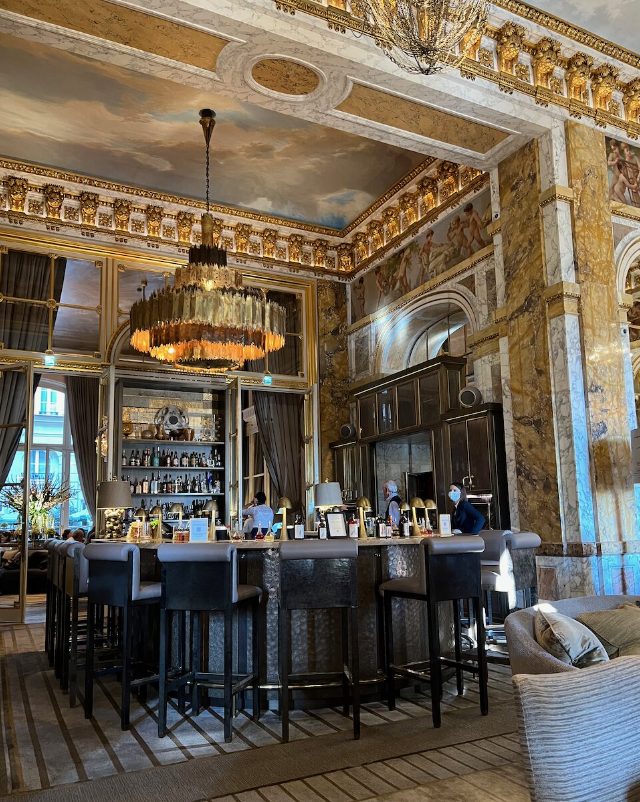 Les Ambassadeurs is a hotspot for art enthusiasts, this refined establishment showcases its prominent collection of contemporary and public art pieces.
The interior of Les Ambassadeurs features an exquisite blend of classic French architecture and modern design elements. The expert lighting creates a warm, inviting atmosphere that moves harmoniously with refined aesthetics. The thoughtful placement of art pieces around the room adds to the overall charm, making it an ideal spot to unwind on any day of the week, from Monday to Saturday.
The food menu of Les Ambassadeurs is no less exquisite than the interior itself, offering a range of culinary delights that tantalize the taste buds. One of its signature dishes is Brie, a mouthwatering French cheese that pairs well with its wide selection of fine wine. The bar also serves gourmet snacks, such as olive pits, for those who prefer lighter bites.
The unique features and art at Les Ambassadeurs make it a must-visit spot in Paris. Its stunning artwork and interior design and its exceptional food and beverage offerings create an unparalleled experience for patrons and visitors alike.
Hours and Accessibility
Les Ambassadeurs, located in Paris, is a popular venue that offers guests an unforgettable experience. The establishment is open for lunch, providing visitors with a wide selection of French, Bar, and European cuisine. The restaurant is highly rated, as evidenced by the 4.5 rating on TripAdvisor, and it has also been awarded the Travelers' Choice in 2022.
The venue is known for its excellent service and value, giving customers a memorable experience. The menu's price range varies, with options ranging from $11 to $540. This makes it accessible to a broad range of guests, from those seeking an affordable meal to those looking for a fine dining experience. Hotel guests can also use the restaurant's high-quality offerings and convenient location.
See Related: Restaurant La Tour d'Argent
Comparisons to Other Hotel Bars
When comparing Les Ambassadeurs to other hotel bars in Paris, it's essential to consider its unique setting and overall experience. The Ritz and Four Seasons are other luxury hotels in the city with notable bars.
The Ritz Paris features the well-known Bar Hemingway, an intimate and cozy cocktail bar steeped in history. Named after American writer Ernest Hemingway, the bar offers a charming atmosphere with its book-lined walls and vintage photographs. In contrast, Les Ambassadeurs boasts an opulent 18th-century palace setting with frescoed ceilings, providing a more glamorous and lavish experience.
The Four Seasons Hotel George V houses the sophisticated Le Bar, which offers a chic and contemporary ambiance. Visitors can indulge in innovative cocktails and a menu infused with Mediterranean flavors. Les Ambassadeurs also offers a modern touch to its classic setting with a contemporary cocktail menu featuring creative twists on traditional drinks.
While Les Ambassadeurs receives praise for its stunning interiors and high-quality drinks, some hotel bars may struggle with bad drinks or smokiness. Hotel bars must maintain a high standard of mixology to avoid disappointing patrons. Additionally, addressing issues related to smokiness in indoor areas can significantly improve the overall experience for guests. Les Ambassadeurs seems to successfully avoid these common pitfalls, with travelers consistently praising the quality of its drinks and ambiance.
Les Ambassadeurs compares favorably to other hotel bars, such as the Ritz's Bar Hemingway and the Four Seasons' Le Bar, in terms of setting, cocktail offerings, and overall guest experience. The opulent yet contemporary atmosphere of Les Ambassadeurs stands out as a significant highlight, making it a must-visit destination in Paris for those seeking an unforgettable cocktail experience.
Frequently Asked Questions
Les Ambassadeurs offers a variety of French, Bar, and European cuisines. The price range for the dishes varies from $11 to $545. The restaurant primarily serves lunch meals, showcasing various options catering to different tastes.
How are the reviews for Les Ambassadeurs in comparison to Bar Hemingway?
Les Ambassadeurs has received favorable reviews, with a 4.5 out of 5 rating on Tripadvisor and a higher ranking than Bar Hemingway. However, comparisons between Les Ambassadeurs and Bar Hemingway require individual preferences and experiences, as both establishments have unique offerings and atmospheres.
Does Hôtel de Crillon feature the Bar Les Ambassadeurs?
Yes, Les Ambassadeurs is located within the Hôtel de Crillon, a historic and luxurious hotel in Paris. The bar can be found at 10 Place de la Concorde, 75008 Paris, France, in the 8th Arrondissement, also known as Faubourg Saint-Honore.
What is the historical significance of Les Ambassadeurs?
Les Ambassadeurs is a renowned establishment with a rich history dating back to the 18th century. It has been a part of the legendary Hôtel de Crillon, which in turn has been a significant landmark in Paris. The bar's luxurious and elegant ambiance reflects the glamour of its historical roots.
Are there any notable cocktails served at Les Ambassadeurs?
While specific cocktail names have not been mentioned in the search results, the bar is known for its exceptional drink offerings. Les Ambassadeurs has a reputation for mixing exquisite cocktails that are both traditional and innovative, ensuring that patrons have a remarkable experience.
How does Les Ambassadeurs compare to bars like Moonshiner and Cravan in Paris?
Each establishment, including Les Ambassadeurs, Moonshiner, and Cravan, presents its distinct charm and atmosphere. Les Ambassadeurs is best known for its luxurious setting and French bar appeal, while Moonshiner offers a more speakeasy ambiance, and Cravan showcases a modern approach to cocktails. The best choice ultimately depends on individual preferences and the experience one seeks in a Parisian bar.
Related Resources