The restaurant's dining room, located on the 6th floor, offers one of the most beautiful and romantic views of Paris, looking over Notre Dame. This place opened in 1582, and the King Henri the Third discovered the fork when he had dinner there. Frederic Delair, its owner under the Third Republic, created the famous "canard au sang" or "Canard Tour d'Argent" and decided that each duck would bear a number.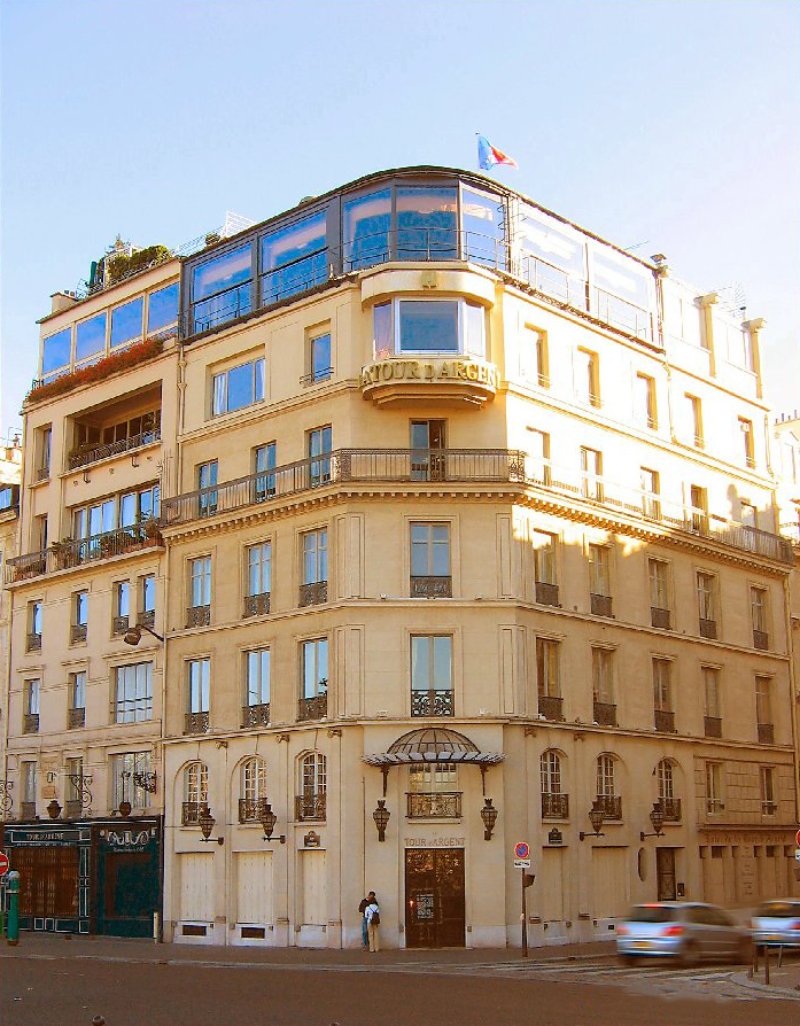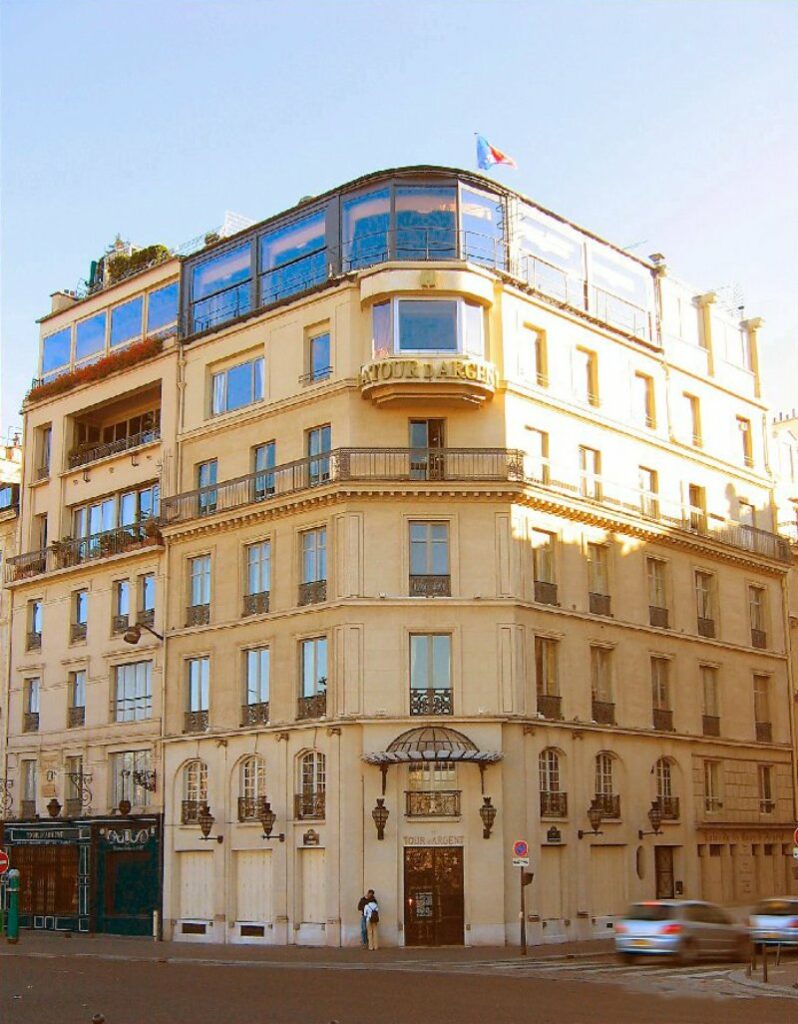 Nestled on the banks of the Seine River in Paris, La Tour d'Argent is a legendary French restaurant known for its sumptuous cuisine and unparalleled dining experience. With a history dating back to the 16th century, this prestigious establishment has earned its reputation through offering exceptional food, impeccable service, and an intimate atmosphere that keeps patrons returning for more.
Upon entering La Tour d'Argent, guests are immediately captivated by the stunning views of the restaurant's location. Overlooking the Île Saint-Louis and Pont de la Tournelle, the setting provides a breathtaking backdrop for a Michelin-starred meal. As visitors settle into their seats, they are taken on a delectable culinary journey through expertly prepared French dishes, accompanied by an extensive wine list that rivals the finest cellars in the world.
The continued accolades and praise for La Tour d'Argent in reviews from reputable sources such as Condé Nast Traveler and Fodor's stand as a testament to the restaurant's dedication to maintaining its esteemed status. Both locals and travelers seeking a memorable dining experience will find that La Tour d'Argent truly delivers on its promise of exquisite cuisine and unparalleled service.
History of La Tour d'Argent
Terrail Family Ownership
La Tour d'Argent is considered one of the oldest restaurants in Paris, claiming to have been founded in 1582. It was originally built as an inn in the 16th century and later became a renowned restaurant. Throughout its long history, the establishment has been under the ownership of the Terrail family.
King Henry IV and Frédéric Delair
The restaurant boasted having had King Henri IV among its frequent patrons. However, the documentation to support this claim is lacking. In the late 19th century, under the management of Frédéric Delair, La Tour d'Argent gained further prominence and prestige in the culinary world.
World War II and Renovations
During World War II, the restaurant's business was affected, but it persevered. Post-war renovations helped to modernize and improve the establishment, maintaining its prestigious reputation. Today, La Tour d'Argent serves its guests with a breathtaking panorama of Paris, overlooking the Seine, Notre-Dame, and Ile Saint-Louis.
La Tour d'Argent has a rich and storied history as a Parisian institution, captivating the imaginations of diners and visitors for centuries.
Ambiance and Decor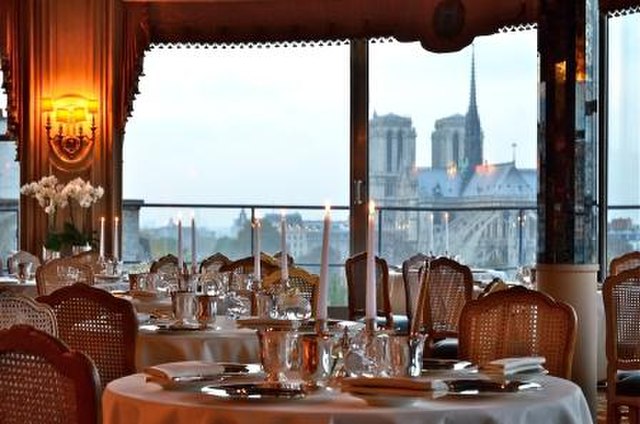 Dining Room and Views
La Tour d'Argent is a truly captivating dining experience offering an elegant ambiance and remarkable views. The dining room, located on the 6th floor, boasts a sophisticated and classic French luxury design. From here, diners can enjoy an exquisite view of the city, including the iconic Notre Dame, the stunning Île Saint-Louis, and the beautiful Seine. The atmosphere in the dining room is refined, with well-spaced tables and good lighting, enabling guests to comfortably take in the breathtaking scenery.
Elevator and Atmosphere
Upon arrival at La Tour d'Argent, guests are greeted by a unique and impressive elevator that transports them to the 6th floor dining room. This historical touch adds a sense of grandeur to the overall experience. The restaurant's atmosphere is enhanced by its rich culinary heritage, which dates back to 1582, and the attentive, knowledgeable staff that adds to the overall prestigious dining experience. The blend of tradition and contemporary charm found at La Tour d'Argent creates a memorable ambiance that perfectly complements its location along the Quai de la Tournelle.
Signature Dishes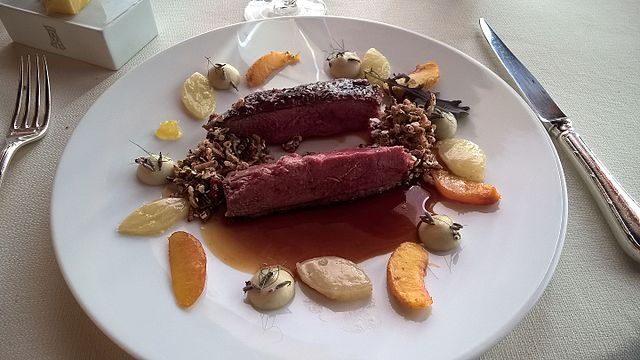 Pressed Duck
La Tour d'Argent is acclaimed for its signature dish, Pressed Duck. This exceptional dish offers guests a unique culinary experience and is steeped in history. The duck is roasted to perfection, imparting a rich, tender flavor to the meat. The highlight of this dish is the elaborate pressing technique used to extract juices from the carcass, which forms the base for a rich sauce. The restaurant has a long-standing tradition of presenting guests with a numbered certificate to commemorate their meal.
Fish
Another standout feature on La Tour d'Argent's menu is the Fish. They offer a variety of expertly prepared fish dishes, showcasing the freshest, high-quality ingredients. The selection may vary depending on seasonality and availability, but guests can expect well-crafted dishes with exceptional flavors and textures. The restaurant's chef presents a creative spin on traditional fish dishes, resulting in an unforgettable culinary experience that speaks to the establishment's culinary heritage.
Ratatouille
Lastly, the Ratatouille at La Tour d'Argent is a dish worth mentioning. This classic French dish is elevated by the skilled preparation and thoughtful presentation that the restaurant is known for. The dish combines fresh, seasonal vegetables in a perfectly seasoned and balanced manner, making it a delightful accompaniment to other dishes on the menu.
In conclusion, the signature dishes at La Tour d'Argent demonstrate the restaurant's dedication to providing guests with a memorable dining experience that is both rooted in tradition and elevated by modern culinary expertise. The Pressed Duck, various Fish dishes, and Ratatouille stand out as exceptional offerings on their menu, each deserving of the praise they have received.
Wine Selection and Sommelier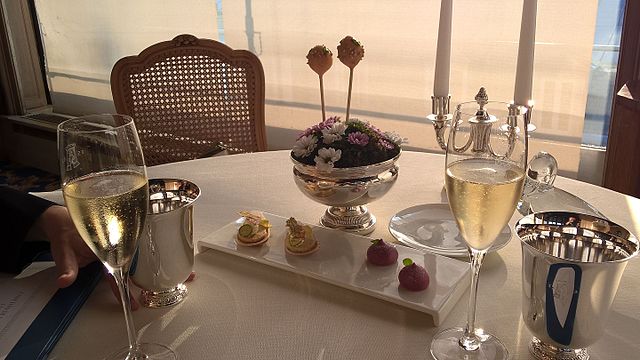 La Tour d'Argent's Wine Cellar
La Tour d'Argent's wine list is highly renowned and an essential component of the overall dining experience. The restaurant's wine cellar is a treasure trove for wine enthusiasts, boasting an astounding collection of 450,000 bottles. This extensive selection caters to a diverse range of tastes and preferences, offering something for everyone.
The sommelier at La Tour d'Argent plays a vital role in guiding guests through their wine journey. Offering expert advice and detailed explanations of each wine's characteristics, the sommelier ensures that every diner finds the perfect bottle to complement their meal. Whether a guest prefers a complex red or a crisp white, the sommelier has the knowledge and expertise necessary to make an informed recommendation.
The wines stored in La Tour d'Argent's wine cellar originate from various regions, allowing diners to enjoy vintages from famous wine-producing areas. With a particular focus on French wines, the cellar provides a delightful opportunity to explore the rich and nuanced flavors that have become synonymous with France's esteemed wine culture.
In conclusion, the Wine Selection and Sommelier section of La Tour d'Argent is an integral aspect of the restaurant's identity and success. With an exceptional wine list, an impressive wine cellar, and knowledgeable sommeliers to guide diners through their sensory experience, guests at La Tour d'Argent can expect a truly memorable and enjoyable evening.
Menu and French Cuisine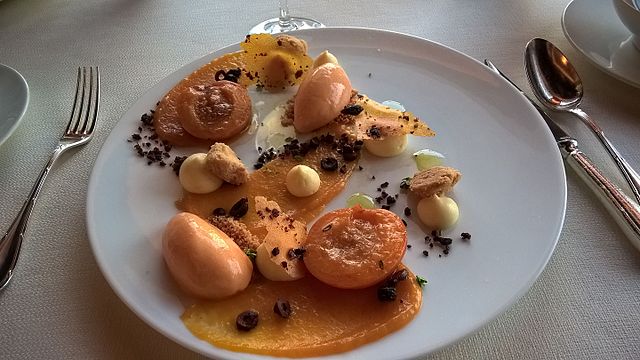 The renowned restaurant La Tour d'Argent serves some of the finest French cuisine in the heart of Paris. The establishment has a rich history, and its culinary offerings showcase the best of French gastronomy, prepared by their talented chefs. The dining experience at La Tour d'Argent is made all the more memorable by its enchanting views of the Seine and Notre-Dame.
Tasting Menu
A highlight of La Tour d'Argent's menu is their Tasting Menu, allowing guests to indulge in an extraordinary selection of dishes, showcasing the chef's culinary prowess and the inn's commitment to using high-quality ingredients. Each dish is meticulously presented, reflecting its elegance and impeccable taste. The Tasting Menu is ever-changing, designed to delight both regular patrons and newcomers by offering new and exquisite flavors.
On the Tasting Menu, you may find an array of beautifully crafted dishes, such as pan-seared foie gras, confit or roasted duck prepared in various ways, and delicate seafood masterpieces. The skillful use of seasonal produce ensures the freshness and vibrancy of each dish. The meal is further elevated by being accompanied by expertly chosen wines, perfectly complementing the flavors of each course.
At La Tour d'Argent, the French cuisine goes beyond just the Tasting Menu. They are also known for their classic pressed duck (canard à la presse), a signature dish that has helped define the restaurant's reputation for excellence. This unique delicacy, which involves pressing the duck's carcass to extract its rich juices, exemplifies the high level of skill and dedication that the chefs at La Tour d'Argent possess, ensuring a truly memorable dining experience for all who visit.
Making a Reservation
Anniversary and Special Occasions
La Tour d'Argent, a prestigious restaurant in Paris, is an excellent choice for those celebrating an anniversary or any special occasion. To secure a table at this iconic establishment, making a reservation in advance is highly advisable. Reservations can be made through their website, ensuring a smooth process for guests.
The opulent setting of La Tour d'Argent offers an ideal backdrop for commemorating life's significant milestones. Patrons can admire breathtaking city views while indulging in exquisite French cuisine expertly crafted by talented chefs. With its rich culinary history and distinguished wine list of over 300,000 bottles, this restaurant sets the stage for an unforgettable experience.
While making a reservation for your special celebration, be sure to inform the staff of any specific requests or considerations related to the nature of the occasion. This will enable them to accommodate your needs best and enhance your experience at La Tour d'Argent.
Formal Service and Hospitality
La Tour d'Argent is renowned for its formal service and hospitality. The experience begins as soon as guests step inside the establishment. The restaurant's staff ensures that guests feel at home from the moment they arrive, making every effort to create a sense of comfort and belonging.
The waitstaff at La Tour d'Argent is professionally trained, offering impeccable service throughout the course of the meal. They are knowledgeable about the menu items and the restaurant's extensive wine list, which includes a jaw-dropping collection of 300,000 bottles. Their expertise enables them to confidently guide diners in pairing the perfect wine with their chosen dishes.
In addition to ensuring that every detail of the dining experience meets the highest standards, the staff at La Tour d'Argent is skilled in the art of creating a personal connection with each guest. Their warm hospitality creates an atmosphere that allows diners to feel at ease while enjoying the exquisite dining experience.
The formal service at La Tour d'Argent is not only about providing the utmost in fine dining but also about preserving the restaurant's storied history. The establishment dates back to 1582 and has hosted illustrious guests such as Edward VII, Charlie Chaplin, and Grace of Monaco. The staff's dedication to upholding the restaurant's legacy is evident in both their world-class service and their commitment to maintaining the timeless ambiance of the dining room.
Overall, the combination of elegant formality and welcoming hospitality that La Tour d'Argent offers makes dining at this Parisian institution a truly remarkable experience. The staff's attention to detail, knowledge, and professionalism ensure that guests leave the restaurant with memories that will last a lifetime.
Reviews and Accolades
La Tour d'Argent, a renowned French restaurant located in Paris, has received numerous accolades and rave reviews from both experts and travelers. Offering a stunning view of the Seine, Pont de la Tournelle, and Île Saint-Louis, the restaurant has maintained a reputation for its superb cuisine and impeccable service.
Although the Michelin Star count of La Tour d'Argent currently stands at one, the prestigious culinary institution has held three stars in the past. The drop in stars has not, however, diminished guests' enjoyment of the exquisite dishes served at this historic establishment.
The restaurant has become iconic for its specialty in canard à la presse (pressed duck), with the dish often mentioned in positive TripAdvisor reviews. Satisfied guests appreciate not only the culinary mastery of the chefs but also the historic ambience of the establishment while they feast on the sumptuous offerings.
Famous personalities, both in France and beyond, have frequented La Tour d'Argent throughout the years. Celebrities seeking an elite French dining experience have made this restaurant a preferred choice, further solidifying its status among the best establishments in Paris.
In summary, La Tour d'Argent continues to be celebrated for its outstanding French cuisine, excellent service, and rich history. Its one Michelin Star serves as a testament to the restaurant's unwavering dedication to quality dining experiences, attracting both travelers and celebrities alike.
See Related: Restaurant Les Ambassadeurs
Frequently Asked Questions
What are the prices like at La Tour d'Argent?
La Tour d'Argent is a high-end dining establishment whose prices reflect its Michelin-starred status. Expect to pay premium prices for a dining experience that combines culinary heritage, a vast wine selection, and unforgettable views of Paris.
What is the dress code for La Tour d'Argent?
Although there is no strict dress code at La Tour d'Argent, guests are encouraged to dress smartly for the sophisticated ambiance of the restaurant. Formal attire is not required, but it is recommended to wear smart-casual clothing to match the elegant surroundings.
Is La Tour d'Argent currently open?
As of June 24, 2023, La Tour d'Argent is open. The restaurant operates from 12:00 to 2:00 PM and 7:00 PM to 10:30 PM. It is always best to check their website or contact them directly for the most up-to-date information on their hours of operation.
What are the notable dishes at La Tour d'Argent besides pressed duck?
While the pressed duck is the iconic dish at La Tour d'Argent, the restaurant offers a range of creative and sophisticated dishes that showcase French culinary techniques. Some other notable dishes include their pan-seared foie gras and lobster dishes and seasonal and locally sourced ingredients incorporated into the menu.
What are some key highlights of their wine list?
La Tour d'Argent is known for its extensive wine list, boasting a collection of over 300,000 bottles. The selection includes rare vintages and a broad spectrum of price points, catering to wine connoisseurs and those seeking an unforgettable dining experience.
What is the history behind La Tour d'Argent's long-standing reputation?
La Tour d'Argent's reputation as a culinary institution in Paris dates back to its founding in 1582. Over the centuries, the restaurant has maintained its high standards and innovative approach to French cuisine, resulting in a unique dining experience that combines history, culinary expertise, and breathtaking views of the city.