Tour Details
Duration: 5 hours
Rating: 3.8
Tour Description
Experience the magic of Paris with this Dinner and Show at the Moulin Rouge tour. Start your evening with a convenient hotel pickup and enjoy a scenic drive through the city's iconic landmarks. Upon arrival, immerse yourself in the vibrant atmosphere of the world-renowned Moulin Rouge cabaret. Savor a delicious dinner featuring the finest French cuisine and champagne while being entertained by the spectacular performances of the talented dancers and musicians. This unforgettable experience captures the essence of Parisian culture and history. Book now and let them take care of the rest.
Description
Get ready for a night of sensory overload as you embark on a journey to the iconic Moulin Rouge for an unforgettable dinner and show experience. Your five-hour adventure begins with hotel pickup, where you'll be whisked away to the heart of Paris.
Once you arrive, prepare to be transported to another world as the lights dim and the curtains rise. The Moulin Rouge's world-famous cabaret dancers will mesmerize you with their sultry moves, while the live music and colorful costumes will leave you in awe.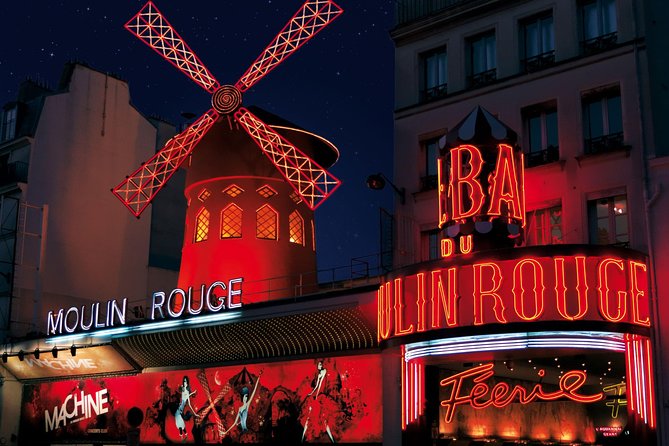 And let's not forget about the food – indulge in a sumptuous three-course meal, complete with delectable French cuisine and wine. This is a night you won't soon forget, so sit back, relax, and let the magic of the Moulin Rouge transport you to a different time and place.
Related Resources