Tour Details
Duration: 2 hours
Rating: 4.1
Tour Description
Welcome to the City of Love, Paris! If you're looking for an unforgettable way to explore the city's iconic landmarks, then the Paris Big Bus Hop-On Hop-Off Tour is the perfect choice for you. This tour offers a unique and comprehensive way to experience the city's most famous attractions, all from the comfort of a double-decker bus.
As you hop on board, you'll be greeted by a friendly local guide who will be your companion throughout the tour. They'll share fascinating insights into the city's rich history, art, and culture. The tour is designed to cater to all types of travelers, whether you're a first-time visitor or a seasoned traveler.
The tour takes you to some of the most famous attractions in Paris, such as the Louvre Museum, the Eiffel Tower, and Notre-Dame Cathedral. You'll also get to explore some lesser-known hidden gems, such as charming neighborhoods and local restaurants. The bus stops at strategic locations, allowing you to hop off and explore at your leisure before hopping back on the bus to continue your journey.
One of the unique aspects of this tour is the flexibility it offers. You can plan your itinerary according to your interests and preferences, and the tour guide will be happy to provide recommendations and tips to make the most of your trip. Whether you're interested in art, history, or simply want to soak up the city's ambiance, this tour has something for everyone.
So, if you're planning a trip to Europe, make sure to include Paris on your itinerary and book the Paris Big Bus Hop-On Hop-Off Tour for an unforgettable experience.
Exploring Paris at your own pace is made easy and convenient with the availability of Paris Big Bus Hop-On Hop-Off Tour. Bus operators provide numerous services to assist visitors in discovering The City of Lights through its rich culture and history without the hassle of navigating public transport. All that one has to do is select a Paris tour suitable for their budget and preferences from the plethora offered by these companies, making this an ideal way to explore Paris!
Top Hop On Hop Off Paris Bus Tour Companies
Exploring Paris with a hop-on and hop-off bus tour allows you to experience the city's iconic sights, rich culture, and renowned attractions at your own pace. Big Bus Paris, Toot Bus Paris, and Foxity are three acclaimed companies offering unique services for visitors planning such tours.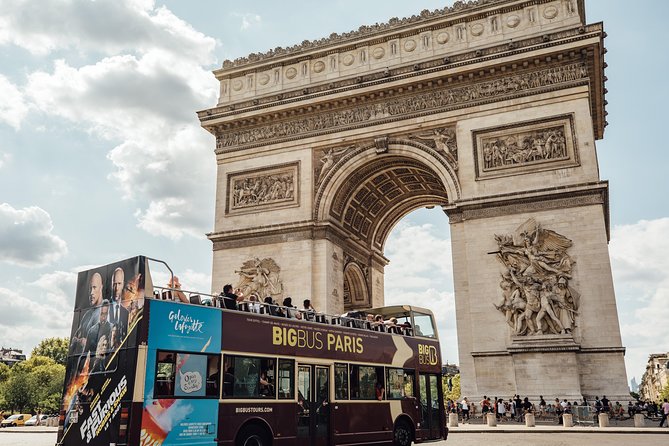 These double-decker buses provide captivating views as they take one through the sites. They are enhancing sightseeing experiences along the way! The advantages offered by this style of touring – like easy access to major landmarks and comprehensive audio or live commentary – make it quite popular among tourists from around the world. Let us delve into each company's offerings before deciding which is best suited for our needs:
Big Bus Paris
Big Bus Paris stands out among other bus tours due to the variety of tickets available, a live guide, and coverage of significant attractions in the city. You can select from different ticket options based on your preferences: Discover Ticket (24 hrs), Essential Ticket including a one-hour Seine River cruise (also 24hrs) or Explore Ticket with 48 hours service plus cruise included. Big Bus offers a night tour by bus featuring stops at ten key sights, such as the Louvre Museum, displaying art pieces from Leonardo da Vinci up to Eugène Delacroix's work.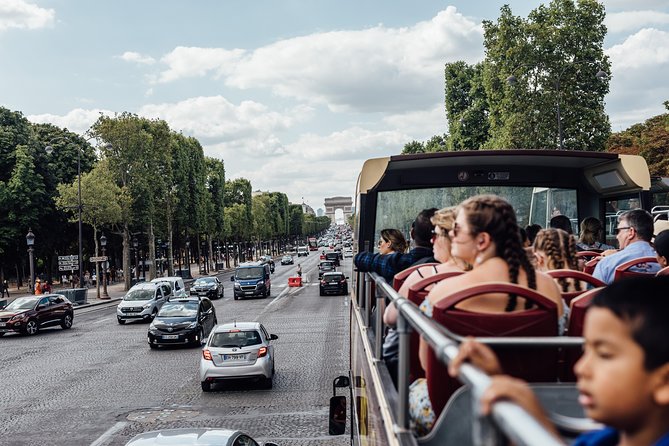 The company also provides real-time tracking through its app, where you'll find maps guiding you toward the closest stop. Shopping areas and dining facilities close by are displayed too so that everybody may explore Paris, hopping on and off when desired, all while having buses running regularly for convenience.
Toot Bus Paris
Toot Bus Paris offers passengers various ticket options to suit their needs, ranging from €39.60 (1-day adult) to €63.90 (3-day Must See Paris). These tickets give access to the hop on/off bus and themed walking tours and audio guides for a fun experience of exploring around one or all three routes—Blue Route, Kids Tour & Paris by Night. Customers can opt for an extended tour with a Seine River cruise at no extra cost! The 2-hour-long Express Tour also features an audio guide, making Toot Bus stand out among other traditional sightseeing trips in the city of lights -Paris.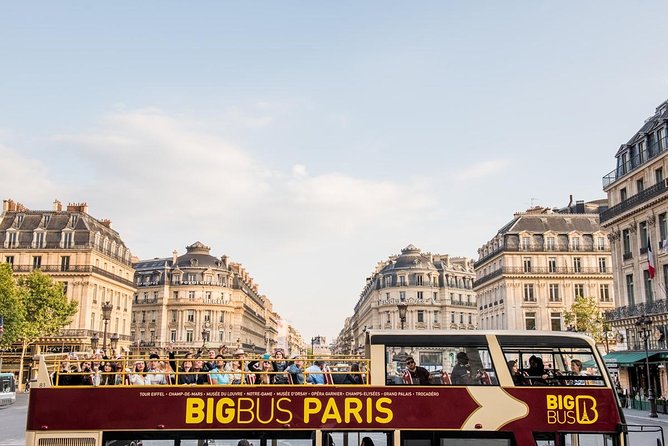 Foxity
For those who prefer a more economical option, Foxity provides an affordable hop-on-and-off bus tour. Their single route has audio guides available in five languages with either one or two-day passes to choose from – adult tickets cost €42 for 1 day of use and €49 for two days.
Children between 4-12 years old pay only €23 per full 24-hour period (and receive free admission alongside each paying adult). Though their rating might seem slightly lower according to reviews posted on TripAdvisor, the great value offered by the reduced fees makes Foxity's service highly attractive among budget-conscious travelers.
Paris Landmarks and Attractions
Hop on hop off bus tours in Paris offer a great way to experience the city's iconic landmarks and attractions. One of its most popular stops is Trocadéro, which features breathtaking views of the Eiffel Tower from a large garden.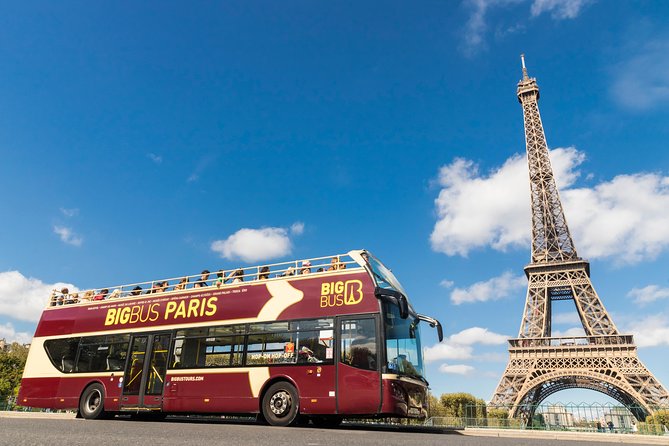 Travelers will be able to explore other sights, such as The Arc de Triomphe or The Champs de Mars while taking advantage of sightseeing trips organized by these big buses tour companies. Lastly, culture lovers can find solace at Notre Dame or visit world-renowned artists' works exhibited inside the Orsay Museum, comprising pieces from Monet through Cezanne to Van Gogh's masterpieces. Hopping on/off this type of Tour gives visitors access to plenty of famous sites with their fantastic facilities, allowing hassle-free exploration throughout the City Of Lights!
Ticket Options and Pricing
When selecting ticket options and pricing, each hop on/off bus tour company offers different selections to cater to individual preferences and financial needs. For example, Big Bus Tours, Toot Bus Paris, or Foxity may provide tickets like the Fast Pass of Paris, which includes access to multiple attractions, skip-the-line privileges, and transportation around the city.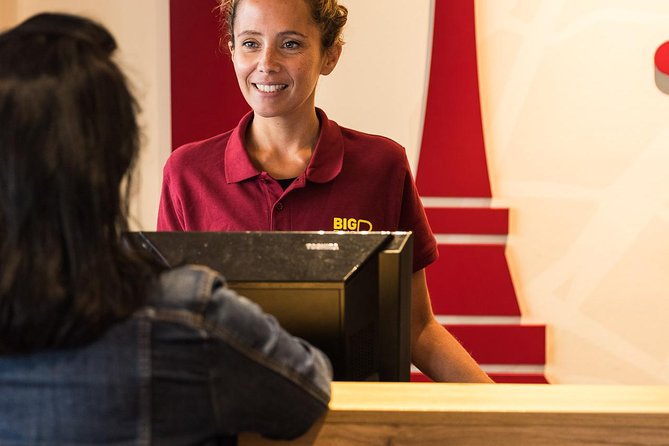 Travelers need to compare offered packages, inclusions, and costs before booking a service that meets one's requirements. People should take advantage of combo passes – such a combination can result in savings and added convenience while exploring Polaris.
Discounts and Deals
Savvy tourists can use various deals and discounts to help reduce the cost of hop on/off bus tours in Paris by up to 50%. For instance, websites like Tiqets often feature promotional codes for Tootbus and Batobus rides.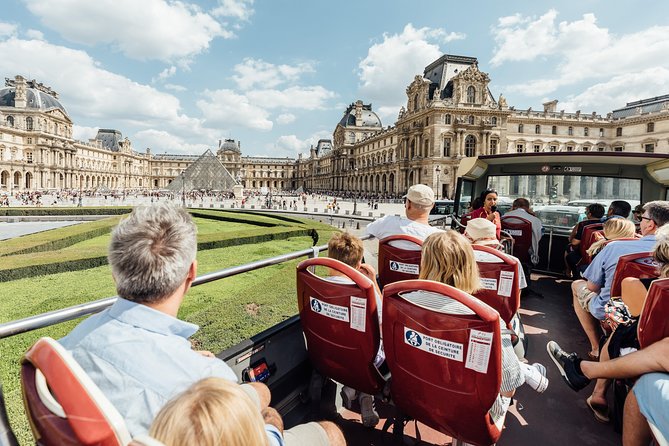 To get optimal value, it is a good idea book tickets ahead since this way you will be able secure discounted prices. By researching properly and making your plans early, one can enjoy the city's attractions without having a huge financial impact.
Customizing Your Hop On Hop Off Experience
The advantage of a hop-on and off-bus tour is that it can be customized to fit your particular needs, schedule, or interests. Big Bus Paris and Toot Bus Paris offer real-time tracking through their mobile apps, allowing you to plan ahead for desired stops along the route.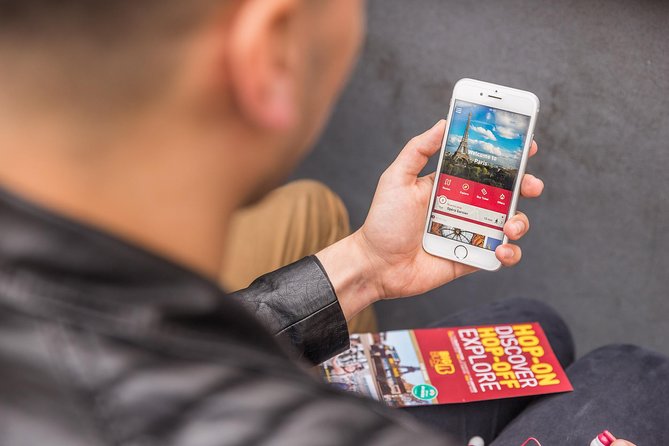 Take time when hopping off at places that pique your curiosity. Explore areas where possible, then continue with the flexible ticket most companies offer once you're ready. A unique experience awaits those who immerse themselves in this historic city's atmosphere using these designated points as jumping boards!
Seine River Cruise and Night Tours
If you want to deepen your experience of the wonderful city of Paris, a great way is by booking a hop on/hop off bus tour or taking a Seine River cruise. Big Bus Tours has an amazing two hour night journey while Toot and Foxity also have three-hour night tours for visitors who wish to gaze at iconic landmarks in evening light creating everlasting memories. All these excursions give different perspectives, making discovering this City of Lights even more worthwhile.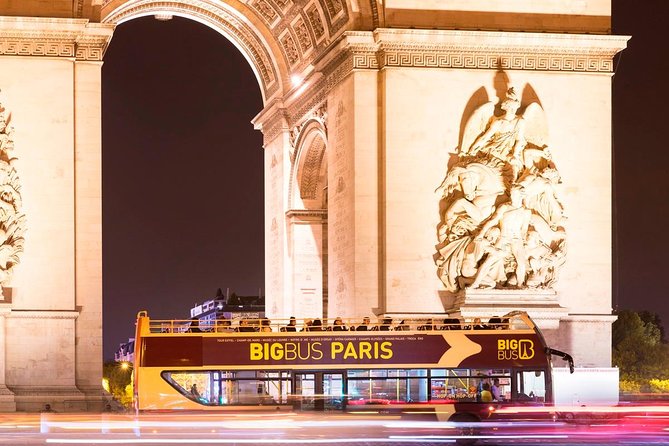 Accessibility and Convenience
When selecting a hop-on, hop-off bus tour in Paris, ease of access and convenience are paramount. The buses used for these tours typically provide wheelchair accessibility while maintaining an ample interior space to fit wheelchairs, strollers, or any other mobility apparatus. Thus guaranteeing that everyone will be able to explore the city's attractions comfortably.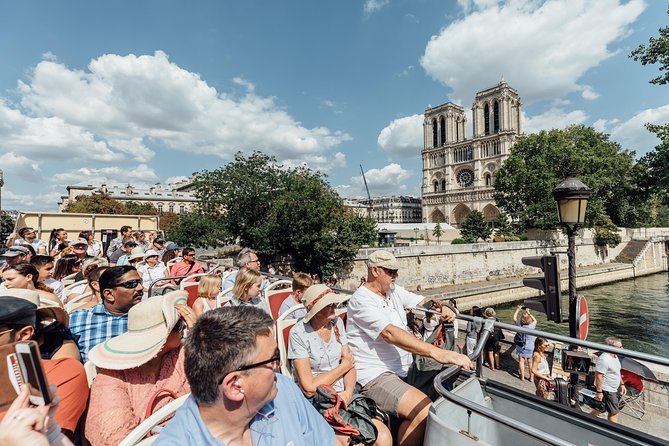 Most such services offer departures every 15-30 minutes, so you can easily get onboard at your chosen stops and have the flexibility necessary when planning your excursion. Several operators also boast real-time tracking systems, which help those taking part manage their time more efficiently during their day out on the tour bus.
Alternatives to Hop On Hop Off Bus Tours
When exploring Paris, travelers can look to bus tours as an alternate method rather than a hop-on, hop-off tour. These alternative options, like walking excursions, audio-guided city trips, and using public transportation, offer distinct viewpoints of the area. Public buses present wider coverage than just a one-day tourist ticket for these vehicles. It also offers an inexpensive way to explore the City of Light! Using the Bonjour RATP app, it has become simpler to find routes, plot your journey in the beautiful Parisian streets and uncover hidden gems while immersing yourself into their local culture via bus or even hopping off when you see something interesting!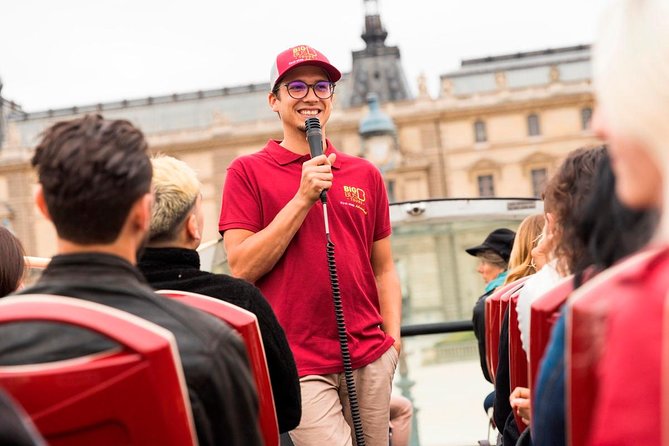 Discovering Paris at your leisurely pace is easier with hop-on-hop-off bus tours, which provide access to renowned attractions and hidden gems. Take your pick of Big Bus Paris for comprehensive coverage, Toot Bus Tours if variety's more up your alley, or the economical Foxity. No matter your choice, a tour will be tailored just for you! So don't hesitate – jump onto one of these amazing buses and explore everything this gorgeous City of Lights offers while creating everlasting memories!
Related Articles
Big Bus Paris Hop-On Hop-Off Tour with Optional River Cruise
Recent Articles
Traveling to France presents an opportunity to experience its rich culture, cuisine, and architecture. Amidst the anticipation, it's essential to consider practicalities to make your trip seamless and enjoyable. One such practicality is ensuring that your electronic devices are compatible with the French electrical system. France operates on a 230V supply voltage and 50Hz, which…

Rolling on the outskirts of Paris, near the region's main train station, Versailles is a timeless masterpiece that transcends all seasons. But what's the most comfortable and efficient way to reach this grand destination from the bustling city center?

Paris, the quintessential city of art, culture, and history, offers many accommodation options for the discerning traveler. Nestled in the heart of the city are hotels that provide comfort and the convenience of proximity to one of the world's most renowned museums, the Louvre. An emblem of Parisian heritage, the Louvre Museum beckons tourists with…
FAQs
Which Paris hop-on hop-off bus is best?
Discover the City with the Tootbus Hop-on/Hop-off Bus Tour. This bus tour is a great way to explore Paris conveniently and offers amazing value for money. You can get off or board onto any of the stops along its route, giving you plenty of flexibility. The audio commentary in different languages will also give insight into all areas passed during the trip throughout Paris. Not only does this hop-on/hop-off tour provide time freedom, but it's full of information about each location!
Are hop on hop off buses in Paris worth it?
Exploring Paris at your speed is made easier with the hop on and off buses. One can visit any stop of their choice while experiencing all that the city has to offer without spending a fortune or struggling to get around via public transport. This service makes it convenient for tourists as they don't have to worry about time constraints with sightseeing tours through regular guided services. Simply hopping on and off at whichever spot you desire.
What landmarks can I expect to see on a hop-on, hop-off bus tour in Paris?
Visitors can explore the city of Paris on a hop-on, hop-off bus tour to take in iconic attractions such as Notre Dame Cathedral and Arc de Triomphe. This sightseeing experience allows passengers to disembark at famous sites like The Louvre Museum or snap pictures near the Eiffel Tower. Hop aboard this convenient tour for an unforgettable journey through remarkable sights!
How much does riding the hop-on, hop-off bus in Paris cost?
An adult ticket for the Hop on Hop off the bus in Paris ranges from €52.20-€63.90, and a child ticket costs between €28.80-€36.90 to ride this hop around service.
How do I choose the best hop-on, hop-off bus tour company in Paris?
Choosing the best hop-on, hop-off bus tour for Paris entails evaluating factors such as routes, ticket choices, and pricing from companies like Big Bus Paris, Toot Bus Paris, or Foxity before deciding. Comparing features between each of these will ensure that you get to enjoy your journey in an informed manner.