Tour Details
Duration: 2 hours
Rating: 4.9
Tour Description
Discover the beauty of Paris in style with a private tour in a vintage open-top Citroën. With just your party and a knowledgeable guide, you'll feel like you've traveled back in time as you explore the city's iconic landmarks, including the Champs-Elysées, Eiffel Tower, Louvre museum, Montmartre, Latin Quarter, and Moulin Rouge cabaret. This private tour ensures a personalized experience, and with the ability to accommodate up to four people in the car, it's great value for money. Your guide will provide local insights and tips as you travel in class in a vintage vehicle. Hotel pickup is available, or you can meet at the conveniently located meeting point at 73 Place de La Concorde. The itinerary of your tour may change depending on traffic, but your driver will do their best to adapt the route to show you as many monuments as possible. This private tour is wheelchair accessible and service animals are allowed. Book now for an unforgettable experience of the City of Love.
Description
"Paris by Night 2h Tour in Vintage French Car" takes you on a journey through the City of Light, exploring the most iconic landmarks and hidden gems under the stars. Experience the romance of Paris as you ride in a vintage French car, taking in the sights and sounds of the city's vibrant nightlife.
From the Eiffel Tower to the Champs-Élysées, this tour is a feast for the senses. The knowledgeable guide will share fascinating stories and insights about the city's rich history and culture, making this an unforgettable experience for any traveler. So sit back, relax, and let the magic of Paris by night unfold before your eyes.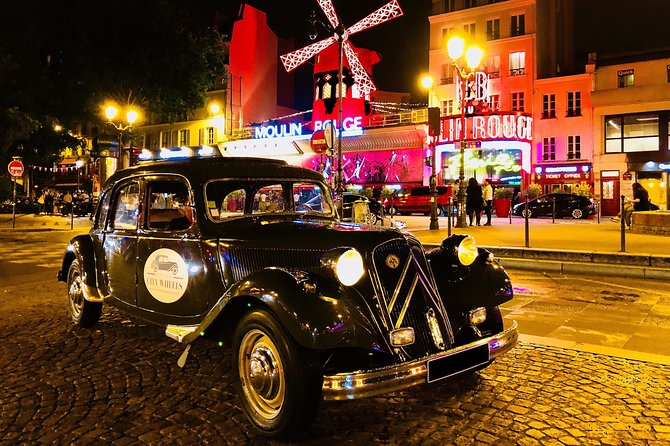 Related Resources