Tour Details
Duration: 12 hours
Rating: 4.2
Tour Description
Discover the historic landmarks of Paris and Normandy on their private full-day trip to the D-Day Landing Beaches. From the Eiffel Tower to the picturesque towns of Bayeux and Caen, this tour offers a unique opportunity to experience the rich culture and history of France. Begin your day with a scenic drive through the French countryside, taking in the stunning landscapes and charming villages along the way. Arriving in Normandy, you'll visit the famous D-Day Landing Beaches, where the Allied forces landed during World War II. Explore the historic sites and museums, including the American Cemetery and Memorial, and gain a deeper understanding of the events that shaped modern history. After a delicious lunch at a local restaurant, continue your journey to the charming town of Bayeux, home to the famous Bayeux Tapestry. Admire the intricate embroidery and learn about the story behind this remarkable piece of art. Finally, head to the city of Caen, where you'll visit the stunning Château de Caen and the Abbaye aux Hommes, a beautiful Romanesque abbey founded by William the Conqueror. with this expert guide and comfortable transportation, this private full-day trip is the perfect way to explore the best of Paris and Normandy. Book now and experience the beauty and history of France like never before!
Description
The Paris to Normandy D-Day Landing Beaches Private Full-Day Trip is a journey through history and a tribute to the bravery of those who fought for freedom. Embark on a 12-hour adventure that will take you from the City of Light to the hauntingly beautiful beaches of Normandy.
Your private guide will lead you through the picturesque countryside, sharing stories of the battles that took place on these very grounds. You'll visit the American Cemetery and Memorial, where you can pay your respects to the fallen soldiers, and explore the historic town of Bayeux, home to the famous Bayeux Tapestry.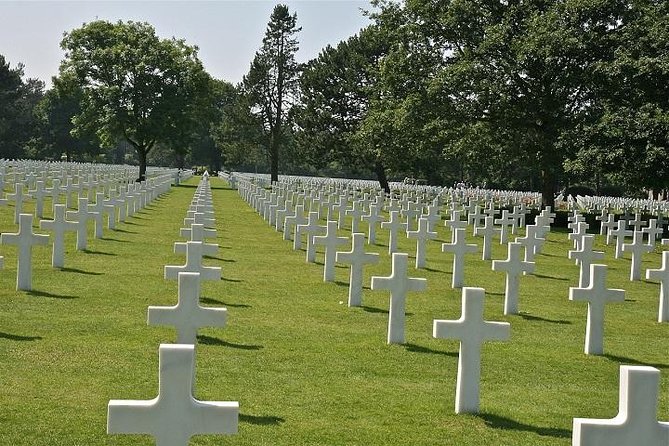 This is more than just a tour – it's a chance to connect with the past and honor those who gave their lives for our freedom. Join us on this unforgettable journey and experience the true meaning of travel.
Related Resources