Tour Details
Duration: 4 hours
Rating: 3.0
Tour Description
Explore the picturesque countryside of Giverny with this Minivan tour in Paris. Discover the birthplace of Impressionism through the eyes of Claude Monet, the famous artist who lived and painted in this charming village. Admire the stunning gardens and water lilies that inspired his masterpieces. Immerse yourself in the local culture as you stroll through the quaint streets and visit the historic sites of this idyllic town. Savor the delicious local cuisine and wines as you take in the breathtaking views of the Seine Valley. their knowledgeable guide will provide fascinating insights into the art, history, and culture of Giverny, making this tour an unforgettable experience. Book now and let them take you on a journey of beauty and inspiration.
Description
Escape the hustle and bustle of the city and immerse yourself in the tranquil beauty of Chantilly. This Private Chantilly & Horse Museum with Minivan will take you on an unforgettable journey through the stunning Chateau de Chantilly and the fascinating Horse Museum.
Your expert guide will lead you through the opulent rooms of the chateau, sharing stories of its rich history and the aristocrats who once called it home. Afterwards, explore the impressive collection of horse-related artifacts at the museum, from ancient saddles to modern racing gear.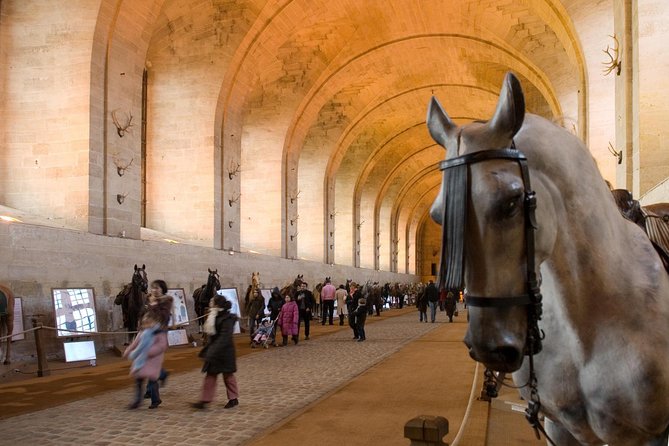 All of this, and more, in the comfort of a luxurious minivan. Come experience the true essence of travel with this unforgettable journey through Chantilly.
Other Tour Options
| Visit Type | Duration | Price | Available Days |
| --- | --- | --- | --- |
| Private Chantilly & Horse Museum with Minivan | Full Day | $350 | Monday – Sunday |
| Private Chantilly Only with Minivan | Half Day | $250 | Monday – Sunday |
| Horse Museum Only with Minivan | Half Day | $200 | Monday – Sunday |
Related Resources