Tour Details
Duration: 13 hours
Rating: 3.0
Tour Description
Bonjour, mes amis! Are you ready to embark on a journey through history and witness the bravery of those who fought for their freedom? Then join me on the Private Normandy / D-Day Landing Beaches tour with Minivan, where they will explore the iconic sites of World War II and pay tribute to the brave soldiers who made the ultimate sacrifice. As we journey through the picturesque countryside of Normandy, you'll be captivated by the stunning landscapes and charming villages that dot the landscape. their expert guide will share fascinating insights into the events that took place on the beaches of Normandy, and you'll get a firsthand glimpse into the lives of the soldiers who fought for their freedom. We'll visit the famous Omaha Beach, where the Allied forces landed on D-Day, and pay their respects at the Normandy American Cemetery and Memorial. You'll be moved by the solemn beauty of the site and the poignant stories of the soldiers who rest there. But that's not all – they will also visit the picturesque town of Bayeux, home to the famous Bayeux Tapestry, and enjoy a delicious lunch at a local restaurant. And with this comfortable and stylish minivan, you'll be able to sit back, relax, and enjoy the stunning scenery as we make their way through the French countryside. This tour is the perfect way to experience the history, beauty, and charm of Normandy, and pay tribute to the brave soldiers who fought for their freedom. Don't miss out on this unforgettable experience – book your Private Normandy / D-Day Landing Beaches tour with Minivan today!
Description
This is not just a tour, it's a journey through history. Buckle up and prepare for an unforgettable 13-hour adventure through the Normandy and D-Day landing beaches.
With a private minivan and an expert guide, you'll explore the very sites where some of the most pivotal moments of World War II took place. From Omaha Beach to the American Cemetery, this experience is a must for any history buff or travel enthusiast.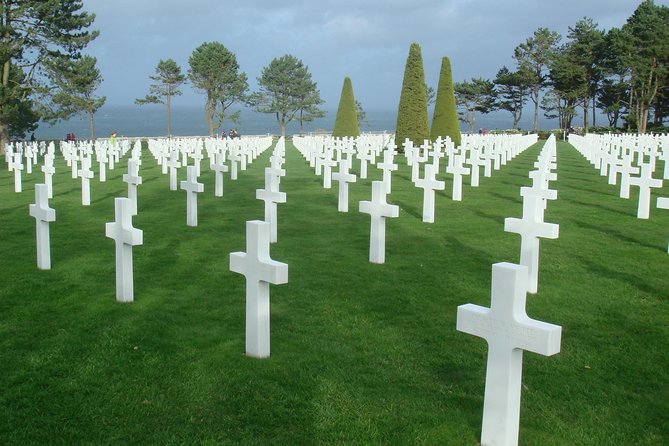 Soak up the scenery and let the stories of bravery and sacrifice wash over you as you walk in the footsteps of heroes. Don't just see history, experience it on this private Normandy tour.
Related Resources