One of the "old" tattoo shops (opened in 1997), with a friendly team, and a specialist in piercing. Guests are invited regularly. You'll be in good hands: in a laid-back atmosphere you'll be provided good advices. English spoken.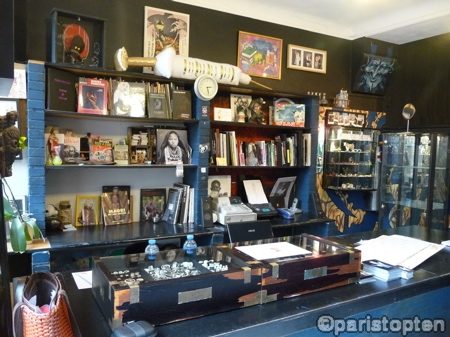 Tribal Act Paris, a renowned tattoo and piercing parlor, has made a significant impact in the world of body art. Nestled in the heart of downtown Paris near Republic Square in the 11th ward, this historical establishment boasts a strong reputation for its expertise and artistry. Over the past decades, Tribal Act has garnered national and international acclaim for its exceptional work in tattoos, piercings, and body transformations.
The creative team at Tribal Act is passionate about their craft and strives to provide customers with a unique, personal experience. Visitors to the shop can expect attentive service, quality workmanship, and a strong emphasis on hygiene and safety. With many styles and designs to choose from, clients are sure to find the perfect expression of their vision.
In addition to tattoos and piercings, Tribal Act also offers gold and steel teeth services, catering to various forms of body modification. As a pioneer in the industry, Tribal Act continues to innovate and explore new ways to bring its clients' artistic vision to life. With its rich history and dedication to excellence, Tribal Act remains a must-visit destination for body art enthusiasts.
Tribal Act Overview
Location and Address
Tribal Act is a reputable tattoo and piercing studio located in the heart of Paris, France. The studio's exact address is 161 Rue Amelot, 75011 Paris. It is situated in a vibrant area, providing customers easy access to popular attractions and other conveniences.
Services Offered
At Tribal Act, clients can expect a diverse range of services provided by skilled tattoo artists and piercers. The primary services offered include:
Tattoos: Tribal Act has experienced and versatile artists who can handle various tattoo styles, from traditional to contemporary designs. They focus on giving customers a unique experience by tailoring their designs to each individual's preferences and ideas.
Piercings: The studio also offers professional piercing services in a safe and hygienic environment. Tribal Act's knowledgeable staff can guide clients through the process and assist in choosing the right type of piercing according to their preferences and needs.
Dental Grills: An additional service provided by Tribal Act is the creation of custom dental grills. These are available in gold (starting at €150) and stainless steel (starting at €80), allowing clients to personalize their look with a touch of luxury and style.
With a strong local and international reputation, Tribal Act Paris prides itself on its excellent customer service and commitment to quality work. They maintain a clean and comfortable atmosphere within the studio, ensuring a pleasant experience for all clients who visit.
Tattoo and Piercing
Tattoo Artists and Specialties
Tribal Act in Paris, France, offers a wide range of tattoos and piercing services from their talented team of artists. The artists at Tribal Act Paris are skilled in various styles, such as traditional, neo-traditional, realism, and more, catering to clients' diverse preferences.
One notable tattoo artist at Tribal Act is Nicolas. His dedication and attention to detail make him a sought-after artist by clients. His specialties encompass various tattoo styles, allowing him to create unique and customized designs for each client.
Piercing Services
In addition to tattoo services, Tribal Act Paris also offers an array of piercing options. Their professional piercers are well-equipped and knowledgeable in providing customers with safe and hygienic services. Some of the piercing services offered at Tribal Act include:
Ear piercings (lobe, cartilage, tragus, etc.)
Facial piercings (eyebrow, nose, lip, etc.)
Body piercings (navel, nipple, etc.)
Tribal Act ensures that all clients are given appropriate advice and guidance on aftercare, minimizing the risk of complications and promoting healing. As one of the leading tattoo and piercing salons in Paris, Tribal Act continues to uphold its reputation for quality service and customer satisfaction.
Experience and Reviews
Customer Avis
Tribal Act Paris, located at 161 Rue Amelot, has gained a reputation as a popular and reputable tattoo and piercing parlor in the city. Customers have praised the shop for its professionalism, cleanliness, and exceptional artistry. One reviewer on Yelp shared their satisfaction with their experience at Tribal Act, stating they were "soooo pleased" and went on to mention their seamless communication with Niko, one of the artists at the parlor. With over 21,000 likes on their Facebook page and numerous positive reviews, it is evident that Tribal Act has made a lasting impression on its clients.
Hours of Operation
Tribal Act is open for business during the following hours:
Monday: Closed
Tuesday: 12:00pm – 7:00pm
Wednesday: 12:00pm – 7:00pm
Thursday: 12:00pm – 7:00pm
Friday: 12:00pm – 7:00pm
Saturday: 12:00pm – 7:00pm
Sunday: Closed
These hours provide ample opportunity for clients to schedule appointments or walk-ins for tattoos, piercings, and other body modification services. The shop's convenient location in downtown Paris near Republic Square ensures that it is easily accessible for both locals and tourists seeking a memorable experience at a renowned establishment. As always, it is recommended to contact the shop directly for the most up-to-date information on their hours of operation and available appointment slots.
Throughout its years of operation, Tribal Act has continued to deliver high-quality tattoos and piercings to its clientele. The shop's dedication to hygienic practices, skilled artistry, and exceptional customer service has contributed to its enduring positive reputation in the city of Paris.
See Related: Tin Tin Tattoos
Nearby Alternatives
Rue Amelot Tattoo Studios
In addition to Tribal Act, there are other reputable tattoo studios located along Rue Amelot. These studios offer unique styles and designs, ensuring that clients find their perfect match when it comes to body art. To choose the best studio for your tattoo needs, it is a good idea to read reviews, view artists' portfolios, and visit multiple studios along Rue Amelot to compare services and prices.
Orsay Tattoo Salons
For those looking for tattoo salons near the Orsay area, there are several options to consider. These salons boast highly skilled artists and welcoming environments alongside their wide range of tattoo styles. A few notable salons in the Orsay area are:
Salon Name 1: Known for its friendly staff and incredible attention to detail, this salon is popular among both tourists and local residents alike.
Salon Name 2: With a focus on custom designs and an impeccable hygiene standard, this salon is a force to be reckoned with in the Orsay tattoo scene.
Just like with Rue Amelot, it is crucial to research different Orsay tattoo salons, read reviews, and compare styles, services, and prices before committing to a specific one.