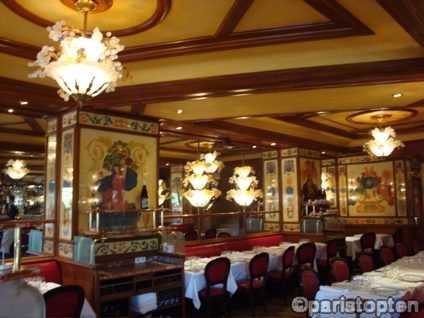 After the war, Clément, one of the Blanc brothers, bought this place (in the heart of the Halles, the biggest market of Paris) destined to be a butcher shop, and turned it into a brasserie. His sister, the famous Madame Ott, took good care of the restaurant for quite a long time.
You can order the classic onion soup, and a seafood platter, but, as French say:"Dans le cochon, tout est bon!" (meaning "Everything is good in the pig!"), you can also choose the renowned pig's feet or any other pig's part!
Seafood plate from 29,90 euros. Pork from 25,40 euros (pig's head). Desserts from 9,70 euros. Menus from 34,50 euros.
Open every day 24/24 hours.
Menus in english.