There are many wonderful things about visiting Paris, but one of the best is learning and appreciating the city's fascinating past. What better way to feel a part of history than to dine on classic French cuisine in a restaurant that screams nostalgia for a bygone era? La Coupole is a brasserie completed in 1927. This place stood as a privileged eyewitness to the Parisian "Années Folles."
La Coupole is located in the Montparnasse neighborhood in Paris. The historical brasserie provides a great place to experience the city's history. Get a taste of food and drink from the 1920s and 1930s! This brasserie in Paris was a popular hangout for artists and writers who had relocated to the French capital during this period.
🗼 Paris Insider's Top Picks! ✨
Dive into the heart of Paris with our handpicked partners. Trusted by thousands, they ensure you experience the best of Paris.
La Coupole is still very famous today. This is one of the spots most frequented by well-known people and for good reason. This spot has an interesting history and stunning ambiance. The staff gives excellent service and delicious food, too! What kind of history did it have and how did it become so famous? Read on to find the answer.
About the La Coupole Brasserie
History of La Coupole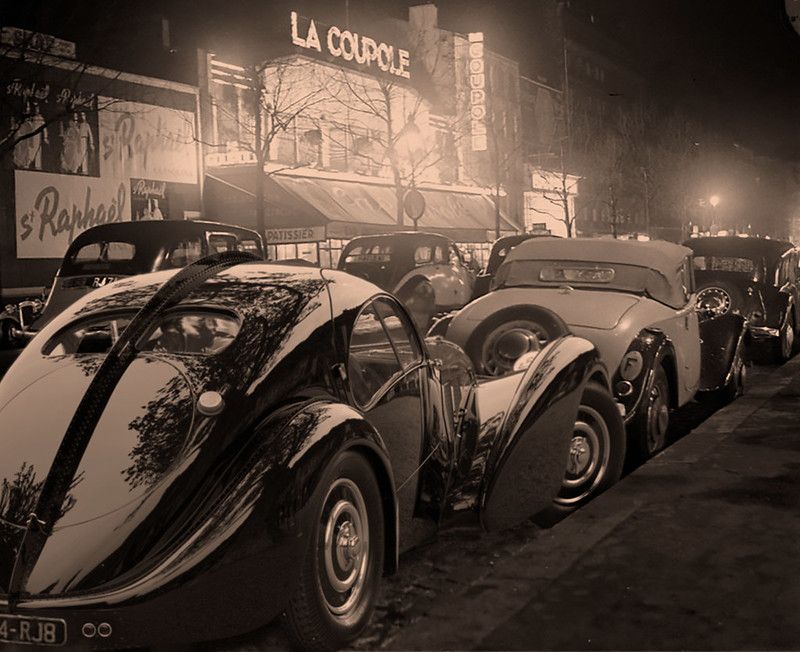 Ernest Fraux and René Lafon founded La Coupole. They purchased a 100-square-meter warehouse on Boulevard Montparnasse. With a brilliant idea in mind, they turned it into a top-notch brasserie. The place had formerly stored wood and coal. It would compete with the Dôme, at the intersection of Boulevard Montparnasse and Raspail, and the Select, directly across the street.
La Coupole Paris was designed by architects Barillet and Le Bouc and completed in 1927. During the Roaring 20s, its opening was one of the most talked-about events in Paris. The Parisian brasserie on Boulevard Montparnasse first opened its doors on December 20, 1927. The big names in the arts, literature and nightlife were there for the opening night. 2,500 handpicked guests arrived, making them short of champagne. With that, the fame of the classic brasserie in Paris, France skyrocketed overnight.
La Coupole was an instant hit, necessitating a staff of 400 to maintain the hive. The great financial crisis of 1929 halted the indulgent parties that were the hallmark of La Coupole's heyday. Yet, before that time, the interwar period was known as the "golden age" of the club. Music hall performers mingled with academics, artists, and curious onlookers. The arrival of new dances like the Charleston and Shimmy with Pershing's troops in 1917–1918 let loose this vibrant audience.
The Décor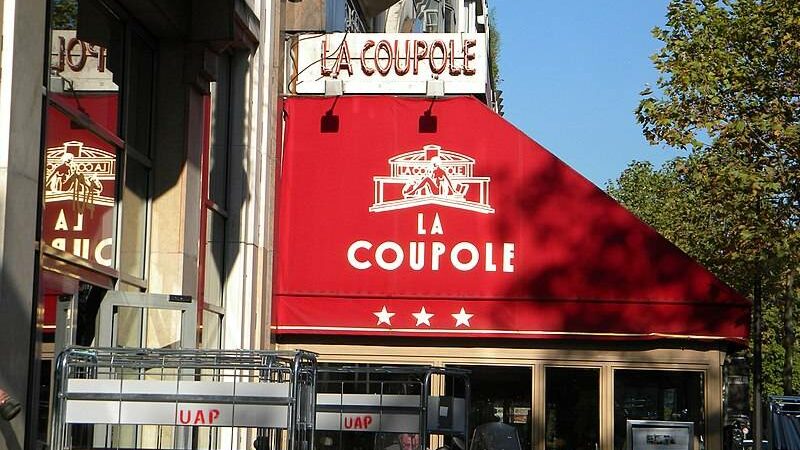 Ernest Fraux hired top-tier historical architects and interior designers to help him achieve his goal. He was determined to make it a unique and aesthetically beautiful space. Originally, it was a single, vast space the size of a train station, propped up by 33 symmetrical pillars.
After debuting in 1927, the décor in La Coupole almost stayed the same throughout the decades. The Art Deco style's defining features, such as bold color usage and a fusion of materials can be seen everywhere. The various columns were decorated with works of art by renowned artists, including Marc Chagall and Louis Latapie. Many renowned people have cooled their feet in the enormous fountain that once stood under the dome. Coupole was included in the Supplemental Inventory of Historical Monuments in January 1988.
A newer addition to the restaurant is the dome in the center; in 2008, four painters were each given a quarter of the dome to paint. A masterwork by French artist Louis Derbré now stands in the former location of the fountain.
Famous Figures who dined in La Coupole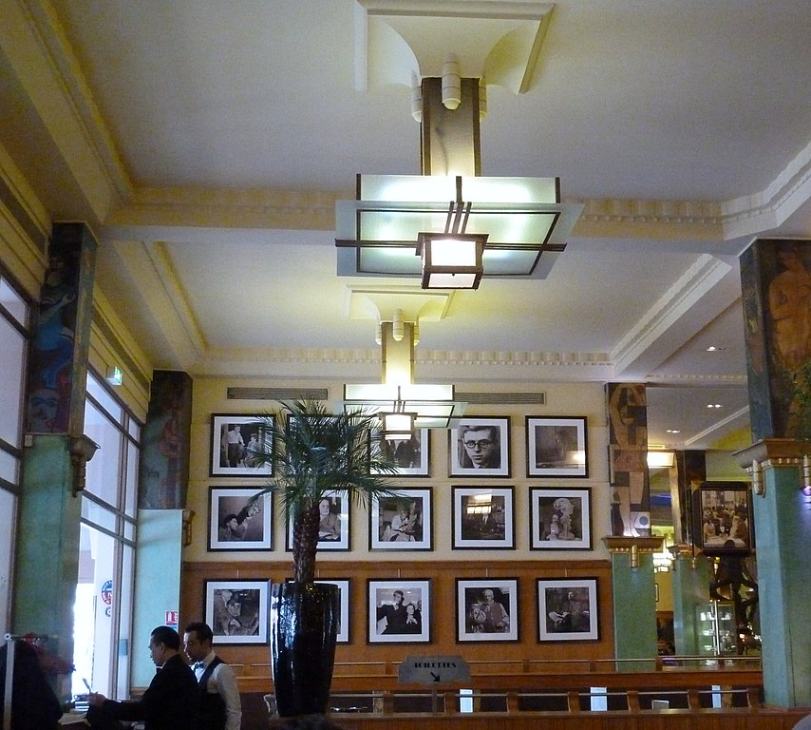 La Coupole was popular with the artistic and literary community. Regular patrons back in the day included famous artists like the Father of cubism Pablo Picasso, and the greatest colorist of the 20th century Henri Matisse. These two were considered rivals in arts, it's nice to imagine them bumping into each other in the brasserie.
The French singer, dancer, and actress Josephine Baker used to frequent La Coupole, too. Simone de Beauvoir, French writer, social theorist, existentialist philosopher, and feminist activist also used to dine in the brasserie in Paris.
Salvador Dali, the famous Spanish surrealist, also used to visit the place. One of the most influential individuals in 20th-century French philosophy and Marxism, and a renowned playwright, novelist, screenwriter, political activist, biographer, and literary critic, Jean-Paul Sartre was a diner of La Coupole. Ernest Hemingway also loved this brasserie!
Patti Smith also played guitar here! La Coupole has been a hangout for artists and popular figures since its start, so do not be surprised to find famous people there.
See Related: Most Famous Historical Landmarks in Paris
La Coupole Today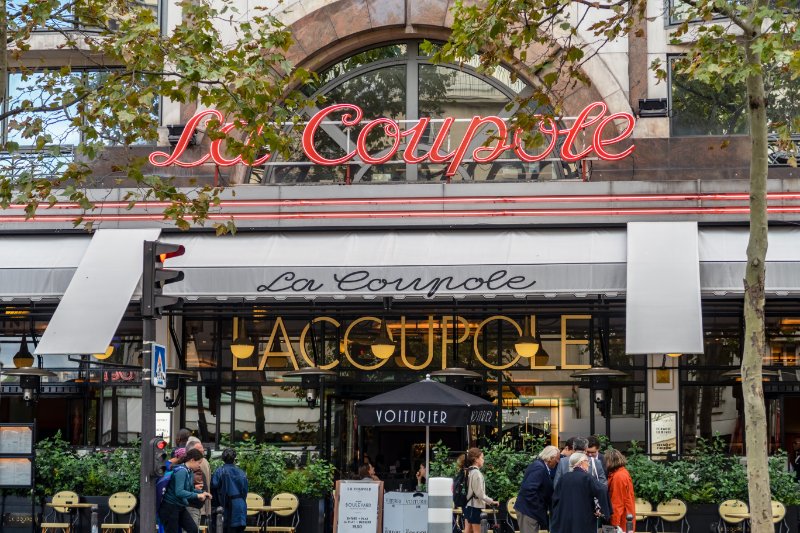 The ambiance is authentically French, however, tourists from all over the world can be found here. Expert decorator Laura Gonzalez and the Bertrand group have given the Coupole a new terrace, a new sign that looks more 1930s than ever, a freshly groomed dining room, and the expert grooming of in-house chef maestro Marc-Henry Vergé. Renovated without being transformed, it has returned to the key elements (decor, atmosphere, menus, etc.) that made it a success. The renovation allows looking back at the singular past of this 91-year-old place, the largest restaurant in Paris for a long time.
2018 Renovation
After removing the veranda, the original terrace can now be enjoyed in all its former glory—as a spacious, expansive garden. From your morning coffee and croissant to your evening glass of wine and last bubbles, you may enjoy the outdoors on the patio: a place to gather, hideout, sip, and sample. As of now, this terrace is the ideal place to get to know La Coupole in all of Montparnasse.
Once you enter, the spectacle will have been well worth the trip. The same towering ceiling, rows of benches, and four hundred seats set up like an orchestra. It is still possible to see the iconic pillars! This space will always bear the imprint of its former occupants.
The basement dance floors at La Coupole, a favorite party spot for avant-garde artists in Montparnasse, is also reopened! It has been refurbished in the 1930s style after years of inactivity, and now has a musical program aimed at bringing back the 30's.
The American bar, which has recently been forgotten, is back on the left as you walk in. Everybody is welcome to stop by and have a drink before eating.
The opposite end features a clean and fresh shucking bench. One can almost taste the seafood from the ocean: oysters, first-rate shellfish, and other devilish delicacies. The creativity of one of the best Parisian brasseries in providing a seaside experience is amazing.
The Food
Located in a building that is a national historical monument, there's so much natural splendor here that it's easy to forget that you came for food. The menu, thankfully, is as tastefully designed as the rest of the establishment.
With its inventive cocktails and American bar, La Coupole can cater to your every whim, whether you're there for breakfast, lunch, dinner, or aperitif. You can also savor the delicious Indian lamb curry that has been a favorite in La Coupole since it first opened.
The menu features various authentic French specialties such as duck, French onion soup, escargot, pâté en croûte (a house specialty), and moules frites (mussels cooked in a white wine sauce served with fries). La Coupole specializes in fresh seafood. You may order lobster ravioli and seafood platters (fruits de mer)!
Opening hours and important information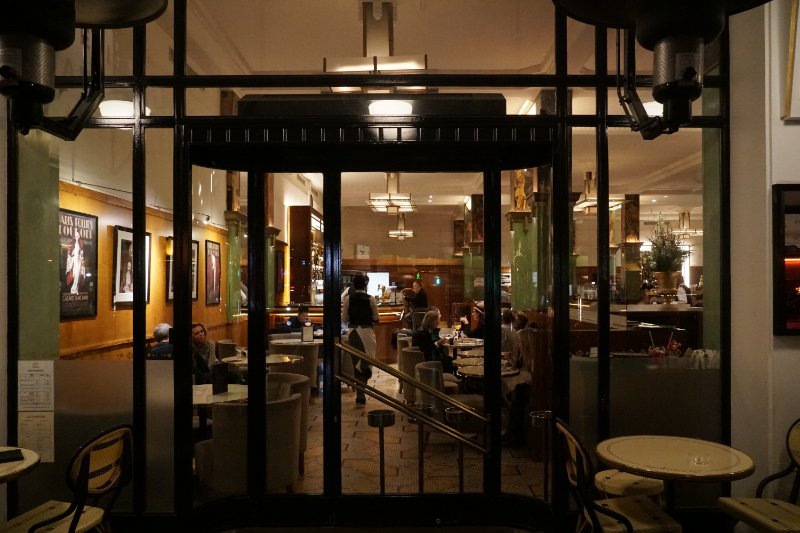 La Coupole is open every day of the week. You can eat there early because it is open from 8:00 AM to midnight. The brasserie serves breakfast, lunch, and dinner. Champagne and a few additional alternatives are available for happy hour drinks starting at 4:00 PM.
You can find La Couple in the 14th Arrondissement of Paris. Its address is 102 Boulevard du Montparnasse, Paris, France.
You don't need to worry if you're bringing your vehicle because you can park at Parking Raspail Montparnasse. You can also go to La Coupole via Metro! Take the Vavin (line 4) or Montparnasse Bienvenue to get there (lines 4,6,12,13).
Depending on your occasion, you can dress from business casual to formal. La Coupole accepts cash and major credit cards.
What to do nearby La Coupole
Tour the Montparnasse neighborhood
Montparnasse is a popular neighborhood full of chain boutiques, crêperies, and classic restaurants that famous writers like Hemingway formerly frequented. The Montparnasse Cemetery is where Jean-Paul Sartre was laid to rest, while the Catacombs of Paris are ossuaries housed in abandoned mining tunnels. The Musée Bourdelle houses a large collection of sculptures, and the Musée du Général Leclerc focuses on the Second World War. The views of Paris from Tour Montparnasse, a Parisian skyscraper, are unparalleled.
Climb Tour Montparnasse
The Tour Montparnasse, Paris's lone skyscraper, opened to the public in 1973 and has since come to represent the city's unique architectural history. It stood as Europe's tallest office skyscraper for a long time and was France's tallest building.
Only the 56th and 59th floors are exposed to the public and offer breathtaking views of Paris. There's no better view of the Eiffel Tower than from the 59th floor, staring out at the city of Paris. You can have a glass of Champagne at the very pinnacle while watching Eiffel's lights change color every hour.
See Related: Paris Restaurants with a View of the Eiffel Tower
Visit the Catacombs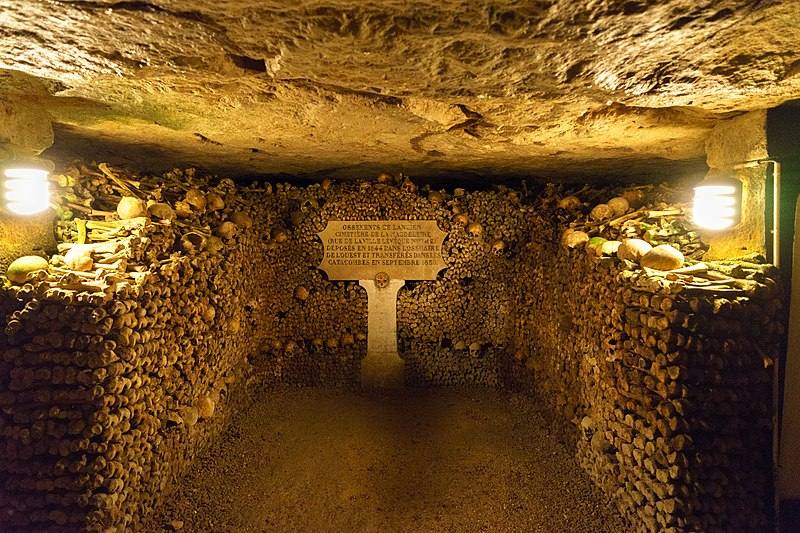 A visit to the Paris Catacombs, an eerie maze of tunnels under the city, must be recommended. Tourists interested in Paris's past can explore this 20-meter-deep maze, which was dedicated in 1786 and houses the remains of millions of Parisians. The entrance to the Catacombs is just 7 minutes of driving away.
See Related: Le Procope
Have a meal at La Coupole
La Coupole is a beautifully classic relic with humble chef beginnings and a warm staff. What's more, the food is en pointe with trends in taste, which is why it remains popular today. With its sky-high arches, La Coupole will always remain timeless in the eyes of Parisians and visitors alike.
I don't know about you, but I found that La Coupole was more than respectable in terms of serving fine food and lively conversation. So if you should find yourself in Paris craving a place like this, consider heading to La Coupole for a delicious meal!
Related Resources