The famous and luxurious hotel Le Bristol has two gastronomic restaurants, L'Epicure, and Le Jardin Français, supervised by Chef Eric Fréchon, who was rewarded with a third macaroon in the Michelin Guide in March 2009.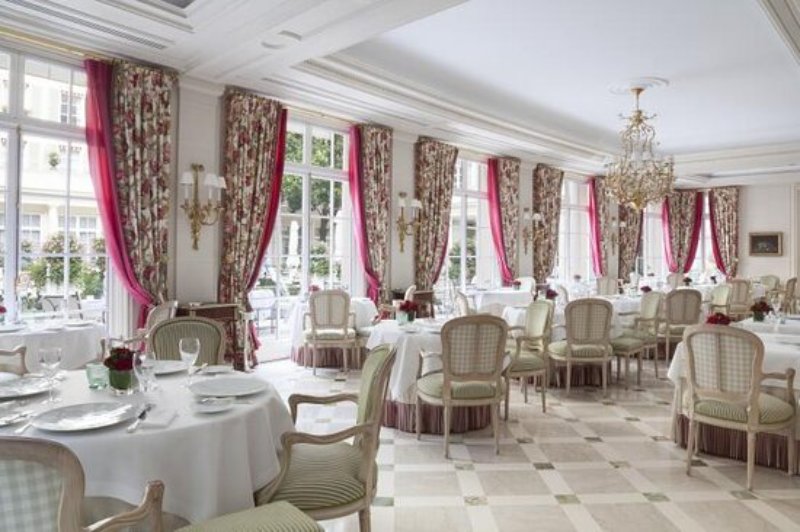 Nestled in the heart of Paris, L'Épicure is a culinary gem that attracts food connoisseurs from all corners of the globe. This prestigious establishment, located within the luxurious confines of Le Bristol Hotel, has earned an impressive three MICHELIN stars, making it a sought-after destination for travelers seeking an exceptional dining experience. The restaurant's renowned executive chef, Éric Fréchon, has been perfecting his craft at L'Épicure for over two decades, garnering well-deserved acclaim for his innovative and exquisite cuisine.
🗼 Paris Insider's Top Picks! ✨
Dive into the heart of Paris with our handpicked partners. Trusted by thousands, they ensure you experience the best of Paris.
Upon entering L'Épicure, guests are greeted with an ambiance of elegance and refined sophistication. Combining classic and contemporary elements, the dining area's tasteful décor sets the stage for a truly memorable meal.
During the warmer months, patrons can also opt to dine in the beautiful garden setting, enveloped by over 1,000 square meters of lush greenery, allowing them to savor the creations of Chef Fréchon amidst the enchanting Parisian backdrop.
As for the menu, L'Épicure presents a delightful array of dishes, each meticulously crafted to showcase the depth and vibrancy of French cuisine. Selecting from the finest local ingredients, Chef Fréchon masterfully combines flavors and textures, resulting in culinary masterpieces that captivate the senses.
This distinct combination of captivating ambiance, attentive service, and extraordinary fare make L'Épicure an essential destination for travelers seeking to indulge in the best that Paris has to offer.
Overview of Restaurant L'Epicure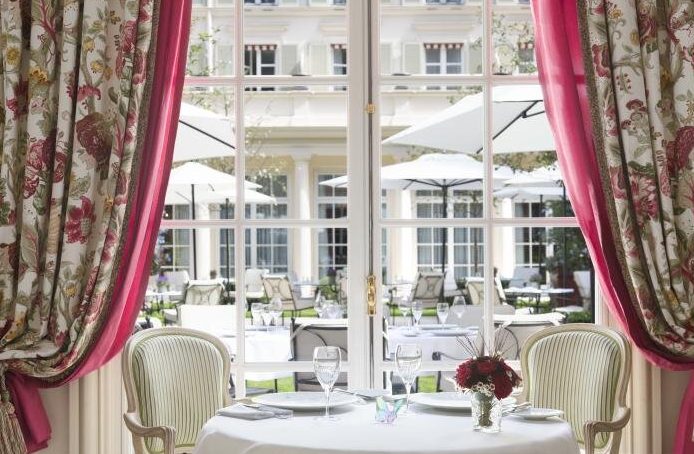 Brief History and Background
Nestled in the heart of Paris, Restaurant L'Epicure is a culinary gem that has long delighted food enthusiasts and travelers. Housed within the luxurious Hôtel Le Bristol, this prestigious eatery continues enhancing France's rich gastronomic heritage through innovative and visually stunning dishes.
Renowned Chef Eric Frechon
At the helm of L'Epicure's culinary wonders is Eric Frechon, a celebrated French chef with a keen eye for tantalizing flavors and artful presentation. With his extensive experience and talent, Frechon has skillfully crafted a menu that showcases the finest ingredients and classic French techniques, promising an unforgettable dining experience for even the most discerning palate.
3 Michelin Star Rating
L'Epicure's dedication to exceptional cuisine has earned it the prestigious 3 Michelin Star rating, a testament to its continued commitment to culinary excellence. Its refined ambiance, precise attention to detail, and outstanding dishes continue to captivate diners, positioning this elegant establishment as a must-visit destination for food enthusiasts exploring the City of Lights.
| Feature | Description |
| --- | --- |
| Paris | The restaurant is located in the heart of Paris, France. |
| Restaurant L'Epicure | The award-winning dining establishment serves traditional French cuisine with a twist. |
| Hôtel Le Bristol | The restaurant is housed within this luxurious Parisian hotel. |
| Eric Frechon | The renowned chef behind L'Epicure's exceptional culinary creations. |
| France | Reinforces L'Epicure's roots in traditional French gastronomy. |
| Michelin Stars | L'Epicure holds a prestigious 3 Michelin Star rating. |
| Location | Centrally situated in Paris, ideal for tourists and locals alike. |
| Reservations | Highly recommended to ensure a table at this sought-after dining destination. |
Restaurant L'Epicure offers travelers an unparalleled culinary adventure, weaving the charm of Parisian dining with the mastery of Chef Eric Frechon's imaginative cuisine. Amidst its enchanting surroundings, one can truly appreciate the essence of French gastronomy while indulging in the seductive flavors of this 3 Michelin Starred establishment.
Ambiance and Atmosphere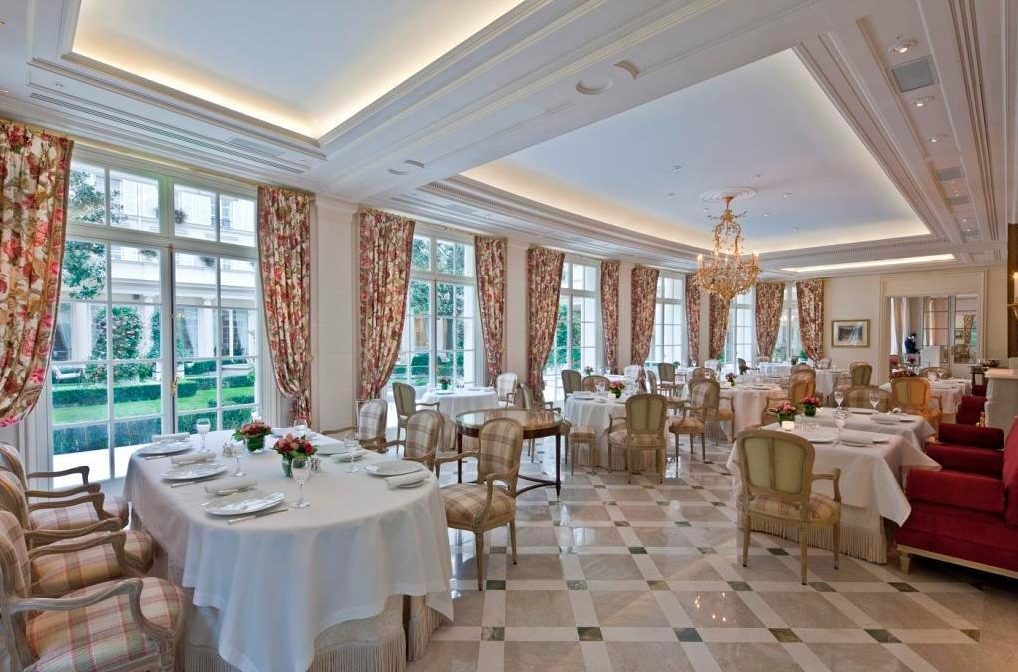 Elegant Dining Room
Nestled in the heart of Paris, L'Épicure invites diners to indulge in a luxurious and elegant atmosphere. The dining room exudes opulence, with rich fabric, sparkling chandeliers, and tasteful artwork adorning the walls. Guests are seated on plush, upholstered chairs with comfortable armrests, providing optimum relaxation as they savor each bite of deliciously prepared cuisine.
The beautifully-set tables and attention to detail add layer of sophistication and refinement to the dining experience. Natural light from the large windows creates a subtle, airy ambiance, making L'Épicure an ideal destination for a memorable meal.
Dress Code and Etiquette
To fully immerse themselves in the sumptuous environment of L'Épicure, guests are encouraged to uphold a certain dress code and etiquette. Men are asked to wear jackets, demonstrating respect and appreciation for the restaurant's upscale atmosphere.
It is important to note that while the dress code is important, it should not overshadow one's enjoyment of the impeccable food and service L'Épicure has to offer. This is where the finer aspects of dining etiquette are appreciated, but the main focus is on savoring the flavors and textures crafted by the talented culinary team.
Options worth considering for attire include:
Men: A well-fitting suit or blazer with dress pants, a button-up shirt, and dress shoes.
Women: A tasteful dress, tailored pants or skirt paired with a blouse or an elegant jumpsuit.
Cultural Charm
At L'Épicure, guests will immerse themselves in the enchanting world of Parisian haute cuisine. The elegant atmosphere and decor pay homage to France's rich culinary history while offering a modern, sophisticated dining experience.
The welcoming, knowledgeable staff ensures that each guest feels like a valued part of the journey through French gastronomy, making L'Épicure not only a delicious meal but a captivating snapshot of the Parisian dining experience.
Culinary Experience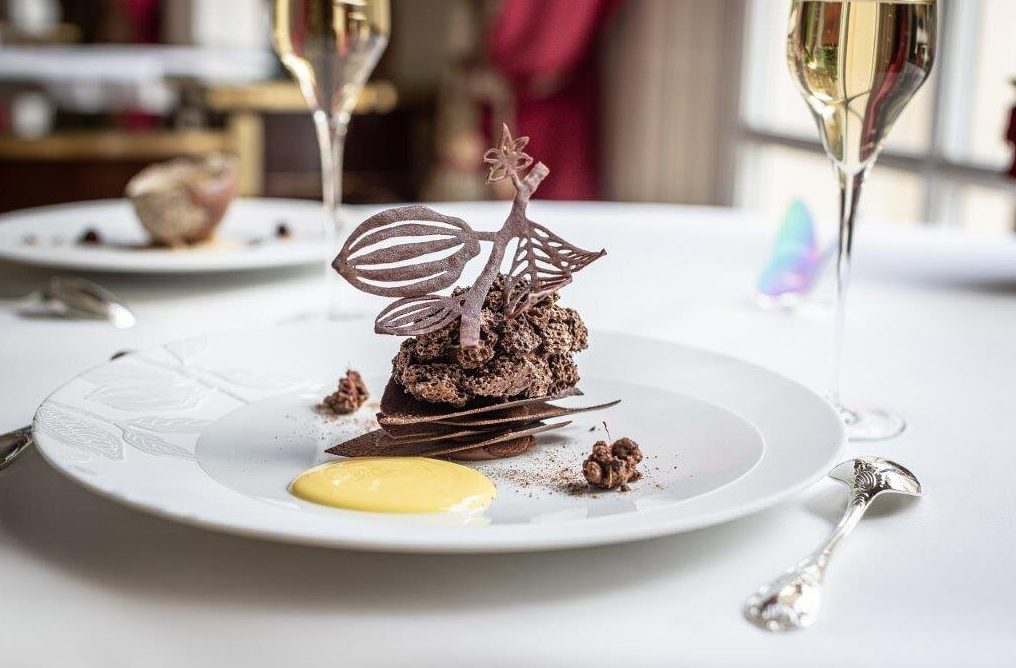 Signature Dishes and Ingredients
L'Épicure is famed for its mastery of classic French cuisine, expertly intertwined with local and unique ingredients to create a truly memorable dining experience. Indulge in delicacies such as foie gras, artfully prepared with black truffle, hazelnuts, and shaved parmesan cheese that brings out its exceptional flavors. An unforgettable dish on offer is the stuffed macaroni with black truffle, artichoke, and foie gras, a signature that elevates this Parisian gem to a whole new level.
Take a sensory journey with their renowned chicken dish, served with a delicate vanilla and chocolate sauce – a perfect example of l'Épicure's innovative approach to traditional French food. And for a touch of opulence, why not savor the exquisite taste of their caviar, enhanced by the finest local ingredients?
Lunch vs. Dinner Options
L'Épicure ensures that both lunch and dinner provide a remarkable gastronomic experience. At lunchtime, guests can choose from a curated lunch menu or embark on an adventure with their lunch-tasting menu, bringing together the best seasonal flavors that France has to offer. Dinner, on the other hand, is an absolute spectacle – a fine dining experience that truly sets the mood for a special occasion.
| | Lunch | Dinner |
| --- | --- | --- |
| Experience | Delightful and Luxurious | Elegant and Exquisite |
| Menu Options | Curated Lunch Menu | A La Carte and Tasting Menus |
| Atmosphere | Relaxed | Romantic |
| Highlight | Lunch Tasting Menu | Captivating Evening |
Impressive Tasting Menus
L'Épicure knows how to lure the palate with its extensive list of irresistible tasting menus, truly showcasing the deft craftsmanship of French cuisine. Guests are treated to incredible delights, with each course accompanied by the sommelier's carefully selected vintages from an enviable wine list. The desserts will leave a lasting impression, as the famous limoncello soufflé gracefully dances on your tongue as a testament to their culinary prowess.
From the freshly baked bread that begins each meal and the impeccable wine list to the elegant atmosphere and distinguished black truffle dishes, L'Épicure offers an unparalleled experience for casual and fine dining enthusiasts.
Each morsel tells a story, whisking you away on a journey through the culinary heart of Paris. At the same time, the beautiful presentation is a tribute to the artistry, passion, and dedication demonstrated by the team in every dish. So, whether you're visiting for lunch or dinner, expect to be immersed in a delightful symphony of flavors that will leave your taste buds longing for more.
Impeccable Service
Highly Trained Staff
At L'Epicure in Paris, the experience begins with impeccable service led by their highly trained staff. Every team member displays exceptional professionalism and attentiveness, ensuring that each guest's needs are met with precision and care. As you settle into the luxurious surroundings, the warm and genuine hospitality envelops you like a fine Parisian embrace.
Guided by years of experience in the industry, the staff at L'Epicure are the epitome of grace and know-how, flawlessly catering to guests' culinary desires. Their attention to detail, impeccable timing, and intuitive nature provide a seamless dining experience.
Sommelier and Wine Pairings
The art of pairing sumptuous cuisine with a fine selection of wines is elevated to new heights with the expertise of L'Epicure's sommelier. As a master of his craft, the sommelier possesses a vast knowledge of regional and international vintages, ensuring that the perfect glass of wine complements each course.
Drawing from a comprehensive cellar with an exquisite collection, the sommelier excels at creating harmonious notes between the flavors on your plate and the meticulously chosen wines. This remarkable talent is one of the defining aspects of L'Epicure's impeccable service.
A Symphony of Tastes
L'Epicure prides itself on bringing together gastronomic masterpieces with a keen appreciation for presentation, all supported by the unrelenting dedication of its staff. From the moment you step into this esteemed establishment, the service combines warmth, sincerity, and deep knowledge of the culinary arts to transport you on a gastronomic journey like no other.
As you immerse yourself in the symphony of tastes and textures that abound at L'Epicure, the passionate expertise of the staff shines through, gracefully guiding you through a memorable culinary adventure that leaves you with a newfound appreciation for Parisian fine dining.
See Related: Restaurant Lasserre
Special Events and Occasions
New Year's Eve Celebrations
At the heart of Paris, l'Épicure offers the ultimate setting for all kinds of special occasions, particularly New Year's Eve. L'Épicure transforms into a magical wonderland, setting the stage for a memorable celebration in the new year. The luxurious ambiance, exemplary service, and gastronomic delights make it an evening to remember.
Guests can expect an exquisite menu crafted by their talented chefs, who showcase their culinary prowess through a symphony of flavors. As Paris lights up with fireworks, the atmosphere inside l'Épicure turns electric, making it the perfect place to raise a toast with loved ones and welcome a new beginning.
Planning Your Special Occasion
When planning a special occasion at l'Épicure, there are a few aspects to consider to ensure that the event is unforgettable:
Reservation: As a renowned establishment, l'Épicure is often booked in advance. Therefore, planning and reserving a table well ahead of time is crucial, especially for popular occasions like New Year's Eve.
Menu Selection: While their chefs excel in creating exceptional dishes, catering to dietary restrictions or preferences is standard. Communicate such requirements when making a reservation to ensure a seamless dining experience.
Atmosphere: L'Épicure boasts a refined environment embellished with opulent décor. The staff goes above and beyond to make guests feel pampered, delivering an extraordinary dining experience in the city of love.
Partaking in a special event at l'Épicure Paris promises an unforgettable experience. From New Year's Eve celebrations to other intimate occasions, this restaurant provides an unmatched ambiance that sets the tone for a magical evening. One could easily imagine Anthony Bourdain being captivated by the allure of this Parisian gem, applauding the expertly crafted dishes and delighting in every detail of his dining adventure.