Tour Details
Duration: 11 hours
Rating: 3.8
Tour Description
Discover the magic of Disneyland® Paris with this 1-day ticket and transport package from Paris. Hop aboard their comfortable coach and travel to the enchanting world of Disney, just a short ride away. Experience the thrill of the rides, meet your favorite characters and immerse yourself in the enchanting atmosphere of the park. with this package, you'll enjoy hassle-free transportation to and from the park, giving you more time to explore. After a day of fun and adventure, relax on the journey back to Paris, taking in the stunning views of the city. Don't miss out on this unforgettable experience – book your Disneyland® Paris 1 Day Ticket with Transport from Paris today!
Description
Disneyland® Paris 1 Day Ticket with Transport from Paris
Get ready for an adventure of a lifetime as you travel from the City of Lights to the magical world of Disneyland® Paris. This 11-hour experience is the perfect way to escape the hustle and bustle of Paris and dive headfirst into a world of enchantment.
With this ticket, you'll have access to all the rides, shows, and attractions that Disneyland® Paris has to offer. Take a spin on the Mad Hatter's Tea Cups, soar through the skies on the Peter Pan Ride, and get your adrenaline pumping on the Indiana Jones rollercoaster.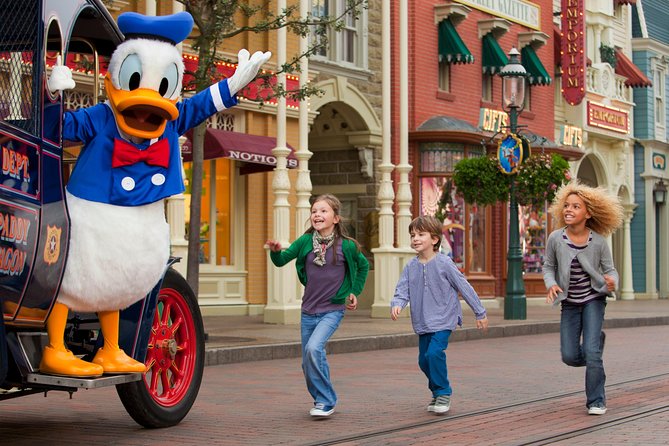 But that's not all – this ticket also includes round-trip transportation from Paris, so you can sit back, relax, and enjoy the journey. As you travel through the French countryside, take in the stunning scenery and let your mind wander to the adventures that await you.
Whether you're a seasoned traveler or a first-time visitor, Disneyland® Paris is an experience that you won't want to miss. So pack your bags, grab your ticket, and get ready for a day of fun, excitement, and pure magic.
Related Resources