Tour Details
Duration: 10 hours
Rating:
Tour Description
Welcome to the Mont St Michel Full-Day Tour by Train from Paris, an experience that will take you on a journey to one of the most enchanting and historic destinations in France. As you board the train in Paris, you'll feel a sense of excitement and anticipation building within you. The train ride itself is a delight, offering stunning views of the French countryside as you make your way towards the coast. Once you arrive at Mont St Michel, you'll be transported back in time to a world of medieval architecture and breathtaking natural beauty. This UNESCO World Heritage site is perched on a rocky island, surrounded by the shimmering waters of the English Channel. As you explore the winding streets and narrow alleys of the town, you'll be struck by the sense of history that permeates every corner. From the towering spires of the abbey to the quaint shops and cafes that line the streets, there's something here for everyone. But the true magic of Mont St Michel is revealed at sunset, when the golden light casts a warm glow over the town and the surrounding landscape. It's a moment that will stay with you forever, a memory that you'll treasure for years to come. So why wait? Book your Mont St Michel Full-Day Tour by Train from Paris today and experience the beauty and charm of one of France's most beloved destinations. You won't regret it!
Description
Embark on a journey that will take you from the bustling streets of Paris to the tranquil shores of Mont St Michel. This full-day tour by train promises to be an unforgettable experience that will leave you with memories to last a lifetime.
Take in the stunning scenery as you travel through the French countryside, passing charming villages and rolling hills. Once you arrive at Mont St Michel, you'll be transported back to the Middle Ages, with its towering spires and winding streets.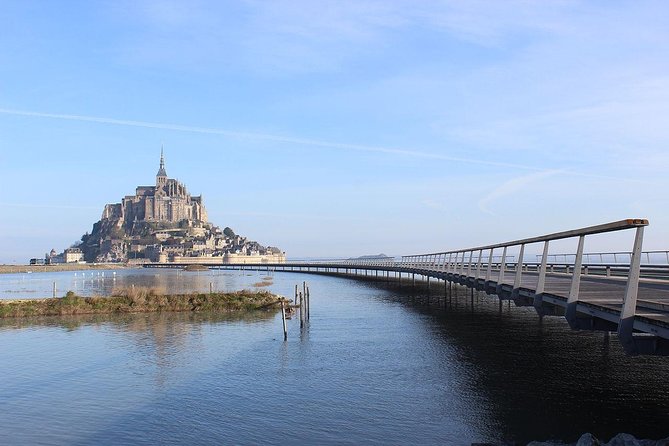 Explore the abbey and learn about its rich history or walk through the town and soak up the atmosphere. Indulge in some delicious local cuisine at one of the many restaurants, or browse the shops for souvenirs to take home.
With its breathtaking views, fascinating history, and charming atmosphere, Mont St Michel is a must-see destination for any traveler. Book your full-day tour by train from Paris today and experience the magic for yourself.
Related Resources