Christmas in Paris casts a magical spell each year over the City of Lights. As winter descends upon France's capital, the city transforms into a spectacular display of twinkling lights, festive decorations, and enchanting Christmas markets. Locals and tourists immerse themselves in the Yuletide spirit as they stroll along the charming streets lined with bright holiday decorations and irresistibly fragrant treats.
Whether embarking on a shopping spree at the beautifully adorned Galeries Lafayette or sipping on some hot mulled wine at one of the bustling Christmas markets, the holiday season in Paris offers something special for everyone. Families can enjoy ice-skating sessions beneath the twinkling city lights, while couples can revel in romantic strolls under gently falling snow.
As the city gears up for its holiday celebrations, the streets come to life with delightful window displays at the department stores, while glistening tree branches gently embrace the iconic Parisian monuments. Christmas in Paris promises a magical, unforgettable experience for those who set foot in this enchanting city during the holiday season.
What's Paris' Winter Weather Like?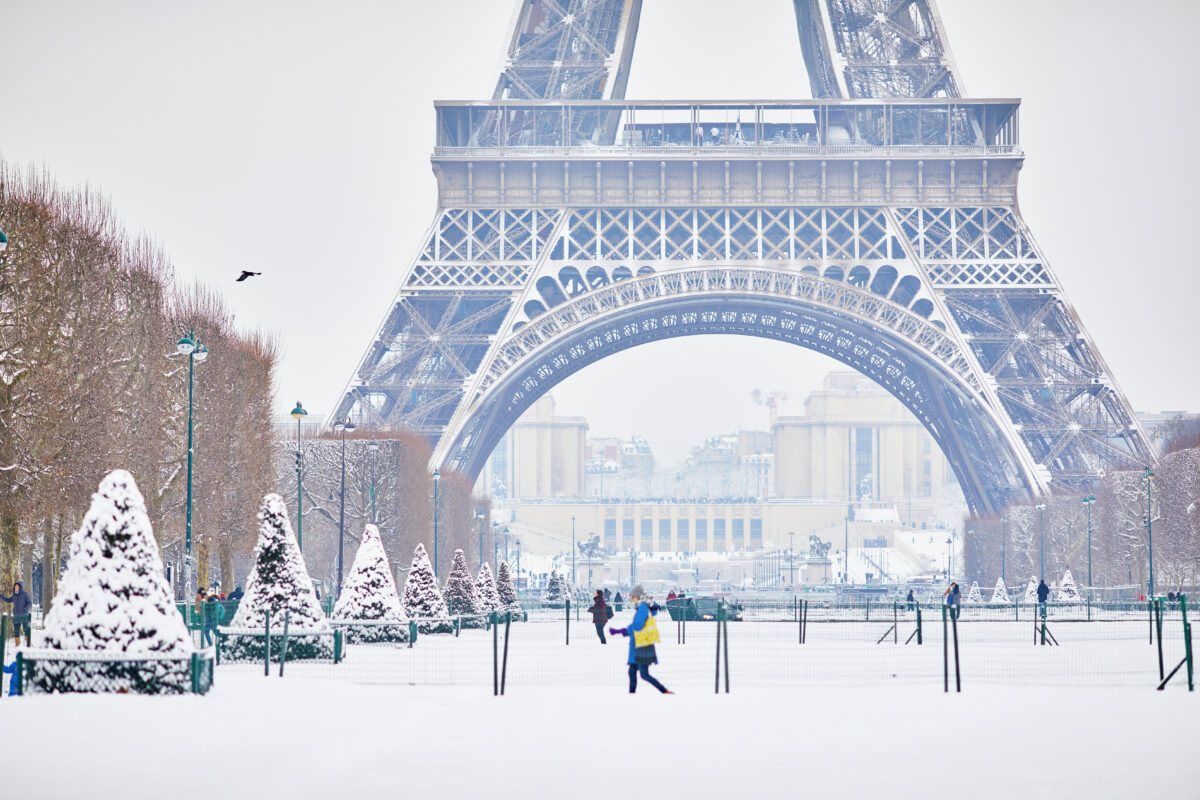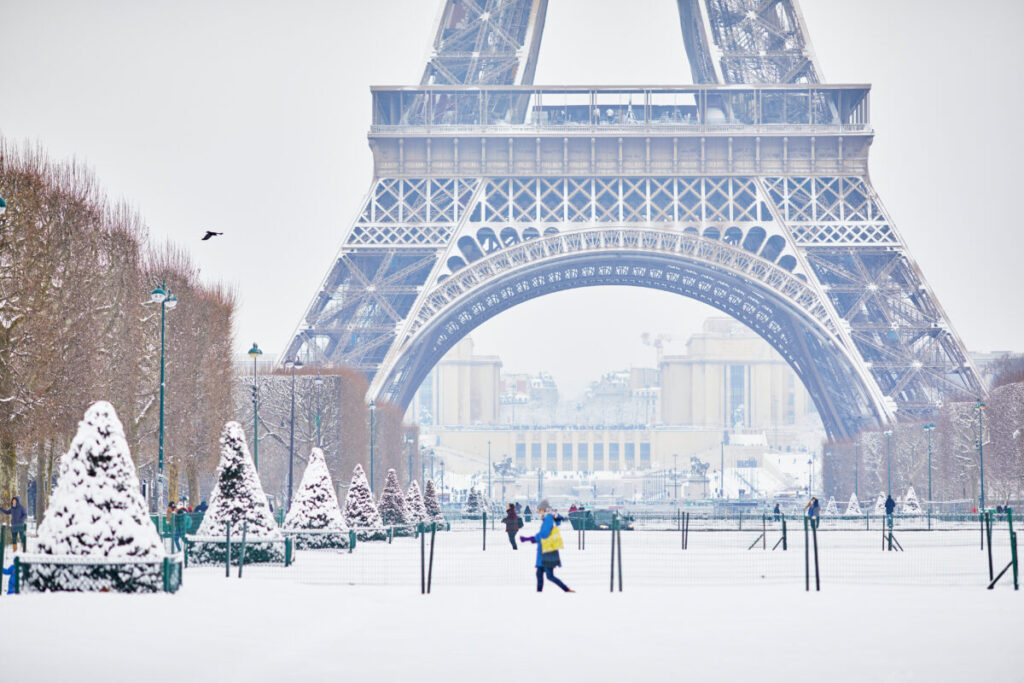 Paris in winter, particularly around Christmas time, exhibits a unique charm with festive decorations lining the streets and twinkling lights adorning the trees. The weather, though, is something that visitors should be prepared for. Parisian winters are generally mild compared to other European destinations but can be quite chilly.
Temperature: December sees average daytime highs around 46 degrees Fahrenheit (8 degrees Celsius), with nights dipping down to an average low of 36-37 degrees Fahrenheit (2-3 degrees Celsius). In general, temperatures during these winter months rarely drop below freezing, keeping Paris relatively comfortable even on the coldest days.
Rainfall: Winter in Paris brings a consistent amount of rainfall, averaging around 59 mm in December. The city experiences more frequent rainfall during the winter months compared to summer, although summer often sees a slightly higher total accumulation.
Snow: Snow is a rare occurrence in Paris. On the few occasions when it does fall, it typically lasts for only a few minutes and melts upon contact with the ground. Hence, a white Christmas in Paris is an infrequent delight.
Despite the chilly temperatures and occasional rainfall, Paris exudes an undeniable charm at Christmas. Delightful Christmas lights, festive markets, and beautiful decorations all create a splendid atmosphere that makes winter in Paris a magical experience.
Things to Do in Paris at Christmas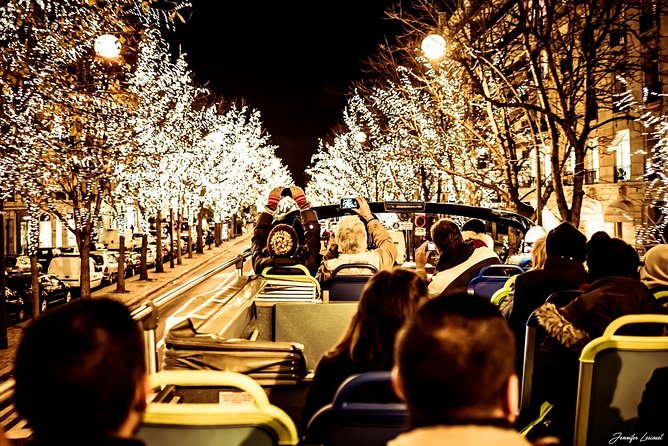 Paris is a magical destination during the Christmas season, offering visitors various festive activities to indulge in. The City of Lights transforms into a winter wonderland, with twinkling lights, charming holiday markets, and various seasonal events.
One of the most enchanting experiences is to stroll down the beautifully decorated streets, such as the Champs-Élysées, which come to life with sparkling trees and festive lights. The Galerie Lafayette is also known for its stunning holiday decorations, making it a must-visit shopping destination.
Christmas markets are a beloved tradition in Paris, where visitors can find unique gifts, indulge in local delicacies, and sip on warm mulled wine. Some popular Christmas markets include the one at Saint-Germain-des-Prés, as well as the Tuileries Garden Christmas market.
Cultural enthusiasts will enjoy attending Christmas and New Year's eve concerts held in historic churches around the city. Don't miss the opportunity to participate in a sing-along performance of Handel's Messiah, a truly unique and unforgettable experience.
For those seeking outdoor activities, ice-skating is a popular pastime during the holiday season. Temporary ice rinks pop up throughout the city, such as the one at the Hôtel de Ville, providing picturesque settings for gliding across the ice with friends and family. Food lovers should not miss the chance to join a walking food tour in neighborhoods like Le Marais, offering a great opportunity to sample seasonal treats and traditional French cuisine while exploring the city.
In addition to these festive activities, visitors can still experience the classic Parisian attractions, such as guided tours of the Louvre Museum, Seine River dinner cruises, or visiting the iconic Eiffel Tower.
With so many captivating things to do and see in Paris during Christmas, travelers will surely create unforgettable memories as they immerse themselves in the city's festive atmosphere.
Admire the Christmas Lights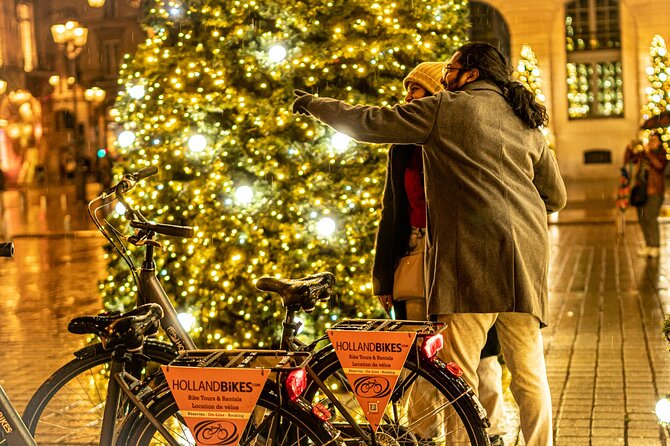 Paris, the City of Light, truly earns its moniker during the festive season. As Christmas approaches, the city is adorned with twinkling lights and dazzling decorations, transforming the streets into a magical winter wonderland. One of the most enchanting ways to embrace the holiday spirit is to admire the numerous Christmas light displays throughout Paris.
The Champs Élysées is the perfect starting point for those seeking an extravagant display. Here, visitors will find over a million sparkling crimson and blue lights draped over the trees, stretching from Place de la Concorde to the Arc de Triomphe. The famous avenue is truly a sight to behold, and nothing captures the magic of Parisian Christmas quite like it.
Although the Champs Élysées may have the most lavish lights, many other areas around Paris are also dressed in their festive best. Trees in various neighborhoods are wrapped in twinkling lights, while colorful decorations are strung across the streets. One standout location to visit is the Hôtel de Ville, where you can soak in the beautiful light displays and enjoy a lively Christmas market.
For an unforgettable experience, consider the Open-top Christmas Lights Bus Tour. This 1.5-hour journey takes you through the city, showcasing the stunning light displays and allowing you to admire Paris's beauty without braving the cold. The tour also includes a hot drink, an audio guide, and personal earphones playing traditional Christmas songs for a truly immersive experience.
Paris is undeniably enchanting during the Christmas season, and there is no better way to experience this magic than by admiring the mesmerizing light displays across the city. As you stroll (or ride) through the streets, you're sure to be captivated by the beauty and festive atmosphere that makes the holiday season in Paris truly one of a kind.
Go Window Shopping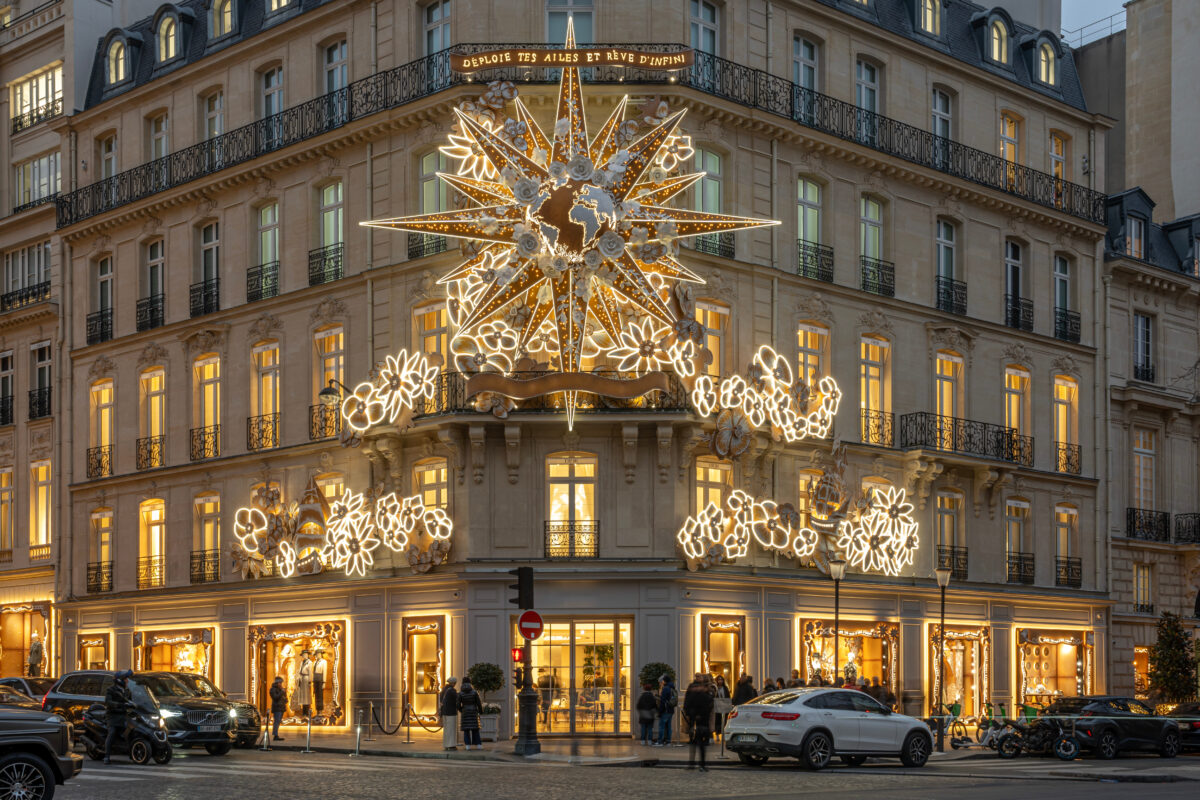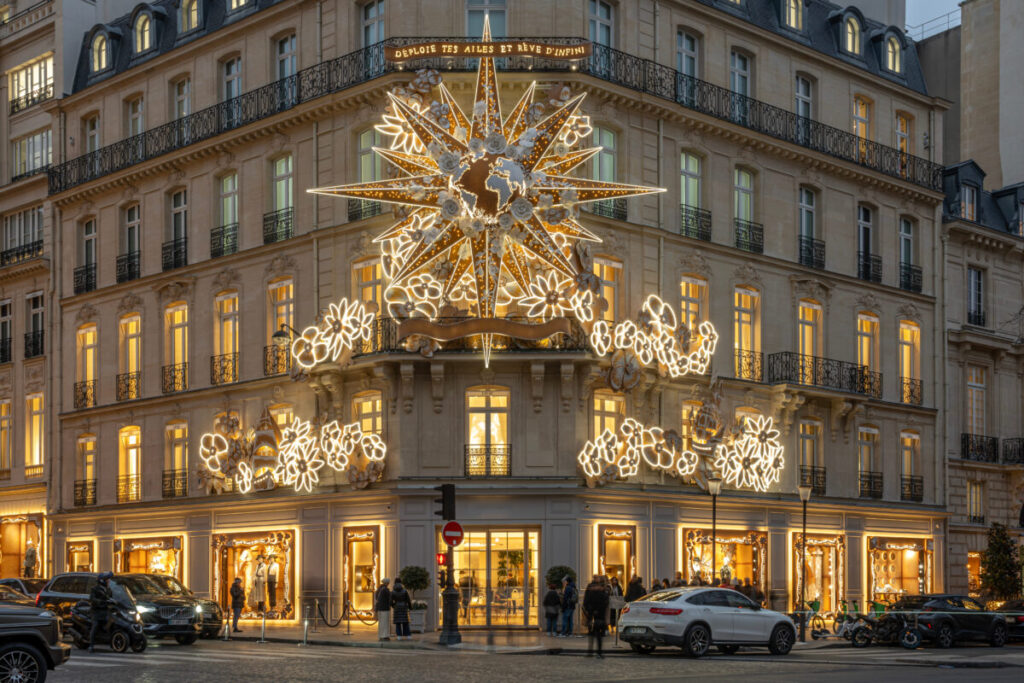 During the Christmas season, Paris transforms into a magical wonderland, full of twinkling lights and festive decorations. One of the highlights of Christmas in Paris is the enchanting window displays at the city's grand department stores. A visit to these beautifully adorned shops is a must for anyone looking to experience the stunning visual delights of Christmas in the French capital.
Galeries Lafayette is an iconic Parisian shopping destination, founded in 1895. It is famous for its remarkable Christmas displays and a show-stopping centerpiece – a spectacularly decorated Christmas tree with a different theme every year. The store's window displays are a visual treat, often featuring unique designs and mesmerizing animations.
Au Printemps is another notable department store on the bustling Boulevard Haussmann. Known for its stunning exterior and luxurious selection of high-end brands, Au Printemps goes all out with its festive window displays. The creative scenes captivate passers-by and perfectly capture the spirit of the holiday season.
Le Bon Marché, situated on the Rue de Sèvres, offers a more intimate shopping experience. The store's Christmas window displays are evocative and poetic, focusing on the enchanting world of childhood. Visitors are transported to a dreamy, fantastical universe, leaving with vibrant images and colors dancing in their heads.
Finally, a trip to the famous Champs-Élysées is essential for window shopping enthusiasts. This iconic Parisian avenue houses several luxurious boutiques and high-end chain stores that feature elaborate decorations and festive storefronts. Especially during the holiday season, the Champs-Élysées transforms into a glittering spectacle for shoppers to enjoy.
In summary, going window shopping during Christmas in Paris is an exceptional experience that shouldn't be missed. The city's department stores and shopping avenues come to life, showcasing the festive spirit and charm that only the City of Light can offer.
Visit the Christmas Markets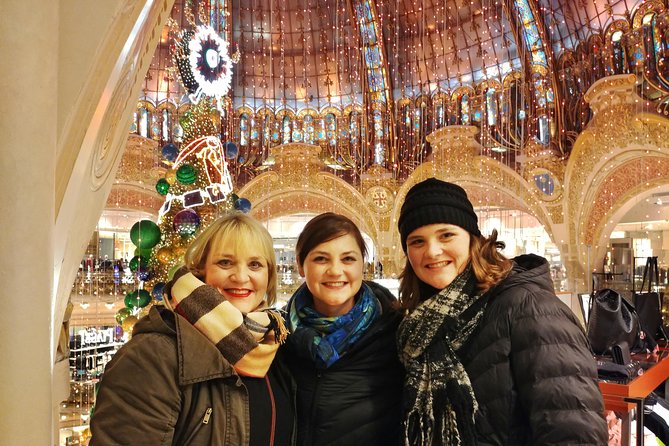 Paris is well-known for its enchanting Christmas markets, which transform the city into a winter wonderland during the holiday season. These festive gatherings offer an ideal opportunity to immerse yourself in the cheerful atmosphere while shopping for unique gifts and indulging in delicious holiday treats.
One of the most popular Christmas markets in Paris is the Tuileries Christmas Market. Set in the picturesque Jardin des Tuileries and Place de la Concorde, this market typically runs from mid-November to early January.
Visitors can expect to find an array of charming chalets offering artisanal crafts, festive ornaments, and scrumptious dishes. The market is open daily from 10 am to 9 pm but is closed on Christmas Day.
Another must-visit market is located near the iconic Notre Dame Cathedral in the 4th arrondissement. This scenic market boasts stunning views of the historic building while providing a cozy atmosphere for locals and tourists to browse unique trinkets, sip on mulled wine, and taste traditional French holiday specialties.
For those who want to explore multiple Christmas markets in Paris, consider visiting the following locations:
Saint-Germain-des-Prés Christmas Market: Situated in the heart of the Saint-Germain-des-Prés neighborhood, this market offers an elegant and intimate shopping experience, perfect for finding high-quality gifts.
La Défense Christmas Market: As one of the largest Christmas markets in the Paris region, La Défense captivates visitors with over 250 chalets offering various gastronomic delights and a vast selection of original crafts from French and European artisans.
As you wander through the bustling streets of Paris, you'll find numerous other Christmas markets set up throughout the city, each with their unique charm and atmosphere. Embarking on a tour of these magical gatherings during the holiday season is guaranteed to leave you feeling enchanted and inspired by the City of Light.
Go Ice Skating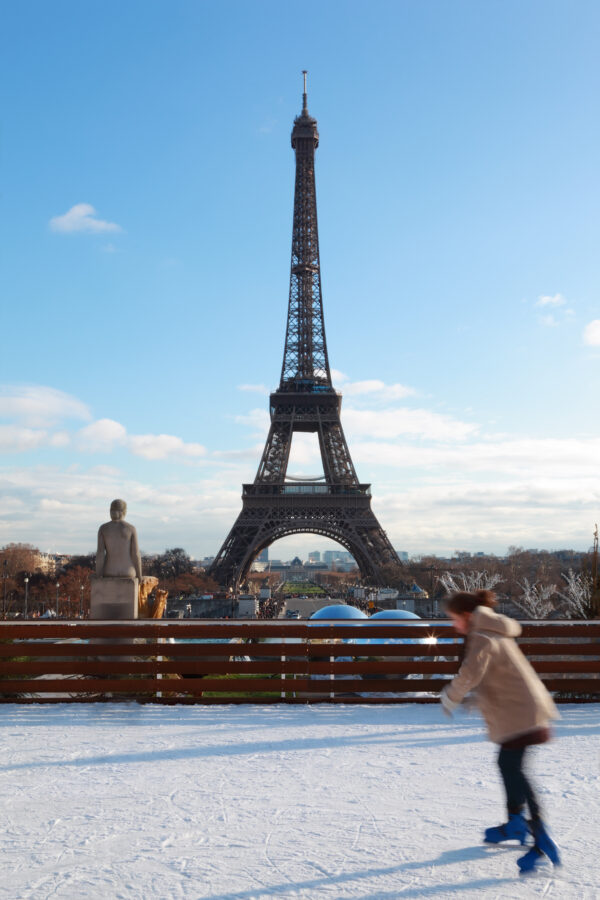 Paris transforms into a winter wonderland during the Christmas season, and one of the most enchanting ways to experience the City of Lights at this time is by going ice skating. With various rinks spread across the city, you can glide on the ice while being surrounded by some of Paris' most iconic landmarks.
The Eiffel Tower Ice Rink is a popular choice among both locals and tourists. Located on the Eiffel Tower's grounds, this rink offers spectacular views as you skate. Operating usually between mid-December and mid-February, the ice skating rink is free with access to the Eiffel Tower but may require a reservation due to its popularity.
In addition to the Eiffel Tower, other notable locations in Paris host ice rinks during the Christmas season. For instance, the Christmas Market at Quai Branly features a rink that allows you to skate while soaking in the festive atmosphere of the market. There are plenty of other rinks scheduled to open across the city, with updates available throughout the holiday period.
Ice skating in Paris offers various sessions to cater to different preferences. Morning sessions generally run from 10:00 to 13:00, afternoon sessions from 14:00 to 19:00, and nocturne (evening) sessions from 20:00 to 2:00. Prices for these sessions may vary depending on the location and time, so check ahead for specific details.
While ice skating in Paris is generally safe, it's essential to be cautious and follow any guidelines provided at each rink. Whether you're a seasoned skater or a first-timer, there's no better way to immerse yourself in the magic of Christmas in Paris than by gliding on the ice under the city's twinkling lights.
See Related: Winters in France: A Comprehensive Guide to the Season
Take a Trip to the Fair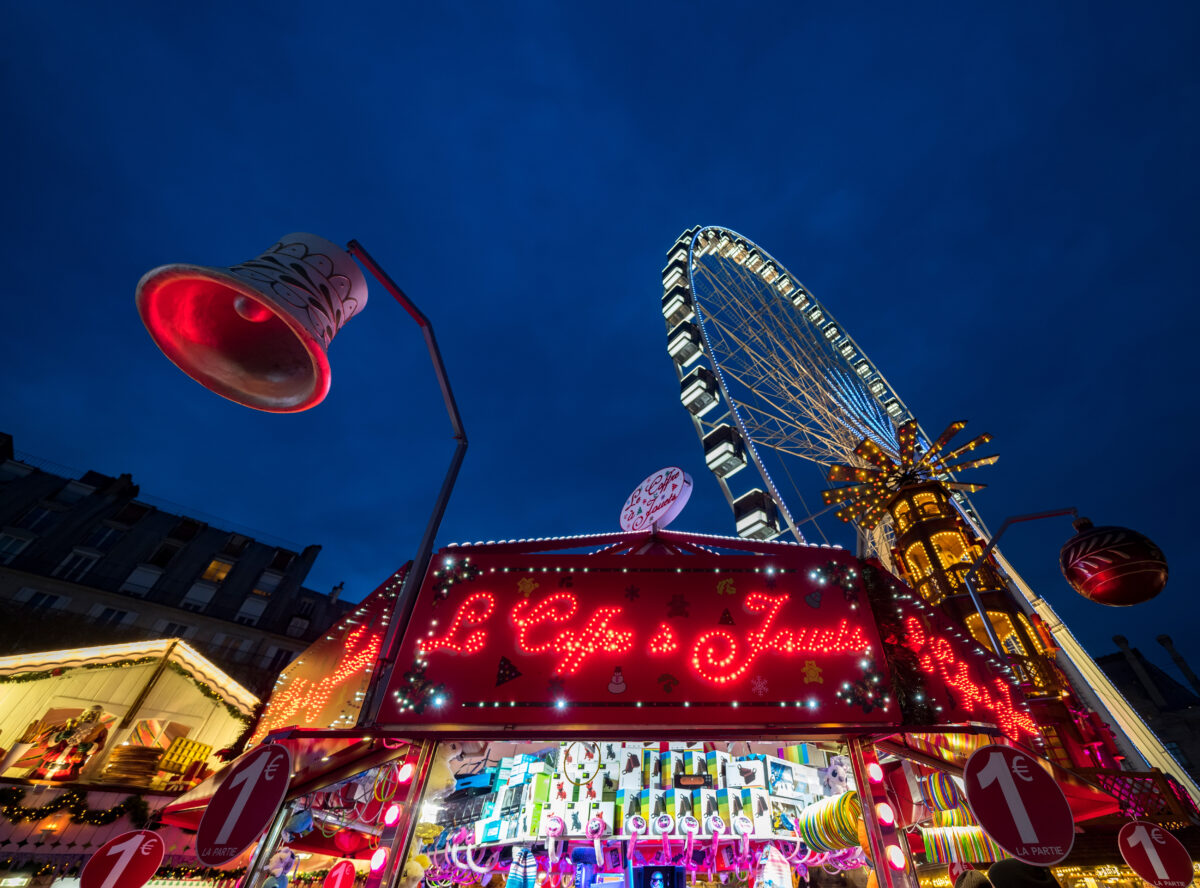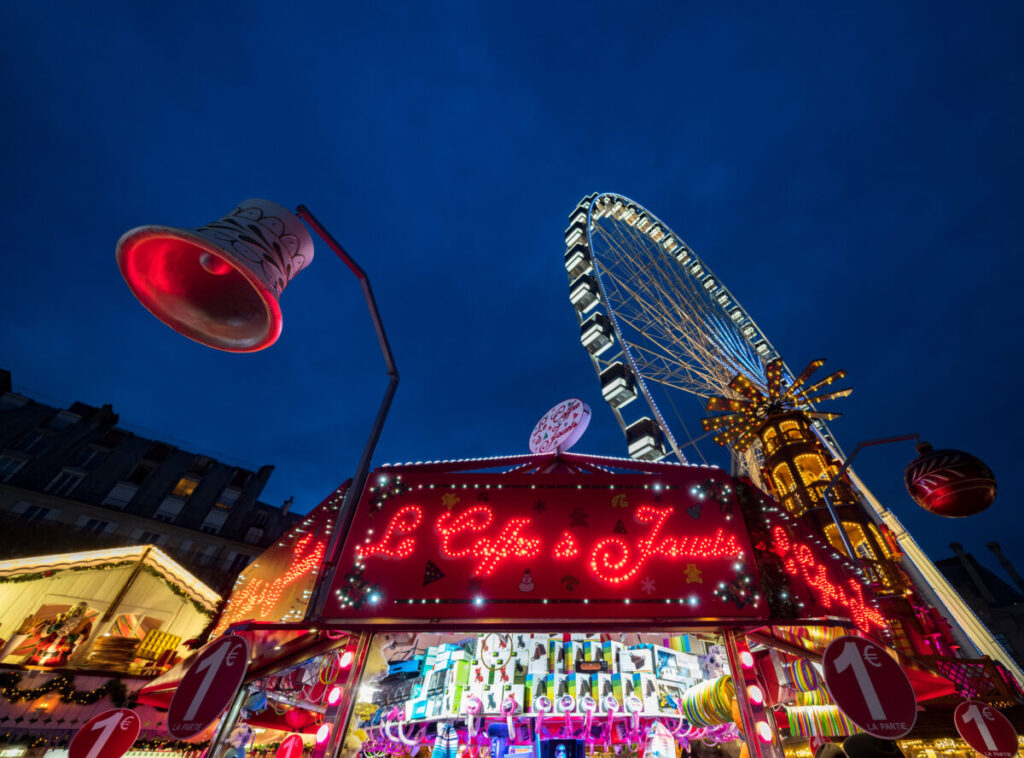 During the Christmas season in Paris, a trip to the fair is a must for both locals and visitors. The city comes alive with festive decorations, sparkling lights, and numerous fairs offering a wide array of activities and attractions.
One of the most popular fairs is the Tuileries Christmas Market. Located in the heart of Paris, this market features over 100 chalets offering a diverse selection of handmade crafts, seasonal treats, and French delicacies. Strolling through the market, visitors can indulge in traditional French foods like raclette, crêpes, and vin chaud while browsing unique and memorable Parisian souvenirs.
In addition to shopping and dining, the Tuileries Christmas Market boasts a variety of attractions for the whole family to enjoy. Those with a penchant for adventure can take a spin on the Ferris wheel, which offers stunning aerial views of the city. Other amusement rides, such as the carousel and the ice rink, provide hours of entertainment for both children and adults.
Another fantastic fair option is the Le Village de Noël on the Champs Elysées. Here, visitors can find a similarly charming atmosphere filled with twinkling lights and holiday delights. This fair takes place along the grand avenue of the Champs Elysées and offers a selection of food, gifts, and rides that cater to a wide range of interests and tastes.
In conclusion, Paris offers an enchanting Christmas experience through its various fairs and festive attractions. No matter which market or fair you choose to attend, the Christmas season in the City of Lights is sure to create unforgettable memories.
Listen to a Christmas Concert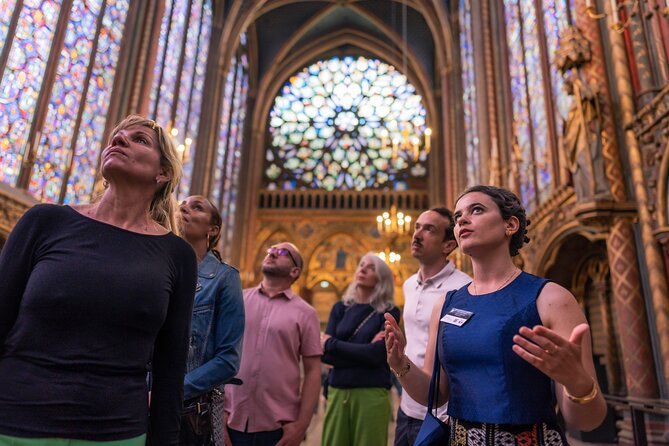 Experiencing a Christmas concert in Paris is a magical and unforgettable way to celebrate the festive season. As the city comes alive with twinkling lights and festive cheer, the enchanting melodies of classical music fill the air, offering a perfect backdrop to a memorable evening.
One iconic venue for Christmas concerts in Paris is La Sainte-Chapelle, where visitors can enjoy breathtaking stained-glass windows and an uplifting holiday performance in a stunning setting. This beautiful historic church is known for its incredible acoustics and hosts numerous concerts throughout new year's eve and the Christmas season.
Another popular choice for Christmas concerts is Eglise Saint-Eustache, where audiences can witness captivating performances of favorites like Vivaldi's 'The Four Seasons' and Mozart's 'A Little Night Music'. This grand church enjoys a rich musical history, making it a fitting location for Christmas concerts that combine traditional and contemporary classical music.
For those who enjoy a blend of classical music and theater, the Radio Classique's Grand Christmas Concert is an annual event not to be missed. Held at Paris Théâtre des Champs-Élysées, this festive concert features renowned musicians and singers as they perform timeless Christmas pieces to delight audiences of all ages.
In addition to formal concerts held in churches and theaters, visitors will also find informal performances across the city. Some open-air Christmas markets, such as the one on the Champs Elysées, often host live music performances amidst the colorful stalls, offering a more casual yet equally enchanting Christmas music experience.
Ultimately, aris offers a diverse array of Christmas concert options for all tastes and preferences. Whether attending a grand performance in a historic church or discovering the talents of local musicians at a charming Christmas market, visitors are sure to find numerous opportunities to enjoy the rich and inspiring sounds of the holiday season in the City of Lights.
Join in a Christmas Church Service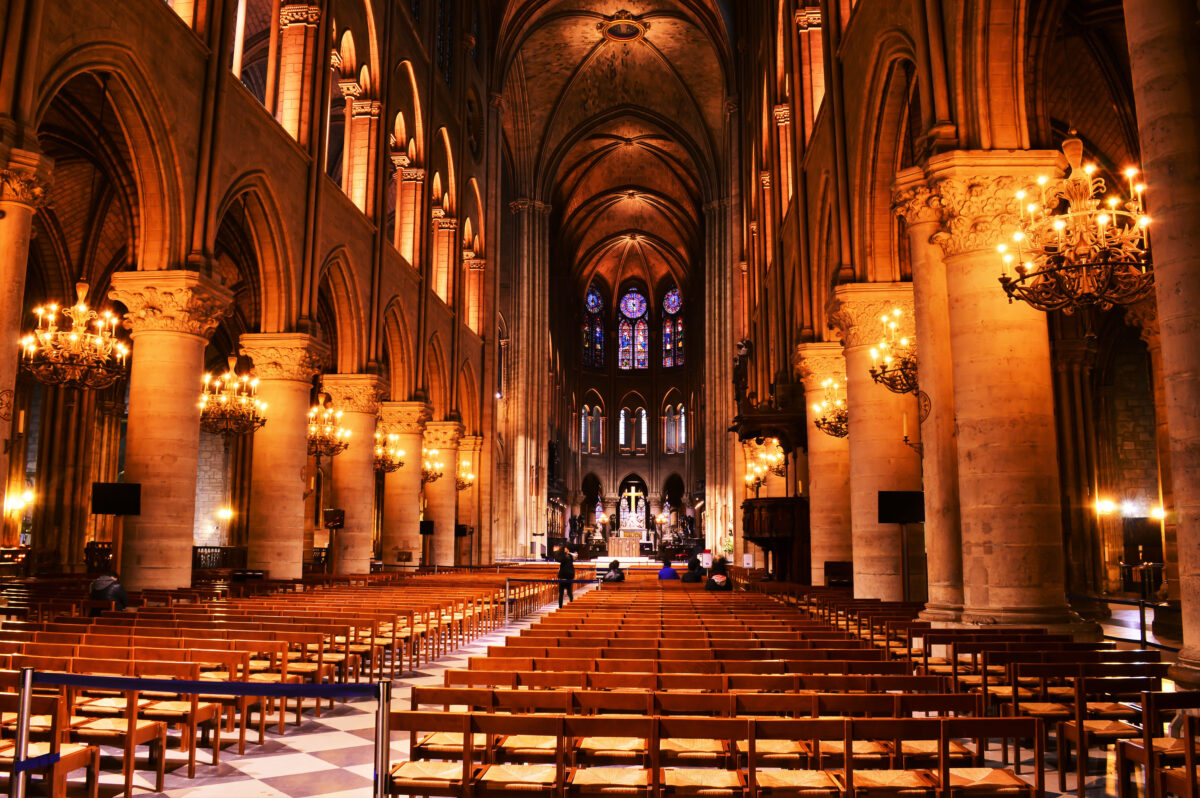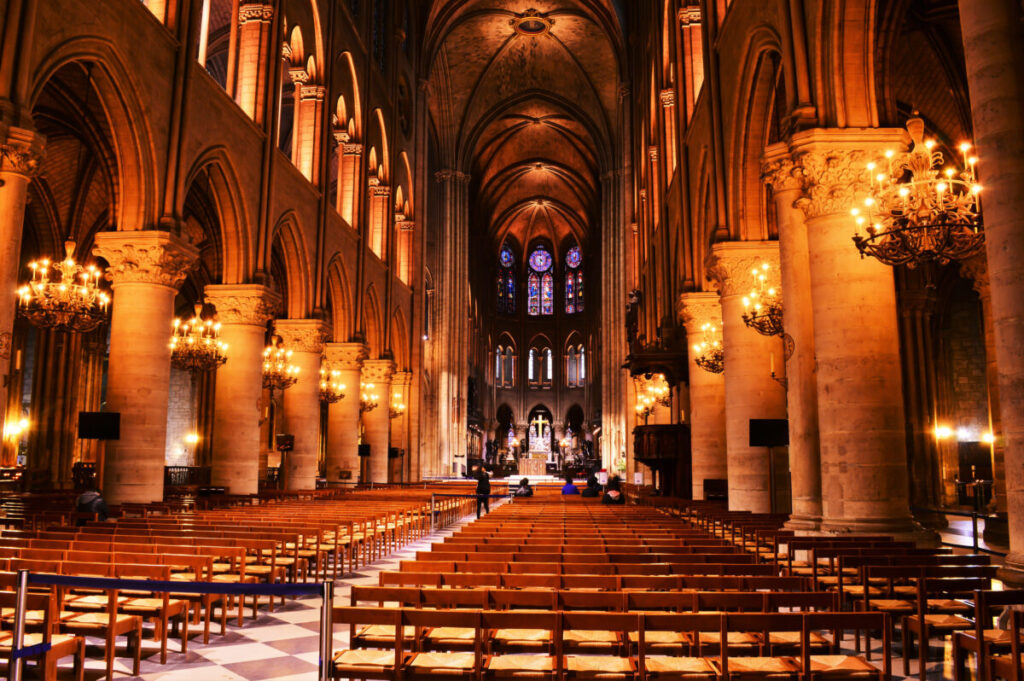 During the holiday season, attending a Christmas church service in Paris offers visitors the opportunity to immerse themselves in a traditional French celebration. The city's famous churches often showcase awe-inspiring seasonal decorations and enchanting music, allowing attendees to experience the true spirit of Christmas.
One iconic location to attend Christmas Eve services is Notre-Dame de Paris. A variety of scheduled services take place on December 24th, starting at 4:30 PM, and culminating with a grand midnight mass, just after the ringing of the renowned bell, Emmanuel. In addition to Notre-Dame, Paris boasts numerous beautiful churches, each with their unique offerings and festive atmosphere.
Another splendid venue for a Christmas church service is Saint-Sulpice, where you may join in Christmas Eve Mass which includes a Cavaillé-Coll pipe organ concert at 10 PM, Christmas vigil at 11 PM, and a Midnight Mass. For those who are unable to attend the service on December 24th, you can still participate in the Christmas Day Mass on December 25th at 11 PM.
Beyond the grandiosity of Notre-Dame and Saint-Sulpice, other noteworthy churches such as Sacré-Cœur and the Madeleine Church also celebrate the holiday season with nativity scenes and Christmas masses. These places offer an authentic and traditional way to celebrate Christmas in the City of Lights.
In summary, Paris offers a multitude of options for those wishing to partake in a memorable Christmas church service. Whether it's the captivating music, breathtaking architecture, or festive decorations that draw you in, the experience will surely leave a lasting impression on your holiday celebrations.
Eat, Drink and Be Merry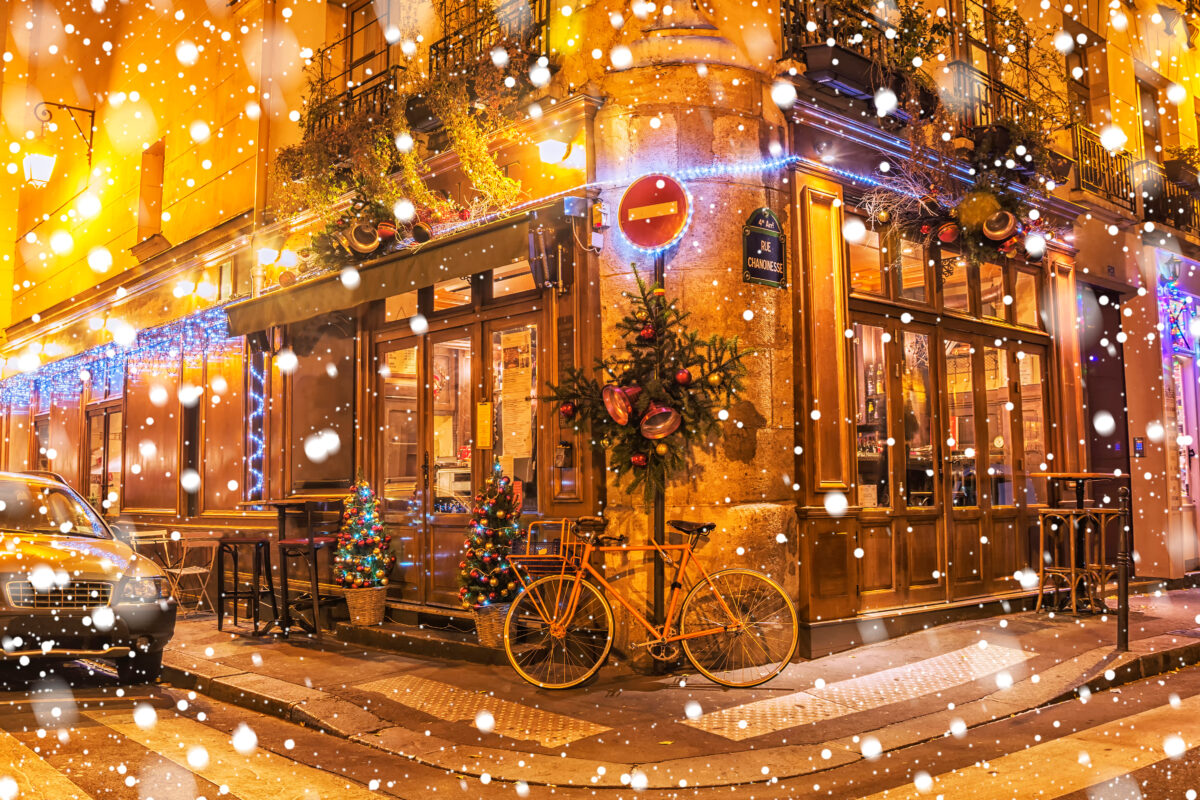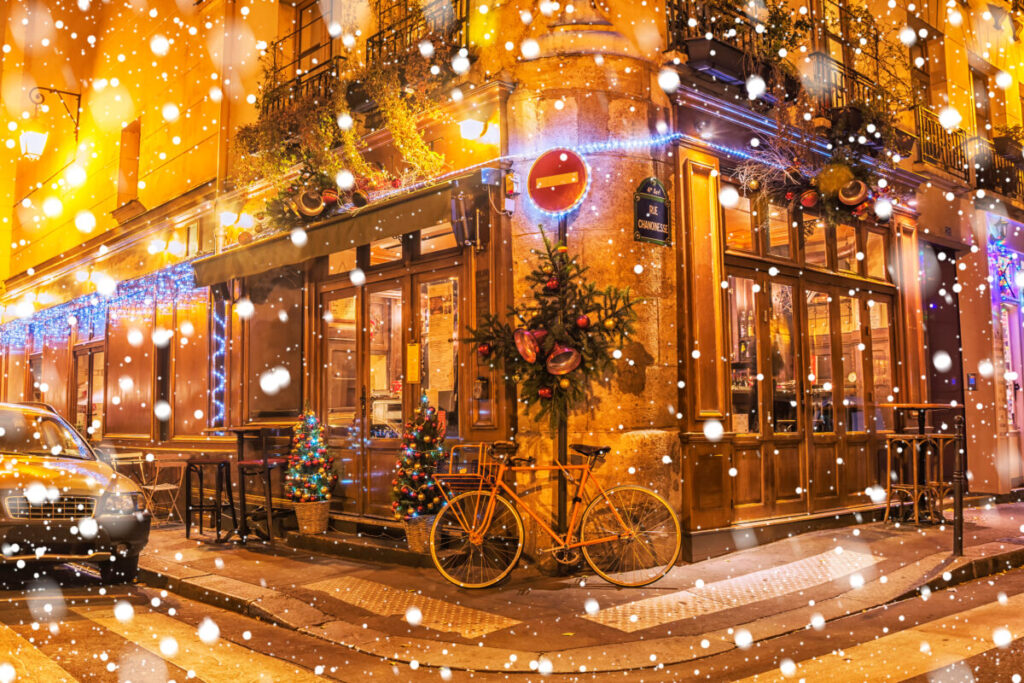 During the Christmas season in Paris, countless restaurants offer special festive menus and provide a warm, welcoming atmosphere while you dine. Here are a few restaurants you won't want to miss while in town:
Le Grand Véfour: Established in 1784, this historical gem sets the stage for an elegant dining experience. The Michelin-starred establishment has both a Christmas Eve and Christmas Day menu, presenting traditional French cuisine with a festive twist.
L'Ambroisie: Nestled in the heart of the Marais district, L'Ambroisie is a three-Michelin-starred jewel. With its refined ambiance and exceptional cuisine, Christmas in Paris feels even more luxurious as you indulge in their seasonal menu.
No trip to Paris during the winter holidays, is complete without strolling through the numerous Christmas markets scattered throughout the city. Make sure to delight your taste buds with local delicacies as you browse through these festive attractions. Some highlights of the markets include:
La Magie de Noël at the Tuileries Garden: This Christmas market is more than just a shopping destination; it's a wonderland of culinary delights. Sample regional specialties, roasted chestnuts, and the perfect cup of mulled wine.
Saint-Germain-des-Prés Christmas Market: Located in one of Paris' most charming neighborhoods, this market features gourmet food stalls, handmade crafts, and other unique gift ideas. Make your visit extra special by joining the Christmas Gourmet Tour of Saint-Germain-des-Prés.
To truly embrace the Parisian festive spirit, venture out to the city's lively cafés – the perfect place to take a break from the chilly weather and indulge in some high-quality hot chocolate or a slice of gingerbread.
Remember, Christmas in Paris is a magical time where scrumptious food, delightful drinks, and good cheer await you around every corner.
Spend an Enchanted Christmas at Disneyland Paris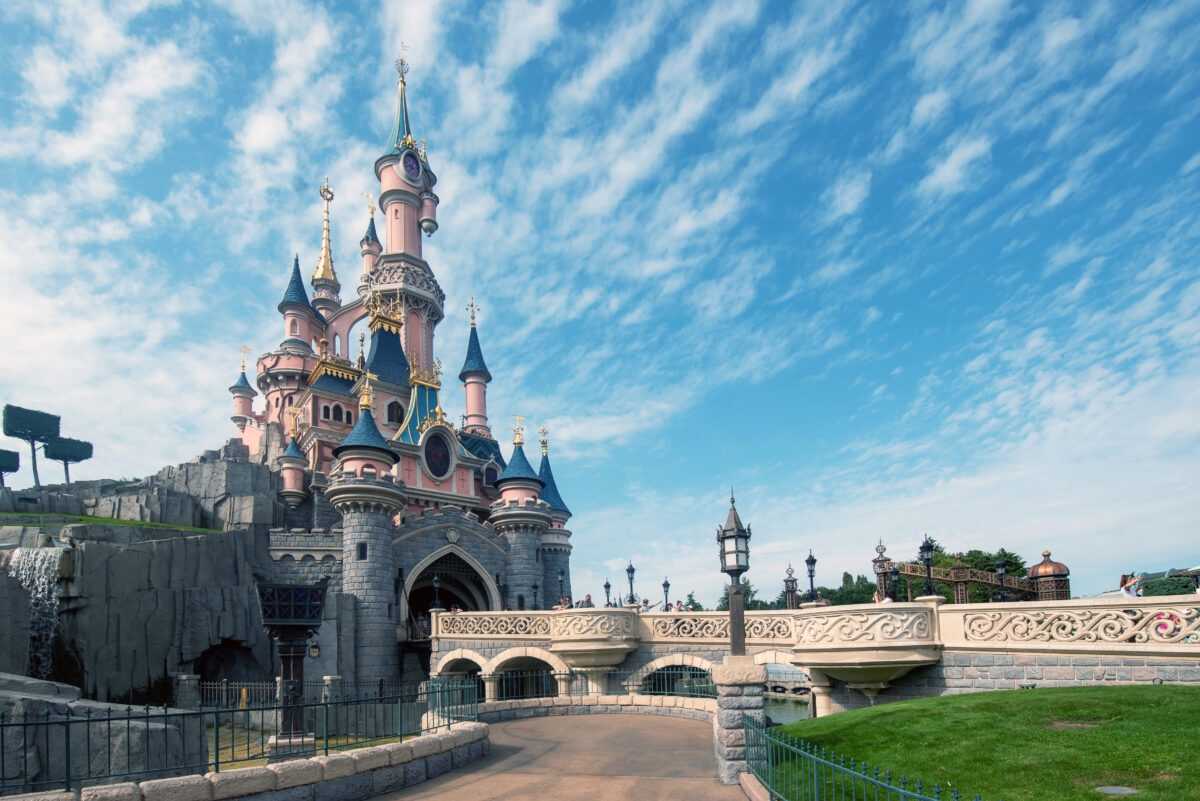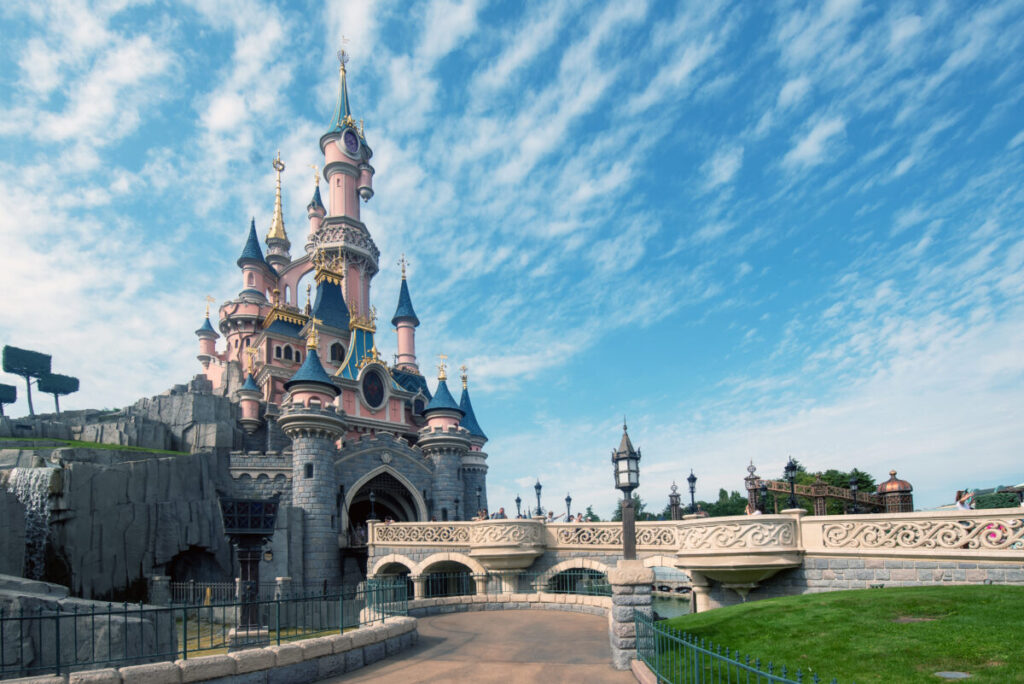 Visiting Disneyland Paris during the Christmas season is a magical experience that visitors of all ages will cherish. From 11 November 2023 to 7 January 2024, the park will transform into a winter wonderland under the theme of Disney Enchanted Christmas, providing a festive atmosphere like nowhere else.
Upon entering the park, guests will be greeted by a gigantic Christmas tree in the town square, adorned with twinkling lights and charming decorations. Main Street will be illuminated with impressive snow-covered fairy lights and enchanting Mickey ear decorations, immersing visitors in the holiday spirit as they explore the park.
Disneyland Paris offers an array of exciting events and activities during the Christmas season. One of the highlights is the Magical Christmas Tree Lighting, a spectacular event that captivates guests as the enormous tree comes to life with dazzling lights. The park's signature Disney's Illuminations show will also take on a festive twist, combining mesmerizing music, brilliant lights, and awe-inspiring fireworks to create a breathtaking evening display.
In addition to the stunning visual displays, guests can enjoy special Christmas-themed entertainment throughout the park. Beloved Disney characters don their festive outfits for a lively seasonal parade, while talented performers put on heartwarming holiday shows that are sure to delight children and adults alike.
Savor delectable holiday treats and shop for unique souvenirs at the themed food stalls and shops sprinkled throughout Disneyland Paris. From indulgent hot chocolates to exclusive Christmas merchandise, there's something for everyone to make their holiday visit truly special.
Visiting Disneyland Paris during the Christmas season promises a magical and unforgettable experience for the whole family. With enchanting entertainment, festive décor, and delectable treats, Disney Enchanted Christmas offers a truly unique way to celebrate the holidays in the heart of Paris.
Watch the Sunset on Montmartre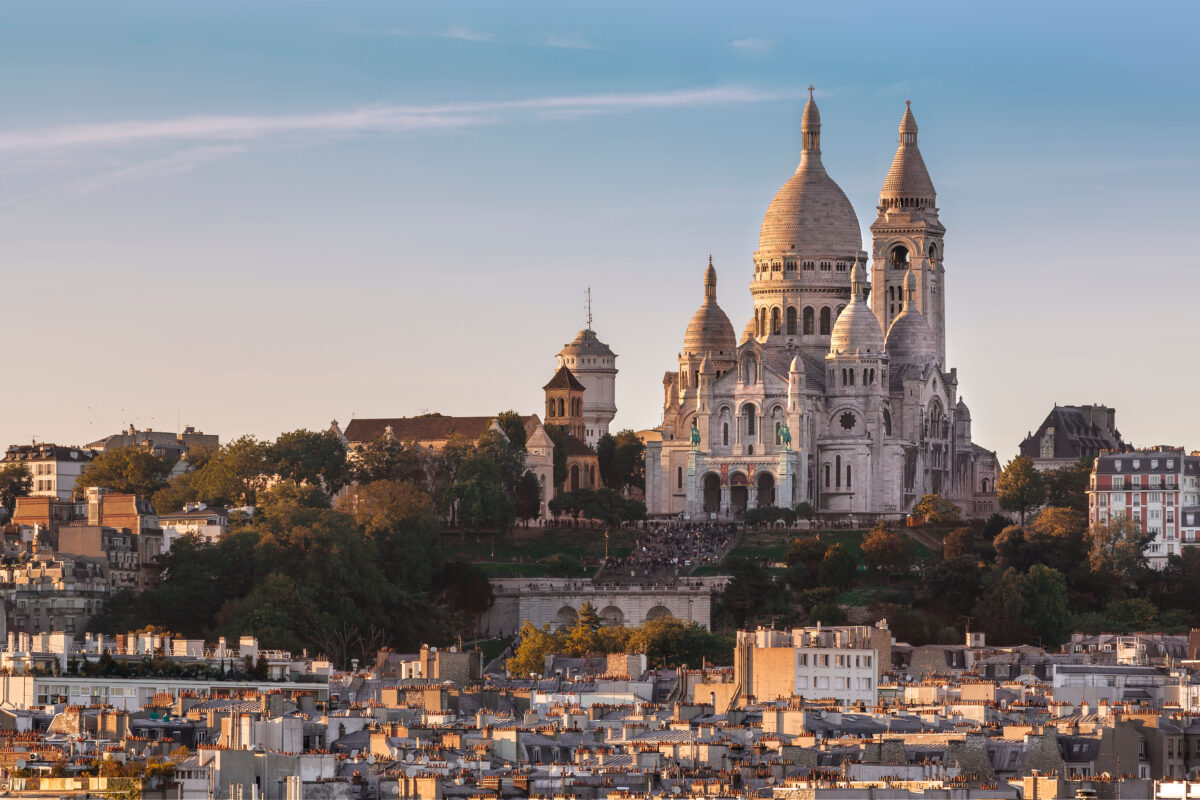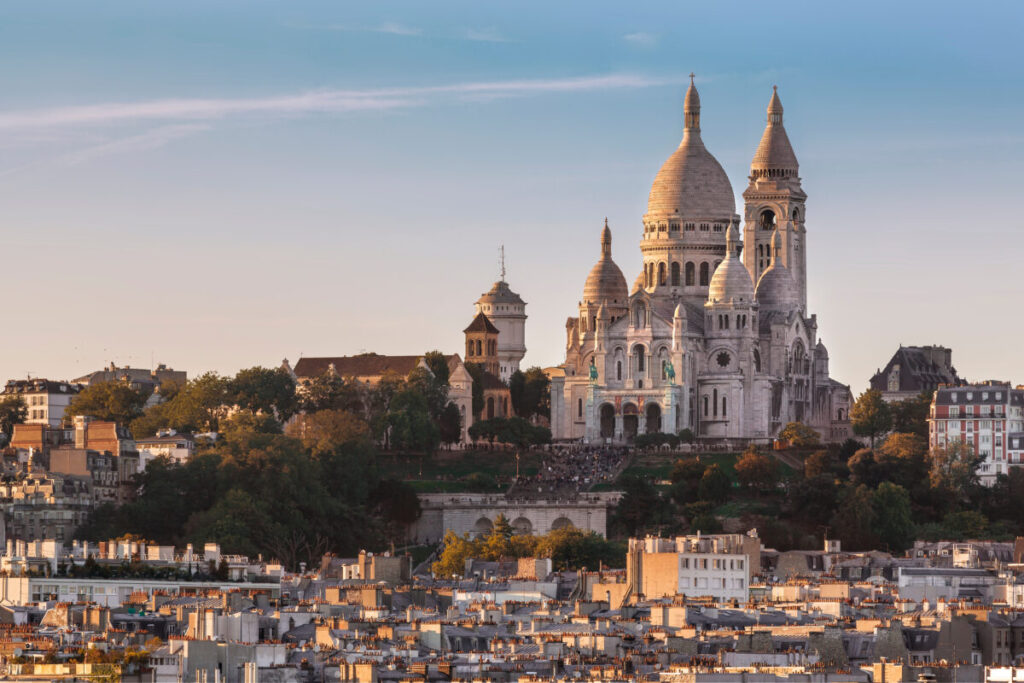 Montmartre, a charming Parisian neighborhood, offers a spectacular setting for watching sunsets. Home to the iconic Sacré-Coeur Basilica, this area provides visitors with stunning views of the city and an unforgettable experience.
To begin your sunset adventure, walk up the steps to the basilica. Along the way, you may encounter street performers, artists, and other Parisian characters contributing to the vibrant atmosphere. Once you reach the top, enjoy the magnificent vista of Paris and the golden hues of the sunset casting a warm glow on the city.
Another great option for a sunset-viewing vantage point is the Montparnasse Tower. As the tallest tower in Paris, it offers a unique perspective of the Eiffel Tower and other iconic landmarks. Visitors can purchase tickets to the tower's viewing platform or enjoy a meal at the tower's restaurant while marveling at the picturesque scene.
When visiting Montmartre, consider timing your sunset experience with a leisurely stroll along its cobblestone streets. The neighborhood is adorned with dazzling holiday lights during the Christmas season, adding a touch of magic to the already enchanting atmosphere. As you immerse yourself in the charm of Paris during this festive time, remember to bundle up and savor every moment of the captivating sunset on Montmartre.
Related Resources: