Nestled in the lush Bois de Boulogne in Paris' 16th arrondissement, Le Pré Catelan is a dining experience that showcases French culinary excellence and creativity. With its opulent Parisian ambiance and award-winning cuisine, this three-Michelin-starred restaurant is a gastronomic haven for food connoisseurs looking for unrivaled flavors in the heart of Europe's most romantic city.
Helmed by renowned chef Frédéric Anton, the dishes at Le Pré Catelan are a testament to his culinary philosophy of simplicity, flavor, and sophistication. Offering both lunch and dinner menus, the restaurant provides guests with exquisitely crafted plates that explore the harmonies of flavors while striving for perfection. The décor of the establishment adds to the exclusive atmosphere, reflecting France's passion for elegance and refinement.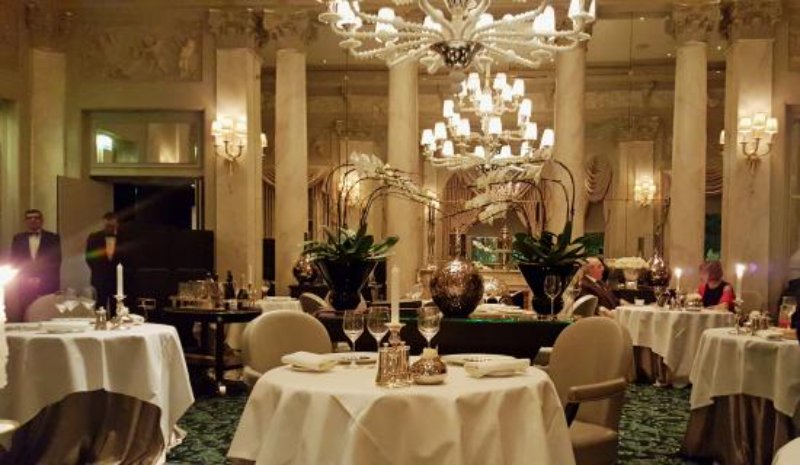 In this review, we will explore some of the highlights of a meal at Le Pré Catelan, delving into the expertise of Chef Frédéric Anton and his team, as well as the enchanting ambiance of this jewel in the heart of Paris. As we delve into these aspects, it becomes apparent why the restaurant has earned its prestigious stars and the admiration of food enthusiasts worldwide.
Location and Hours
Le Pré Catelan is a prestigious restaurant nestled in the heart of Bois de Boulogne, a picturesque park located in the 16th arrondissement of Paris, France. This highly-regarded establishment offers an unforgettable dining experience in a serene and elegant setting, surrounded by lush greenery.
The restaurant is conveniently accessible via Route de Suresnes. For those driving to the location, ample parking is available nearby. Public transportation options also make it easy for diners to reach Le Pré Catelan. You may contact the restaurant for precise directions to further assist you in planning your visit.
Le Pré Catelan operates during specific hours, ensuring their patrons' highest level of attentiveness and quality service. The restaurant is open for lunch from 12:00 PM to 2:00 PM, then for dinner from 7:30 PM to 10:30 PM. It is essential to note that the restaurant may be closed during certain times, so it is recommended to check their website or contact them directly for the most up-to-date information on operating hours and reservations.
Going through the Bois de Boulogne can sometimes reserve a few surprises, but it's worth the trip. By day as well as by night, it's very romantic.
Chef Frédéric Anton
Chef Frédéric Anton is a renowned figure in the culinary world, holding the title of Meilleur Ouvrier de France, a prestigious recognition of excellence in French cuisine. Anton's culinary journey began with an illustrious apprenticeship under the guidance of legendary chef Joël Robuchon at his 3-star restaurant Jamin in Paris. In 1997, Frédéric Anton took the helm of Le Pré Catelan, a three Michelin-starred restaurant in the Bois de Boulogne, southwest of Paris.
Anton's approach to cooking focuses on stripping down dishes to their purest forms, concentrating on the flavors and techniques that make each dish unique. The cuisine at Le Pré Catelan demonstrates his commitment to tradition, skillfully blending timeless techniques with outstanding ingredients to produce a harmonious and memorable dining experience.
Throughout his tenure at Le Pré Catelan, Chef Anton has maintained the restaurant's three Michelin star rating, a testament to his unwavering dedication to culinary excellence. The restaurant offers a range of innovative dishes inspired by Anton's training with Robuchon, such as "l'os à moelle," a bone marrow dish prepared in two distinct ways. One version is peppered, while the other is stuffed with porcini and cabbage, both braised to perfection.
Under Chef Frédéric Anton's leadership, Le Pré Catelan continues to be one of the world's most acclaimed dining destinations, carrying on the legacy of his mentor, Joël Robuchon. Patrons come from around the globe to experience the exceptional flavors, techniques, and artistry that are the hallmarks of Anton's culinary vision.
Menu Overview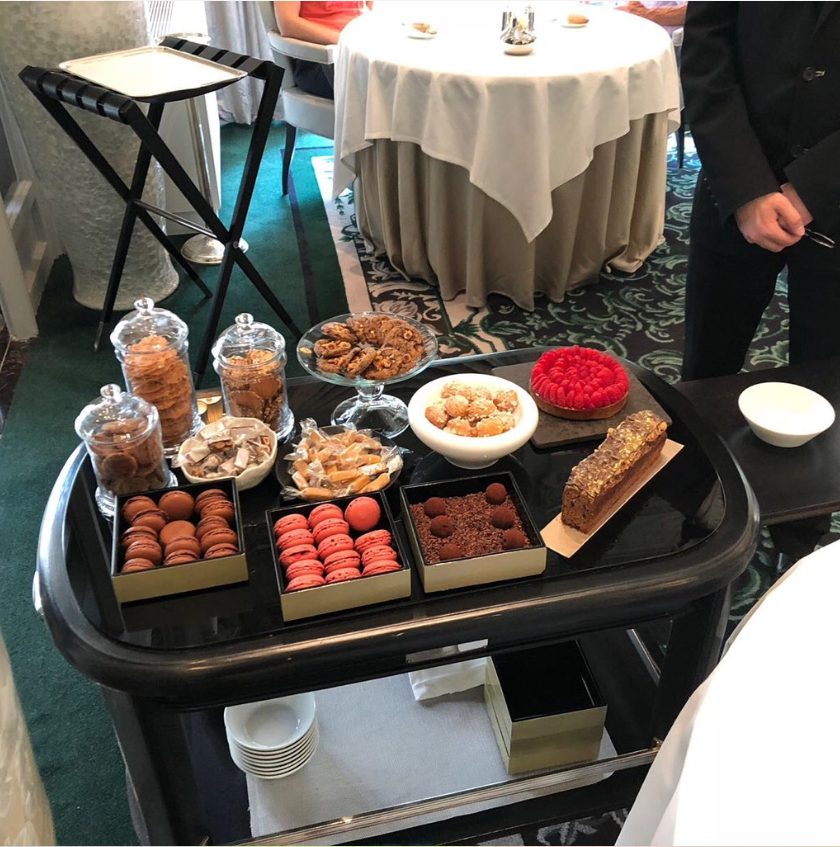 Seasonal Menus
Le Pré Catelan's menu is designed around the seasons, highlighting the best ingredients available during summer and winter. This allows the chefs to showcase their creativity and craft dishes using fresh, high-quality produce. The seasonal emphasis ensures that each visit to the restaurant offers a unique gastronomic experience.
Signature Dishes
Le Pré Catelan boasts an array of signature dishes that continually impress first-time guests and regular patrons. The skilled culinary team believes in balancing robust flavors with delicate textures and vibrant colors. Some examples of their noteworthy creations include:
Foie gras: A rich and tender delicacy presented in a variety of ways, occasionally accompanied by fruit or berry compotes.
Seafood: Intricately prepared dishes featuring the day's freshest catch, elegant sauces, and daring flavor combinations.
Meat: Fine cuts of meat are expertly cooked and paired with seasonal vegetables, aromatic herbs, and rich sauces.
Beverages and Pairings
The beverage selection at Le Pré Catelan is carefully curated, with a diverse range of wines, spirits, and non-alcoholic options. The sommelier is available to guide guests through their extensive wine list and provide expert recommendations for pairing each dish with the perfect drink to enhance and complement the flavors.
Pastry and Bread
Le Pré Catelan takes great pride in its pastry and bread offerings, providing guests with a delightful conclusion to their meal. The in-house pastry chef constantly works on new creations, maintaining the restaurant's high standards for taste and presentation. The bread selection is equally remarkable and is an integral part of the dining experience at Le Pré Catelan.
Michelin Stars and Ratings
Restaurant Le Pré Catelan holds the prestigious distinction of having three Michelin stars. Located in the idyllic Bois de Boulogne, Paris, this esteemed dining establishment offers a unique blend of modern and classic cuisine that has firmly established its reputation among the finest restaurants in the world.
With a rating of 4.5 out of 5 on various review platforms, Le Pré Catelan stands out as one of Paris's top Michelin Star French restaurants. This rating acknowledges not only the high caliber of the dishes in terms of taste, but also the impeccable level of service and the extraordinary attention to detail in terms of presentation, atmosphere, and overall dining experience.
At Le Pré Catelan, achieving a balance between classic flavors and contemporary culinary techniques is a priority, which allows the menu to retain its authenticity while maintaining a sense of innovation. This is crucial in maintaining the three Michelin star designation, as Michelin inspectors consider the consistency, balance, and overall mastery of technique displayed by the restaurant in their evaluation.
This French gem excels in all aspects of a fine dining experience—food, service, value, and atmosphere—demonstrating why it holds the rare distinction of three Michelin stars. In the world of haute cuisine, Le Pré Catelan exemplifies the perfection that patrons expect from such an establishment and secures its place among the culinary world's elite.
Le Pré Catelan's high ratings and impressive accolades continue to attract food connoisseurs from around the globe who seek to indulge in an unforgettable dining experience—a testament to its status as a truly exceptional Michelin-starred restaurant.
See Related: Best Desserts in Paris to Try
Reservation and Party Size
Le Pré Catelan, a prestigious Parisian restaurant, is known for its refined French cuisine and exceptional dining experience. When planning a visit, it is highly recommended to make reservations in advance, as this Michelin-starred establishment attracts a large number of patrons, and tables can fill up quickly.
To make a reservation at Le Pré Catelan, call the restaurant directly at +33 1 44 14 41 14. They are usually open for lunch between 12:00 PM and 2:00 PM and dinner from 7:30 PM to 10:30 PM. Remember that the restaurant may be closed on certain days, so it is best to verify availability when making your reservation.
Regarding party size, Le Pré Catelan can comfortably accommodate groups of various sizes. However, it is essential to inform the staff about the number of people in your party while making your reservation to ensure that they can cater to the needs of your group. The restaurant's lavish and elegant setting makes it the perfect location for special occasions and intimate gatherings.
Securing a reservation at Le Pré Catelan will ensure a memorable dining experience for you and your guests. Remember to reserve your table in advance and specify the number of people in your party to help the restaurant provide a smooth and enjoyable experience.
Ambiance and Service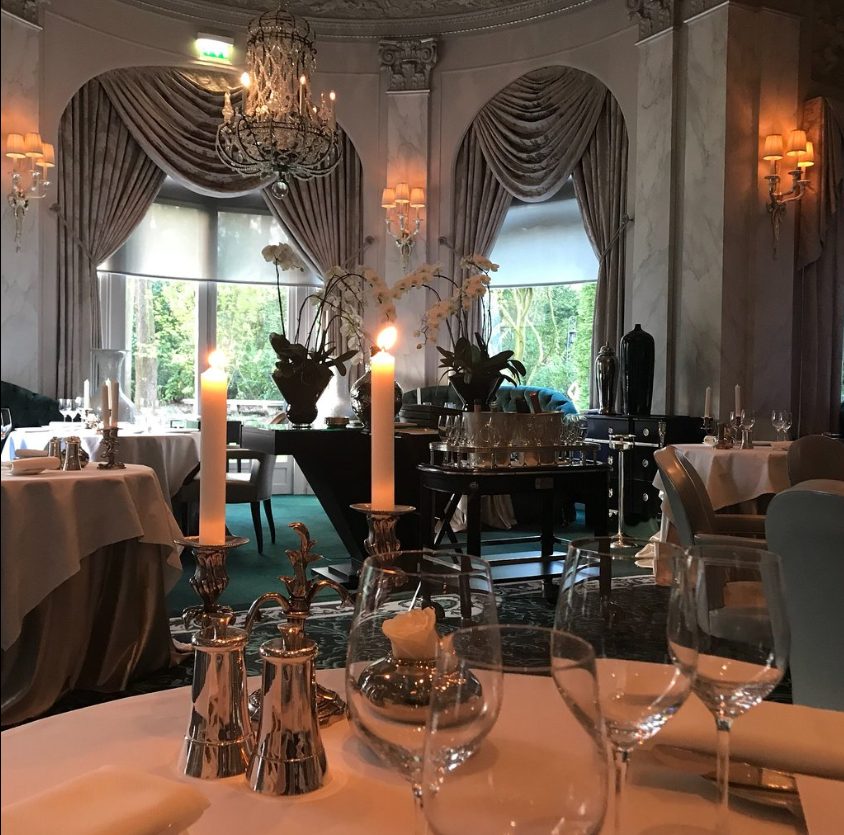 Le Pré Catelan, a renowned restaurant in the Bois de Boulogne in Paris, is known for its remarkable ambiance and exceptional service. The restaurant is nestled in the park's lush greenery, providing a tranquil and elegant setting for diners to enjoy their meal.
Upon entering Le Pré Catelan, guests are greeted by a classic and contemporary decor blend. White tablecloths adorn the tables, giving the dining area a pristine, sophisticated appearance. The refined atmosphere extends to the outdoor seating area, where guests can take in the serene surroundings of the Bois de Boulogne.
The service at Le Pré Catelan is attentive and professional. The staff is known for their ability to anticipate the needs of their diners without being intrusive, catering to each person with personalized care. Their expert menu knowledge enables them to make confident recommendations suited to each guest's preference.
In addition to the standard à la carte options, Le Pré Catelan offers a variety of set menus designed to showcase the best of French cuisine. The service staff guides diners through these options, ensuring an enjoyable and memorable dining experience.
Dining at Le Pré Catelan is a unique blend of ambiance and service, all contributing to an unforgettable experience for its patrons. The elegant decor, serene location, and attentive staff together create an atmosphere befitting the high-quality dishes served at this esteemed Parisian establishment.
Reviews and Feedback
Le Pré Catelan is a well-regarded restaurant located in Paris, France that has also earned the prestigious Travelers' Choice 2022 accolade and boasts three Michelin stars.
The food at Le Pré Catelan receives mixed feedback from customers and critics. Many diners praise the quality and presentation of the dishes, with the restaurant maintaining a strong reputation for its French and European cuisine, offering vegetarian-friendly options. Nonetheless, some critics find the selection of dishes sparse, with a few struggling to love the menu despite no significant technical issues.
Visitors to Le Pré Catelan often commend the elegant service and the restaurant's unique "country" setting. Located within the Bois de Boulogne, this dining destination offers a charming and inviting atmosphere, contributing to the overall dining experience. Diners appreciate the attentive and knowledgeable staff, with many highlighting the top-notch service that enhances the enjoyment of their meals.
Le Pré Catelan has earned a strong reputation for its quality food, elegant service, and ambiance. The predominantly positive feedback from diners and critics underscores the restaurant's commitment to creating an excellent dining experience.
What are the customer reviews like on TripAdvisor for Le Pré Catelan?
Le Pré Catelan has received remarkable ratings and reviews on TripAdvisor, ranking as the 491st of 14,272 restaurants in Paris with a 4.5-star average rating from over 1,100 reviews. Travelers often praise the restaurant's food quality, service, and ambiance and frequently describe their experience as unforgettable and exceptional.
Notable Wine Cellar
Le Pré Catelan's wine cellar boasts an impressive selection of wines that perfectly complements the exceptional cuisine of the three Michelin-starred restaurants. The Parisian establishment emphasizes the importance of pairing the right wine with each dish, ensuring its guests a balanced and harmonious dining experience.
The cellar houses a diverse collection of wines, carefully curated to represent various regions, varietals, and styles. From the classic French appellations such as Bordeaux, Burgundy, and Champagne to international selections featuring wine-producing countries like Italy, Spain, and the United States, there is a wine to suit every palate and preference.
Guests at Le Pré Catelan can rely on the expertise of the professional sommelier team to guide them through the extensive wine list. With an eye for detail and a deep understanding of the intricacies of wine and food matching, the sommeliers ensure that each wine pairing elevates the flavors and textures of the restaurant's delightful dishes.
The wine cellar's atmosphere complements the restaurant's overall ambiance, blending elegance and refinement with a touch of modernity. Guests are often captivated by the cellar's pleasing visual and aesthetic presentation, which only adds to the luxurious dining experience at Le Pré Catelan.
The notable wine cellar at Le Pré Catelan is an essential aspect of the restaurant's impressive reputation, reflecting their dedication to offering a well-rounded and memorable dining experience for all who visit.
Frequently Asked Questions
Le Pré Catelan offers a gastronomic experience with traditional French and European cuisine. The menu caters to various dietary preferences, including vegetarian, vegan, and gluten-free options.
How many Michelin stars does Le Pré Catelan have?
Le Pré Catelan is a prestigious establishment awarded three Michelin stars, reflecting its exceptional quality, consistency, and culinary artistry.
What is the average cost for lunch at Le Pré Catelan?
The average cost for a lunch dining experience at Le Pré Catelan can range between 260 and 330 euros for a tasting menu. Prices may vary depending on the specific dishes and beverages selected.
How do I make a reservation at Le Pré Catelan in Paris?
To make a reservation at Le Pré Catelan, you can contact the restaurant using the contact information available on their official website or third-party reservation platforms. It is always recommended to book well in advance as this esteemed restaurant can fill up quickly, especially during peak seasons.
What is the dress code for Le Pré Catelan?
While there isn't a strict dress code at Le Pré Catelan, it is important to dress appropriately as the restaurant embodies elegance and sophistication. Most guests choose smart casual or semi-formal attire when dining at this esteemed establishment.
Related Resources: