Details
Address:
District:
Check-in:
Check-out:
Room Count:
Starting Price:
Le Bristol Paris Description
Nestled in the heart of Paris, France, Le Bristol Paris is a luxurious hotel epitomizing French elegance. As one of the top-rated hotels in the city, it boasts a prestigious location on rue du Faubourg Saint-Honoré, surrounded by high-end boutiques and the Parisian elite. This iconic establishment is part of the renowned Oetker Collection hotel and promises a memorable stay.
In Le Bristol, guests are treated to spacious, artfully designed rooms with antique furnishings and state-of-the-art amenities. Each room offers a unique Parisian experience, with marble bathrooms featuring Bamford or Hermès toiletries. Unsurpassed service from the exceptional staff elevates the stay to new heights, providing comfort and extravagance rarely experienced in the bustling City of Lights.
Le Bristol Paris is more than just a hotel; it is an experience that allows guests to immerse themselves in Parisian charm and culture. From its legendary service to exquisite culinary offerings and meeting rooms, this palace hotel sets the standard for opulent stays in one of the most romantic cities in the world.
| Criteria | Rating |
| --- | --- |
| Location | 5/5 |
| Rooms | 4.5/5 |
| Service | 5/5 |
| Value for Money | 4/5 |
| Cleanliness | 5/5 |
| Food & Drinks | 4.5/5 |
See Related: Four Seasons Hotel George V, Paris
Accommodations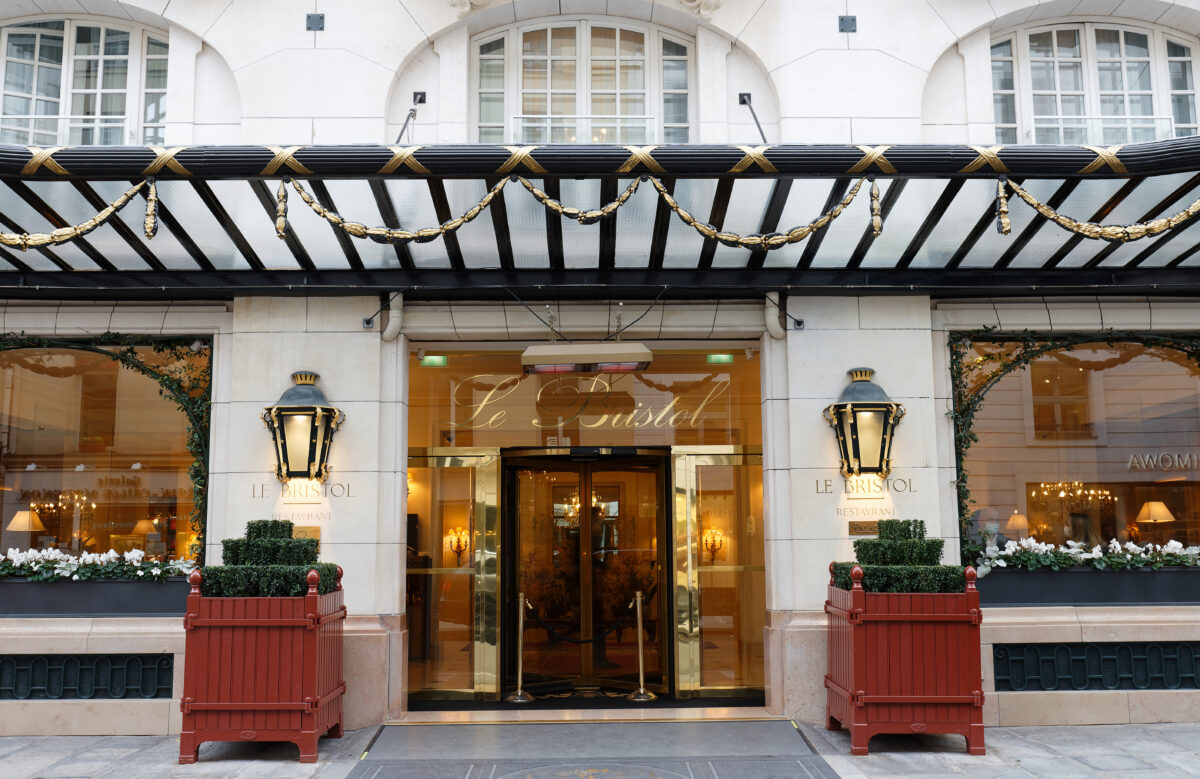 Living Space
At Le Bristol Paris, guests can expect top-notch accommodations with spacious, elegantly designed living areas. The rooms and suites provide tasteful air conditioning and a minibar with quality refreshments. The hotel ensures your stay is as comfortable as possible, maintaining its renowned luxurious standards.
Bath Facilities
In every room and suite, travelers can indulge in well-appointed bath facilities. Each bathroom is designed to provide a lavish and relaxing experience, with high-end toiletries and plush bath linens. The attention to detail in these facilities is truly remarkable.
How do the rooms and suites compare to other luxury hotels?
Le Bristol Paris holds its own against other luxurious hotels in the city. Offering a range of stylish rooms and suites, guests are spoiled for choice when it comes to selecting their ideal accommodation. Room service at Le Bristol is known for its elegantly presented, well-crafted dishes that rival the hotel's top-tier dining options.
In comparison to other luxury hotels, Le Bristol stands out for its exceptional service and attention to detail in every aspect of the guest experience. The unique features, such as the sunlit indoor pool and three-floor spa, certainly elevate Le Bristol to the upper echelon of Parisian accommodations.
See Related: Hôtel Lodge In Mis Paris 13
Dining
At Le Bristol Paris, guests can experience exquisite dining options. The hotel boasts a variety of establishments to suit different tastes and occasions.
How does the hotel's breakfast service work?
Breakfast at Le Bristol is a delight for the senses. Guests can choose to enjoy their morning meal at the elegant Café Antonia or in the privacy of their rooms.
At Café Antonia, the breakfast menu features a mouthwatering selection of French pastries, fresh fruits, and hot dishes. With a relaxed atmosphere and chic décor, it's the perfect spot to start the day in Paris.
For those who prefer the comfort of their own rooms, the hotel offers an equally delicious in-room breakfast service. With an extensive menu and attentive staff, guests can enjoy a leisurely and satisfying start to the day.
Regarding the main event, look no further than Epicure, the hotel's signature three-Michelin-star restaurant. Helmed by celebrated chef Eric Frechon, this dining destination showcases exceptional cuisine. From delicate foie gras dishes to succulent lamb, each course is meticulously crafted for a memorable gastronomic experience.
In addition to its fine dining experiences, Le Bristol also features 114 Faubourg, a brasserie-style restaurant that's perfect for more laid-back meals. With a focus on superb quality ingredients, the menu offers a variety of delicious options, including perfectly cooked steaks and an enticing cheese selection.
To round off a day of sightseeing, guests can unwind at the hotel's stylish bar. Known for its extensive wine list and expertly crafted cocktails, it's an inviting spot for a nightcap or casual meeting with friends. With attentive service and a sophisticated atmosphere, Le Bristol Paris truly exemplifies the finest in Parisian dining.
See Related: New Hôtel Gare Du Nord
Spa and Wellness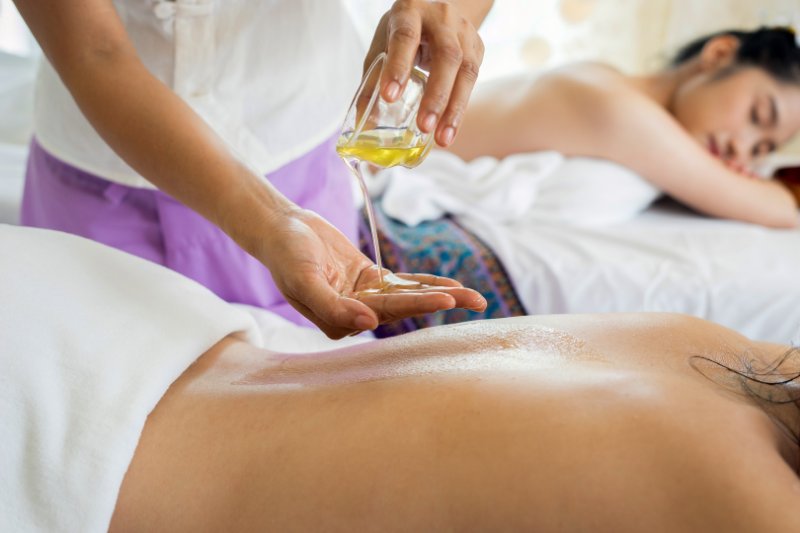 At Le Bristol Paris, ya can find a top-notch wellness experience with Spa Le Bristol by La Prairie. Trust me, it's filled with sunlight and even opens onto a lovely interior garden. This joint has eight treatment rooms, making it perf for a relaxing escape, including a Russian Banïya and a private couple suite. The expert therapists know their stuff, so they'll quickly get your stress point and needs.
If you're looking to indulge in a bit of pampering, Spa Le Bristol by La Prairie offers a wide range of massages, from deep tissue to hot stone. All the products used here are top-of-the-line from La Prairie, so you're in for a treat.
For those who love swimming, this place has a fantastic indoor pool. A couple of lengths in this baby, and you'll feel any tension melting away. After a good swim, know what else is perfect for relaxation? Hittin' up their sauna or steam room to sweat away your worries.
More of a fitness fanatic? Le Bristol Paris has got you covered with a state-of-the-art fitness center where you can find all the equipment you'd expect, including free weights and cardio machines. They even offer yoga classes for guests looking to stretch and relax. If you need a bit of extra motivation or help with your fitness routine, don't stress; you can also book a personal trainer to get that extra push.
All in all, Le Bristol Paris's Spa and Wellness facilities cater to various relaxation and fitness needs, makin' it a winner for your next Paris vacay.
See Related: Hotel Scarlett
Location and Accessibility
Nestled in the heart of Paris, Le Bristol is situated on the renowned rue du Faubourg Saint-Honoré. It's an ideal spot for travelers who appreciate the finer things in life and yearn for a slice of French elegance.
When it comes to transportation, worry not. Airport transfers are a breeze, as Le Bristol offers seamless services to ensure guests easily arrive and depart. In addition, there's valet parking for those cruisin' into town with their own set of wheels.
For drivers of electric vehicles, they've got you covered too. Le Bristol provides on-site charging stations, so you can juice up without sweat. And if you don't feel like self-parking, you can opt for paid private parking on the premises.
In conclusion, Le Bristol Paris is fabulously located, accessible, and flexible in catering to various travel needs. Whether you're jetting in from afar or hitting the road in your souped-up electric ride, this treasured Parisian hotel guarantees a fantastic stay in the City of Lights.
See Related: Hotel de France Invalides
Guest Services
At Le Bristol Paris, guests are pampered with top-notch services, making their stay truly memorable. The efficient and friendly staff caters to everything necessary, while the concierge team goes above and beyond to meet all requests and needs.
The hotel manager ensures that every aspect of the establishment runs smoothly, from overseeing the impeccable service to maintaining the premises' elegance. This dedication to detail ultimately trickles down to every team member, providing a luxury experience for all visitors.
In the realm of housekeeping, the director guarantees pristine rooms and common areas, elevating the overall atmosphere for a comfortable retreat. Additionally, with laundry and dry cleaning services available, guests can keep their clothing fresh throughout their stay with ease.
The various services offered by Le Bristol Paris showcase the hotel's commitment to providing an unparalleled experience in the world of luxury accommodations. With each staff member working tirelessly to cater to guests' needs, a stay at Le Bristol is one to remember.
See Related: Fred'Hotel
Family and Pet Services
Le Bristol Paris shines when it comes to takin' care of families and their furry friends. Little ones can join the fun at their unique kids' club, where they'll be entertained with activities like treasure hunts and more. For busy parents who want a night on the town, babysitting services can be arranged so you know your kiddos are in good hands.
As for your canine or feline companions, Le Bristol Paris has got them covered in-room safe, too. With pets allowed, you and your four-legged family members can enjoy the lap of luxury together. The hotel's love for animals is evident as they even have a male Birman cat named Fa-Raon as a permanent resident for the past 11 years.
Here's a quick look at what's on offer for families and pets:
Kids Club: Treasure hunts and engaging activities designed for little travelers
Babysitting: Leave your children with trustworthy and certified professionals
Kids Stay Free: No need to break the bank, as kids can stay without an extra charge
Pets Allowed: Canine and feline friends are welcome, so you won't have to leave them at home
With Le Bristol Paris' commitment to treating families and pets like royalty, you'll feel right at home during your stay in the City of Lights.
See Related: Hotel Sleeping Belle
Entertainment and Leisure
At Le Bristol Paris, entertainment and leisure options are aplenty. Le Bar du Bristol is a chic spot to unwind, offering a mix of designer cocktails and classic drinks. With its trendy atmosphere and cool vibe, it's no wonder this bar has become a popular spot for both hotel guests and locals.
If you're looking for a classy retreat, the Salon is your go-to place. This elegant sitting area is perfect for catching up with friends or simply enjoying some quiet time by yourself, away from the hustle and bustle of the city. Comfy sofas and tasteful décor create a serene environment where you can truly relax.
Tranquil and spacious, the Sun Deck offers some of the hotel location's best views for soaking up the Parisian sun. This outdoor oasis is a fantastic spot to unwind, breathe in the fresh air, and appreciate the beautiful surroundings.
When it comes to relaxation, the Lounge is the ideal oasis. With its sophisticated ambiance and plush seating, you can relax with a book or catch up with friends over a drink. This versatile space provides total comfort and a cozy atmosphere, ensuring you feel right at home.
Swim fans, you're in for a treat, too! The hotel's Heated Pool is a delightful amenity, whether you want to swim laps or just float around leisurely. Decked out with pool and beach towels, this lovely spot lets you forget the city chaos and escapade into a world of serenity.
So, if you're looking for a superb Parisian experience with top-notch entertainment and leisure options, Le Bristol Paris has gotcha covered. From the fabulous bar to the inviting swimming pool, there's always something to suit your fancy.
See Related: Hotel Opera Maintenon
Facilities and Amenities
At Le Bristol Paris, guests can expect an incredible experience, starting with free high-speed internet (WiFi) throughout the hotel. It's perfect for staying connected while exploring the City of Light.
A visit to the hotel isn't complete without a dip in the sunlit indoor pool. Who would've thought finding one in Paris could be this easy? After a relaxing swim, guests should head to the three-floor spa for some pampering. Here, they can treat themselves to treatment rooms with private terraces and even a playroom for kids – now that's thoughtful!
As the saying goes, ain't nothing better than freshly made bread, right? Lucky for ya, Le Bristol Paris houses its very own bakery producing delicious bread and pastries. But wait, it doesn't end there! This luxurious hotel also boasts a chocolate factory. Can this place get any better?
If guests feel like walking into a scene from a picture book, they'll love the courtyard garden. This gem offers a lush oasis to unwind and take some memorable snaps.
Not forgetting the wine buffs, Le Bristol features a fantastic wine cellar where they can discover different French wines. And for those who appreciate the intricacies of whisky, be sure to check in out the aging cellar too – there may be some delightful aged spirits waiting to be tasted.
Finally, a good soak in the hot tub rounds off a day of exploring Paris in style. Trust us, Le Bristol Paris has got you covered with its top-notch facilities and amenities!
See Related: Hotel Mademoiselle
Awards and Recognition
Le Bristol Paris is a renowned 5-star hotel in the heart of Paris, boasting nearly a century of rich tradition of luxurious accommodations and an outstanding reputation. The hotel consistently receives awards and accolades from esteemed industry publications and platforms.
In the world of TripAdvisor, Le Bristol Paris stands tall, having received the prestigious Traveler's Choice Best of the Best Award in 2020. This coveted accolade placed the hotel among the Top 25 Hotels in France, ranking it at number three. Such recognition speaks volumes about the quality of service, comfort, and sophisticated ambiance provided at Le Bristol Paris.
Another badge of honor bestowed upon Le Bristol Paris is the Forbes Travel Guide Five-Star Award in 2020. This accomplishment demonstrates the hotel's commitment to consistent excellence in all aspects of hospitality. The prestigious wine portfolio at Le Bristol Paris has also been recognized, winning first hotel the first Wine Spectator Grand Award in 2020.
The hotel's position in the travel sphere has been solidified through its inclusion in Condé Nast Traveler's Gold List for multiple years, such as 2018, 2020, and 2021. These numerous recognitions attest to the exceptional experience delivered by Le Bristol Paris.
Experts and travelers alike agree that Le Bristol Paris is a true gem in the world of luxury hotels. Its awards and recognition solidify its standing as a premier destination and haven for those seeking a chic, elegant, and memorable stay in the iconic City of Light.
See Related: Hotel d'Angleterre
Frequently Asked Questions
What are the amenities offered at Le Bristol Paris?
Le Bristol is an iconic palace hotel in Paris, offering top-notch amenities to make your stay unforgettable. You'll find a sunlit indoor pool, which is quite rare in Paris! Enjoy the impressive three-Michelin-star restaurant Epicure, serving the finest French cuisine. Lastly, unwind in their lovely three-floor spa that even has a playroom for kids and treatment rooms with private terraces.
What is Le Bristol Paris' cancellation policy?
Usually, Le Bristol Paris has a cancellation policy that depends on the type of reservation made. However, it's always better to double-check with the hotel during booking for any specifics that may apply to your stay.
What are the dining options at Le Bristol Paris?
The shining star of Le Bristol's dining scene is the three-Michelin-star restaurant, Epicure, where you can indulge in the exquisite, French style of gastronomy. Expect top-notch dishes crafted with finesse by their skilled chefs. Room service is also available, and they maintain the same level of elegance and quality in their offerings as in their restaurants.
How is the location and neighborhood of Le Bristol Paris?
Le Bristol Paris boasts an exclusive address at rue du Faubourg Saint-Honoré, one of the city's most prestigious locations. High-end fashion boutiques, charming cafés, and impressive cultural sights will surround you. It is a fantastic base for exploring Paris, with plenty of amazing attractions within walking distance. The hotel's location truly reflects its status as an icon of French elegance and art de vivre.
Related Resources: