This is the oldest covered market in Paris and takes its name from the kids dressed in red which used to live in the orphanage of the area. The Marché des Enfants Rouges opened in 1628 to be destroyed in the 1980s, but the residents, attached to their market, had it rebuilt.
It lost a part of its charm but not its atmosphere! It's small but surrounded by many cooked food stalls with terraces where you can quickly eat the menu of your choice: West Indian, North African, or Italian!
🗼 Paris Insider's Top Picks! ✨
Dive into the heart of Paris with our handpicked partners. Trusted by thousands, they ensure you experience the best of Paris.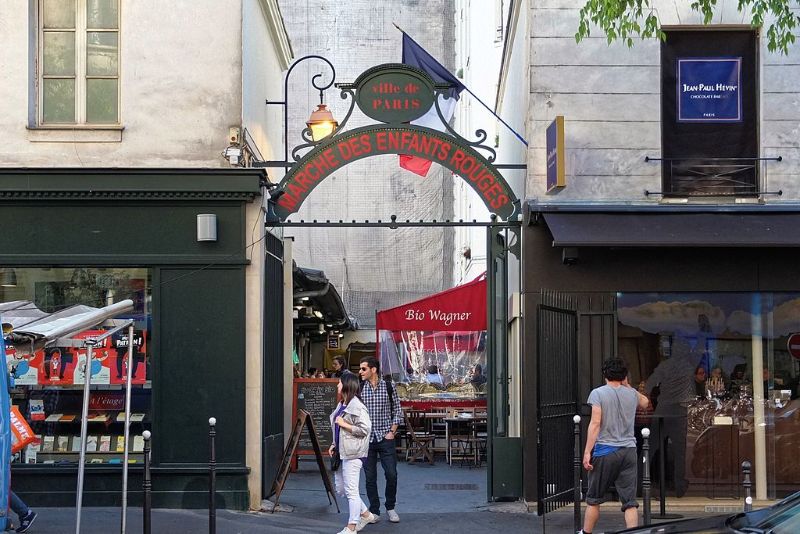 Nestled in the heart of Paris' Marais district, the Marché des Enfants Rouges exudes a vibrant, bustling energy that continues to attract tourists and locals alike. Established in 1615, this historic market is the city's oldest covered market. Its name, "Market of the Red Children," pays homage to the nearby orphanage, where children wore red uniforms.
Within the walls of the Marché des Enfants Rouges, visitors are treated to a gastronomic world tour. The market's diverse range of stalls encompasses everything from classic French cheese shops and florists to exotic cuisines and delectable desserts. Undeniably, it is a culinary paradise that reflects the melting pot of cultures that Paris has become.
Stepping into the marché, one cannot help but fall under its charm. The fragrance of fresh produce and the smiling faces of vendors create the perfect atmosphere for a leisurely afternoon stroll or an in-depth exploration of the edible treasures the City of Light offers. The Marché des Enfants Rouges undeniably represents Paris at its finest – the heart, soul, and appetite of the city personified.
Historical Background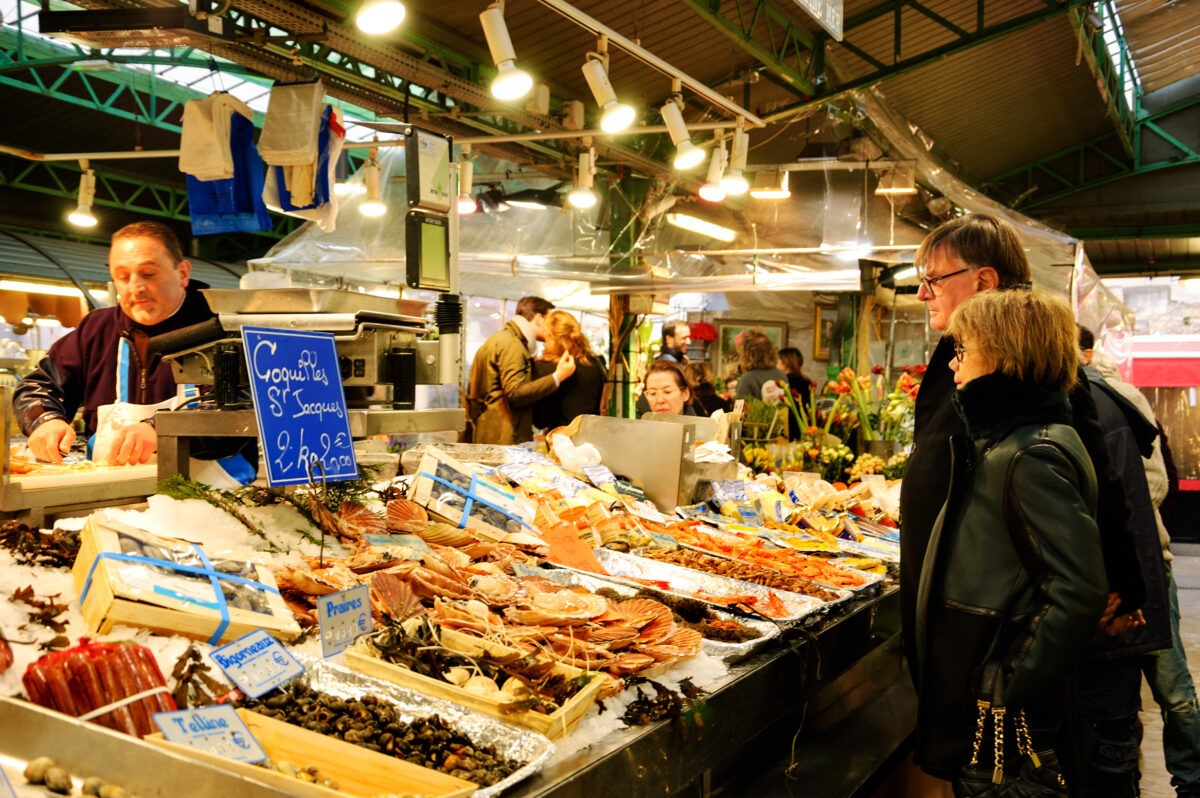 Marché des Enfants Rouges, located in the Marais district of Paris, holds the distinction of being the city's oldest covered food market. Established in 1615 under the reign of Louis XIII, the market has withstood the test of time and continues to be a thriving center of commerce and gastronomy in the French capital.
The name Marché des Enfants Rouges translates as "Market of the Red Children" in English, which refers to the nearby orphanage called "Hospice des Enfants Rouges." The orphans housed in this institution were notably dressed in red garments, symbolizing the color of charity. This unique naming not only reflects the historical connection between the market and the orphanage, but also adds a layer of cultural depth to the market's enduring presence.
Despite its long-standing history, Marché des Enfants Rouges faced closure in the 1990s. However, the love and determination of residents who rallied together to reinstate the market ultimately led to its successful re-establishment. Today, this historic market attracts both tourists and Parisians alike, who come to enjoy the wide variety of fresh produce, prepared foods, and boutique shops.
The market's status as a historical monument since 1982 is a testament to its significance within the Parisian economy and culture. It embodies the spirit of resilience and tradition that is evident across the city of Paris. The Marché des Enfants Rouges is not only a delightful destination for food lovers but also a living piece of Parisian history, playing a crucial role in the city's culinary legacy.
Location and Accessibility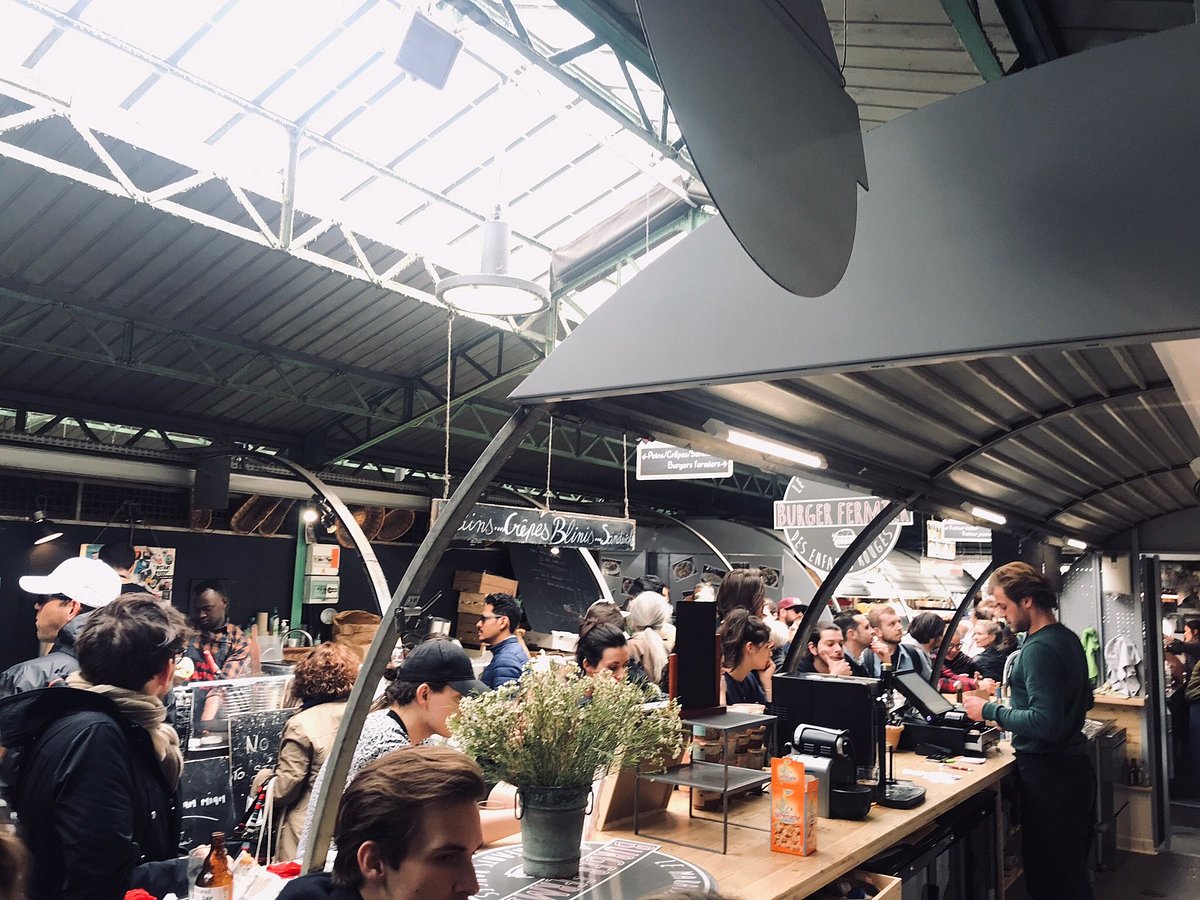 Marché des Enfants Rouges is in the heart of the historic Haut Marais neighborhood, specifically at 39 Rue de Bretagne in the 3rd arrondissement of Paris. Established in 1628, this market not only boasts the title of being the oldest covered market in the city but also serves as a vibrant and bustling hub of activity for Parisians and tourists alike.
Getting to the market is quite easy, as it is well-connected through various modes of transportation. If arriving by metro, the nearest station is Filles du Calvaire (Line 8), just a short walk from the market. Alternatively, bus lines 20, 78, and 96 also have nearby stops, and for those who prefer walking or biking, the market is accessible through a network of charming streets in the Marais area.
The operating hours of Marché des Enfants Rouges are sensitive to the needs of both locals and visitors. The market is open every day throughout the year, except for Mondays, from 8.30 am to 8.30 pm. It caters to a diverse clientele, ensuring that everyone can appreciate its offerings without barriers. Despite its historic roots, the market has adapted to modern times, providing accessibility for people with various disabilities, including hearing, mental, and visual impairments.
The market's prime location in Haut Marais means it's surrounded by vibrant cafés, art galleries, and designer boutiques that embody the spirit of the neighborhood. Its unique setting ensures an unforgettable experience for those visiting, and in the process, it highlights the undeniable charm and appeal of the Marais district. Overall, Marché des Enfants Rouges is not just a testament to the enduring history of Paris but also a thriving, accessible, and welcoming space for everyone to enjoy.
Stalls and Cuisines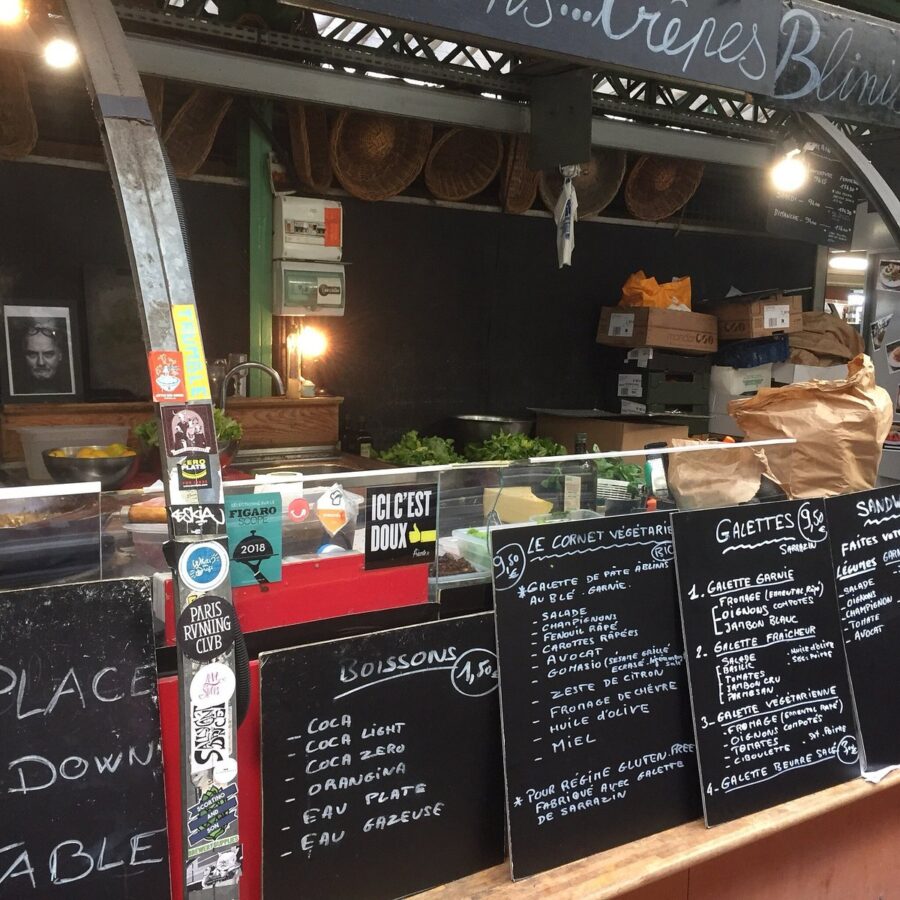 International Flavors
The Marché des Enfants Rouges, nestled in the heart of Marais, is a vibrant and bustling market where visitors can explore the diverse and remarkable flavors from around the world. It offers an authentic, multicultural experience in a friendly setting, with its wide variety of food stalls catering to all tastes.
At the market, you can immerse yourself in the rich, Lebanese cuisine, serving fresh and flavorsome dishes like falafel, shawarma, and tabbouleh. For those looking to savor Moroccan fare's enticing aromas and spices, you'll find traditional offerings such as couscous, tagines, and harira soup.
If your palate leans towards Italian flavors, you won't be disappointed. Delight in classic dishes like pasta, risotto, and let's not forget about pizza. Freshly-baked focaccia, an array of antipasti, and fine Italian wines can also be enjoyed.
For a taste of Japanese cuisine, the market presents delicacies like sushi, sashimi, and tempura, prepared by skilled chefs with precision. Additionally, there are various ramen stalls, inviting patrons to slurp their way to happiness with a bowl of savory, steaming goodness.
Amidst the fruit, vegetable, and flower stalls, the international selections go beyond the cuisines above. There are also delightful dishes from Mediterranean, North African, and East Asian inspirations. Indulge in the irresistible experience the Marché des Enfants Rouges offers and prepare to be amazed by the medley of global flavors.
See Related: Best Places for Falafels in Paris
Market Offerings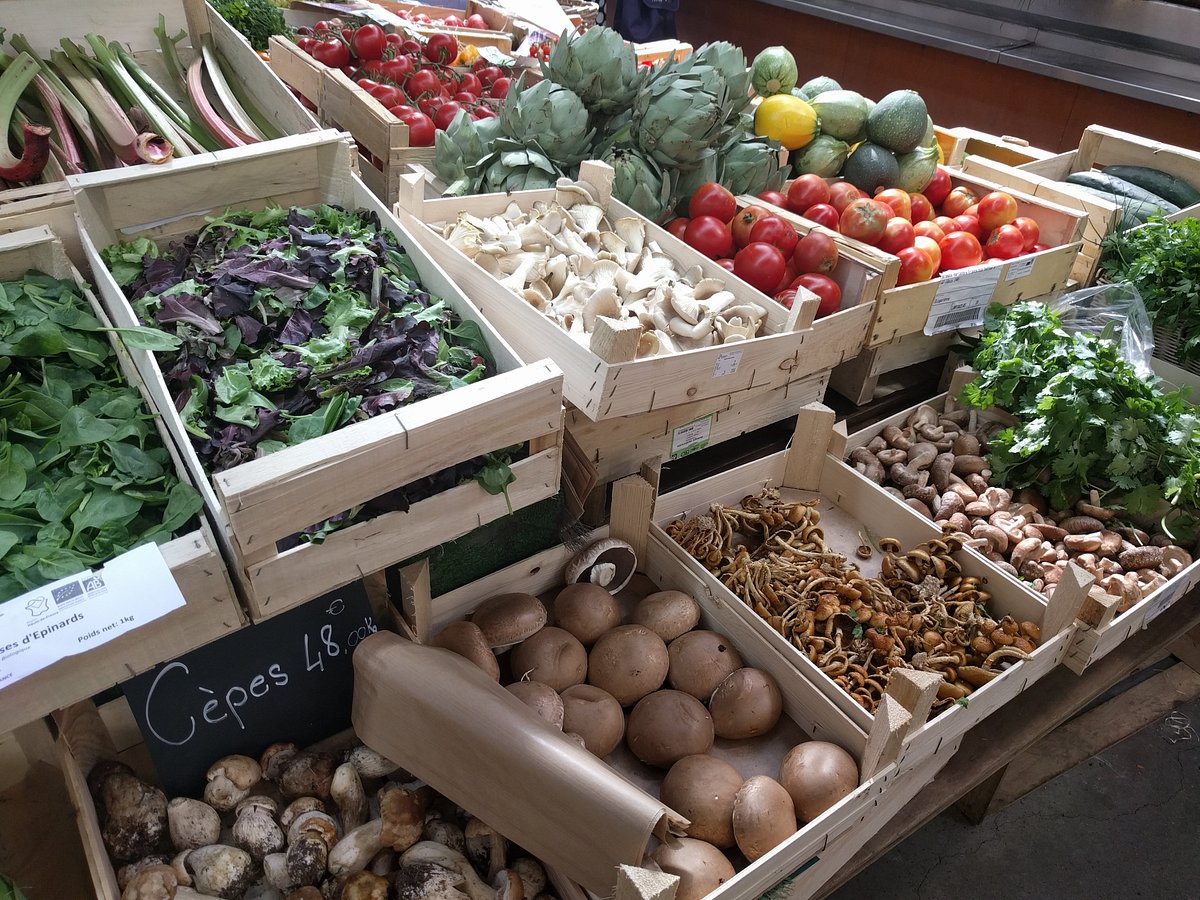 Marché des Enfants Rouges, the oldest covered market in Paris, established in 1628, is known for its extensive food selection and diverse culinary options. Various stalls within the bustling market offer a myriad of fresh produce and items for customers to indulge in. It is an ideal location for brunch and lunch, allowing visitors to soak in the lively atmosphere while discovering delicious flavors worldwide.
Fresh Produce
At the heart of the market are the vibrant and fragrant stalls selling an assortment of fresh produce. Patrons can find a vast selection of crisp vegetables, fruits, and organic offerings sourced from local farmers. The friendly sellers provide not only high-quality produce but also valuable knowledge about the products, helping customers make informed decisions about their purchases.
In addition to the fresh produce, the market presents a variety of other gastronomic delights. Cheese-lovers can rejoice in the fine selection of French cheeses, while wine enthusiasts can sample and pick up quality white and red wines to pair with their meals. Freshly baked bread and artisanal cookies are also readily available, adding a delightful complement to cheese and wine indulgences.
Venturing further into the market, visitors will discover a range of mouthwatering hot dishes from diverse culinary backgrounds. Couscous, a popular North African staple, and other international flavors served by enthusiastic vendors can be found here.
The Marché des Enfants Rouges captures the essence of Parisian food culture in its lively, friendly, and diverse environment. The abundant array of culinary delights, from fresh produce to delicious meals, showcase the market's commitment to quality ingredients and multicultural appeal, making it a must-visit destination for anyone seeking a memorable Parisian culinary experience.
See Related: Best Farmers Markets in Paris: A Comprehensive Guide
Popular Spots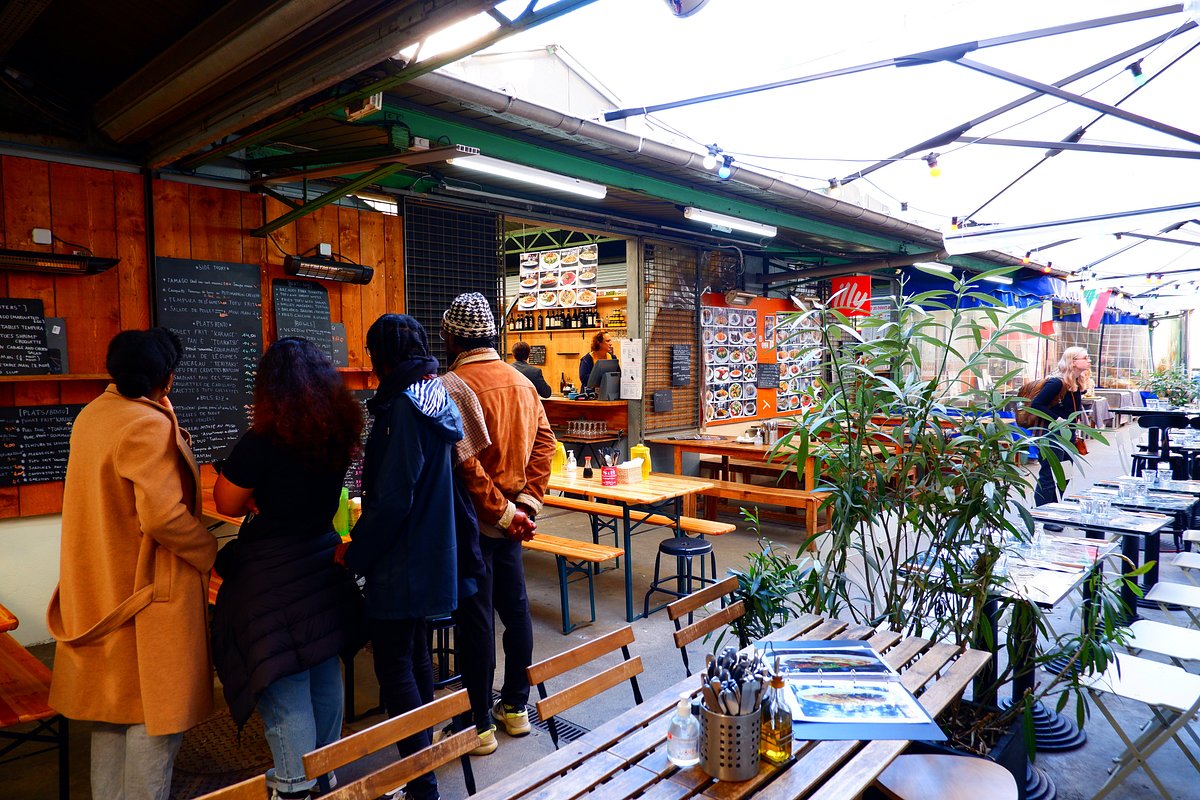 Marché des Enfants Rouges, located in the Haut Marais, offers a variety of food, vendors, and experiences for locals and tourists. The market's lively atmosphere is perfect for strolling around and trying different cuisines. Here are some of the notable estaminets to check it out.
Notable Estaminets
L'Estaminet is a popular spot where visitors can experience authentic French cuisine. With a curated selection of cheeses and charcuterie, this estaminet is known to satisfy the cravings of even the most sophisticated palates. The friendly staff, the rustic setting, and the delicious food make it a must-try for anyone visiting the market.
La Petite Fabrique is another estaminet worth exploring. This charming spot offers a range of homemade sweets and pastries made with love and dedication. It's not unusual to see a queue forming outside, as patrons eagerly await a chance to sample the delightful and creative treats on offer. Although small in size, La Petite Fabrique delivers big flavors that are impossible to ignore.
The Italian Deli should definitely not be overlooked when visiting Marché des Enfants Rouges. This cozy, authentic spot offers delicious Italian sandwiches, pastas, and antipasto plates that will transport you straight to Italy. Don't forget to try their cured meats and cheeses selection, which are perfect for stocking up for a picnic or simply enjoying on-site with a glass of wine.
These well-loved estaminets comprise just a small part of the diverse food offerings at the Marché des Enfants Rouges. With options ranging from Mediterranean to North African to East Asian cuisines, there is truly something for everyone at this vibrant and historic market.
Hours and Visitor Information
Marché des Enfants Rouges is a delightful market for tourists and locals looking to experience a slice of Parisian life. Located at 39 rue de Bretagne in the 3rd arrondissement, this historic market is the oldest food market in Paris, dating back to 1615.
Visitor Tips
Opening Hours: The market is open daily throughout the year, except for Mondays. Operating hours are between 8:30 AM and 8:30 PM. For foodies keen on immersing themselves in the lively atmosphere, arriving earlier in the day is best to secure the freshest finds. Since the market is indoors and outdoors, weather conditions may affect stall operation.
Accessibility: Marché des Enfants Rouges strives to cater to those with various disabilities, and it is equipped to accommodate the following:
General Hearing disability
Mental disability
Visual disability
Entry: First-time visitors should note that the entrance to the market is somewhat inconspicuous, located between the shops with an overhead arched sign. Be sure to keep your eyes peeled for this entrance.
Food Selection: Marché des Enfants Rouges boasts a diverse array of food offerings. Visitors will find fresh produce, artisan bread, meats, cheeses, and a variety of prepared dishes that cater to various tastes and preferences.
Remember, when exploring the bustling and vibrant Marché des Enfants Rouges, arriving early, being aware of the entry point, and savor the culinary experience that awaits.
See Related: Galeries de Montpensier et de Valois
Additional Market Offerings
At the Marché des Enfants Rouges, visitors can find a variety of unique offerings that cater to various tastes and preferences. Named after the red-clothed children from the nearby orphanage, this historic market has been a melting pot of cultures and cuisines since 1615.
Specialty Items
Among the traditional fruit, vegetable, and flower stands, shoppers will come across various specialty items that enhance the market experience. Au Coin Bio is a popular stop for those seeking organic and eco-friendly products, offering a range of healthy choices for environmentally conscious patrons.
Foodies will revel in the market's diverse selection of international dishes, such as Moroccan couscous, Lebanese mezze, and the always popular Japanese bento boxes. Bentos are especially sought after for lunchtime meals, with their convenient and well-balanced rice, vegetables, and protein mix.
Caterers and restaurants are also well-represented at Marché des Enfants Rouges. These establishments provide both grab-and-go options and limited seating for patrons who prefer to dine in. The tightly packed, bar stool seating arrangements contribute to the lively ambiance, encouraging conversation among market-goers.
Apart from the mouthwatering food offerings, beverages are also a key part of the market experience. As visitors explore the various vendors, they will come across locally brewed artisanal beers, refreshing natural juices, and rich, aromatic coffee. With endless options at your fingertips, the Marché des Enfants Rouges offers a true culinary adventure for residents and tourists alike.
Frequently Asked Questions
What are the top markets in Paris?
Paris is a city known for its exceptional markets, offering abundant fresh produce, unique finds, and a vibrant atmosphere. Some of the top markets in Paris include the historic Marché des Enfants Rouges, the bustling Marché d'Aligre, the vibrant Farmers Market Marais, and the world-famous Marché aux Puces de Saint-Ouen flea market. Each market has its charm, catering to diverse tastes and preferences.
How to get to 39 Rue de Bretagne, Paris?
39 Rue de Bretagne is the address of the iconic Marché des Enfants Rouges in the Haut Marais district of Paris. You can take the metro to either the Filles du Calvaire station (Line 8) or the Arts et Métiers station (Lines 3 and 11) to get there. From there, it is a short walk to the market's entrance. Alternatively, you can reach the market by a number of bus routes that stop nearby or simply by walking or cycling through the picturesque streets of Marais.
What can be found at the Marché aux Puces de Saint-Ouen?
The Marché aux Puces de Saint-Ouen is the largest and one of the most visited flea markets in the world, located in the northern suburbs of Paris. Visitors to the market can find a vast selection of vintage items, antique furniture, decorative objects, collectibles, art, books, clothes, and numerous other treasures. With over 1,700 dealers spread across several distinct market areas, it's a true paradise for treasure hunters and antique enthusiasts.
What days is the Farmers Market Marais open?
The Farmers Market Marais, also known as the "Bastille Market," takes place on Boulevard Richard Lenoir, close to the Bastille area. This open-air market is open twice a week, on Thursdays from 7 a.m. to 2:30 p.m. and Sundays from 7 a.m. to 3 p.m. It's a popular spot for locals and tourists alike to shop for fresh fruits, vegetables, cheeses, and artisanal food products and enjoy a unique shopping ambiance.
What is special about the Marché d'Aligre?
The Marché d'Aligre is a lively and atmospheric market located in the 12th arrondissement of Paris. Known for its atmosphere and affordability, the market offers an abundance of fresh produce, seafood, meats, and cheeses, as well as numerous specialty food booths and informal dining options. What sets the Marché d'Aligre apart from other Parisian markets is its unique blend of an open-air street market, a covered market known as the Marché Beauvau, and flea market stalls offering vintage and secondhand goods.
What is unique about the flea market in Le Marais?
Le Marais has several small flea markets, each with character and charm. The brocantes in Le Marais often showcase a more curated selection of vintage clothing, jewelry, and decorative items, reflecting the trendy and artistic atmosphere of the neighborhood. Hunting for unique finds in these flea markets, set against the backdrop of historical architecture and cobblestone streets, makes for a truly memorable shopping experience.
Related Resources