Paris, the enchanting City of Lights, is renowned for its iconic landmarks, gastronomic delights, and romantic atmosphere. One way to experience the city's charm and unravel its history is to embark on a river cruise along the Seine, which meanders through the heart of the French capital. These cruises provide a unique vantage point to appreciate the architectural splendor of Paris, showcasing famed attractions like the Eiffel Tower, the Louvre Museum, and the Notre-Dame Cathedral.
A Parisian river cruise can cater to various preferences, from leisurely sightseeing to formal dinner cruises. Companies like Bateaux Parisiens and Bateaux Mouches offer a range of options that allow travelers to take in the breathtaking cityscapes while enjoying on-board entertainment and gourmet cuisine. Informative commentary, often provided during these cruises, further illuminates the history and cultural significance of the sights that unfold along the Seine's banks.
Whether you opt for a daytime jaunt or an enchanting evening cruise beneath the starry sky, a Paris river cruise is an unforgettable way to explore the city's treasures from a different perspective. As your vessel glides along the river, you'll witness remarkable scenes that capture the essence of the French capital, ensuring a memorable experience to cherish long after you disembark.
Overview of Paris River Cruises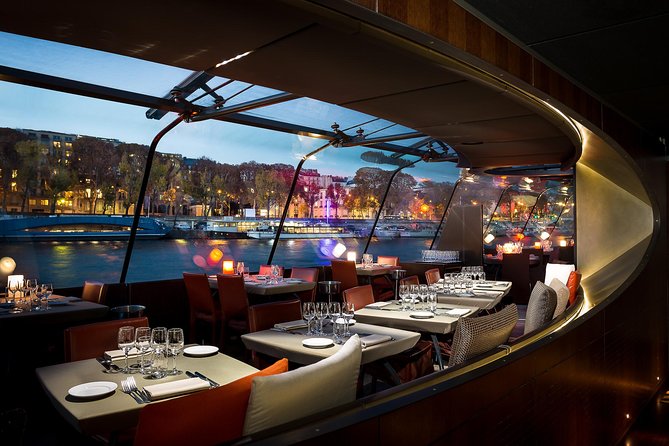 Seine River
The Seine River is the centerpiece of Parisian cruises, as it winds its way through the heart of the city. Many iconic landmarks, such as the Eiffel Tower, Notre Dame Cathedral, and the Louvre Museum, can be spotted along its banks. The Seine stretches for 777 kilometers (483 miles) and cruises on this river can last anywhere from 1 to 31 days.
Types of Cruises
Paris river cruises cater to various interests and needs, with diverse offerings such as:
Cruise Operators
There are several cruise operators offering various types of cruises in Paris. Some of the noteworthy operators include:
Avalon Waterways: Known for its luxurious ships and attention to detail, Avalon offers several itineraries in and around Paris, often including themed cruises.
Viking River Cruises: A reputed cruise line offering Paris and Normandy itineraries, Viking River Cruises provide an extensive range of packages catering to different tastes and budgets.
Uniworld Boutique River Cruise Collection: This operator specializes in all-inclusive, immersive experiences that often include unique, themed Paris river cruises.
CroisiEurope: As one of the largest river cruise operators in Europe, CroisiEurope features numerous itineraries focusing on Paris and other regions along the Seine River.
Enjoying a river cruise in Paris is an unforgettable way to explore the city and its surroundings. With various types of cruises and a range of operators to choose from, there's something for every traveler seeking an unforgettable journey along the Seine River.
Sightseeing Cruises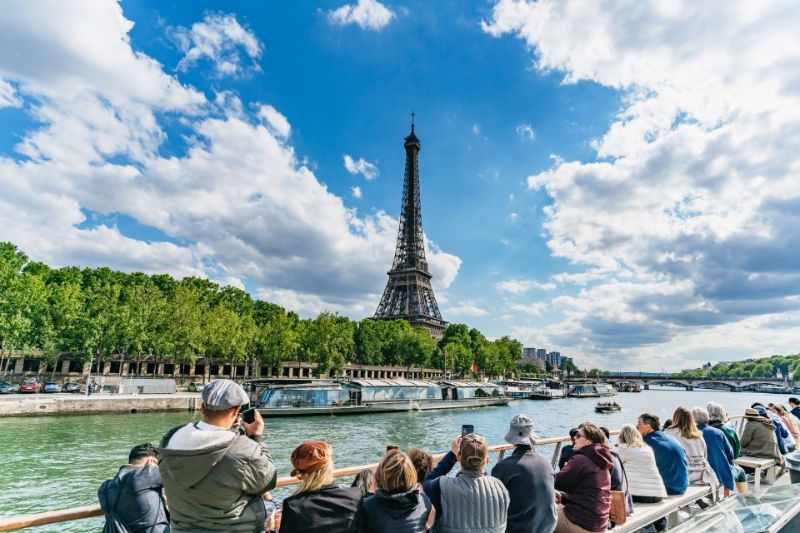 Popular Attractions
Sightseeing cruises along the Seine River offer a unique perspective of Paris's most iconic landmarks. These cruises provide an opportunity to admire the stunning architecture and captivating history of the city while comfortably navigating the waters. Some of the most popular attractions that can be seen during a Seine River sightseeing cruise include:
Cruise Duration
There are various durations available for Seine River sightseeing cruises, depending on your preferences and schedule. Some popular options are:
1-hour Seine River Sightseeing Cruise: This is a relaxing round-trip cruise that begins at the base of the Eiffel Tower. Passengers will have the opportunity to admire Paris's picturesque landmarks while listening to informative commentary. >From €7.50 (source).
Hop-On Hop-Off Sightseeing Cruises: These flexible cruises allow you to hop on and off the boat at various points along the Seine River. It is an excellent way to explore Paris at your own pace. Prices start at $22.40 (source).
Dinner Cruises: For a more intimate experience, dinner cruises offer a romantic setting while savoring French cuisine as you glide along the Seine River. Prices for these cruises start at €75 (source).
Remember, when planning your sightseeing cruise, to consider factors such as the time of day, the weather, and the type of experience you desire. While the Seine River offers a stunning backdrop for your adventure, it is essential to choose the right cruise to ensure an unforgettable experience.
Romantic Cruises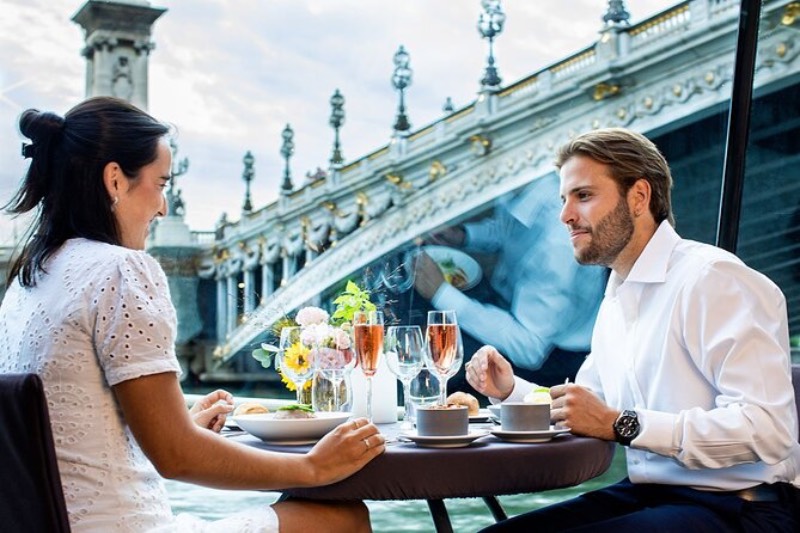 Dinner Cruises
Romantic dinner cruises offer an unforgettable experience for couples looking to celebrate a special occasion or simply enjoy a magical night together. You can experience Paris from its most famous waterway, the Seine River, and indulge in delicious French cuisine as you float past iconic landmarks, such as the Eiffel Tower and Notre-Dame Cathedral.
One popular dinner cruise operator is Bateaux Parisiens. Their cruises include tempting multicourse menus, live music, and stunning views of Paris at night. Alternatively, you can choose the Marina de Paris, which provides a refined atmosphere for a gourmet meal accompanied by city views.
Some key features of these dinner cruises include:
Gourmet French cuisine
Live music and entertainment
Exquisite views of Parisian landmarks
Elegant atmosphere
Private Cruises
For couples seeking intimacy and exclusivity, a private river cruise is the perfect choice. These cruises offer a more personalized experience, whether you're celebrating an anniversary or planning to pop the big question.
There are various operators offering private cruises along the Seine River, allowing you to choose the vessel, duration, and even catering options to suit your preferences. Customizable features may include:
Choice of romantic route
Champagne and canapés
Candlelit dinner
Personalized music selection
A private cruise in Paris provides an unparalleled romantic atmosphere, allowing you and your partner to experience the breathtaking beauty of the city while creating lasting memories together.
See Related: Paris Night Attractions: Top Spots for Memorable Evenings
Cultural and Historical Monuments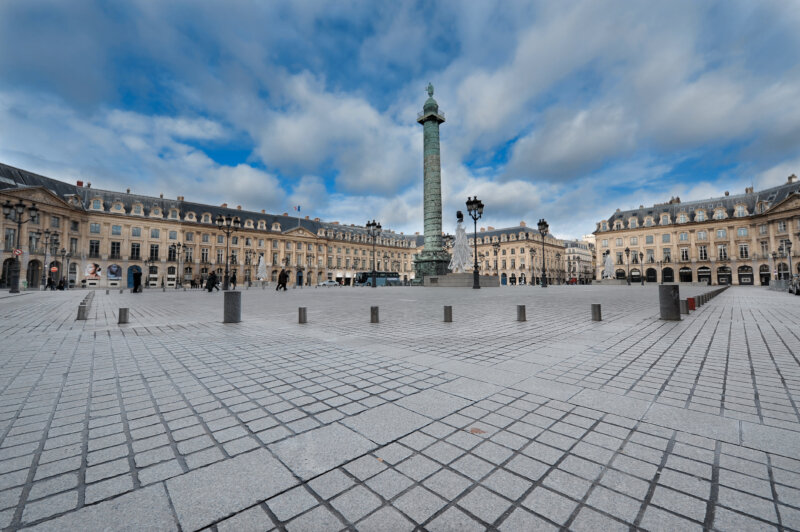 Paris is a city rich in culture and history, with its stunning architecture and prestigious museums. A Seine river cruise provides a unique vantage point to view and appreciate these iconic landmarks.
Museums and Landmarks
Paris is home to some of the world's most renowned museums and landmarks:
| Museum/Landmark | Highlights |
| --- | --- |
| The Louvre Museum | Mona Lisa, Venus de Milo, vast collection of art |
| Notre Dame | Gothic architecture, stained glass windows, breathtaking views |
| Les Invalides | Military museum, Napoleon Bonaparte's tomb |
| Seine River Cruise | |
Architecture
The architecture of Paris is diverse and showcases various styles throughout the centuries. From Gothic cathedrals to contemporary structures, the city's buildings are a reflection of its rich history and innovative spirit. A few examples include:
Notre Dame Cathedral: Built in the Gothic architectural style, Notre Dame is famous for its flying buttresses, gargoyles, and intricate stained glass windows.
Eiffel Tower: An emblem of Paris, this iconic iron lattice tower was constructed for the 1889 World's Fair and remains a symbol of French ingenuity.
Musée d'Orsay: Once a railway station, this beautifully restored Beaux-Arts building now houses a stunning collection of Impressionist and Post-Impressionist art.
Throughout the Seine River cruise, passengers will witness the beautiful marriage of old and new architectural styles, telling the story of a city that continues to evolve while remaining proudly rooted in its history.
Cruise Packages and Experiences
Paris is a city known for its rich history, stunning architecture, and vibrant culture. One of the best ways to experience the city and its sights is through a Seine River cruise. There are several options to choose from, each offering a unique perspective on the City of Light.
Lunch Cruises
Lunch cruises are perfect for those looking for a memorable dining experience while taking in the beauty of Paris. These cruises typically last for a couple of hours, providing ample time to enjoy a delicious meal and admire the surrounding scenery, including iconic landmarks such as the Eiffel Tower, Notre Dame Cathedral, and the Louvre Museum.
Bateaux Parisiens: This cruise company offers a Seine River lunch cruise with a gourmet meal and live music. While enjoying your lunch, you can take in panoramic views of Paris from the boat's large windows.
Le Calife: Offering a unique elegance, Le Calife's lunch cruises include a three-course meal, allowing you to savor traditional French cuisine as you glide through the heart of Paris.
Paris En Scène: For a more affordable option, Paris En Scène's lunch cruises feature tasty dishes and the same stunning views, all at a competitive price point.
Themed Cruises
If you're interested in a more immersive experience, themed cruises are an excellent choice. These cruises cater to specific interests, adding an extra layer of excitement to your river journey.
Paris Boat Tour & Louvre Museum Express Access: This package combines a Seine River cruise with express access to the Louvre Museum, allowing you to bypass the long lines. After exploring the museum's masterpieces, relax and enjoy a 1-hour cruise that highlights the city's architecture and history.
Amphibious Bus City and River Seine Tour: This unique cruise allows you to explore Paris on land and water. Discover the city's most famous landmarks aboard an amphibious bus that transforms into a riverboat for a cruise along the Seine.
Paris Seine River Sightseeing Cruise with Commentary by Bateaux Parisiens: For those who want to delve deeper into the history and significance of the monuments along the Seine, this option offers expert commentary during the cruise, providing a more educational experience.
For those interested in hosting exclusive events, many cruise operators provide the option to book private cruises. These can be tailored to suit a variety of occasions, from weddings and birthdays to corporate events and celebrations. By choosing a private cruise, you can ensure a bespoke experience that will leave a lasting impression on your guests.
Related Resources: