Paris, the enchanting City of Lights, is known for its picturesque streets, charming cafes, and mesmerizing architecture. As it captivates the hearts of millions of visitors every year, there's no doubt that the French capital has an irresistible je ne sais quoi. However, as alluring as it might be, the city also experiences its fair share of rainy days.
Rain in Paris can be surprisingly romantic, with its cobblestone streets glistening under the warmth of street lamps and the gentle sound of raindrops against the Seine. However, wet weather might mean that you'll need to look for alternative ways to spend your time in the city. Fear not, as Paris has numerous indoor options to keep you occupied – from notable museums and art galleries to cozy cafes and culinary experiences.
A trip to Paris during its rainiest months, such as December or January, might require a bit of planning, but it can also be a great time to visit the many museums and avoid the crowds. By knowing what to expect and preparing for a rainy Parisian adventure, you can still make unforgettable memories while exploring this enchanting city.
Rainy Weather in Paris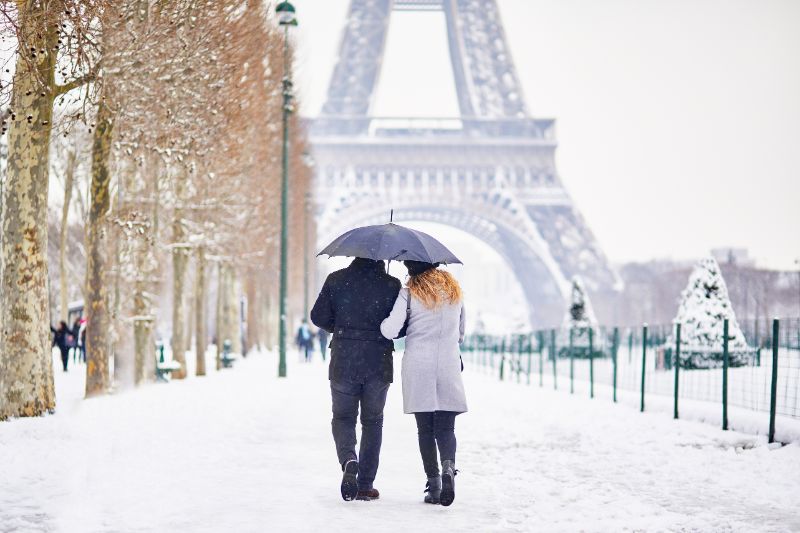 Rainiest Months
In Paris, rain is quite unpredictable, and most months have moderate rains on average. The heaviest rains usually occur during December and January, often resulting in significant floods. While there isn't a dedicated rainy season, May and June have also experienced incredibly wet periods, with notable flooding in 2016.
Seasonal Rain Patterns
Parisian rain patterns vary across different seasons, each with its distinct characteristics. The following offers an overview of seasonal rain patterns in Paris:
Spring: During the European shoulder seasons in the French capital, spring tends to bring its fair share of rainfall, with May being a crucial month for mixed weather patterns. Expect a blend of warm, sunny days and cool, rainy days in Paris during springtime.
Summer: Rain is less common during the summer months in Paris. With long sunny days, summer offers the best time to visit Paris for outdoor activities and sightseeing without much rain interruption.
Fall

: Similar to spring, fall in Paris sees a return of showers and potentially heavier rainfall. While it's not as prevalent as winter rains, autumn in Paris can still be a damp season, so pack a light rain jacket if you're visiting during this time.

Winter

: The heaviest rainfall in Paris typically occurs in December and January. These months often see intense downpours and potentially severe flooding. Be prepared for a wet and chilly experience if you visit Paris during the winter months.
Indoor Activities
When it rains in Paris, there are plenty of indoor activities you can engage in to make the most of your time in the city. This section covers Museums to Visit, Cinemas in Paris, and Covered Passages of Paris.
Museums to Visit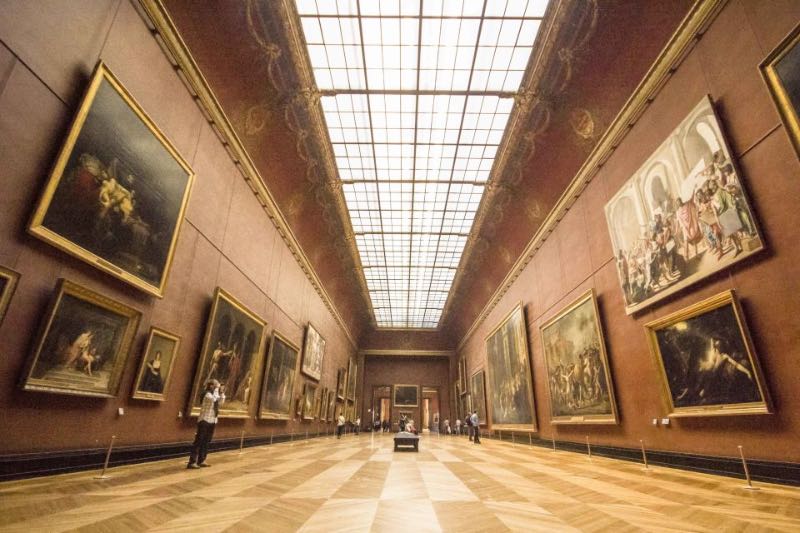 Paris is home to an impressive collection of museums that will keep you entertained during a rainy day. Some of the must-visit museums include:
Louvre Museum: One of the largest and most famous museums in the world, it houses iconic artworks like the Mona Lisa and the Venus de Milo.
Musée d'Orsay: This museum is known for its extensive collection of impressionist and post-impressionist masterpieces, including works by Monet, Van Gogh, and Degas.
Musée de l'Orangerie: Located in the Tuileries Garden, this museum exhibits Monet's Water Lilies series, along with works by other esteemed artists.
See Related: One-Day in Paris Itinerary: How to Spend a Day
Cinemas in Paris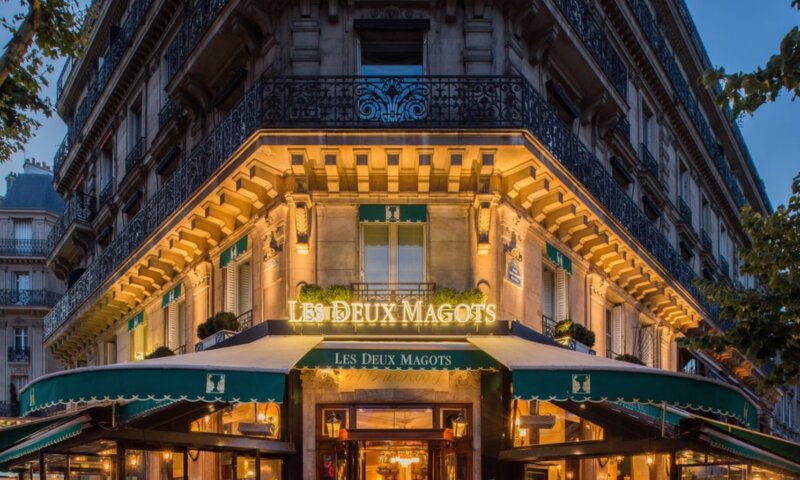 Paris has a rich cinematic history and offers various theatres to catch a movie during a rainy day. Some of the notable cinemas in the city include:
Le Grand Rex: A historic cinema with a stunning Art Deco façade, it's the largest movie theatre in Europe and often hosts film premieres.
La Cinémathèque Française: This cinema is dedicated to the preservation and showcasing of classic films, including rare archival footage and film festivals.
MK2 Bibliothèque: A modern multiplex cinema located near the François Mitterrand Library. It offers a diverse selection of films, from blockbusters to independent productions.
See Related: Winters in France: A Comprehensive Guide to the Season
Covered Passages of Paris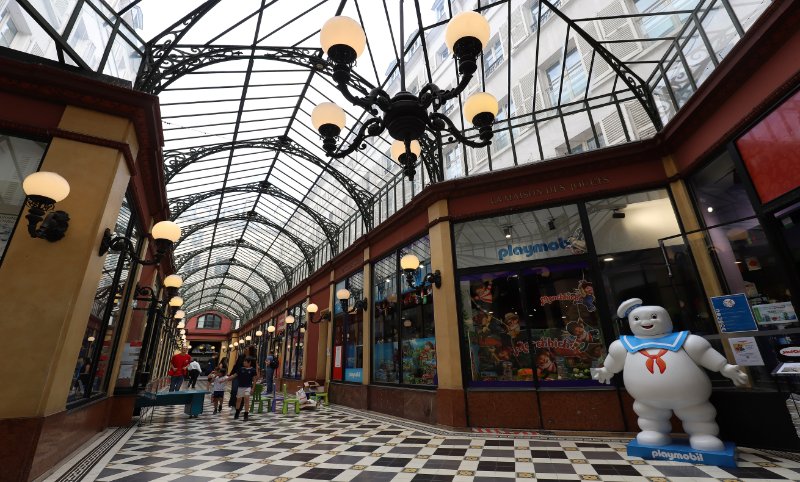 The covered passages of Paris, also known as "passages couverts," are charming, historic shopping arcades that provide shelter from the rain. Some noteworthy covered passages include:
Passage des Panoramas: The oldest covered passage in Paris, it has a selection of unique shops, stamp dealers, and quaint eateries.
Galerie Vivienne: Known for its beautiful mosaic floors and glass ceiling, this passage houses luxury fashion boutiques, a wine shop, and even a tearoom.
Passage Jouffroy: This passage is home to the famous wax museum Musée Grévin and offers an array of shops selling books, toys, and souvenirs.
These indoor activities will help you make the most of a rainy day in Paris without sacrificing the city's charm and allure.
See Related: Best Travel Books About Paris: Must-Read Guides
Arts and Culture
Atelier des Lumières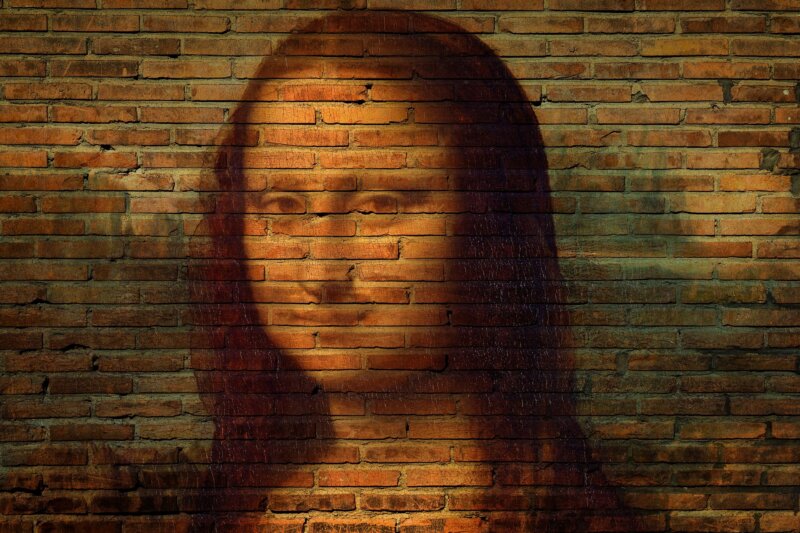 The Atelier des Lumières is a unique digital art center in Paris, which hosts immersive exhibitions featuring works of famous artists, including Van Gogh. This innovative space uses projection technology to display art on walls, ceilings, and floors, allowing visitors to be surrounded by mesmerizing visuals and music. It's an excellent indoor activity for a rainy day in Paris.
Parisian Art Museums
Paris is home to many world-renowned art museums, including the iconic Musée d'Orsay. Known for its collection of Impressionist and Post-Impressionist art, Musée d'Orsay houses masterpieces by Van Gogh, Monet, and Renoir, among others. For those who prefer modern art, the Centre Pompidou is a must-visit, featuring works by Picasso, Kandinsky, and other modern artists.
Another notable museum is the Petit Palais, which houses an eclectic collection of art, ranging from ancient Greek artifacts to paintings by Gustave Caillebotte, a 19th-century French artist known for his work 'Paris Street; Rainy Day' (1877). Exploring these museums can be a delightful way to spend a rainy day in the city.
Musée d'Orsay

Impressionist and Post-Impressionist art
Van Gogh, Monet, Renoir

Centre Pompidou

Modern art
Picasso, Kandinsky

Petit Palais

Eclectic collection
Gustave Caillebotte, 'Paris Street; Rainy Day'
Theater Scene
Paris also boasts a vibrant theater scene, ranging from traditional playhouses to avant-garde performances. Attending a show is a perfect way to immerse yourself in French culture and escape the rain. The legendary Comédie-Française, founded in 1680, offers a mix of classic French plays and contemporary works. Other notable venues include Théâtre du Châtelet and Théâtre des Bouffes du Nord, which are known for their diverse programming and stunning architecture.
Don't let the rain deter you from enjoying the rich arts and culture Paris has to offer. From immersive digital art experiences to world-famous museums and theatrical performances, the City of Light caters to all artistic tastes and preferences.
See Related: Best Desserts in Paris to Try
Food and Drink
Parisian Cafés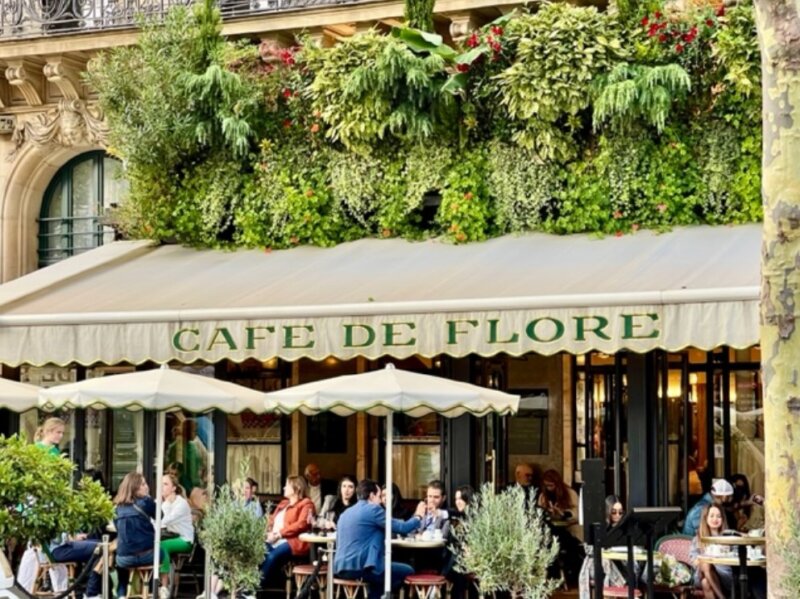 During a rainy day in Paris, there's nothing quite like seeking refuge in a cozy Parisian café. Sip on a steaming cup of coffee or indulge in a glass of wine while watching the raindrops patter on the window panes. Here are a few must-visit cafés to try:
In these traditional Parisian cafés, you can enjoy classic French dishes such as boeuf bourguignon, cassoulet, and confit de canard. For a more budget-friendly option, try the lunch menu, which often offers comparable dishes at a lower price.
Macarons and Chocolate
Paris is a haven for dessert enthusiasts. On a rainy day, treat yourself to some of the city's best macarons and other sweet delights. Renowned spots such as Ladurée and Pierre Hermé are perfect for sampling an array of colorful and flavorsome macarons. On a chilly day, warm up with a decadent cup of hot chocolate at Angelina's, known for its thick and velvety hot chocolate, served in a bowl-like cup.
Culinary Activities
If you prefer a more hands-on approach to French cuisine, Paris offers a variety of cooking classes and tastings that can keep you entertained on a rainy day. Consider attending a cheese or wine tasting led by an expert sommelier or enrolling in a cooking class to refine your culinary skills. Some popular activities include:
Wine tasting at a local wine shop or wine bar
A guided cheese tasting, showcasing the diversity of French fromage
A cooking class, teaching you how to prepare classic French dishes
Embrace the rainy weather in Paris by exploring the city's rich food and drink scene, allowing you to indulge in timeless Parisian experiences while staying warm and dry.
See Related: Best Food Tours in Paris, France
Historical Sites
Rainy days in Paris are perfect for exploring the city's rich history through its museums and historical sites. In this section, we'll take a closer look at two fascinating subcategories: Catacombs and Undergrounds, and Middle Ages Museums.
Catacombs and Undergrounds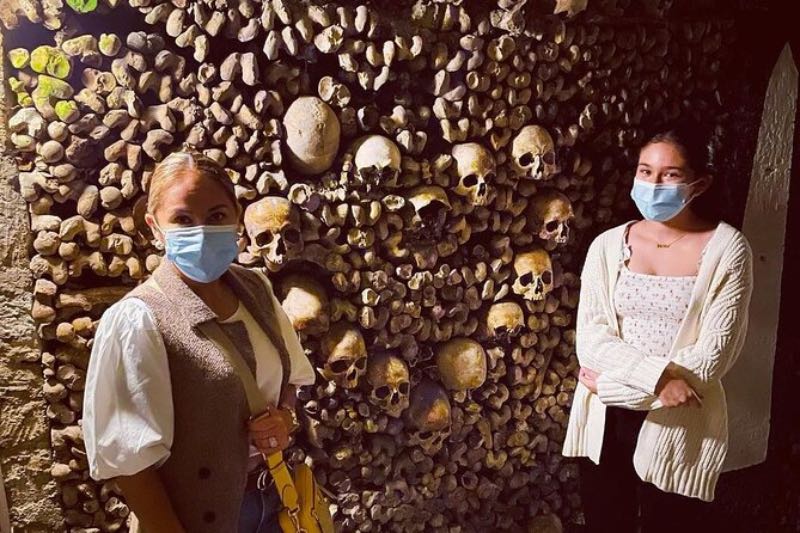 Paris is well-known for its extensive network of catacombs and underground sites. The Paris Catacombs are a popular attraction where you can delve into the city's past as an ossuary, housing the remains of more than six million people. It's a unique experience to walk through the eerie, dimly lit passageways lined with skulls and bones, all while being sheltered from the rain above.
Other interesting underground attractions include:
The Paris Sewer Museum, which offers a glimpse into the complex and historic tunnel system beneath the city streets. You'll learn about the development and engineering of Paris' sewer system over the centuries.

The

Archaeological Crypt in front of Notre Dame, where you can explore ancient ruins and artifacts dating back to Roman times.

The

Paris Wine Museum

, which takes you on a journey through the history of French wine-making while sheltering you from the wet weather.
Middle Ages Museums
Paris boasts a number of museums highlighting the art and history of the Middle Ages. One such museum is the Musée Cluny, also known as the National Museum of the Middle Ages. This museum houses an impressive collection of medieval artifacts, including the exquisite series of tapestries entitled The Lady and the Unicorn. The museum's setting in a Gothic mansion adds to the atmospheric experience.
Other notable museums with a focus on the Middle Ages are:
Musée Marmottan Monet

, which not only showcases the largest collection of Monet's works but also features a selection of medieval illuminated manuscripts and artifacts.

Musée de la Vie Romantique

, set in a charming townhouse once belonging to artist George Sand, this museum explores the romantic movement of the 19th century which encompasses both art and literature.

Petit Palais

, housing an extensive art collection, including fascinating pieces from the Middle Ages and the Renaissance.
These museums offer a cozy refuge on a rainy day in Paris while allowing visitors to discover the city's rich medieval history.
Shopping and Luxury
Parisian Bookstores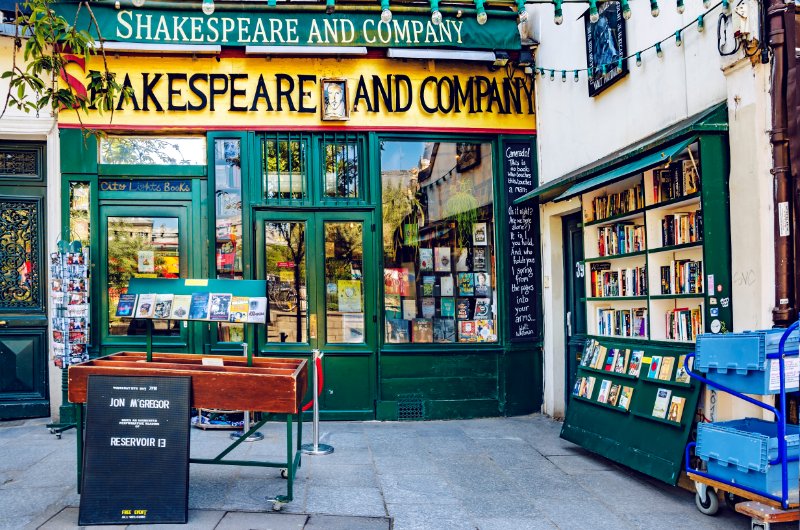 Paris is home to many charming and well-stocked bookstores, making them an excellent spot to visit on a rainy day. Some of the most famous bookstores in Paris include Shakespeare and Company, Librairie Galignani, and Librairie La Hune. Take some time to explore their vast collections, and perhaps find a cozy corner to read while you wait for the rain to pass.
Luxury Department Stores
During rainy days in Paris, luxury department stores offer a superb range of things to look at and buy. The city boasts a variety of iconic and extravagant department stores that are perfect for shopping and admiring their stunning architecture. If you're seeking a luxurious shopping experience, don't miss these famous spots:
Galeries Lafayette on Boulevard Haussmann: A renowned store offering high-end brands, gourmet food, and a stunning glass dome.
Le Printemps: Known for its Art Nouveau design, this department store features exclusive products and a beautiful rooftop terrace.
Le Bon Marché: As one of the oldest in Paris, this store offers a refined shopping experience with high-quality goods and services.
La Grande Épicerie: Explore this upscale grocery store with a vast selection of international products and a delectable food hall.
Strolling through these opulent department stores, you can indulge in some retail therapy and be captivated by their unique designs and displays. When the weather outside is undesirable, these luxurious shopping venues offer a delightful escape to enjoy the finer things Paris has to offer in a comfortable and dry environment.
See Related: Paris in July: Top Events and Attractions Guide
Outdoor Activities on Rainy Days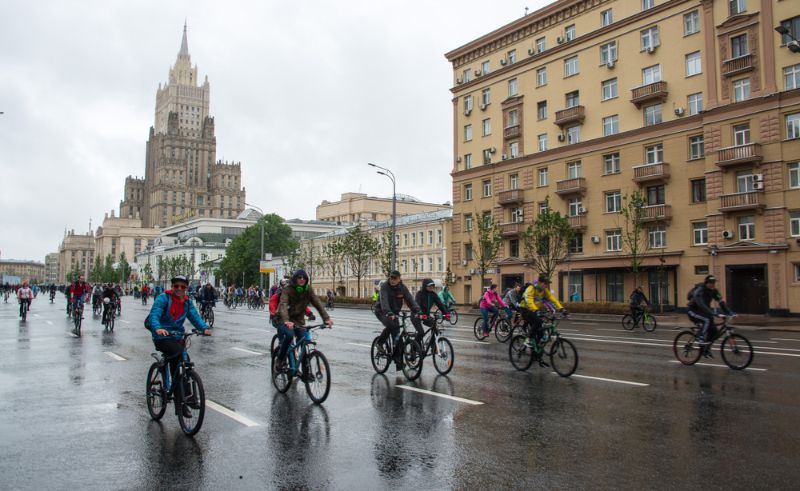 Even on rainy days, Paris offers an array of outdoor activities that can be enjoyed with a bit of adventure and a good waterproof coat. Bundle up and explore the romantic side of Paris in the rain with these suggestions:
Stroll along the Seine
Rainy days are perfect for leisurely walks along the River Seine. As the raindrops fall, the city's architecture takes on a different beauty. Take this opportunity to admire the charming bridges, the enchanting Île de la Cité, and the picturesque Île Saint-Louis.
Visit covered passages
Paris is home to several historical covered passages that offer protection from the rain while still allowing you to experience the outdoors. Wander through these elegant arcades, like Galerie Vivienne or Passage du Grand Cerf, to discover antique shops, trendy boutiques, and cozy cafés.
Join a bicycle tour
If you are up for an adventure, join a guided bicycle tour to see the city from a different perspective. There are companies that offer city-wide tours with knowledgeable guides and sturdy bikes that can handle the wet weather. Equip yourself with a raincoat and embark on a unique exploration of Paris.
Make use of the Paris Pass
Take advantage of the Paris Pass to access numerous attractions, including the popular Bateaux Mouches river cruise. It's never too rainy for a river cruise, and watching the city from the covered deck is a magical experience.
Explore secret gardens
Surprisingly, Paris is filled with charming hidden gardens and courtyards that offer shelter from the rain and a serene escape from the bustling city. Some notable spots include Jardin du Palais Royal, Place des Vosges, and Jardin des Plantes with their covered galleries.
Remember to embrace the beauty of Paris in the rain and indulge in the outdoor activities it has to offer. With a spirit of adventure and "joie de vivre," you will create unforgettable memories in the City of Love, whatever the weather.
Related Resources: